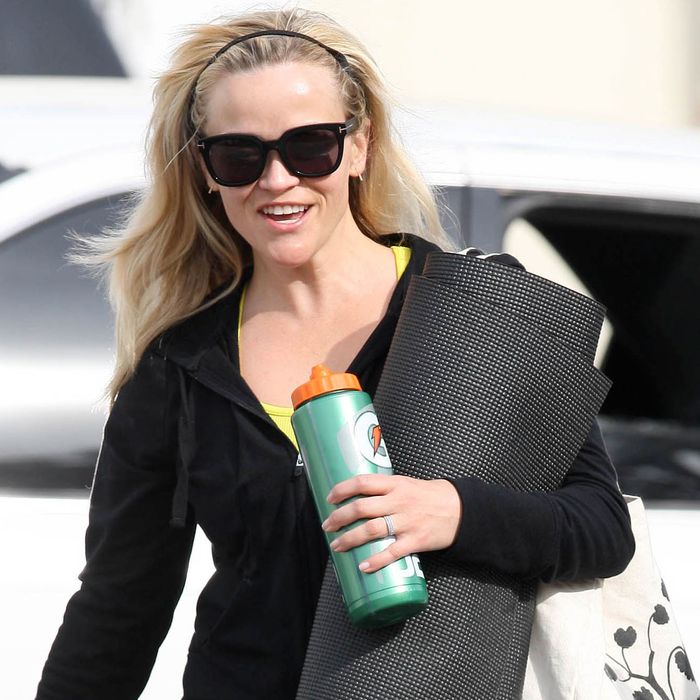 Photo: SMXRF/Star Max/FilmMagic
Here at the Strategist, we like to think of ourselves as crazy (in the good way) about the stuff we buy, but as much as we'd like to, we can't try everything. Which is why we have People's Choice, in which we find the best-reviewed products and single out the most convincing ones. (You can learn more about our rating system and how we pick each item here.)
And while we've written about lots of water bottles — including editor-approved water bottles and the next status water bottle — here, we've rounded up the best water bottles, as praised by the most enthusiastic reviewers on Amazon. 
Best-rated water bottle
"If you do NOT own a Nalgene, boy are you in for a treat," one confident reviewer writes. "They're the best bottles. Once you use a wide-mouth bottle, there's no going back." Many reviewers agree, giving this bottle top marks for its wide mouth. "The wide-mouth Nalgene is a nice change because I can easily get scrub brushes and sponges in there and clean the bottle out really well," one writes. Another who says their son uses this bottle notes, "The wide mouth is easy to drink from, you can load it up with ice and it's easy to clean. (This I know because I'm the one who cleans it!)" Another who says, "The bottle has a wide mouth that makes it easy to fill and easy to clean," adds that these bottles are "notoriously hard to break." "I've taken them hiking in -20 degree weather and had them freeze, but they still didn't burst on me," they write, adding, "I've dropped them down cliffs while full of water and found them again later, still intact." One user who says they had one for eight years admits, "I didn't even treat it that well, dropping it on concrete, down stairs, throwing it in my car, and not a single leak." It's stylish, too: In fact, we named the Nalgene the next "status" water bottle.
Best-rated (less expensive) water bottle
"It is the best water bottle in the history of water bottles," one customer writes of this Gatorade squeeze bottle, and reviewers love how easy this is to drink out of — even without having to to touch the lid. "I used to use Gatorade bottles with the spout/lid that needs to be pulled up to allow water to flow, and pushed back down," one explains, adding, "This one is way cooler that I can turn it upside down and it doesn't leak, but when I squeeze it, the water squirts out with a perfect stream." Another says, "I walk a lot, and this water bottle is great for getting a squirt of water without having to fuss with a lid." But even though the lid doesn't necessarily close, reviewers still report that this is leakproof. "These have worked great — no leaking even when they're on their side, no caps that they need help unscrewing, no lids that get out back on loosely, easy enough that my two year old can drink out of it fine," one writes. Another admits, "I had doubts about the squeeze top, but they haven't leaked once in my hockey bag."
Best stainless-steel water bottle with screw-top lid
"My life has been forever changed by this bottle," one reviewer writes. "It keeps my coffee and tea hot throughout the work day and keeps cold drinks ice cold." Many reviewers mention using this for both cold and hot drinks, like one who writes, "I was actually pleasantly surprised when I tried this bottle out; it keeps my water cold and my coffee hot for several hours." Other users are impressed with the narrow lid. One describes the S'well as, "nice quality, easy to hold and doesn't have too wide of a mouth," while another notes, "It is comfortable to hold, not too big / not too small. Doesn't spill." Many note that the small mouth makes it difficult to clean and that the bottle is pricey, but as one user puts it "I was hesitant to buy mainly due to the price, but did it anyway and I don't regret it for a bit."
Best vacuum-insulated stainless-steel water bottle with flip-top lid
One reviewer who was already on the Contigo bandwagon says, "I've been using a similar Contigo bottle for some time but needed something to keep my water cold much longer," and they conclude, "This is it. It keeps it very cold ALL day. I'm able to stay more hydrated because I'm the type of person that has to have very cold water." Nearly 2,500 reviewers give this bottle five stars, and many are impressed by how cold the water in this bottle stays. "I've only used it once so far, but it kept ice for 5+ hours with outside temperatures in the lower 80s," one writes. Another says, "This bottle does keep your water ice cold for hours, just like everyone says," but adds that the real selling point is the spout. They continue, "I never have to unscrew a cap or pop a cover. Press the button and the water goes right down." Dozens also attest to the spout being leakproof, which many can appreciate. One customer, who once suffered from "the curse of a leaky water bottle," now says, "Well, curse begone! I haven't had a waterlogged purse since I converted to these Contigo water bottles. Once the top is screwed on, the auto-seal feature seals things right back up, preventing people like me from getting water everywhere."
Best stainless-steel water bottle with spout lid
"Hydroflask who?" one reviewer asks, adding, "I'd say this is twice as good and has a completely better design (we're talking nozzle here), they have the competition shaking in their boots, no doubt." Dozens of reviewers compare the Takeya bottle to other well-known brands saying this is cheaper and better. The biggest selling feature reviewers note is how long it keeps their water cold. "My exercise classes tend to be 105 to 110 degrees in the room and the double insulation does the work of keeping my water cold all throughout class," one writes, while another says, "Keeps ice in the container for a whole day in Arizona +100° weather, three hours on the golf course plus home." Many also praise the lid of the bottle. "The mouthpiece is wide enough to chug water at a good [pace] but not so wide you splash yourself when walking or driving," one writes, before adding, "The lid design is nice because I can untwist it with dirty hands and not get the mouthpiece contaminated and the handle makes it super easy to carry around." Another says, "The cap is easy and quick, it does not leak, the little handle is perfect, and it keeps my water cold all day. What more could I want?"
Best easy-to-hold stainless steel water bottle
The consensus among reviewers is that the design of the Corckcicle makes it easy to hold. "I loved the beveled sides of the cup," one reviewer states. "Many of the thermoses I own, they're too wide to grab and slip out of my hand. I don't have that problem with this one. I also love the texture of the thermos, it's not slippery. Water just rolls off of it even when washing." Another satisfied reviewer adds, "The bottom has a black piece of rubber which is nice also, prevents it from sliding around or banging on the table when it's set down." One even says it's "very comfortable in the hand and easy to hold when walking long distances." Beyond look and feel, hundreds of reviewers attest this actually works. "You will be amazed at how this insulated water bottle keeps temperature consistency of whatever beverage you put in," one writes. "I've put ice water in it then accidentally left it in my car all day in the middle of the summer. Guess what … Still ice cold when I got back to the car 8 hours later." Many reviewers with the 16-ounce size say this works great for water, and those with the 25-ounce say it can hold an entire bottle of wine. "I have three Corkcicles this size," one user explains. "I've tested them with white wine, rosé, even water in raging heat. This is a tried and true product, and it's dishwasher safe!"
Best stainless-steel water bottle for hot and cold drinks