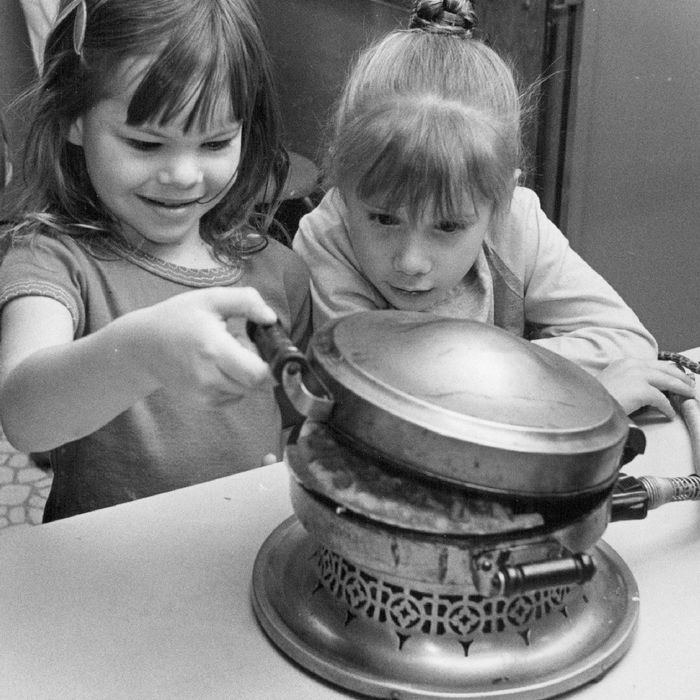 Photo: George Crouter/Denver Post via Getty Images
We've written about plenty of kitchen countertop appliances, including the best coffee makers, electric griddles, and panini presses, here, we're going deep on the best waffle-makers on Amazon, according to hyperenthusiastic reviewers.
Since everyone is sheltering in place — and cooking — at home during the pandemic, the demand for kitchen appliances, including waffle-makers, has increased, and stock has been constantly fluctuating at Amazon. We'll keep updating this post as more best-rated waffle-makers come back in stock.
Related Article: Best Mini-Waffle-Maker
Best-rated (and least expensive) waffle-maker
"I had no idea what a small waffle-maker could do for my life," says one reviewer, who goes on to say, "This silly little thing is perfect … I set it up and within one day I had more waffles than I've had in a year." Reviewers say this surprisingly compact model "is small enough to fit in one hand," with one admitting that "at first, I laughed [and] thought it was too small to really do anything," before going on to describe it as "an amazing little waffle-maker." Another calls it "especially nice because it doesn't take up a lot of room to store." That's also what drew Grub Street writer Nikita Richardson to this little waffle-maker. As she wrote for the Strategist, "The ad copy calls this thing mini, and it really is — the palm-size waffle-maker is so small, it can easily fit into a purse — but no matter how much I worried that I would overfill the iron, the Dash just kept spitting out tea-plate-size waffles that were perfectly browned and fluffy."
Best classic round waffle-maker
"That sound you hear is the angel choir when I finally sat down to golden crisp waffles," says one reviewer of this Cuisinart's output. " I am so looking forward to many more waffle-shaped goodies." Its output is "perfect, from the very first waffle that comes out," as another reviewer notes. "We use it 1-2 times per week. It has never burned a waffle," asserts another owner. "They come out crispy on the outside and soft on the inside" Reviewers also say that this "heats up quickly in a minute," and "cleans easily with just a wipe." Or as another puts it, "I made quite an overflow mess and even with that, clean up was a snap." However, if you're looking for something to make thick, Belgian-style waffles, this probably isn't the right machine. As one 60-year-old reviewer explains, "This Cuisinart round classic waffle-maker makes the 'classic' thinner regular size waffle. Other waffle-makers make the 'Belgian' waffles which are big, thick, cake like waffles. We prefer the classic old school waffles and this Cuisinart classic waffle-maker fits the bill for us."
Best nonstick Belgian waffle-maker
"Man when they say nonstick, they are NOT KIDDING," notes one reviewer, while another notes that they "have never had an issue with anything sticking." Its "Teflon-coated surface performs as it should," says one reviewer, adding that this makes for "the first nonstick waffle-maker I've owned that really does NOT stick." Another reviewer observes, "Even if you don't use pam or nonstick spray to grease it, the waffles slide right off."
Reviewers say it performs consistently, too. "I used this waffle iron to write a keto-friendly waffle cookbook. For months on end I made waffles every day and for every meal with this mighty little beast," attests a happy owner of this Oster model. "It cooked consistently through all the greats and even the, 'Good golly that's awful' waffles." Another frequent user notes "It has made such an improvement in the convenience of preparing breakfast before work." But even casual reviewers are unanimously "amazed at how easy, quick and delicious the waffles were."
Best waffle-maker with removable plates
About one-fifth of reviewers praise this waffle-maker for having removable plates. "The removable grates are freaking awesome … Do you know how nice it is to take those off and scrub them?" one reviewer asks, before explaining, "I have not paid attention and burned the crap out of a couple of waffles and left a mess … It was very easy to clean up my mess once the grates cooled." Another reviewer says the only reason they bought this waffle-maker was because of the removable plates, and they haven't disappointed: "It is so great to throw them in the dishwasher instead of hand-wiping the plates." And while making specialty waffles and adding ingredients to the batter can be a waffle-maker nightmare, this one handles it well. "Waffles come out evenly cooked, even with extra things added into the batter like raisins, fruit, nuts, or chocolate chips," one reviewer explains. It's so easy to use that, for one reviewer, it's even better than going to the diner: "I normally have to walk 10 minutes (in both directions!) to satiate my desire for a fluffy Belgian, not to mention the diner-server rigmarole this entails (apologies for the apophysis). Now with this waffle-maker, I can finally slough off the manacles of the old waffle consumption paradigm. A new day of waffle eating is upon us, and to that I say, Hallelujah!"
Best flippable Belgian waffle-maker
"I have never previously used the word 'fabulous' to describe another product, but there it is," says a satisfied reviewer. "This is my fourth maker as all the other ones before it were effectively jokes." Another reviewer, who works "at a large hotel and serve breakfast every morning," says they bought this waffle-maker "shortly after starting work because I kept thinking about waffles. Honestly? I like this one even better than the ones at work… The waffles don't burn or get over crispy, and I have never had one underdone either." Ease-of-use another common reason why reviewers pick this waffle iron: "I never really liked making waffles because it was so messy and hard to use but this waffle-maker has made it unbelievably easy." Another reviewer adds, "The drip pan is what sold me."
Best (less expensive) flippable Belgian waffle-maker
Though this Bella waffle iron is less expensive than the flippable Hamilton Beach option above, it still gets a lot of praise for its professional-grade quality. "Really like this a lot because it's very similar to the kind that they have at the breakfast buffets at the hotels," one reviewer says, adding, "Very easy to use, extremely easy to clean, and makes delicious waffles." Not only are the waffles tasty, but many say they are a great size, too. "Makes fairly big waffles, in my opinion, about the same size you'd get at major breakfast restaurants," one says. And about 20 percent of five-star reviewers appreciate that this waffle-maker is easy to clean, thanks in part to the removable drip tray "that you can take out and clean."
Editor's Note: This flippable waffle maker is currently out of stock.
Best double Belgian waffle-maker
"This is a legit machine that can make crisp exteriors with fluffy soft in