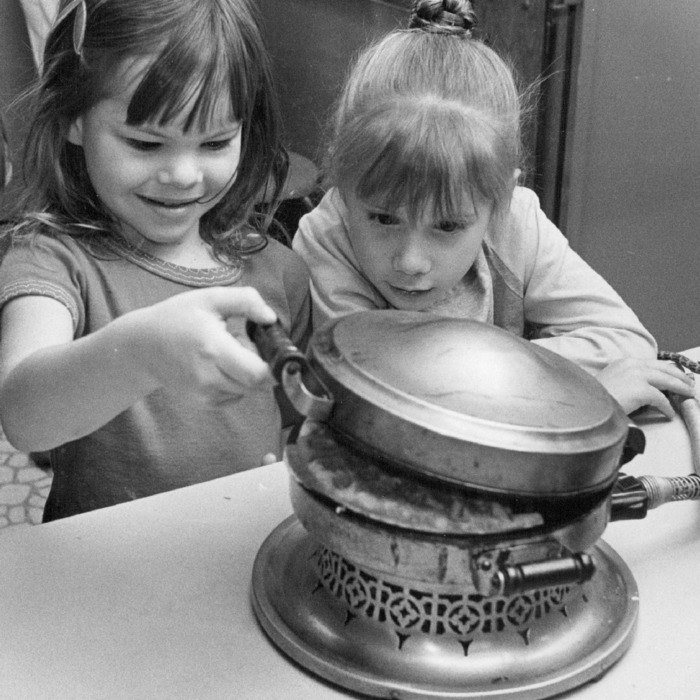 Photo: George Crouter/Denver Post via Getty Images
Here at the Strategist, we like to think of ourselves as crazy (in a good way) about the stuff we buy, but as much as we'd like to, we can't try everything. Which is why we have People's Choice, in which we find the best-reviewed products and single out the most convincing ones. (You can learn more about our rating system and how we pick each item here.)
While we've written about plenty of kitchen countertop appliances, including the best coffee makers, electric griddles, and panini presses, here, we're going deep on the best waffle-makers on Amazon, according to hyperenthusiastic reviewers.
Best-rated (and least expensive) waffle-maker
DASH Mini Maker
"I had no idea what a small waffle-maker could do for my life," says one reviewer, who goes on to say, "This silly little thing is perfect … I set it up and within one day I had more waffles than I've had in a year." Reviewers say this surprisingly compact model "is small enough to fit in one hand," with one admitting that "at first, I laughed [and] thought it was too small to really do anything," before going on to describe it as "an amazing little waffle-maker." Another calls it "especially nice because it doesn't take up a lot of room to store." That's also what drew Grub Street writer Nikita Richardson to this little waffle-maker. As she wrote for the Strategist, "The ad copy calls this thing mini, and it really is — the palm-size waffle-maker is so small, it can easily fit into a purse — but no matter how much I worried that I would overfill the iron, the Dash just kept spitting out tea-plate-size waffles that were perfectly browned and fluffy."
Best waffle-maker for thick waffles
Presto 03510 Ceramic FlipSide Belgian Waffle Maker
With more than 4,300 five-star reviews, this Presto waffle-maker gets top marks for being easy-to-use, easy-to-clean, and hundreds agree that it makes great waffles "every time." This machine makes waffles that are "thick, fluffy, and so easy to make," with "deep pockets for butter and syrup," notes one reviewer. "After four minutes my waffles come out easily and are a crispy brown golden piece of deliciousness on the outside with a soft cozy inside," echoes another. "I love that I can prepare other breakfast items while the waffle cooks because I know that this waffle-maker is going to make an almost perfect waffle every time," attests another happy owner, speaking to its near-foolproof usage. Even veteran wafflers love it: "I have been making waffles since I was a young boy more than 60 years ago," notes one reviewer. "Although I purchased my Presto just a few months ago, its reliable performance has already given me tremendous pleasure and promises to continue to deliver quality for many more years."
Best classic round waffle-maker
Cuisinart Round Classic Waffle Maker
"That sound you hear is the angel choir when I finally sat down to golden crisp waffles," says one reviewer of this Cuisinart's output. " I am so looking forward to many more waffle-shaped goodies." Its output is "perfect, from the very first waffle that comes out," as another reviewer notes. "We use it 1-2 times per week. It has never burned a waffle," asserts another owner. "They come out crispy on the outside and soft on the inside" Reviewers also say that this "heats up quickly in a minute," and "cleans easily with just a wipe." Or as another puts it, "I made quite an overflow mess and even with that, clean up was a snap." However, if you're looking for something to make thick, Belgian-style waffles, this probably isn't the right machine. As one 60-year-old reviewer explains, "This Cuisinart round classic waffle-maker makes the 'classic' thinner regular size waffle. Other waffle-makers make the 'Belgian' waffles which are big, thick, cake like waffles. We prefer the classic old school waffles and this Cuisinart classic waffle-maker fits the bill for us."
Best nonstick Belgian waffle-maker
Oster Belgian Waffle Maker, Stainless Steel
"Man when they say nonstick, they are NOT KIDDING," notes one reviewer, while another notes that they "have never had an issue with anything sticking." Its "Teflon-coated surface performs as it should," says one reviewer, adding that this makes for "the first nonstick waffle-maker I've owned that really does NOT stick." Another reviewer observes, "Even if you don't use pam or nonstick spray to grease it, the waffles slide right off."
Reviewers say it performs consistently, too. "I used this waffle iron to write a keto-friendly waffle cookbook. For months on end I made waffles every day and for every meal with this mighty little beast," attests a happy owner of this Oster model. "It cooked consistently through all the greats and even the, 'Good golly that's awful' waffles." Another frequent user notes "It has made such an improvement in the convenience of preparing breakfast before work." But even casual reviewers are unanimously "amazed at how easy, quick and delicious the waffles were."
Best flippable waffle-maker
BLACK+DECKER Flip Waffle Maker
Reviewers were entranced by the flippability of this Black and Decker waffle-maker. "I've had a lot of waffle irons over the years and this one by far cooks the best," says one reviewer who says it "heats up great, is easy to clean, and stores easy flipped sideways." Overall, he's pretty impressed: "I guess they were right about the flip kind being better than the traditional waffle iron." If you're still somewhat confused about how the flipping motion comes into play, one customer explains, "After you let it set for a few seconds the batter expands and opens it up a little bit so you can't flip it. Don't wait to flip it after pouring. Just pour, close and flip it right away. It cooks on both sides equally anyway." A third reviewer wanted a waffle iron specifically to make chicken and waffles. "SUCCESS," they apparently yelled. He messed up the first waffle by "not spooning the batter in the middle" and not flipping right away, but once he got the hang of it he says he got "good results, fun to flip." Plus, he adds that "the whole house will smell amazing."
Best flippable Belgian waffle-maker
Hamilton Beach Flip Belgian Waffle Maker with Removable Plates
"I have never previously used the word 'fabulous' to describe another product, but there it is," says a satisfied reviewer. "This is my fourth maker as all the other ones before it were effectively jokes." Another reviewer, who works "at a large hotel and serve breakfast every morning," says they bought this waffle-maker "shortly after starting work because I kept thinking about waffles. Honestly? I like this one even better than the ones at work… The waffles don't burn or get over crispy, and I have never had one underdone either." Ease-of-use another common reason why reviewers pick this waffle iron: "I never really liked making waffles because it was so messy and hard to use but this waffle-maker has made it unbelievably easy." Another reviewer adds, "The drip pan is what sold me."
Best double Belgian waffle-maker
Cuisinart WAF-F20 Double Belgian Waffle Maker
"This is a legit machine that can make crisp exteriors with fluffy soft insides," says an "extremely pleased" owner of the Cuisinart double Belgian waffle-maker. Reviewers also "love the two sides" which let you "cook two big waffles" in "about five minutes." When it comes to the waffles, "the consistency is very reliable for both sides of the maker, regardless of whether it's the first or the fourth of the morning," notes another reviewer. Another bonus is that the iron "beeps to tell you when to take out your perfect waffles," as one reviewer explains, creating an "audible alert that's perfectly timed and hasn't missed yet." That's why one owner describes it as "priceless if you want to do things in the kitchen other than staring at the light so you don't burn the waffle."
Best Belgian waffle-maker with removable plates
KRUPS Belgian Waffle Maker with Removable Plates
"If you want a waffle-maker that you can keep perfectly clean and that makes awesome waffles this machine is for you," says one reviewer. That's due to the removable plates, which "come off easily with the push of a button" yet "still feel secure when in use," as one reviewer explains. They're "easily cleaned in the dishwasher" or, according to another reviewer, "washed with a soft brush and soap" in the sink. Plus, another reviewer notes, "If you over-pour, the plastic sides are easier to clean up than an all stainless unit would be." It all adds up to what one reviewer describes as "cleanup that is just plain cheat code easy."
Best ceramic waffle-maker
Oster Titanium Infused DuraCeramic Belgian Waffle Maker
"NOTHING sticks to the ceramic surface" of this Oster model, raves one reviewer. Another writes, "The ceramic coating works so much better than traditional nonstick coatings," in part because it "releases waffles with ease" and "cooks waffles quickly" and is "easier to clean than stainless steel." For what it's worth, reviewers also mention their preference for this "nontoxic coating" over Teflon. This super nonstick maker is also "super simple to use," so much so that one reviewer insists that "if you can't make perfect waffles with this simple appliance, please just give up and move on to pancakes." Even another "pretty hopeless cook" found that "much to my amazement, every batch I've made so far has been perfect and yummy."
Best square waffle-maker
Proctor Silex 26051 Belgian Waffle Maker
"I've bought three of these over the last five years. One for my mom, one for my cousin, the one for me," says a frequent purchaser of this "easy to use and reliable" Proctor Silex model. And that ease-of-use is reported by many reviewers, including one who says, "from the first waffle, it performs like a champ." Another reviewer says, "I wanted something compact, not a countertop show off item - just a plain ole' waffle iron to make an occasional once-in-a-blue-moon waffle or brownie or corn muffin base thing — This does it all." One reviewer accidentally purchased this waffle iron, but notes, that it works better than their more-expensive rotating Belgian waffle iron: "This model, for a third of the price, works just as well. Really like it and it is much smaller. We like that it makes square waffles. Nonstick, warms quickly, very easy to use."
Best no-drip waffle-maker
Chefman Anti-Overflow Belgian Waffle Maker
Reviewers of this "idiot-proof" model are near-unanimous in their praise of what one reviewer described as "the deep well to catch overflow," which means there's "no dripping down the sides… no fuss, no mess." Another reviewer likens this signature feature to "a moat that literally keeps the batter from overflowing on the counter." And at least one reviewer says this waffle-maker grants peace of mind: "it's so nice not having to worry about overflowing batter." "It is not always that a product fulfills the billing that the manufacturer puts forth," concludes a reviewer of Chefman's Anti-Overflow model. "This waffle-maker does."
Best square no-drip waffle-maker
DASH No-Drip Belgian Waffle Maker
Featuring "channels on the edges of the waffle iron that catch any excess batter," as one reviewer describes it, this DASH no-drip waffle-maker is, "No mess, no fuss, super easy clean up no excess gooey mix leaking out," another reviewer says. "THE OVERFLOW WELLS WORKED PERFECTLY," raves another reviewer, adding that no batter is wasted: "No overflow on to our countertops, and the wells will cook the overflow for what we called 'waffle nuggets,' or in one case, 'waffle breadsticks.' Dip them in maple syrup. Yum." Adds another: "I'm a fan of the overflow trays. So is my dog. She gets all the little goobers that get left off the waffles." In short, this "easy to use," "no mess, no fuss" waffle-maker "has helped me to enjoy making waffles now," as one satisfied reviewer puts it.