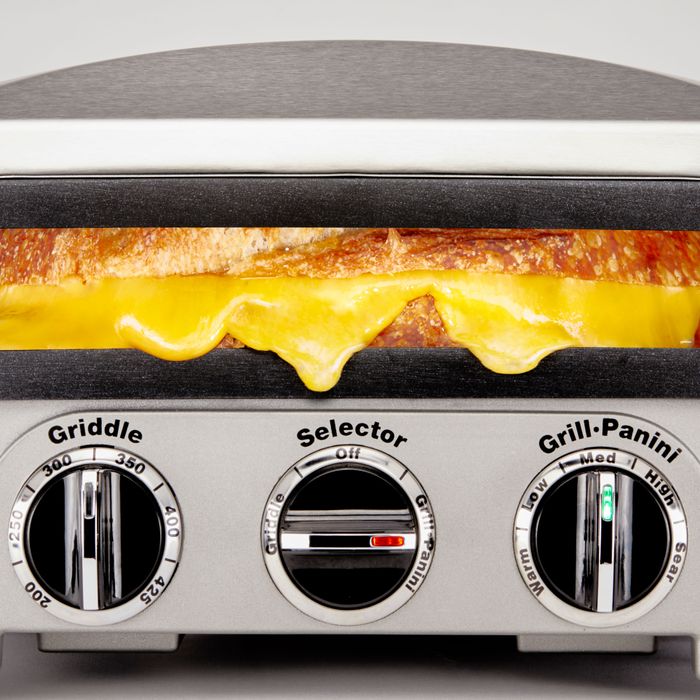 When I was younger, we had a panini press in our kitchen, an appliance I often used to make myself after-school sandwiches. At some point, it disappeared, and I never gave it much thought, moving on to grilled cheese in a skillet and melts in the toaster oven. But while I was talking to enthusiastic panini-press owners for this article, it became clear that what was a unitasker for me can be, in fact, a pretty well-rounded appliance. If it has grooved grates, it can act as an indoor grill (you won't get actual smoke, but the charred markings count for something). If it doesn't, it can be an electric flattop, a perfect surface for cooking more than a couple of pancakes at a time, smashing burgers for a crowd, and making Korean barbecue. And then, of course, a pressed sandwich does have a particular smushed-in-a-good-way vibe, different from one griddled in a pan or broiled in the oven. If that's your thing, it'd be reason enough to keep one in your kitchen.
Best overall | Best less expensive | Best with floating hinge | Best nonelectric | Best grill press | Best high end | Best professional grade
What we're looking for
Size: As is almost always the case, adding another appliance to your kitchen is a consideration of how much space you have. If you don't plan to keep your press out on the counter at all times, you want to make sure it will fit in a drawer or cabinet. To that end, I've listed the dimensions of each model.
Opening mechanism: Some of the panini presses below open a full 180 degrees so that the top plate esentially becomes another bottom, creating a surface that is double the original size. Others only lift partway. One (the nonelectric option) has a separate lid, and another (the grill press) acts like a heavy block with a handle so you can weigh down on a sandwich inside any skillet you already own. Here, I've detailed the opening mechanism of each press.
Grate style: As I stated before, you can find panini presses with grooved grates that will leave marks on your food like the ones you get from a grill, while others have a smooth surface. Some even have removable plates that let you swap. This is mostly an aesthetic choice.
Best overall panini press
13 x 11 x 6.5 inches | Opens fully | Grooved and flat
The Cuisinart is a well-priced, reliable, do-it-all panini press. It can, of course, act as a sandwich smasher, applying pressure from the top and emanating heat from both sides. Then, if you want to turn it into one big grill or flat top, you simply press a button on the side that fully releases the hinge. It has removable nonstick cooking plates, allowing you to choose from grooved or flat depending on what you're cooking. Either way, this makes them easy to clean. "That, I think, is the big benefit of this press," says Kathy Strahs, author of the blog Panini Happy. "It gives you more flexibility and options than just a press." And, she says, it has many applications that can make your life easier, such as grilling meats and vegetables or crisping up quesadillas (that don't require flipping because you get heat from the top and bottom). Writer and cookbook author Patricia Wells uses the Cuisinart for indoor grilling and making toast. "I have given away all my toasters," she says. "I always felt that toasters just dried out the bread, but the panini press allows it to maintain its moisture. I also love the grill marks."
Max Blachman-Gentile, director of culinary operations at Tartine, used a slightly higher-end version to test a lot of the menu items they sell at the café and even put it to use in the shop for a while (it eventually wore down churning out 40-plus sandwiches a day, but that shouldn't be a concern at home). The major difference between this one and the cheaper model above is how exact the temperature gets. This one lets you select the specific degree you want each plate to reach, while the other has only low, medium, high, and warm settings for the panini function and comes with degrees in intervals of 50 for the open grill. "There are cheaper options, but this one will last a really long time," Blachman-Gentile says. "Let's say you want to make four grilled cheeses for your family. You'll get a consistent result, instead of the first two looking good and the next two not. Some presses have hot spots, but the heat is generally very even over all the plates, as well."
Best less expensive panini press
12 x 12 x 6.5 inches | Opens partially | Grooved
George Foreman is a household name when it comes to electric grills, and unsurprisingly, its panini press is just as beloved, with more than 24,000 reviews on Amazon and a 4.6-star rating. It's a simple machine: When you plug it in, one light turns on to let you know it's preheating; when it's done preheating, another light indicates it's ready to go. Even though it doesn't have controllable temperature or any presets, there are a couple of features that make this very affordable appliance a standout among others in its price range. For one, it has removable nonstick plates, just like the Cuisinart. For another, it comes angled slightly downward, the front feet shorter than the back, with a drip tray to catch any juices or fats that escape from your food. These two assets make for particularly easy cleanup. As one customer put it, this machine is "back to basics" but "kickass" nonetheless.
Best panini press with floating hinge
12.25 x 15 x 5 inches | Opens partially | Grooved
If you really only intend to press sandwiches, this Breville model is probably the best choice. You can, naturally, fit other things in it, too — say, meats and vegetables to put inside of your panini, as the company suggests — but the top won't extend all the way around to create that bigger flat surface (so it's probably not the best for burger night). The surface area of a single plate, though, is a bit bigger than the Cuisinart's. "It also, in comparison, gets really hot — and it gets hot fast," Strahs says. She points out that it has a "floating hinge," meaning it stays open at various heights if you want to check on whatever is inside. "I haven't seen that on too many presses, and certainly not on the less expensive ones," she says. "They just rely on the thickness of whatever you're grilling. But there are times when you maybe don't want a top on there at all, or don't want as much pressure." The plates aren't removable, which can make cleaning a bit more cumbersome, as Strahs puts it — but like the Cuisinart, they're nonstick, which means it shouldn't be too much of a pain.
Best nonelectric panini press
10 x 10 inches with handle and cast-iron press | Separate press | Grooved
Though Sabino Curcio uses electric panini presses at his Brooklyn restaurant Anthony & Son Panini Shoppe, he thinks a stovetop press is totally efficient for home use. (Unsurprisingly, that also means it's the cheapest option on this list.) An even more important consideration than price is the fact that this is an altogether different style, one that uses a stovetop burner instead of electric power. As the name suggests, it is made of cast iron, a material that can maintain a nonsticklike surface so long as it's cared for (truly, cast-iron tools will last you forever and then some) but isn't quite as nonstick as the previous options. As I've written before, cast iron gets particularly hot, which means you have to be careful as you're grilling. But it also gives you a lot of control, as your heat source is your stovetop. "This gets the job done," Curcio says. "Put a little butter, a little olive oil, a few minutes on the pan on each side and you got a panini."
Best grill press
4.5 x 6.75 inches with handle | Stand-alone press | Flat
For an even more compact nonelectric option, Paige Lipari, the owner of Archestratus Books + Foods in Brooklyn, recommends a grill press — that's what she uses at her shop to turn out sandwiches day in and day out. She used to have a Waring, the professional-grade press below, but she switched over to an Avantco flattop and the Lodge presses when she redid the kitchen. "They're extremely inexpensive and very high quality," she says, echoing the sentiment many professionals feel about the company's famous cast-iron skillet. To use the press, you can use any pan, lay down your sandwich, place the tool on top, then flip it and do the same thing on the other side. "They have a nice weight to them," she says, "heavy enough to press down fully and evenly but still easy to wield." She also notes that this particular size is perfect for most sandwiches, fully covering the bread and ensuring a uniform color.
In another Strategist story on the best gifts for chefs, recipe developer and content creator Sohla El-Waylly recommends this similar (albeit more expensive) fish weight. She says it has a "a thick body that retains and transfers heat," perfect for making grilled cheese.
Best high-end panini press
14.75 x 13.75 x 8.5 inches | Opens fully | Grooved and flat
This Breville, while providing functionality similar to the Cuisinart's, is overall more powerful and exacting (and accordingly will cost you more). While the Cuisinart does have some temperature control, when in panini mode, it only lets you pick from low, medium, or high heat. This one, on the other hand, allows you to control the precise degrees of each plate at any given time and has slightly more wattage, which means it gets hotter faster. It also has predetermined settings for panini, burger, and sear, convenient if you want to just click one button and let it go. And — unlike any of the others on the list — it has waffle inserts, too. "You have to buy those separately," says food writer and editor Alyse Whitney. "But this does so much, it allowed me to get rid of a lot of bulk in my kitchen." Whitney's favorite way to employ it is all the way open. "I have used this for Korean barbecue at home," she says (though usually outside, since the sugar in marinades tends to get smoky).
Best professional-grade panini press
21.7 x 23 x 20.7 inches | Opens partially | Flat
If you want to go hard at home, this Waring is a professional-grade grill, quite similar to the one head chef Clare Malfitano uses at Murray's Cheese Bar in New York. There, the presses are even more intense and require special plugs, but Waring makes models for home use, too, including this one (and a nearly identical model with grooved plates). Like the press above, it's made from cast iron. It's not cheap by any means — but if for whatever reason you want to do most of your cooking on a panini press (say, if you're remodeling, or living with particularly inefficient rental-kitchen appliances), it'd be the one to choose. "It's so consistent in terms of heat," Malfitano says. "It's intuitive to use. Before we open for the day, we do prep work on it that isn't making sandwiches — like charring meatballs or onions or carrots. Sometimes we use it to temper things we don't need to fully melt, like cream cheese or butter. You can put it on a low setting and put those on there. We cook chicken on it. Occasionally, we cook eggs on it. It stays open if you need it to, so it can be hands free." Before switching cooking methods at Archestratus, Lipari was also a fan of how "extremely versatile" it was (beyond the "really crispy panini sandwiches" it turned out). "Vegetables on it got almost barbecue-like with a charred flavor," she says. "We had people do pop-ups, and they would employ it in other ways too — like one time, someone used it to make a cheese crisp."
Some more multifunctional kitchen appliances we've written about
Our experts
• Kathy Strahs, author of Panini Happy
• Patricia Wells, writer and cookbook author
• Max Blachman-Gentile, director of culinary operations at Tartine
• Alyse Whitney, food writer and editor
• Sabino Curcio, owner of Anthony & Son Panini Shoppe
• Clare Malfitano, head chef at Murray's Cheese Bar
• Paige Lipari, owner of Archestratus Books + Foods
• Sohla El-Waylly, recipe developer and content creator
The Strategist is designed to surface the most useful, expert recommendations for things to buy across the vast e-commerce landscape. Some of our latest conquests include the best acne treatments, rolling luggage, pillows for side sleepers, natural anxiety remedies, and bath towels. We update links when possible, but note that deals can expire and all prices are subject to change.