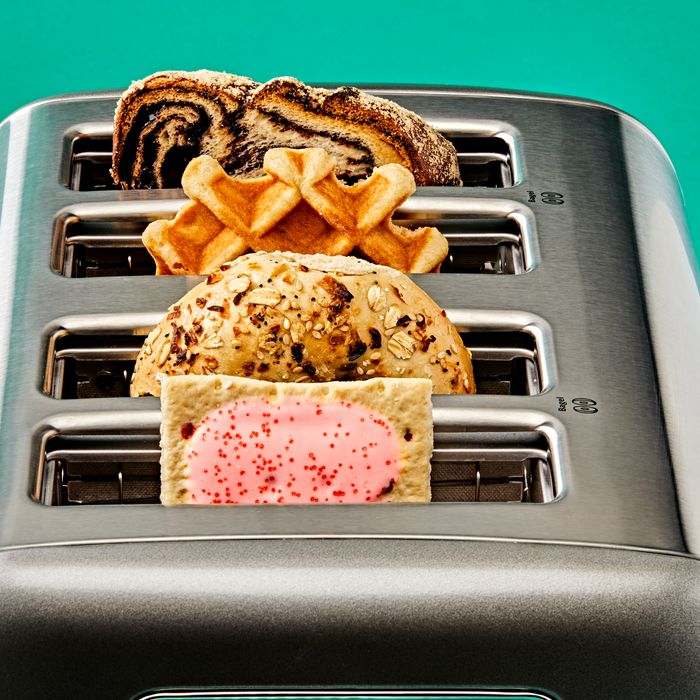 I'm a self-professed toast snob, with strong opinions on things like what a crunch should sound like. Usually, I like my toast to be ombré like a sunset, with a lemon-colored center and amber edges. So that's made me slightly obsessive about what makes for the right toaster. For one thing, it should produce a hot and crispy slice quickly — and I mean that — with a little "ding" to let you know your toast is done.
Sure, you could make toast with a butter, pan, and some patience (as some of the folks I spoke to do), but I'm still on the side of those who consider a toaster a useful appliance to own. (Besides, I don't like the sogginess that sometimes happens with a pan.) And the toasterscape is chock-full of choices, which makes it harder to know what to buy. There are simple, industrial models (your KitchenAids and your Cuisinarts), retro-inspired styles (Smeg, obviously), and even avant-garde options, like an Italian-designed Alessi covered in plissé pleats. (A delightful fact: The first toaster was actually invented before sliced bread in a real chicken-or-the-egg kind of scenario). So I talked to fellow toast-heads to make sense of the market. I tested (and will continue to test) a number of the models below — though I've lost track of how much toast I've eaten in the process.
Toasters are usually available in either a two- or four-slice capacity, and often the same model can come in either capacity. Where there's more variability is in the width and length of the slot, which is why your favorite slice might fit into one toaster but stick out of another. So let me introduce two industry terms: long-slot and extra-wide slots. A long-slot toaster is usually at least 14 inches long, with an almost exaggerated shape, and it is good for accommodating slices from artisan loaves. Extra-wide slots tend to be marketed as 1.5 inches wide, and those are nice if you're dealing with a lot of bagels. These terms aren't standard, and are all somewhat abstract, so I've called out cases where a toaster brands itself in a particular way — but read the descriptions from our experts to better understand slot specifics. In general, I found that toasters with extra-wide slots were the most versatile.
You've probably set a toaster dial wrong and ended up with a slice that looks like it was accidentally dipped into a black paint can. So even though most toasters have some sort of dial to represent different levels of brownness, these can vary between models. (A "1" on one may be the same as a "3" on another.) Here, I'm noting how many levels of doneness a toaster offers, as well as whether there are any specific adjacent functions.
So you know if a toaster will fit into the spot you have in mind. These are all listed by width, diameter, and height so you can easily compare different toasters on this list.
You could spend $20 or $200 on a toaster. They essentially do the same thing. But the more high-end you go, the more you (generally) get. That could include lights to make numbers easier to read for barely awake eyes. Maybe there are bread-specific features, like for white versus whole grain. Or it might be all about the design. This is an appliance that's probably going to get prime kitchen counter real estate — so it should look the part.
Best overall toaster
Slots: Extra-wide for four slices (or a two-slice version) | Settings: Five (plus bagel and cancel) | Size: 11.4" x 7.7" x 7.7" | Extras: High-lift lever
I have had this KitchenAid toaster for almost a year now — it's the one I depend on most. I use it at least three times a week and sometimes twice a day when I really don't feel like cooking. It has popped out perfectly golden toast from the first time I pushed down the lever. It's got five browning settings, each of which is distinct; 1 gives you a barely there blond, while 5 gets you to scorched territory. I prefer a 2, which produces the perfect sundown shade I talked about above, whether I've put in a slice of an already brown multigrain from the bag or a hand-cut chunk of ciabatta.
There are two features that really make the design stand out from all the other toasters I tested. First are the extra-wide slots, which have let me easily toast slices from thicker loaves. The high-lift lever also means I'm able to delicately take toast from the top without having to play the saddest game of hot potato. Plus, the KitchenAid lets out an assertive beep when toast is ready — so I never have to chew through cold toast because I couldn't hear a ding. I have put it through the wringer with Pardilla family brunches, where pancake-like stacks of toast are passed around. That KitchenAid quality is no joke: One Amazon review I read before the brand sent it to me for review described the toaster as "built as solid as a 1957 Buick." I have accidentally banged the toaster around and there's not a scratch on it. It's surprisingly easy to wipe down with a dish towel to restore its original glossiness. And it has a certain Jetsons-like charm, despite its heft.
Best (less expensive) overall toaster
Slots: Extra wide for two slices | Settings: Seven (plus frozen, bagel, and cancel) | Size: 10.25" x 8" x 7" | Extras: Self-centering guides on slots, extra-lift lever
For under $40, this "Rapid Toast" toaster is a feat — and it works fast, just as advertised. It's a newer model of one previously featured in this guide; Alexandra Shytsman of The New Baguette has the older, similarly oblong-shaped version with the same "extra lift" lever, which helps her grab English muffins without using tongs.
I asked Black + Decker if I could try it out. On the first setting, slices were in and out before I could blink, getting toasty rather than toasted. The second setting gave me browner edges, while the third produced a golden center. I wasn't waiting around too long for the toast to pop! (That's the sound the machine makes; there is no ding.)
Though it doesn't have the bells and whistles of some other toasters in this guide — with only "bagel," "frozen," and "cancel" functions — it's a good bet for those who want a device that's utilitarian above all. The slots may look small at first glance but are extra wide with "self-centering" guides to ensure an even toasting. It's also the smallest-footprint toaster I've tried so far. One quirk: The crumb catcher on the bottom has to be pried off — pulled sideways, then lifted up. This takes a little elbow grease (there's no "push here" button as on other toasters) but not so much as to be a problem. You get the hang of it after a couple of tries.
Best long-slot toaster
Slots: Two long slots for four slices | Settings: Five (plus bagel and frozen) with progress bar | Size: 17.7" x 14.9" x 7.5" | Extras: One-touch lowering, LED lights, "A Bit More" and "Lift and Look" functions
"It's the toaster for toast people" is how Ali Slagle, author of I Dream of Dinner (So You Don't Have To), described the Breville Die-Cast, which might've tallied up the most mentions from our expert epicureans. Its first can't-miss feature is the toaster's duo of extra-long slots, designed to hold up to four slices simultaneously. Another highlight is the playfully named "A Bit More" button that you can press if you really just want a little extra browning and "avoid doing a full second round of toasting," according to Slagle. It's easy to get toast to a shade resembling the inside of a toasted nut, she says. Finally, there's "Lift & Look" for those times when you're "nervous you went too high on the setting or are trying to really fine-tune the browning," says Strategist senior editor Jen Trolio, who owns a similar version of this specific model.
The refrains I heard most often about this toaster focused on how easy it is to use and how long it lasts. Trolio received hers as a wedding present — her 13th anniversary is this year. Laura Arnold, a culinary producer and cookbook consultant, promises that it "does all the work for you." Odette Williams, author of Simple Pasta (and host of lasagna-making parties) says it's "not neurotic" and straightforwardly "plugs and plays." (Williams depends on it for her slathered-in-butter sourdough topped with sliced tomatoes and Maldon salt.) "You won't have to think about another toaster for years and years," she promises, adding that she's had hers for at least five. (A note from me: I'll be testing this toaster and reporting back soon. I'm especially interested in the "A Bit More" function, as someone who will refuse to eat a slice of toast that's barely browned.)
Since the Die-Cast is so beloved, I requested it from Breville for review. It's an elegant gadget. Fingerprints don't really show on its "brushed" matte finish, and the toaster isn't wide so it can be tucked away easily. The progress bar lights up as soon as the toaster is plugged in, winking while you wait. I was won over by the "A Bit More" and "Lift & Look" functions. "A Bit More" is quick, adding just a little extra golden hue; I used it most on almost-fresh bagels that needed some crispness. "Lift & Look" acts like an automated elevator; you get a brief moment to peek, then down the slice goes again, all on its own. It helped me save a couple of slices from burning.
Best toaster with extra-wide slots
Slots: Extra-wide for four slices | Settings: Six (plus cancel) with progress bar | Size: 8.23" x 13.43" x 7.87" | Extras: Preset toast types, "A Bit More" and "Lift and Look" functions
Anna Stockwell, a food stylist and recipe developer, hasn't found any bread that doesn't fit into the wide-slotted Breville Select Luxe. "The slots are plenty wide for bagels and thick slices of sourdough," she says. It's an updated version of the Breville Die-Cast above, and it comes with multiple presets, including for whole wheat bread and muffins. But Stockwell's favorite function is "frozen," as she keeps her gluten-free bread fresh in the freezer, and the toaster accounts for defrosting without sacrificing toastiness. This toaster also gets brownie points for aesthetics, which Stockwell describes as " retro-chic."
Best (less expensive) toaster with extra-wide slots
Slots: Extra-wide for two or four slices | Settings: Six (plus bagel, defrost, reheat, and cancel) | Size: 7" x 9" x 7.25" | Extras: Manual lift-lever, LED indicator lights
The Cuisinart Classic comes recommended by three discerning experts: food stylist María del Mar Cuadra, James Beard Award–nominated journalist Hannah Selinger (who's a product tester herself), and recipe developer Rebecca Firkser. Selinger and del Mar Cuadra both have the four-slice version (which the latter calls "unobtrusive," favoring it to too-slow toaster ovens), while Firkser owns the two-slicer, which I included here for its under-$50 price tag.
Selinger's was a "gift of spite" from her mother, for using the oven over having a toaster. Now, Selinger uses the Cuisinart every single day — to make waffles for one of her son's breakfast and bagels for her other son's lunch. (Her children like things on the blonder side — Selinger notes that the toaster "amps up quickly, so if you [like] lighter toast, just keep it toward the lower end.) She uses the dial rather than the other hyperspecific settings (defrost, reheat, etc.) "because I'm kind of a Luddite."
The toaster has been a fixture in Firkser's kitchen for almost a decade, through four apartments, seven roommates, "and many, many slices of bread." Even with the extra-wide slots — at 1.5 inches, these are the same thickness that Firkser usually cuts bread — the toaster doesn't take up the whole countertop. Firkser only has "a weirdly deep corner between the stove and sink that can't do much else but store stuff," and that's where this toaster sits. It's reliable at high levels of heat, too — she prefers charred (but not burnt) pieces of toast. "It's nothing fancy, but it does exactly what you need it to do, and does it well," Firkser promises.
Best high-design toaster
Slots: For two or four slices | Settings: Six (plus bagel, cancel, defrost, and reheat) | Size: 13" x 11.75" x 7.5" | Extras: Ball lever knobs, non-slip feet, enamel finish
The retro Smeg toaster is a staple on wedding registries and new homeowner wish lists, and you can spot it on the kitchen countertops of celebrities like Saturday Night Live's Chloe Fineman and Food Network star Molly Yeh. Its aesthetics are a large part of the appeal. "It feels like the logical adult upgrade to the Easy-Bake Oven I loved so much as a kid," says Hadley Sui, author of Oishisou!! The Ultimate Anime Dessert Cookbook. Sui always gets "a crisp surface with some chewy give in the middle of the slice" on the lowest setting. I tried the Smeg on everything from Arnold's country-style white to Pepperidge Farm's whole grain to Trader Joe's frozen Belgian waffles and never had to switch the dial over from one. It's not perfect: I found that sesame seeds can catch on the top edge of the toaster, and the Strategist's kitchen-and-dining writer Emma Wartzman is convinced that her Smeg leaves one side of toast darker than the other. But the craftsmanship is solid: Carrie Carrollo, a writer and content creator, has had hers for over three years now. The company also makes what it calls a "bun warmer" if you'd like to expand what it can do. Gracie Bensimon of Gracie Baked introduced me to the attachment, which helps make sandwiches with gooey cheese and deli meat. It doubles as a way for her not to burn herself when retrieving toast or sandwiches, thanks to its included handles.
Best (less expensive) high-design toaster
Slots: Long-slot for up to two slices | Settings: Seven (plus stop button on bottom) | Size: 6" x 14.75" x 7.75" | Extras: Warming tray on top
Hay is one of our most-written-about brands at the Strategist, known for its playful designs. This toaster is a member of Hay's colorful Sowden collection, named after designer George Sowden, who created the pieces from his Milanese studio. It's joy inducing, resembling a toy you'd find in a kid's pretend kitchen. The red dial on the blue version reminds me of a clown's nose even. Don't be deceived by how the toaster looks, however. I've mostly used it for breads that are longer than the standard — like cleaved-off pieces of ciabatta — and each has come out crunchy and crispy-edged. (Fair warning, though, that the very tip of a taller toast might stick out, requiring you to flip it to get an even doneness.) It doesn't have any extra features like other toasters on this list — you're only getting a cancel button and timer with the Sowden — but the simplicity is part of its power. The tray top also doubles as a place to freshen once-flaky pastries. I've resurrected even the droopiest croissants there.
Best toaster oven
Slots: None, pan and removable rack | Settings: Five with temperatures (250°–500°F) and timer (up to 25 minutes) | Size: 12.5" x 17.3" x 12.8" | Extras: Adjustable interior brightness, LED indicator lights, pre-set cooking functions
The Panasonic FlashXpress is one of the top overall picks in our guide to toaster ovens and is a favorite of Strategist contributor Sarah Leon. "If I could have one appliance and one appliance only, it would be a toaster oven," she says, noting that in the middle of a home renovation, the FlashXpress "really pulled its weight" and became an essential, if unexpected, star of her temporary kitchen. Part of this toaster oven's magic is its "smart sensor," which automatically turns the heat on and off to keep what's inside at just the right temperature. "It heats up very quickly and doesn't have to be on for a long time," Leon explains. Her husband has even cooked a lobster in it. But it excels at everyday dishes, too: "Something about the infrared technology also means it makes the best toast. I can't explain it; you'll have to trust me."
Best (less expensive) toaster oven
Slots: None, bake pan with oven rack | Settings: Five (bake, broil, keep warm, toast, and bagel) with 3 toast-specific functions | Size: 14.76" x 11.85" x 8.07" | Extras: Knobs, ready bell sound
You can only choose between three toast-specific settings on this Hamilton Beach, but that's more than enough for Snackable Bakes author Jessie Sheehan. Each is represented by a drawing of toast on the right side of the last dial — the middle of the three gives Sheehan a super-hot slice that's perfect for soaking up butter. Deli-style bagels are also just a turn of a dial away. In between "bake" and "broil," a convenient "bagel" function toasts the side of a bagel that's cut while purely warming the round part. It also helps her make a mean chicken parm for her younger son, while her husband relies on it to roast pepitas destined to go in salads. "There's absolutely nothing sexy about it, and yet it is a workhorse that has never failed me," Sheehan says.
Best steam toaster oven
Slots: None, bake pan with oven rack | Settings: 15 on a timed dial with temperatures from 350°–450°F | Size: 14.1" x 12.6" x 8.2" | Extras: Modes for sandwiches, artisan breads, and pizza
This tricked-out toaster is a favorite of Emily Mariko. Designed by Japanese home-appliance brand Balmuda, "the Toaster Oven," as it's called, is double the price of Panasonic's, but it really is the Ferrari of steam ovens. In Balmuda's case, you pour a teaspoon of water into a top opening to heat up what's inside. It's undoubtedly unique — the company sent me one to try out — with toast getting a lighter texture compared to other toasters. Melissa Kravitz Hoeffner, a food writer and editor who also owns one, supplied a more scientific explanation for this: As "the steam replicates a professional bread oven," the crust becomes crunchier, while the center of bread stays moist and corners get crisper. The effect really re-creates the taste of just-baked bread, as promised. It also has some bonus features that help to justify that $300 price tag. I got gooey, better-than-panini-pressed grilled cheese with the sandwich-specific setting. Hoeffner uses the pizza function to get as close to a box-fresh slice as possible. Even her croissants turn "extra fluffy and fantastic to pull apart." Hoeffner adds, "It's the perfect countertop appliance," even (or especially) if you don't have much space to spare.
Still, as the Balmuda is so expensive, I've been searching for a comparable but affordable steam-toaster alternative. Our Place (maker of the Strat-approved Perfect Pot and Always Pan) recently released the Wonder Oven, which is available for preorder and expected to start shipping at the beginning of September. At $195, it costs around $100 less than the Balmuda and boasts all-around multi-functionality with the ability to toast, roast, bake, reheat, broil, and air fry. It's smaller width-wise while standing taller than the Balmuda. My first impression is that it looks quite charming, reminiscent of an Easy-Bake Oven. It earns points for having slots to hold racks or trays at multiple heights, unlike Balmuda's — you can put Brussels sprouts on one level and shrimp on another (or toast more slices of bread at once). I've requested a Wonder Oven for review and will report back soon with notes, so stay tuned to see if it earns an official spot in our guide.
Best air fryer for toasting
Slots: None, wire racks with roasting pan and air-frying basket | Settings: 13 including toast, bagel, reheat, and dehydrate and temperatures from 80°–480°F | Size: 12.5" x 17.3" x 12.8" | Extras: "A Bit More," connects to Joule app, nonstick pizza pan
Over the course of reporting this guide, I reached out to a number of gourmands — and often received a response to the effect of "Oh, I use an air fryer to toast instead." (Our kitchen-and-dining writer also heard a lot about toast while she was working on our air-fryer guide.) So I decided it was only fair to include an air fryer on this list. Food stylist Drew Aichele made a convincing case for Breville's Joule, which he depends on at least four times a week. While it's a definite splurge, it's a multifunctional appliance that's similar to the Breville oven we've heard raves about from the owners of dumpling eatery Mimi Cheng's and food editor Alyse Whitney. Aichele toggles between the "toast" and "broil" functions (there are 13 in total including roasting, dehydrating, and baking), depending on how thick his slice of bread is, and adjusts the timer accordingly to avoid too-burnt corners. He gets golden toast that's still soft at the center every time and can make up to eight slices simultaneously. The appliance also has a pretty intuitive design — his favorite feature is the magnets on the inside of the door that allow you to easily pull out the racks halfway. (You can even connect the air fryer to an app to see the progress of what you're cooking.)
• Drew Aichele, food stylist
• Gracie Bensimon, founder of Gracie Baked
• Carrie Carrollo, a writer and content creator
• María del Mar Cuadra, food stylist
• Michael East, owner of Griddle King
• Rebecca Firkser, recipe developer
• Melissa Kravitz Hoeffner, food writer and editor
• Sarah Leon, Strategist contributor
• Hannah Selinger, James Beard Award–nominated journalist
• Alexandra Shytsman, recipe developer and founder of The New Baguette
• Ali Slagle, author of I Dream of Dinner (So You Don't Have To)
• Hadley Sui, author of Oishisou!! The Ultimate Anime Dessert Cookbook
• Anna Stockwell, food stylist and recipe developer
• Jen Trolio, Strategist senior editor
• Emma Wartzman, Strategist kitchen-and-dining writer
• Odette Williams, author of Simple Pasta
The Strategist is designed to surface the most useful, expert recommendations for things to buy across the vast e-commerce landscape. Some of our latest conquests include the best women's jeans, rolling luggage, pillows for side sleepers, ultra-flattering pants, and bath towels. We update links when possible, but note that deals can expire and all prices are subject to change.
Every editorial product is independently selected. If you buy something through our links, New York may earn an affiliate commission.