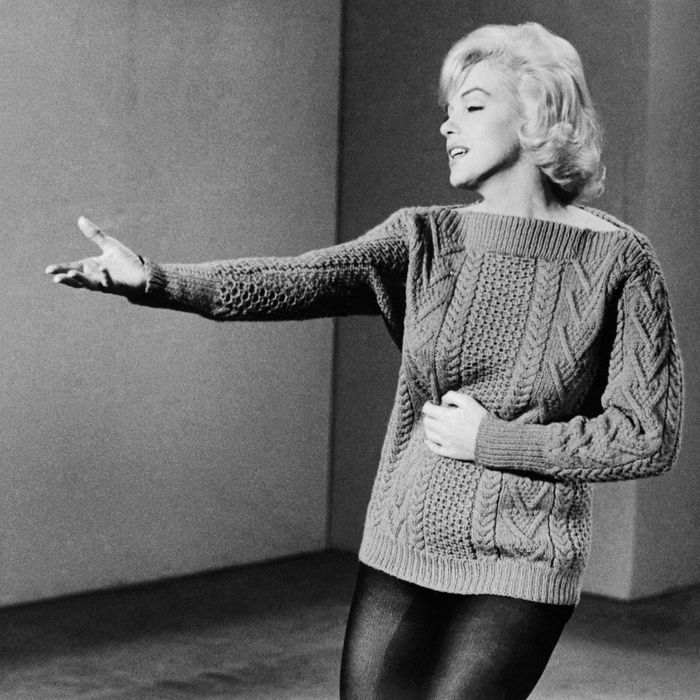 Photo: Bettmann/Bettmann Archive
Here at the Strategist, we like to think of ourselves as crazy (in the good way) about the stuff we buy, but as much as we'd like to, we can't try everything. Which is why we have People's Choice, in which we find the best-reviewed products and single out the most convincing ones. (You can learn more about our rating system and how we pick each item here.)
And while we've written about lots of sweaters before — including ugly Christmas sweaters, cashmere sweaters to gift, and men's sweaters — here, we've rounded up the best women's sweaters, as praised by the most enthusiastic reviewers on Amazon.
Best-rated sweater for women
Nearly one third of all reviewers call this sweater "warm," including one who calls it "thick and warm without being chunky, and body conscious without being too tight." Another reviewer says she "can wear it to work, to a birthday party, and even on date night with the hubby." That versatility inspired her to buy more. Lots more. "I literally have every color in my cart," she says. "This sweater is the bees knees," comments another, shortly after climbing out of a time machine. She is impressed that it actually "goes below my bum. Since I'm tall that's kind of a miracle." Many more customers joined her in commenting on the length, which almost 200 people call "perfect." One customer even offers some styling tips: "Love it over flannel-lined leggings in cooler weather with my Doc Marten boots." People also note the quality, despite the low price. According to one reviewer, "I was expecting something thin with lots of loose threads, or something bulky and scratchy, but this is thick and sleek and so incredibly soft."
Best-rated (less expensive) sweater for women
This heavyweight cardigan is a crowd favorite, thanks to its super-soft lining. One reviewer "absolutely, unequivocally loves this sweater," calling it "possibly the best piece of clothing" she's ever bought. And not just on Amazon. "All in all, I actually think this might be the best sweater I own. And that includes $200 sweaters from Nordstrom." Another describes the lining as "fuzzy goodness," saying it's similar to "having your favorite blanket around you." People liked the fit, too. "It is a longer length so it covers the tush. It is not baggy but it also is not hugging every love handle and creasing into every one of my creases," says one. Another, despite owning the sweater for only 20 minutes, is already confident enough to call it "damn good" before sneaking in the obligatory Game of Thrones reference: "Winter is coming. Prepare yourselves."
And now for some micro-picks for every type of sweater for women you might be looking for.
Best V-neck sweater for women
According to reviewers, it can be quite difficult to find a plain, well-fitting V-neck sweater. "Thank you, Amazon," one person writes. "This sweater fits perfect, wears well throughout the day, is machine washable and CAN be dried in the dryer." She bought four more. Another, who was trying to replace a discontinued favorite from LandsEnd, was quite satisfied with this. "The fabric is pretty lightweight but will be nice over a blouse or tee for mild California winters," she says. One reviewer warns that buyers shouldn't delay. These sweaters apparently "disappeared for awhile," which caused her to "panic," but now that they're back, she's stocking up and recommends others to do the same.
Best long V-neck sweater for women
It's exactly the same as the V-neck above, only longer, which many reviewers prefer. "I always like my tops to fit below the waist and this tunic fits perfect," explains one reviewer who ordered one, "then quickly order two more" once she realized one was just not enough. Another reviewer described the fit this way: "The length hits the top of the hip perfectly giving a nice silhouette but not long enough to add bulk if you wanted to tuck it in." The lightweight material lets you style this sweater however you want, according to another buyer. "Yes to being tucked into jeans, yes to being worn over a collared shirt, yes to going under a blazer," she says. "Finally the perfect sweater that can easily be transitioned."
Best crewneck sweater for women
Both trendy and practical customers agree on this simple, highly functional sweater. One self-described "plain sweater type" likes that this sweater is "not bulky or chunky, it's actually pretty light weight, but it still keeps me warm." Another reviewer just wanted something stylish. "This is a classic, go-anywhere sweater that can be dressed up and worn with a skirt, or dressed down and worn with a comfortable pair of jeans," she says. Many reviewers actually compare this sweater to options from brands like J.Crew and Banana Republic.
Best cowl-neck sweater for women
One reviewer fell in love with "the look of the texture and that cowl-neck." She had bought a similar but much more expensive sweater and thinks "this lays much better." Another reviewer calls this her "magic sweater" for travel because "it's just the right weight. When it gets chilly with the airplane air blowing down on you, you can unroll the cowl and pop it up over your head to cover your neck and ears." Plus, out of all the sweaters she owns, she has "received more compliments" on this one. "I had a random stranger stop me in an airport to tell me how put together I looked (ha!)," she writes.
Best striped sweater for women
We recently did a deep dive into the history of stripes and posted some of our favorite striped sweaters. If you're looking to get in on the trend, this is a good sweater to start with. "It's feminine, and the stripes are so flattering," says one reviewer who plans to buy two more. "The buttons are eye-catching (not in a gaudy way) and really compliments the stripes," says another. What she really likes about the sweater, however, is the quality. "The fabric is thick enough to keep me warm on a chilly evening without a jacket," says. Another person highlights the cut. "This brand really does a great job flattering the figure," she says. "Wearing this sweater last night out with my husband, he repeatedly complimented me. I cannot say enough about how fabulous this sweater is."
Best cashmere sweater for women