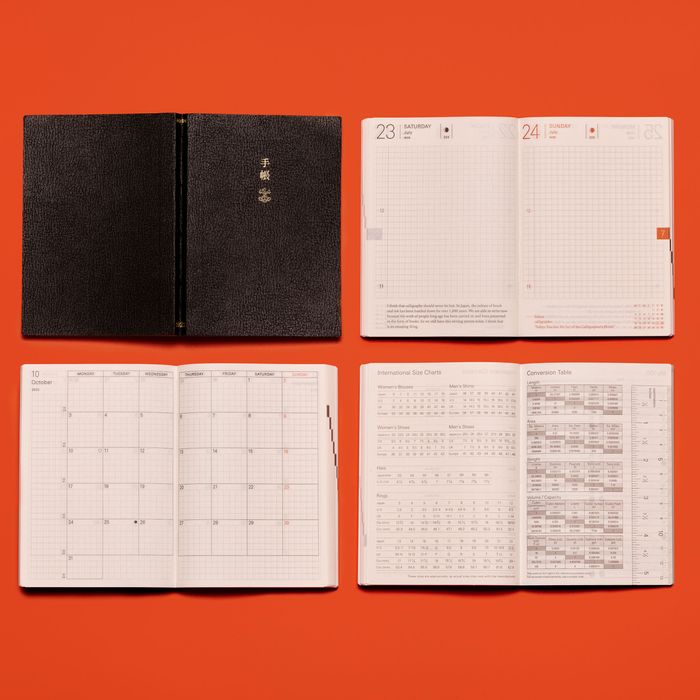 Instead of an app or gadget that claims to jump-start your productivity, consider investing in a good paper planner. There is plenty of research that shows how actually writing down your to-do list and schedule for the day — rather than typing it out on a laptop or iPhone — makes you feel more engaged in the task at hand. And once the year is complete, a physical planner becomes an artifact — a time capsule, if you will — of that calendar year's happenings. Leafing through the well-loved Hobonichi Techo planners I've used over the years brings me almost as much pleasure as scribbling in them did.
And while I've been devoted to Hobonichi Techo for most of my adult life, I've covered the Strategist's stationery beat long enough to know that finding the right planner out of the very vast and very particular world of paper goods can be overwhelming. (I have, after all, updated this list faithfully every January and was tasked with selecting the best 100 notebooks for our massive notebook-testing story.)
So to find the best planners, we talked to 26 productivity experts, life coaches, and people who love stationery (including a few Strategist staffers) about their favorites, then culled our archives for standout styles we've written about before. Any of the 27 planners recommended below will surely go a long way toward keeping you on track this year.
Best overall | Best weekly | Best daily | Best monthly | Best quarterly | Best customizable
What we're looking for
Layout: Arguably, the most essential way to categorize planners is by how they're broken down: weekly, daily, monthly, or quarterly. According to our experts, daily planners tend to devote an entire page to each day and are best suited for those with lots of daily tasks or for list-makers who need to focus on their day-to-day organization. A weekly planner's layout allots one to two pages per week and is great for those juggling many weekly meetings, events, and deadlines. A monthly or quarterly planner is great if you have long-term goals and best for big-picture thinkers who have a lot of large-scale projects on their plates. And if none of these layouts sound exactly right for your needs, perhaps you'd prefer a completely customizable planner (which we have a few of below).
Size: Planners come in a range of sizes, which impacts how portable they are and how much space there is to write. Generally, if you're looking for something super-portable, a pocket or personal planner is best. If portability is less of a factor or if you prefer roomier layouts, then a half- or full-letter-size planner is probably for you. We've noted the exact dimensions of each planner so you can easily measure the size before buying.
Cover: Aside from style, the cover impacts how well the planner will hold up against daily wear and tear. It also affects the weight: Is it hardcover, softcover, or leather-bound? If you're less concerned about adding weight to your bag and want something that'll definitely hold up all year, consider a leather-bound or hardcover planner. But if you need something lightweight, a well-made softcover planner is a good bet.
Best overall planner
Best weekly planners
Best overall weekly planner
Best weekly planner with tearaway corners


Best large weekly planner


Best vertical weekly planner