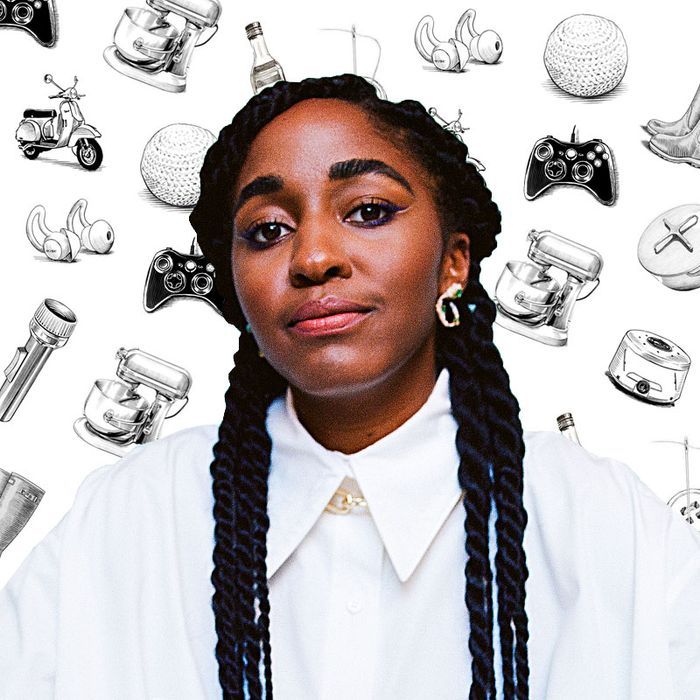 Photo-Illustration: The Strategist; Photo: Myles Loftin; Illustration: Joe McKendry
If you're like us, you've probably wondered what famous people add to their carts. Not the JAR brooch and Louis XV chair but the hair spray and the electric toothbrush. We asked actress Ayo Edebiri — who co-stars in the Hulu show The Bear — about her fancy socks, notebook for writing jokes, and kitchen knife that makes her feel like a real-life chef.
Every day of my life I go around town like I'm supposed to — buying oat milk, ruining a barista's day with another oat-milk order. But once every few months, I'm like, Wait, why am I doing this? I can absolutely process dairy and I actually love it. So I buy a family-size box of Frosted Flakes and I have it with whole milk. When it comes to cereal, I'm a milk purist. It is the perfect cereal. It never gets too soggy too soon and it leaves the best post-cereal milk. I eat it for basically every meal until the box is done, and that's my truth.
I got this sunscreen when I was traveling and ran out of my old one. And now, 20 years later, here we are, more in love than ever. I use it every day on my face and body. It never feels too heavy or oily. And it doesn't leave me white-cast or blue, which I love! Brown-skinned people, do you see this? Do you read this? Hello.
The perfect pen. That's all there is to be said. Except, actually, I will say this: Muji, please bring back the 0.25 pen. I think about it every day of my life. I had a pack of ten that I bought in bulk on eBay, and I just ran my last one. It's devastating.