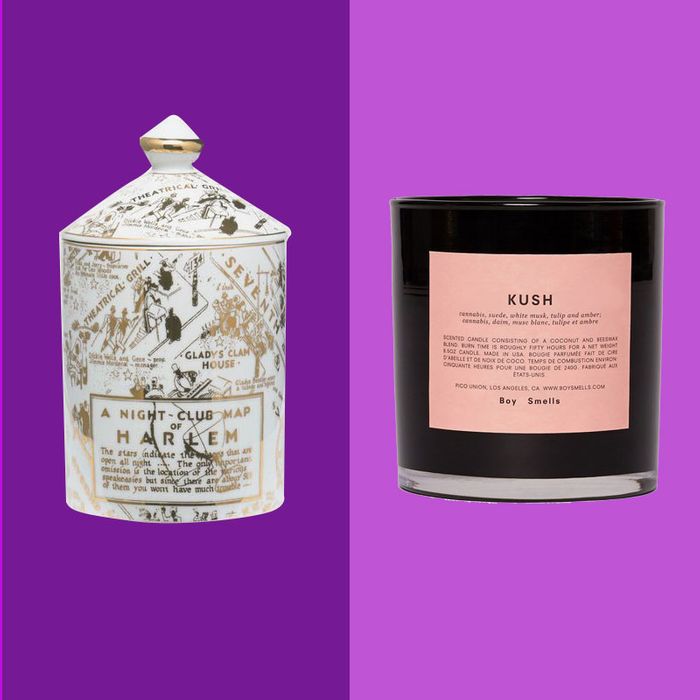 Photo-Illustration: The Strategist; Photos: Retailers
In the time before social distancing — a time that now feels far, far away — I burned candles a few times a week: during the occasional bath, to banish the smell of cooked bacon or the lingering scent of the litter box, and because friends were coming over and I wanted the apartment to smell extra-clean. But now that I've been working from home for more than two years and spending more time at home in general, I burn them like nobody's business — lighting candles (and combinations of multiple candles) for hours at a time. Throughout, I've done a lot of testing, smelling, and writing about candles, and I've learned what makes a good one. When it comes to fragrance, "good" is subjective and often comes down to a matter of preference of taste. With that in mind, I spoke to a handful of scent obsessives with exceptional taste — and a particular affinity for candles — to find out their favorites, which I've listed below.
Best overall candle | Best candle for sensitive noses | Best statusy sweet and spicy candle | Best luxury sweet and spicy candle | Best budget sweet and spicy candle | Best statusy fresh candle | Best luxury fresh candle | Best budget fresh candle | Best statusy woody candle | Best luxury woody candle | Best budget woody candle | Best statusy bright-smelling candle | Best bright-smelling luxury candle | Best budget bright-smelling candle
Notes: The notes make up a candle's scent. It can be a blend of things or just a few. When mixed together, these make up a candle's scent profile. Like perfume, the scent opens up and evolves the longer it burns. Some notes stand out the moment you open the lid — these are called top notes. Then there's the middle notes, which emerge after the candle has been burning for a little while (around 10 or 20 minutes). Finally there are the base notes, which linger after the candle is blown out.
Scent family: These notes belong to various scent families, categories that explain the relationship that scents have to one another. There have been various classifications over the years, but the most recent (and most popular) is the fragrance wheel, which was invented by fragrance expert and consultant Michael Edwards in 1984 to help stores sell perfumes more efficiently. It has since become the standard by which scents are described. There are four families: floral, amber (previously known as oriental or exotic), woody, and fresh. Within those are subfamilies, which are mixtures of the original four. Scent families (and the fragrance wheel) can be helpful for figuring out the kinds of scents you gravitate toward.
Wax: As I said before, "good" can be subjective when it comes to fragrance — but all candles are made of the same stuff: wax and fragrance. Turns out, wax is a bit easier to judge. There are a few different types of wax. The first and most common is paraffin, which you'll find in lots of mainstream options like Yankee Candle and Bath & Body Works. Paraffin holds scent well, which makes it a popular option, but it's a by-product of petroleum, which isn't as sustainable as other candle wax options like coconut or soy. Soy wax is often touted as the eco-friendly alternative to paraffin and is popular among candle brands that label themselves "clean" or "nontoxic." Soy wax burns slower, meaning your candle will last longer. On the flip side, it doesn't hold scent the same way paraffin wax does, decreasing its throw. Beeswax is an OG candle-wax option. It has a naturally sweet scent, which can be a positive or negative, depending on preference. Coconut wax is the newest wax of the four. It's made from coconut oil and tends to have a better throw than soy wax. It also burns slightly slower than soy wax, giving candles an even longer burn time. But coconut wax is pricier than soy wax, meaning a candle made from coconut wax alone will be more expensive. Generally, most brands use a blend of waxes with the goal of producing an ideal candle-burning experience.
Burn time: When available, I also noted burn time, which is an estimate of how long a candle will last you before burning out.
Vibe: Just about everything — from the clothes you wear to the pen you write with — says something about you. Same goes for candles. So everything is broken down into three categories — statusy, luxury, and budget. Statusy candles tend to fall within the $32 to $48 category; have cool, recognizable branding; and are likely stocked at specialty shops with cute names. Occasionally you'll find them at Nordstrom. Then there's luxury, which comes from brands that are on the more expensive end and run you upwards of $40. Budget candles are what they suggest — price conscious, under $30, still solid and good. Sometimes they're also branded well, though this isn't a de facto requirement.
Best overall candle
Cannabis, suede, white musk, tulip, and amber | Green amber | Coconut and beeswax blend | 50 hours
I'm a longtime fan of Boy Smells' Kush and all of its offshoot siblings because it's one of those instantly recognizable scents that doesn't smell like anything else. The brand is known for its signature scents — so much so that we dubbed it the statusy candle in 2018, and in the years since, the company has maintained its cachet. I credit Kush's uniqueness to the heady mix of amber, floral, and green notes. At the top is cannabis leaf, lemon peel, and rhubarb — which you smell immediately. Then there's almond, tulip, sage, and eucalyptus. Finally, when you blow it out or let it burn for a while, you start to smell the suede, musk, and amber. It's intoxicating; the scent evolves like a conversation with an old friend: bright at the surface and then increasingly complex as the hours stretch on. Stylist Mecca James-Williams calls it a "less grown-up version of Dark Rum," which she's kept on constant rotation since she bought it after smelling it at Kith. She likes that it leaves a scent impression in the room long after you blow it out.
Best overall candle for a sensitive nose
Sage and oat milk | Earthy, fresh | Soy wax blend | 65 hours
If Boy Smells Kush is a bit overpowering for you, then allow me to direct you to this candle from Keys Soulcare, which will be ostensibly inoffensive to most people (including those with sensitive noses). It's heavily scented without being overpowering and has just two notes: sage and oat milk. The combination is luxurious without being fussy. The sage is strong and head clearing, and the oat milk gives it a creamy, subtly sweet finish. It smells incredible (so much so that I've penned an ode to its versatility) and can be burned all day without inducing a headache. It comes in a sleek, all-black votive that looks nice sitting out and has the serif font of a fancy DTC brand. But you can buy it at Ulta. It's also fairly affordable (though a few dollars pricier than the Boy Smells) and under the radar enough that it probably won't sell out. It has an incredibly slow burn. At 7.5 ounces, it boasts a 65-hour burn time — making it one of the longest-burning candles for its size on this list.
The best status sweet and spicy candle
Photo: Maison Louis Marie 2013
Anise, nutmeg, tobacco, clove, ginger, vanilla, tonka | Amber | Soy wax blend | 60 hours
Several of the scent nuts we spoke to said they gravitate toward warm, musky scents, which they say can help transform the mood and energy of any space. "They make my space feel sexy and vibe-y," says Siraad Dirshe, a writer, producer, and self-described "huge candle person." One such candle is Maison Louis Marie No.03 L'Étang Noir, which has notes of anise, nutmeg, and tobacco, along with ginger and vanilla. "It's a nice middle-of-the-road candle," adds Dirshe. "It feels elevated but isn't $80, so I don't feel guilty burning it for hours at a time, and you can usually snag them on sale." A slow burn time also makes it worth the money, she says, with an 8.5-ounce candle offering around 60 hours of scent.
The best luxury sweet and spicy candle
Cardamom, smoked incense, pimento berry, saffron, licorice, plum blossom, tobacco leaves, palo santo, patchouli, dark chocolate | Amber, woody, citrus | Soy wax blend | 80 hours
If you're looking to splurge, consider the Speakeasy candle from Harlem Candle Co., a Black-owned candle company that makes scents inspired by the famed Manhattan neighborhood. Speakeasy takes its inspiration from the underground nightclubs of the 1920s and '30s — with top notes of cardamom and smoked incense; middle notes of pimento berry, saffron, licorice, and tobacco; and base notes of palo santo, patchouli, vanilla, and dark chocolate. There's a mix of amber, woody, and gourmand scents in this candle, making it the kind of fragrance that can really set the tone for a space. And then there's the vessel, which justifies the $98 price tag. The ceramic votive features a nightclub map of Harlem, an illustration by artist E. Simms Campbell in 1932. Once the candle burns out you can reuse the jar, making it a conversational piece of home décor.
The best budget sweet and spicy candle
Apple, peach, grapefruit, vanilla, jasmine, cedar, amber, sandalwood | Amber, woody, citrus | Soy wax blend | 80 hours
For something that leans a bit more sweet than spicy, there's the Love Jones candle from Fréres Branchiaux, which candle influencer Kudzi Chikumbu called "the perfect vanilla candle for people who don't like vanilla." It has fruity top notes of apple, peach, grapefruit, vanilla, and mandarin. As it burns, it reveals more floral and amber notes like lilac, amber, jasmine, cedar, cherry blossom, and hydrangea. The heart of the candle is both exotic and woody, grounding the scent profile with notes: amber, sandalwood, dark musk, vanilla, and powder. It's deliciously complex and warm with a dash of '90s nostalgia. It also is made from a soy wax blend and — in the four-ounce size — has a burn time of 15 to 25 hours.
The best status fresh candle
Bergamot, iced currant, pink pepper, black dahlia, snowdrop, saffron | Fresh | Soy wax blend | 60 hours
Kith x Malin+Goetz's Vapor Candle is a favorite of content strategist Evelynn Escobar-Thomas. "Lighting it after cleaning my apartment makes that apartment-cleaning hit different," she says. Its scent is inspired by cold air and fresh snow, with top notes of bergamot, currant, and pink pepper, along with charcoal, suede woods, vanilla, and birch. It's clean but not soapy and has earthy undertones.
The best luxury fresh candle
Fig, milk, green leaves | Fresh, woody, green | Paraffin | 60 hours
I'd be remiss not to mention Diptyque Figuier, one of the most iconic candles from the statusy brand — which is known for its high-quality fragrances and being the scent on record for Prince Harry and Meghan Markle's royal wedding. Its scent is inspired by "the entirety of the fig tree." It's a sweeter take on a traditional fresh profile. The result is a fruity (but not overpowering), woody, and green scent. It's the only wax on the list made from pure paraffin, which burns a bit quicker than a soy or coconut wax but has an intense throw.
The best budget fresh candle