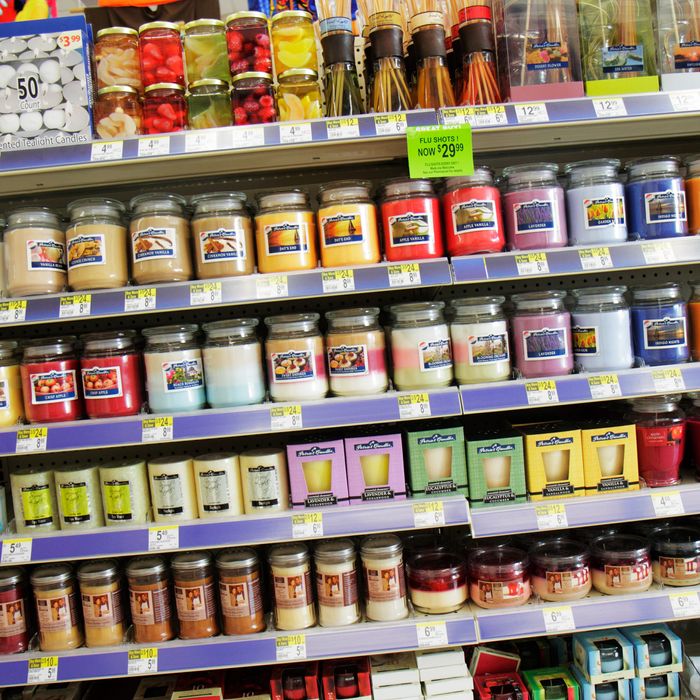 Photo: JeffGreenberg/Universal Images Group via Getty
Nothing says absolute luxury quite like gleefully burning expensive hunks of perfumed wax with abandon. Scents from Byredo, Boy Smells, Diptyque, Otherland, Maison Louis Marie, and Replica are all in my rotation. (And those are in addition to my collection of sculptural candles strewn about my apartment.) But anyone who shares my habit knows that the biggest problem with it is that it can get expensive, fast. For instance, my absolute favorite candle, Byredo's Bibliotheque, costs a cool $85. Boy Smells and Maison Louis Marie, which I consider to be solid stand-ins for Byredo, are also not exactly cheap either, at $32 and $34, respectively. And although many of my favorites have generous burn times, there are days when I often want to just light something that smells nice and doesn't have me calculating the cost for every minute it burns.
Candle connoisseur that I am, when we started talking about Drugstore Week here at the Strategist, I immediately wondered whether any of those affordable brands I've seen lining the aisles of my local CVS are actually nice-smelling. So I went on a hunt, hitting four drugstores in my neighborhood, including CVS, Duane Reade, Walgreens, and Neergaard Pharmacy (a local shop on Fifth Avenue in Park Slope), to take field notes. I eliminated any candles that were in-house brands or generics and came up with five contenders: Mrs. Meyers and Yankee Candle, brands that are carried at CVS (and most other drugstores); Glade, which is stocked at CVS, Walgreens, and Rite Aid; Febreeze, which you can pick up at Rite Aid; and Voluspa, which I found at Neergaard Pharmacy, but is also available at other independent New York drugstores like City Chemist and Olympia Chemist. To level the playing field, I decided to test the same fragrance type as a controlled variable of sorts, and the only fragrance that all five of the contenders make is lavender — which, luckily, is a scent I like. (That said, I do think lavender is tough to get right: It can easily skew too soapy or too sweet or too floral.) After settling on the candles, I set the parameters of my experiment: Each would be burned for two hours and judged on a scale of 1 to 5, based on the below criteria.
Scent: Is the scent complex/pleasant or cloying/grandma-y? Does it fill the room/apartment? Does it help you relax? Does it mask bad smells? Does it sort of blend in, or stand out (in a good or bad way)?
Packaging: How is the look of the candle itself (both the vessel and the label)? Is it something worth displaying? Is the vessel something you would want to keep once the candle is finished? Does the label peel as the candle burns?
Wax/Wick Quality: Does the candle burn evenly across or does it begin to "tunnel"? (Tunneling is typically an indication of poor quality wax or that the wick is too small for the vessel.) Does the wick smoke as it burns? Is it single wick or multi-wick? What is the stated burn time?
Affordability: Is the price comparable to other "drugstore" products (a.k.a, things that are cheap but effective)? Or does the candle cost so much that I'd rather put the money toward one of my fancier favorites?
Read on for my conclusions — and if you are not a fan of lavender, I've included other fragrance options from each brand below my reviews.
Best overall drugstore candle
Scent: 4 | Packaging: 4.5 | Wax/Wick: 4 | Affordability: 4.5
Mrs. Meyer's is known for its cruelty-free, plant-based cleaning products, with simple garden-inspired scents and colorful packaging. Of all the candles I tested, this surprisingly had the least traditional lavender scent of the bunch. I was expecting something decidedly floral, but the candle had a bright, herbal note that reminded me of the brand's Basil candle (which I had sniffed before while house sitting for a Mrs. Meyer's enthusiast). Even though it didn't smell strongly of lavender, it was the one I most wanted to burn again. The candle, which has a 35-hour burn time, was slow to fill the room at first, but once it got going, it blanketed my apartment with a strong, pleasant aroma. The fragrance is powerful enough to mask unpleasant smells (like the ones emanating from my two-day-old garbage), but might be overpowering in a bedroom, so I'd recommend keeping it in the kitchen or bathroom. The powerful scent particularly impressed me because, at a petite 4.9 oz, Mrs. Meyer's was one of the smallest candles I tested.
The candle burned about 90 percent evenly with its single wick, so I don't think that tunneling, the dreaded phenomenon that happens when the candle's wick burns straight down instead of creating an evenly melted pool of wax on top, would be an issue. And I do love the simple, rustic jar: It feels like something you could use to make raspberry jam in after the last of the wax has melted away. I also like that the candle's label is just a thin band at the top that wraps around the entire circumference, which lets you appreciate the ridges of the glass. Another plus is the lid, which protects the wax from unsightly dust when you're not burning it.
TL;DR: Mrs. Meyers best embodies the type of candle you want from a drugstore: something inexpensive from a trusted brand that looks nice and gets the job done.
Fanciest drugstore candle
Scent: 4 | Packaging: 5 | Wax/Wick: 4.5 | Affordability: 3
I was excited to try the Voluspa candle because, with notes of French cade wood, verbena, and Bulgarian lavender, it appeared to have the most complex scent profile. It's a warm, woodsy lavender that reminded me of both my grandfather's aftershave and my brother's deodorant. The scent is also potent: Even when the candle isn't burning, once you take the lid off, you get strong wafts of fragrance, and that fragrance also lingers after the candle has been blown out. For this reason, I would recommend burning it when you want to fill a large space.
Voluspa also has the greatest variety of vessels, selling its candles in seven different sizes and shapes at different price points. While Voluspa does have single wick candles available, I tested their three-wick tin candle, which, in my research, seemed the most prevalent on shelves. It has a burn time of approximately 40 hours, and because the candle had three wicks embedded in the coconut wax, it burned very evenly over the two hours. And I could easily imagine using the shallow, wide bowl as a catch-all for jewelry, house keys, or my matchbook collection.
TL;DR: While Voluspa doesn't feel like a true-blue dupe of my more expensive candles, the elevated packaging and fragrance profile still makes it the fanciest on this list. If you're in a pinch before a party, I recommend buying this one if you want to impress your guests.
Longest-burning drugstore candle
Scent: 2 | Packaging: 3.5 | Wax/Wick: 2.5 | Affordability: 3.5
I grew up surrounded by Yankee Candles that always had scents like Boxed Funfetti Birthday Cake Mix and Apple Orchard on a Bright Fall Day. I was never a big fan, but I wanted to give this drugstore standby a fair chance. Unfortunately, when burned, their lavender candle smelled a tad soapy. While I do like the lilac-colored wax and the sturdiness of their large bell jar (that could be repurposed to store anything from wrapped candy to rubber bands), the smell just wasn't my favorite. The candle's single wick didn't create a uniform pool of wax, which I chalk up to just how big the jar is, but Yankee Candle does sell products in a variety of sizes, shapes, and number of wicks.
TL;DR: With a burn time of up to 150 hours, it's by far the longest-lasting, so it's the best bang for your buck if you're buying from the drugstore.
Best odor-eliminating candle
Scent: 3 | Packaging: 2 | Wax/Wick: 5 | Affordability: 4.5
I wouldn't say this candle eliminates odors so much as it obliterates them. After I blew it out, the scent lingered for so long that I eventually had to open a window to air my living room out a bit. The eucalyptus and lavender notes are distinct, but after awhile, they started to remind me of natural bug spray. Ultimately, the candle was just too strong for me to burn for general unwinding. But I would reach for it if I was in a bind: For example, if I was about to have friends over for dinner and just badly burnt a tuna casserole.
The candle's packaging is also unremarkable: a plain glass jar that doesn't even have a label. (Though, that may appeal to minimalists?) The vessel's only design point it earns is for its oval shape that, I suppose, is slightly more interesting than the usual cylinder shape, but not by much. The one real benefit was that, after two hours, the Febreeze One candle's double wicks (which is the only option available for this brand) created the most perfectly smooth pool of wax. A note that Febreeze doesn't list burn times for the candle on its website, and I have not used it long enough to venture an estimate.
TL;DR: Febreeze One candles are the ones to buy if you need to implement a scorched-earth policy to fight funky smells.
Most affordable drugstore candle
Scent: 2 | Packaging: 1 | Wax/Wick: 2 | Affordability: 5
Similar to the Febreeze candle above, Glade's Lavender & Peach Blossom Candle did a pretty good job when it came to eliminating any weird smells in my apartment. However, said smell was just bad. The peach blossom note drowned out any lavender and smelled like how diet Peach Snapple tastes: artificial and overly sweet. The tunneling effect was also the most pronounced with this single-wick candle, which I suspect has to do with below-average wax quality. And the plain glass jar is nothing to write home about. That being said, at a little over three bucks a candle, this is by far the cheapest bet. Glade also doesn't provide burn time for this candle on its website, but says its similarly sized "2 in 1" burn for around 28 hours.
TL;DR: If you're looking to spend as little as possible to make your apartment smell a bit better (or if you really love sweet smells), go for Glade.
The Strategist is designed to surface the most useful, expert recommendations for things to buy across the vast e-commerce landscape. Some of our latest conquests include the best acne treatments, rolling luggage, pillows for side sleepers, natural anxiety remedies, and bath towels. We update links when possible, but note that deals can expire and all prices are subject to change.