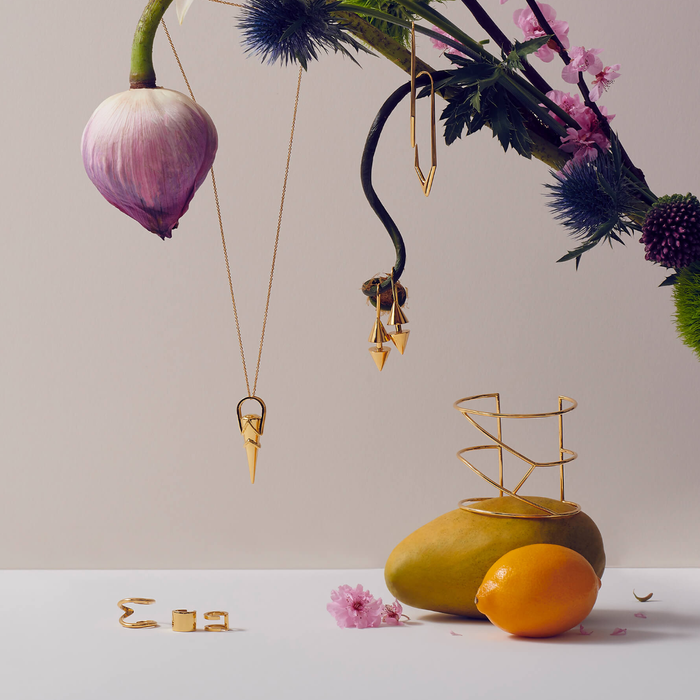 In the past few years, a new crop of fine jewelry start-ups have popped up, shaking up an industry that can feel intimidating to outsiders, and demystifying the process of buying diamonds, gemstones, and precious metals. These companies offer high-end pieces at below-retail pricing, using the same direct-to-consumer model we've seen "disrupt" industries like mattresses, bedding, and cookware. But can you trust them? Even without the retail markup, diamond earrings and solid-gold earrings are still big-ticket items, and you'd be right to be a bit wary of ordering them online. To help you separate the pure from the plated, we decided to try them for ourselves.
Strategist writers and editors each requested a necklace and pair of earrings from one of ten direct-to-consumer brands and wore them everywhere they went — work, parties, hot yoga classes — for two weeks straight. We considered the jewelry's quality (are the pieces sturdy or flimsy-feeling?), comfort and practicality (are the earrings too heavy for all-day wear? Is the necklace clasp impossible to fasten on your own?), and style, as well as the brands' policies for shipping, returns, and custom orders. Since most of the pieces are giftable (whether it's for an anniversary or Valentine's Day) we also evaluated the packaging to see if the boxes, bags, or pouches these items arrived in were the kinds of things we'd be happy to receive.
Ultimately, we recommend all of the brands below. But there are slight differences among them that might make one a better choice for you — like if you like blinged-out styles more than basic ones (or vice versa), or if you prefer the environmental friendliness of lab-grown diamonds. To help you chose, we broke the brands into groups: best for everyday pieces, best for a wide range of price points, best for high-quality diamonds, best for trying before you buy, best for lab-grown diamonds, best for a variety of styles, best for custom jewelry, best for solid gold, best for bold, blingy pieces, and best for high-end gold pieces. With selections ranging from $50 gold-plated hoop earrings to $1,000 diamond tennis bracelets, we're sure you can find the right piece for you (or them) among the bunch.
A quick note: Since some of these brands sell diamonds, it might be helpful to review the Gemological Institute of America's terminology for rating a diamond's color and clarity, so you'll know what we mean when we start throwing around terms like G color or VS2 clarity.
Mejuri: Best for everyday pieces
Tester: Lauren Ro, writer
About the brand: The Canadian-based Mejuri partners with manufacturers from all over the world to make fine, handcrafted jewelry in small quantities for everyday wear. The company claims to use only "high-quality" and "enduring materials," like 14-karat gold, sterling silver, and gold vermeil (18-karat gold layered on sterling silver), along with ethically sourced diamonds and gemstones. The selection includes simple, classic designs, like hoop earrings and chain necklaces, and the company even offers engagement and wedding rings for women and men. Jewelry can be purchased online or at one of their four locations in New York City, Los Angeles, San Francisco, and Toronto.
What we think: As someone who doesn't wear much jewelry beyond a wedding ring and earrings for special occasions, I appreciate how truly "everyday" Mejuri's offerings are — and how well its prices reflect that philosophy. I got the croissant dôme hoops because I liked their rounded, spiral-ridge design and sculptural feel. They're made from gold vermeil, a material that I'd never tried before, so I wasn't sure what to expect. But they are surprisingly solid, despite the fact that they're carved out on the inside. Being hollow also keeps them from feeling heavy in my ears. They aren't irritating, which is rare for me, as someone with sensitive ears who doesn't wear earrings every day. Style-wise, they're a little on the flashy side for my taste, but I would definitely reach for them on days I wanted to make a statement.
For the necklace, I chose the Boyfriend Bold Chain, a 14-karat solid-gold chain made of delicate, narrow rectangular links. I love the way it looks on — casual but still noticeable. The clasp is a bit tricky to operate, simultaneously too small and too thick. I would have preferred a round clasp with a longer tab and a larger connecting hole, but since the chain is adjustable (up to 18 inches), I could have theoretically connected the clasp to one of the links instead. Still, it wasn't a deal-breaker. And even though the chain feels and looks airy, it is sturdy. My son, who's nearly 1, yanked on it hard a couple of times, and I never worried that he'd actually break it or rip it off my neck.
The pieces arrived nicely packaged, inside a small, white cardboard box with Mejuri branding that was itself contained within a white drawstring pouch.
The fine print: For orders above $100, Mejuri offers free shipping or a $5 flat rate for express shipping. For orders below $100, expedited shipping is a flat rate of $10, or $15 for express shipping. Mejuri also ships internationally, and returns are free within 30 days.
TL;DR: Mejuri sells fine jewelry in a variety of classic and more surprising styles made from quality materials for less than what you'd typically pay at a traditional retailer.
Stone and Strand: Best for a wide range of price points
Note: This style is sold as a single earring.
Tester: Alexis Swerdloff, Strategist editor
About the brand: One of the earlier DTC jewelry lines (it was founded by a Wharton grad in 2012), Stone and Strand uses "the same places Fifth Avenue brands do" to create its delicate jewelry ranging from $24 for a tiny bar earring to $3,200 for a diamond-studded tennis necklace. To help you navigate its many offerings Stone and Strand divides things up into different in-house brands. For instance, there's Piercings Y'all, a collection of studs catering to those with multiple holes; Eclipse is jewelry made from natural freshwater pearls; and Pointe A is all gemstone-specific. S&S's (all conflict-free) diamond selection is particularly impressive (the $1,100 cigar band is a stunner, as is this $245 clustered diamond ring), and there's a special section devoted to wedding and engagement rings. While the Late Shift features "notice-me" jewelry like this gold suspender earring, the lion's share of offerings are classic, everyday, not-particularly-statement-making pieces.
What We Think: I picked out two things to test from Stone and Strand's XYZ collection ("gorgeous, dainty, low-key pieces you'll hardly ever take off"): two huggie hoops at $70 a pop, and this 14k solid-gold choker chain that goes for $120. The earrings were slightly thicker than your classic huggie hoop — they felt unobtrusive without completely blending into the background. I got multiple compliments on how "expensive" they looked, and a friend likened them to something Angela Chase might have worn. The chain gives off the slightest sparkle (almost as if its studded with eensy-weensy diamonds) and, like the earrings, it's basic-but-special-feeling-enough to wear every day. I showered and slept with both for several weeks, and the necklace (which came with a warning: "Please note that this chain is extremely delicate and should be worn with care") withstood multiple not-gentle tugs from my curious toddler. I could have done without some of the site's empty-feeling female empowerment-y language (I had a hard time parsing its theory about Good Girls), and the iridescent packing envelope felt more Glossier than fine jewelry.
Fine Print: Stone and Strand offers free two-day shipping, and a 100-day return policy (the $7 handling charge is on the customer, though). Repairs are free within 100 days, and Stone and Strand offers repairs (at a cost) for the entire lifetime of a product. Custom engraving is offered on most items for $25.
TL;DR: Dainty and delicate jewelry that's not going to win any awards for creative innovation, but is (relatively) inexpensive and very well-made.
Editor's Note: An earlier version of our Stone and Strand review noted that we tried to get in touch with a publicist multiple times to find out where the jewelry was sourced from — and heard nothing back. Turns out there was an email mix-up and they were not ignoring us! According to a spokesperson, all Stone and Strand jewelry is sourced from the Diamond District in New York as well as additional factories overseas.
Noémie: Best for high-quality diamonds
Tester: Karen Iorio Adelson, senior writer
About the brand: By selling directly to consumers and using its own production houses in Los Angeles and Bangkok, Noémie claims to streamline the manufacturing process and pass savings onto the customers by eliminating the traditional retail markup. If you want to see the jewelry in person, you can make an appointment at Noémie's Soho office, but otherwise everything is available only online. The brand's selection includes simple takes on classic styles (like a diamond tennis bracelet and huggie hoop earrings) with a sprinkling of the less predictable (like a pink sapphire eternity band and their signature elephant pendant), all made from solid 18-karat gold (in yellow, rose, white, or black) with conflict-free diamonds that are guaranteed to a meet a minimum standard of F/G for color and VS for clarity.
What we think: Like most of the brand's classic styles, the necklace and earrings I chose are simple enough for everyday use, and I had no issue wearing them for two weeks straight. The stud earrings are bright and shiny, and I appreciate that the posts have two small notches so the backings wouldn't slide off. Some earrings bother my lobes, and I feel the need to take them off at the end of the day, but these didn't even bother me when I slept.
The necklace is the real stunner, though, and earned me plenty of compliments. It's comprised of five diamonds — a square in the center surrounded by four marquise diamonds — that look like a larger single stone. The chain passes through a round gold pendant that the diamonds hover within, giving the "dancing" effect in the name. Between this small motion and the many facets of the small diamonds, the necklace constantly catches and reflects light for lots of shine. The clasp feels sturdy and secure, and I like how the chain is long enough to layer over a crew-neck sweater.
Each piece arrived in its own (very giftable) oversize blue box tied with a blue ribbon. The necklace came with a small felt pouch that could easily be used to store it in a jewelry box or for travel. Since both pieces feature diamonds, a grading report from the International Gemological Institute was included for each, detailing the size, color, and clarity of the stones, which all matched the descriptions on the website.
The fine print: Noémie offers free shipping on all orders and free returns within 30 days. They offer a small selection of wedding bands and engagement rings (some featuring lab-grown diamonds) and will create custom designs on request.
TL;DR: Noémie sells fine jewelry in classic styles (as well as a few more unique pieces) with quality materials and real diamonds for less than you'd pay at a traditional retailer.
Verlas: Best for trying before you buy
Tester: Hilary Reid, writer
About the brand: Verlas is a New York–based DTC jewelry company that specializes in diamond necklaces, earrings, rings, and bracelets, all of which are produced overseas. Similar to Noémie, Verlas claims to offer transparent pricing (if you want to see the breakdown, each item page on the website has a chart showing raw material, labor, and warehouse and duties costs) without traditional retail markups. The brand does not have a showroom, but they do offer a 15-day Try-at-Home program where you can request three replica pieces — made of brass and cubic zirconia — to try before committing to a purchase. The service requires a $99 refundable deposit, and shipping is free both ways.
What we think: I tend to wear jewelry that's pretty understated (the same small gold hoops and silver necklace almost every day), so I was worried that the pieces might be too glitzy. But the Verlas items are elegant and lovely, and truly easy to wear for two weeks. The studs are substantial without being too flashy, and feel very secure with their sturdy two-notch posts. (Almost too secure, actually. The backings are quite large and give the studs a slightly clunky feel — but at least there's no concern that you'll lose them during a workout.)
The necklace, which has 11 small diamonds set in an 18k white-gold chain, is something I could easily imagine wearing all the time. It's a delicate piece that caught a lot of light — so much so that when I wore it to a party and took off my coat, two of my friends immediately asked, What is that? The chain is 16-inches long, but can be fastened at a shorter length for more versatility. I liked the shorter length with button-downs and open-neck blouses, and the longer length worked well with crew necks and turtlenecks. My only complaint is that the hardware feels slightly disproportionate to the piece — in this case, the clasp looks a little skimpy, though it still feels secure.
Both items came in black microfiber boxes, which were fine, but not particularly memorable. They came with an identification report from the International Gemological Institute detailing the shape, cut, color, and clarity of the pieces. The clarity on both pieces is SI, but Verlas also offers VS diamonds at a higher price. The color of the stones in both pieces is graded H-I which, in diamond speak, is pretty good.
The fine print: Verlas offers 30 days for returns and 60 days for Verlas credits. Customers can opt into the five-year "Verlas Care" warranty program for between $99 and $299 (depending on the value of the jewelry), which covers cleaning, repairs, resizing, and complimentary upgrades — meaning that you can trade in a smaller piece and apply the value toward a larger piece with a price 50 percent or higher in value than your original item.
TL;DR: Verlas sells diamond pieces in classic and versatile designs — think hoops and studs, circle and heart pendants, engagement rings in traditional styles, and a tennis bracelet — at a lower price than you would find at a typical jewelry store. And if you're unsure what style you want, you can try replica pieces at home first.
Vrai: Best for lab-grown diamonds
Tester: Maxine Builder, managing editor
About the brand: Vrai was founded in 2014 as Vrai & Oro, and in 2017, the start-up became part of Diamond Foundry, a company that forges man-made diamonds at a carbon-neutral, solar-powered facility in San Francisco. (You can see how they make diamonds, a process that involves putting carbon and a thin slice of an existing diamond in a plasma reactor that's as hot as the surface of the sun, here.) Vrai incorporates the stones made at the Diamond Foundry into their jewelry. And though it sounds like a science experiment, according to the Federal Trade Commission, man-made diamonds are technically and legally considered "