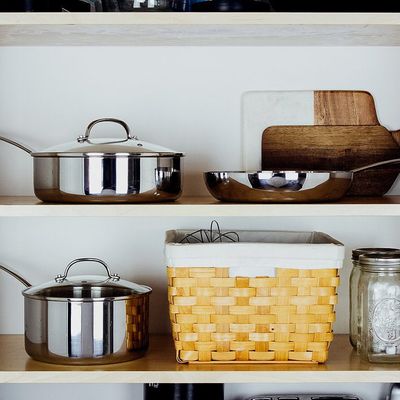 Photo: Courtesy Brigade Kitchen
Editor's note: Since this article was published in 2018, one of the brands we tested — Potluck Cookware — has changed its branding. It's now called Goldilocks, but its products are the same as they were when we tested them. So we've changed the company's name accordingly, to Goldilocks, throughout this post.
Just like mattresses and bedsheets and underwear before them, cookware sets have become the newest products being sold by a slate of direct-to-consumer start-ups. New companies have sprouted up in the last couple of years, claiming to manufacture high-quality stainless-steel cookware and chef-friendly knives at surprisingly low prices, ostensibly without the markup of traditional retail. Since I'm a person who likes to cook (and writes about cookware a lot, so gets served ads for these companies across the internet constantly), I wanted to know: How well does this gear actually perform in the kitchen? And which of these new direct-to-consumer cookware brands is the best?
How I Tested
To find out, I called in samples of six direct-to-consumer cookware brands — Brandless, Brigade Kitchen, Made in Cookware, Material Kitchen, Misen, and Goldilocks — and tested each of them over a two-week period. Though I was intrigued by direct-to-consumer cast-iron brand Field Company, which makes skillets, and the sold-out enameled Dutch oven from Milo, I chose to exclude those brands from my review process because they only sell individual items, not cookware sets or kits. Also, cast-iron and stainless steel are two different beasts, and I didn't want to get bogged down in material differences.
Over the course of my testing period, I gave my regular rotation of pots, pans, knives, and utensils a break and used only the gear from these six brands to prepare and cook all of my meals. I went through most of the 22 utensils and 13 knives sent to me, but I didn't use every single pot and pan (of which there were 13). However, I used at least two pieces from each brand — including all of the frying pans that I had on hand — and I cooked different dishes with different styles of preparation in each.
How I Rated
Ultimately, I was looking for gear with professional-grade qualities, stuff that could happily be used by professional chefs and serious home cooks, but wasn't too intimidating for beginners. Though I've never worked in a restaurant kitchen, I've spent a lot of time interviewing professional chefs about their favorite gadgets and gizmos, and as a prolific home cook myself, I've adopted many of their tips and preferences in my own kitchen. I also fall into the Alton Brown school of cookware: Throw out all unitaskers, and fill your kitchen with gear that can do more than one thing. My hunt for the most user-friendly experience also meant that I preferred brands that sold cohesive sets of gear to those that made one-off pieces, to eliminate the chance of filler.
At the end of the day, though, all of the cookware worked — eggs were fried, chicken was braised, tacos were assembled — so nothing was really "bad." Even within my highest-ranked sets, some of the tools performed better and were easier to use than others; that's why I also picked out standout pieces from each company in addition to the overall rankings. Here's what I liked, what I didn't, and what I would recommend.
Best professional-grade kitchen gear, overall — Goldilocks
What I Tested: The 22-piece Essentials Bundle, which contains every piece from their line. You can also buy their gear in sets if you don't want the whole shebang; there's the Cookware Set, the Knife Set, and the Utensil Set.
What I Would Buy: the 12-piece Utensil Set.
The Good: If you're a serious home cook who's looking for professional-grade gear because you've outgrown your old stuff, or you're someone who is truly starting from square one with no idea what kitchen gear you really need and what's a gimmick, go for Goldilocks. It's one of those rare brands that'll both satisfy professionals and help people who aren't yet confident in their cooking skills by giving them the essential tool kit they need to succeed.
Most of their gear looks and feels like it came straight from a restaurant supply store on the Bowery, and I mean that as the highest compliment. It's chef-centric and utilitarian, in large part because the founders of Goldilocks started the design process by surveying home cooks and professional chefs to find out what they actually wanted — and directly incorporated that feedback into what pieces were included and how they were manufactured. (This iconic New York Times piece by Mark Bittman from 2009, outlining his essential kitchen gear, was another inspiration, admitted co-founder Minsuk Kim in an email.)
A good example of Goldilocks' commitment to chefs' standards was their decision to make tri-ply stainless-steel cookware rather than five-ply, like some of their competitors, including Made In and Brigade Kitchen. They were told by a chef who worked at Chez Panisse that tri-ply was standard in their kitchen, so that's what they went with. And every piece of cookware I tested could take the heat, even though I'm not cooking like Alice Waters. I made a braised chicken dish in the skillet, which held up to frying, high oven temperatures, and deglazing, and the chef's knife made quick work of onions and overripe tomatoes.
And though I enjoyed using both the stainless-steel pots and pans and three-piece knife set, and would heartily recommend the Essentials Bundle, it was the Utensil Set that gave me the most joy (and is also, in my opinion, the best deal). For $80, you get 12 pieces that will fully outfit your kitchen, including several kitchen essentials that no other direct-to-consumer kit I tested includes — like two stainless-steel mixing bowls, a handsome colander, a Y-shaped peeler, and measuring cups and spoons. But even the more standard utensils are outstandingly simple, offered in the best, most chef-friendly versions. For instance, the spatula is a flexible fish spatula, the style beloved by Smitten Kitchen's Deb Perelman because its "thin edge is perfect for everything that needs to be loosened, lifted, or turned." The metal tongs are straightforward, long, and sturdy enough to use on a grill if you really wanted. Even the silicone spatula resembles those I've see used in professional kitchens, not the cutesy ones employed on the Food Network or in YouTube tutorials.
The Less Good: The focus on chef-quality gear for the lowest prices possible means that Goldilocks doesn't have the most panache in terms of aesthetics, and in a couple of instances, the material felt a little cheap. The lids are made of a lighter stainless steel than the pots and pans themselves, and the handles of the knives are made of rough plastic rather than wood. It's a case of function over style, and though that might be a bummer for folks looking to curate a Pinterest-worthy kitchen, it's fine for those looking to make Pinterest-worthy food.
Best stainless-steel pots and pans — Made In Cookware
What I Tested: The eight-piece Core, which comes with a ten-inch stainless-steel frying pan, a ten-inch nonstick frying pan, a two-quart saucepan, a four-quart sauté pan, and an eight-quart stockpot.
What I Would Buy: the ten-inch nonstick frying pan.
The Good: With their heavy bottoms and well-designed, easy-to-lift handles, the pots and pans from Made In became my most-used cookware during the two-week testing period. I made filling for blueberry pie in the two-quart saucepan, which held high heat evenly without burning the sugary mix. I made a mess of cheesy polenta in the eight-quart stockpot without burning anything, and the ten-inch all-stainless frying pan was ideal for cooking ground beef for tacos. Made In is the only direct-to-consumer cookware brand I tested that sold a nonstick frying pan, and though I enjoyed all of the gear, this one was the standout of the bunch because it had the biggest chance to go badly. But it passed my egg-frying test beautifully, with not a broken yolk in sight.
Since the cookware is made of brushed stainless steel rather than polished, it was easy to clean and keep clean. I also appreciated that the branding was minimal, though I was tickled by the engraved recipes on the bottom of every piece, including one for roux on the saucier and another for an omelette on the nonstick skillet. And though I was mostly looking for complete sets, I liked that you could buy individual pieces to fill in your collection as you need it, making it a good choice if you know you want to upgrade a particular item in your kitchen.
The Less Good: Though all of these companies are technically start-ups, Made In felt the most twee, and the branding made me take it less seriously at first. For instance, two cards came with my pots and pans: one explaining the basics of using and caring for all-stainless cookware, the other providing instructions on how to take the best food photos for Instagram. However, since the gear worked so well, I got over it quickly.
However, what's still unclear to me is if you're getting a great deal when you buy Made In cookware. The prices for a lot of the pots and pans are comparable to that of All-Clad tri-ply, even when you're buying in bulk. For instance, the 10-piece All-Clad cookware set — with an eight-quart stockpot, a three-quart sauté pan and three-quart saucepan, and two frying pans — costs $650 on Amazon, while Made In's 11-piece Kitchen Sink bundle, with a pretty similar lineup, costs $699. Granted, Made In's gear is five-ply, not tri-ply like All-Clad, but in terms of performance, I wouldn't really be able to tell much of a difference between the two.
Best knife set — Misen
What I Tested: The three-piece Essentials Knife Set in blue, with a eight-inch chef's knife, a paring knife, and a ten-inch serrated bread knife.
What I Would Buy: the Essentials Knife Set.
The Good: Though Misen does sell all-stainless-steel cookware, I did not have the opportunity to try their skillet during my testing period. However, their knife set has been in my possession long before my testing period started; it's actually been on my magnetic strip for the last three months, when we had houseguests and I wanted to put away my nice Global knives so they wouldn't get chipped. I haven't bothered to put those more-expensive knives back up, which speaks to how much I enjoy the Essential Set. To me, Misen's three-piece Essential Set is the Platonic ideal of a knife set, and if you're looking for a Wüsthof dupe, this is it. They're heavier than my Global knives, as most European-style knives are, these knives feel nicer and more balanced in my hands than the plastic-handled set from Goldilocks, and the edges have held as sharp as the first day, even after a few months of use.
The Less Good: The colored handles of the knives, cute in photographs and on my knife strip, don't scream professional, and though the knives were balanced, the handles sometimes felt a bit boxy in my hand. You'll also have to wait a bit to get exactly the set I used: The blue Misen knife set is on preorder, since it's been so highly demanded, though you can buy it in red or sage. Ditto all of the cookware, including the stand-alone skillet, which won't ship until mid-November.
Best complete cookware set for beginners — Brigade Kitchen
What I Tested: The four-piece Set, which comes with Brigade Kitchen's complete lineup: a 9.5-inch stainless-steel skillet, a 2.5-quart saucepan, a three-quart sauté pan, and a seven-inch Santoku knife.
What I Would Buy: the Set.
The Good: Brigade Kitchen's philosophy is to create high-quality, basic cookware at an approachable price, and to that end, the gear itself felt solid. There's also no filler in their line, and that's why the complete set would be my choice for a college student or a recent graduate moving into their first apartment. The five-ply stainless-steel pots came with glass lids, ideal for less confident chefs who want to be able to peek at what's happening (and a feature that came in handy when steaming rice). The skillet, with a heavy bottom and slightly sloped edges, was good for sautéing vegetables. I had few complaints about the actual performance of the Santoku knife, with an ever-so-slightly curved tip that allowed me to rock through onions with not a tear in sight.
The Less Good: Though the quality of the pieces was mostly good to great, there were some small design issues that kept them from feeling truly professional-grade, starting with the heavy Brigade Kitchen branding. The logo, visibly etched into the bottom of the pots and pans, stared at me while I stirred my veggies. And though the polished stainless steel is beautiful when it's right out of the box, it's trickier to clean and keep fingerprint-free over time, especially when compared to brushed steel. I also didn't love the glass lids for that same reason. I was pretty sold on the knife because it felt so good in my hand, but it also refused to stick to my magnetic knife strip, which was frustrating and a little too dangerous for my liking. But even if none of the individual pieces stood out as incredible on their own, as a set, it was the most complete, with the least filler, especially for a beginner.
Best Japanese-style chef's knife — Material Kitchen
What I Tested: The seven-piece Fundamentals, which comes with an eight-inch and a four-inch knife, stainless-steel tongs, a wooden spoon, a stainless-steel spoon, and a stainless-steel spatula, all stored in a wooden base.
What I Would Buy: the eight-inch chef's knife, made from three layers of Japanese steel.
The Good: Of all the utensils I tested, those from Material Kitchen were the most beautifully organized, least of all because they came presented in a handsome wooden container. The set itself, when you lay it out, ostensibly has everything you need to prep and cook, and all of the pieces look truly statuesque, in an elegant dark wood and brushed steel.
My favorite piece was the eight-inch kitchen knife, which found a delicate balance between function and design. It rivaled my favorite Global in terms of performance, cutting through tomatoes like a hot knife through butter, with a sleek dark-wood handle that reminded me of some of my dad's favorite hollow-handled Japanese chef knives from Shun — at less than half the price.
The Less Good: Though they're gorgeous when sitting on the counter, I found the utensils sculptural to a fault. The wooden spoon, for instance, wasn't ideal for sautéing vegetables or using in a pan, since it had too much of a scoop; however, it was a great serving spoon for a tomato-and-Feta salad. The slotted metal spatula, though flexible, was too hefty and lacked the precision of my go-to fish spatula.
Of all the utensils, the tongs gave me the most trouble. I found them to be heavy and imprecise; while making spaghetti cacio e pepe, I roughed up and sliced a couple of strands when trying to toss the pepper in with the pasta. The tongs also rely on a so-called "one-handed magic lock" to open, meaning they only release when you turn them down and close when you turn them back up, and I couldn't figure out how to use them for a couple of days since they didn't come with any directions. There was a learning curve for much of the gear, which left me a little on edge since I thought I knew how to use tongs. That's why I wouldn't recommend the Fundamentals Set, as a whole, to a serious home cook. It's beautiful on the counter, but it's better-suited for someone who prefers to entertain rather than cook.
Most price-sensitive knives and utensils — Brandless
What I Tested: The six-piece Essential Knives set and the six silicone utensils, including a slotted spoon, a serving spoon, a pasta fork, a silicone spatula, a slotted turner, and silicone tongs.
What I Would Buy: the silicone tongs.
The Good: The knives and utensils from Brandless are a steal when you consider the fact that they're only $3. So if you're really on a tight budget, you could consider it. But the gear from Brandless was pretty hit or miss. The silicone kitchen tongs, for $3, were definitely the best piece of the set, though I was pleasantly surprised by the paring knife, which was sharp and balanced, perfect for peeling apples or cutting eyes out of potatoes. The serrated bread knife cut through my farmers' market loaf without shredding it to pieces. Even the rubber spatula was a solid tool for scraping down the side of a bowl of batter, though a little flimsy for sautéing. The gray silicone tools with light wooden handles were very pretty in my marble canister, too.
The Less Good: The misses, on the other hand, really missed. One of the biggest disappointments was the chef's knife, with its straight edge like a cleaver. The lack of curve on the blade meant I couldn't quickly, efficiently, or safely rock the knife back and forth. Instead, my usually smooth cuts turned into sharp whacks on the cutting board, which is how you lose a finger if you're not paying attention. For that reason, I would strongly recommend that you save up for a better chef's knife and maybe steer clear of the knives from Brandless, but if you're looking for serviceable and affordable silicone utensils, you could do worse than these.
The Strategist is designed to surface the most useful, expert recommendations for things to buy across the vast e-commerce landscape. Some of our latest conquests include the best acne treatments, rolling luggage, pillows for side sleepers, natural anxiety remedies, and bath towels. We update links when possible, but note that deals can expire and all prices are subject to change.
Every editorial product is independently selected. If you buy something through our links, New York may earn an affiliate commission.