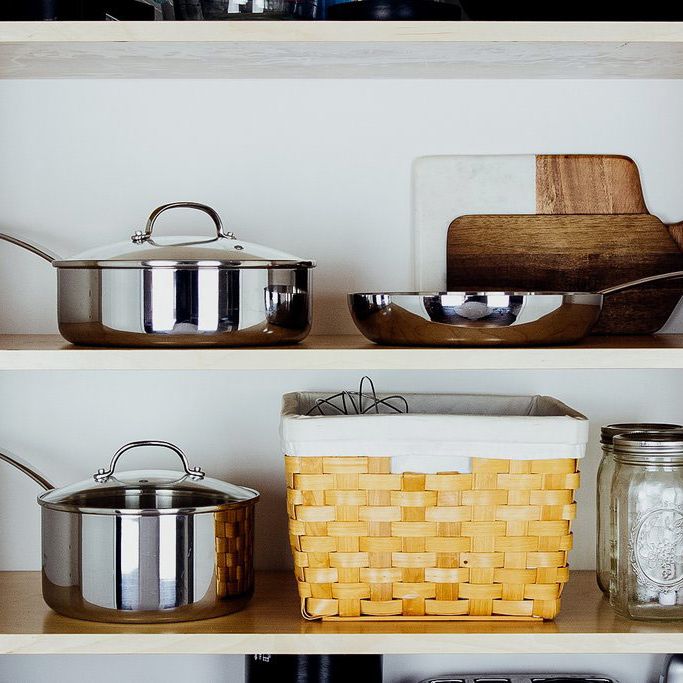 Photo: Courtesy Brigade Kitchen
Editor's note: Since this article was published in 2018, one of the brands we tested — Potluck Cookware — has changed its branding. It's now called Goldilocks, but its products are the same as they were when we tested them. So we've changed the company's name accordingly, to Goldilocks, throughout this post.
Just like mattresses and bedsheets and underwear before them, cookware sets have become the newest products being sold by a slate of direct-to-consumer start-ups. New companies have sprouted up in the last couple of years, claiming to manufacture high-quality stainless-steel cookware and chef-friendly knives at surprisingly low prices, ostensibly without the markup of traditional retail. Since I'm a person who likes to cook (and writes about cookware a lot, so gets served ads for these companies across the internet constantly), I wanted to know: How well does this gear actually perform in the kitchen? And which of these new direct-to-consumer cookware brands is the best?
How I Tested
To find out, I called in samples of six direct-to-consumer cookware brands — Brandless, Brigade Kitchen, Made in Cookware, Material Kitchen, Misen, and Goldilocks — and tested each of them over a two-week period. Though I was intrigued by direct-to-consumer cast-iron brand Field Company, which makes skillets, and the sold-out enameled Dutch oven from Milo, I chose to exclude those brands from my review process because they only sell individual items, not cookware sets or kits. Also, cast-iron and stainless steel are two different beasts, and I didn't want to get bogged down in material differences.
Over the course of my testing period, I gave my regular rotation of pots, pans, knives, and utensils a break and used only the gear from these six brands to prepare and cook all of my meals. I went through most of the 22 utensils and 13 knives sent to me, but I didn't use every single pot and pan (of which there were 13). However, I used at least two pieces from each brand — including all of the frying pans that I had on hand — and I cooked different dishes with different styles of preparation in each.
How I Rated
Ultimately, I was looking for gear with professional-grade qualities, stuff that could happily be used by professional chefs and serious home cooks, but wasn't too intimidating for beginners. Though I've never worked in a restaurant kitchen, I've spent a lot of time interviewing professional chefs about their favorite gadgets and gizmos, and as a prolific home cook myself, I've adopted many of their tips and preferences in my own kitchen. I also fall into the Alton Brown school of cookware: Throw out all unitaskers, and fill your kitchen with gear that can do more than one thing. My hunt for the most user-friendly experience also meant that I preferred brands that sold cohesive sets of gear to those that made one-off pieces, to eliminate the chance of filler.
At the end of the day, though, all of the cookware worked — eggs were fried, chicken was braised, tacos were assembled — so nothing was really "bad." Even within my highest-ranked sets, some of the tools performed better and were easier to use than others; that's why I also picked out standout pieces from each company in addition to the overall rankings. Here's what I liked, what I didn't, and what I would recommend.
Best professional-grade kitchen gear, overall — Goldilocks
What I Tested: The 22-piece Essentials Bundle, which contains every piece from their line. You can also buy their gear in sets if you don't want the whole shebang; there's the Cookware Set, the Knife Set, and the Utensil Set.
What I Would Buy: the 12-piece Utensil Set.
The Good: If you're a serious home cook who's looking for professional-grade gear because you've outgrown your old stuff, or you're someone who is truly starting from square one with no idea what kitchen gear you really need and what's a gimmick, go for Goldilocks. It's one of those rare brands that'll both satisfy professionals and help people who aren't yet confident in their cooking skills by giving them the essential tool kit they need to succeed.
Most of their gear looks and feels like it came straight from a restaurant supply store on the Bowery, and I mean that as the highest compliment. It's chef-centric and utilitarian, in large part because the founders of Goldilocks started the design process by surveying home cooks and professional chefs to find out what they actually wanted — and directly incorporated that feedback into what pieces were included and how they were manufactured. (This iconic New York Times piece by Mark Bittman from 2009, outlining his essential kitchen gear, was another inspiration, admitted co-founder Minsuk Kim in an email.)
A good example of Goldilocks' commitment to chefs' standards was their decision to make tri-ply stainless-steel cookware rather than five-ply, like some of their competitors, including Made In and Brigade Kitchen. They were told by a chef who worked at Chez Panisse that tri-ply was standard in their kitchen, so that's what they went with. And every piece of cookware I tested could take the heat, even though I'm not cooking like Alice Waters. I made a braised chicken dish in the skillet, which held up to frying, high oven temperatures, and deglazing, and the chef's knife made quick work of onions and overripe tomatoes.
And though I enjoyed using both the stainless-steel pots and pans and three-piece knife set, and would heartily recommend the Essentials Bundle, it was the Utensil Set that gave me the most joy (and is also, in my opinion, the best deal). For $80, you get 12 pieces that will fully outfit your kitchen, including several kitchen essentials that no other direct-to-consumer kit I tested includes — like two stainless-steel mixing bowls, a handsome colander, a Y-shaped peeler, and measuring cups and spoons. But even the more standard utensils are outstandingly simple, offered in the best, most chef-friendly versions. For instance, the spatula is a flexible fish spatula, the style beloved by Smitten Kitchen's Deb Perelman because its "thin edge is perfect for everything that needs to be loosened, lifted, or turned." The metal tongs are straightforward, long, and sturdy enough to use on a grill if you really wanted. Even the silicone spatula resembles those I've see used in professional kitchens, not the cutesy ones employed on the Food Network or in YouTube tutorials.
The Less Good: The focus on chef-quality gear for the lowest prices possible means that Goldilocks doesn't have the most panache in terms of aesthetics, and in a couple of instances, the material felt a little cheap. The lids are made of a lighter stainless steel than the pots and pans themselves, and the handles of the knives are made of rough plastic rather than wood. It's a case of function over style, and though that might be a bummer for folks looking to curate a Pinterest-worthy kitchen, it's fine for those looking to make Pinterest-worthy food.
Best stainless-steel pots and pans — Made In Cookware
What I Tested: The eight-piece Core, which comes with a ten-inch stainless-steel frying pan, a ten-inch nonstick frying pan, a two-quart saucepan, a four-quart sauté pan, and an eight-quart stockpot.
What I Would Buy: the ten-inch nonstick frying pan.