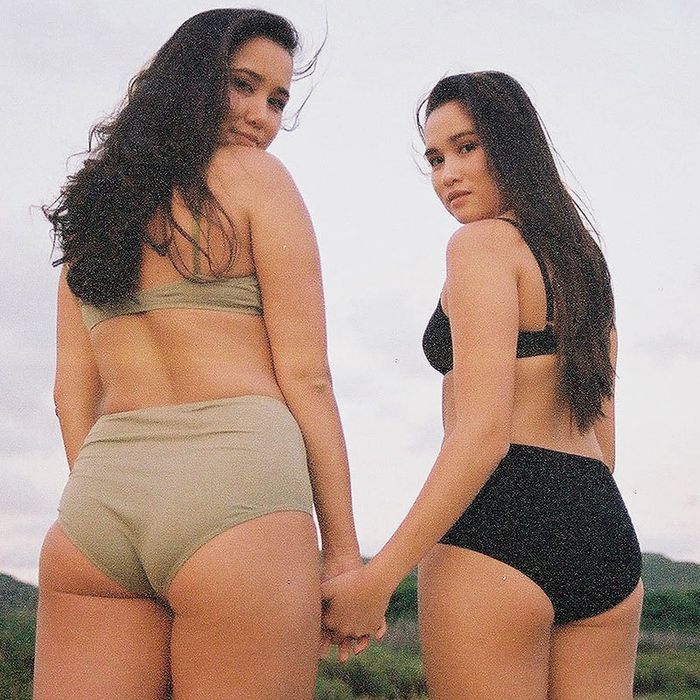 Startup bottoms.
Photo: Jonesy
This week, the Strat editors and writers each divulged the underwear they like best. For a group of pro-level shoppers — we're people who have highly developed opinions on water filter pitchers, and who have done rigorous trial and error to find natural deodorant that keeps you truly dry — it turns out our tastes in undergarments run pretty basic: Calvin Klein, Hanes, Victoria's Secret, Gap Body. Lori's exploits in trying new underwear aside, most of us seem comfortable with the tried-and-true old guard.
And yet, there are a handful of newcomers on the underwear scene. Start-ups with VC dollars behind them, like MeUndies and Lively, have launched underthings-only brands, and popular direct-to-consumer companies like Everlane and Reformation have recently dropped inaugural underwear lines. Intrepid associate editor Katy Schneider and I decided to try bottoms from a bunch of them, wondering if any new favorites might emerge. We had a couple weeks to do so, each tried one style from several available from each brand, and wore them to work, to bed, out at night, and on vacation. Here's what we thought, and what we'd recommend.
Margaret: Should we first establish what our platonic ideals are for underwear?
Katy: I prefer a taut fabric. If you're going to wear briefs it shouldn't look bunchy. Most of my underwear is Hanky Panky; I have a million pairs from high school that I never updated. And those actually get pretty bunchy. I'll wear a thong when I wear tight pants, but in terms of what I like, I prefer something like briefs.
Margaret: And for second time this week: I'm a thong-wearer. Except when I'm lounging at home, and then I like a navel-high pair of briefs. So which brand's underwear are you most opinionated about?
Best if you like Spanx
Katy: I had a major reaction to the Lively briefs. Those were really good, because they were really kind of stiff and stretchy — not like Spanx exactly — but they're a little shaping and they definitely adhered to my body and smoothed over that fold between your butt and your hips. It was very secure feeling. They felt very supportive but not obtrusive.
Margaret: I also tried the Lively thong, and I agree that it was snug and secure. I will say, as a tip for shoppers: I think we both ordered a size small in everything we tried, and this size small was the only one that was a little tight.
Best if you like Cosabella
Margaret: Lively and Negative Underwear remind me a bit of one another — I think because they launched around the same time and have similar brands, both created by young women. I tried the Negative Sieve thong and it was one of my favorite pieces from this experiment. According to their website it has a "Belgian honeycomb micromesh" and a "plush Japanese elastic waistband," which both sound expensive. But these also feel expensive — they sit securely at just the right point on your hips and lay very smooth. And they're so attractive, in a modern minimalist way. Mesh is definitely the new lace.
Best if you like Patagonia
Katy: These Tommy Johns — I just tried their plain underwear — feel so soft to me, it's crazy. It's interesting to me because the band isn't less elastic or more elastic than the rest of the piece.
Margaret: Technically there are seams, but it's like one interrupted piece of fabric. They are just across-the-board very comfortable. They remind me from something like a high-tech performance brand, like Patagonia, because this material is so light and wicking that I'd think you could hike or ride a bike in them and be very arid later.
Katy: They're very weightless. Very dainty. I was off put by the name, because it sounds like a surfer-dude brand, but these were my favorites for general comfort.
Margaret: I can see why Lori loves them so much.
Best if you like Baserange
Margaret: One new company I'm very excited about is Jonesy. It's a New York brand, run by a woman named Rachel, and she makes simple cotton pieces that come in beautiful lush colors like a wine-red jasper and a very vivid chartreuse. For the past few nights at home, I've been living in the Jonesy High-Waisted Undies. The aesthetic is nose-to-nose with Baserange or Marieyat, both of which I think popularized that kind of counterintuitively homely-sexy vintage fit. They're like the clogs of underwear. But I've never been able to pull the trigger on those other brands because of the price tags. Jonesy's pieces are at a much more reasonable price point.