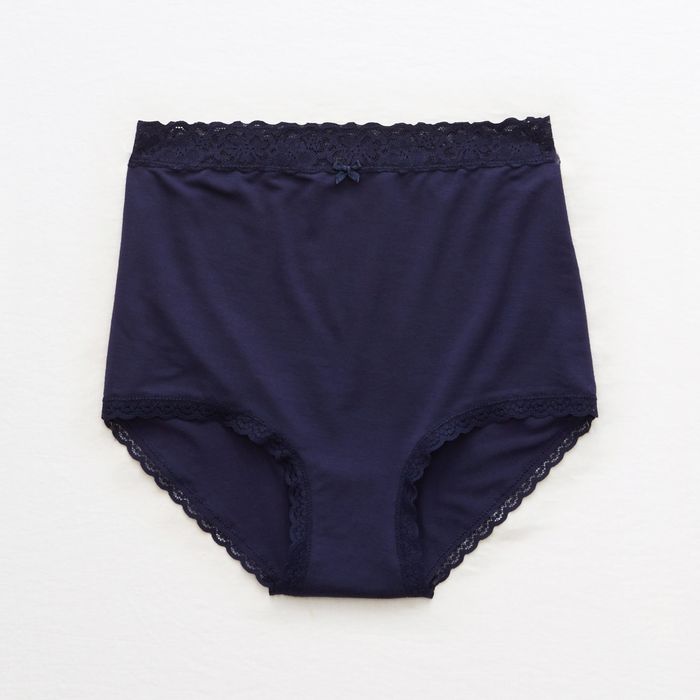 Like boy briefs with lace.
Photo: Courtesy of the retailer
When it comes to underwear, function takes precedence over fashion for me. Most days, I'd rather be comfortable than worry about matching my bra to my underpants, or wearing something frilly if I'll be in pajamas the minute I get home. For days that no one but I will see them, I always reach for Aerie's high-waisted boy briefs.
Like the name would suggest, they're the ladies' version of tighty-whities, only with softer fabric, lace, and a more delicate waistband. The sizes range from XXS to XXL, which equals about a size 18, which, to be fair, is on the smaller side of plus-size. I no longer have to run to a plus-size store like Torrid or Lane Bryant, where I've bought underwear before, and those stores' options don't fit nearly as well or sit as comfortably as Aerie's. The price is also right: I can buy one pair for $10 or seven pairs for $29 (that's a little more than $4 a pair, and I can even mix in some hipsters and bikini briefs).
A note on the sizing: These run true to the label, which so many pairs of underwear I've worn do not. They're also an actual high-waist underwear. I have a long torso, and they still sit above my belly button when I wear them — high enough to smooth things out without having to resort to my favorite under-the-dress shorts (which I love, but not necessarily every day) or some other kind of shapewear. Even more importantly, the waistband doesn't dig into my skin and leave indentations, like a hairband I've left on my wrist. In fact, they're just right; so many other pairs of underwear I've tried hug me uncomfortably tightly or else are so loose that I'm trying to pull them up discreetly in the elevator. But the Aerie boy briefs I pretty much forget about from the moment I put them on. And isn't that the sign of truly good underwear?
More Strat-approved plus-size underwear
Whitney also likes these shorts from Flexees, which she wears under her dresses: "Even though they're labeled as shapewear, they don't have the same intense pressure as, say, Spanx. Wearing them is like a gentle hug, not the strangling, sausage-casing feeling that I associate with shapewear. The completely seamless shorts feel like a light compression sock on a plane, or what I imagine it's like when my puppy, Marshall, wears a ThunderShirt to calm his anxiety. They make sure everything stays in place in my torso area and that my thighs don't rub together. Good-bye forever, chub rub."
This pair of underwear gets high marks on Amazon for plus sizes: "Fat-bottomed girls, these underwear RIGHT HERE!!! I won't pretend I'm thin … I'm thunder thighs, big booty, and underwear have been a CONSTANT struggle for about a decade. Well, not anymore. These are thick but breathable, soft, sturdy, quality undies!! The elastic is PERFECT (frankly, every inch of these is PERFECT)! Don't just get one pack … get two! Worth every penny and then some!"