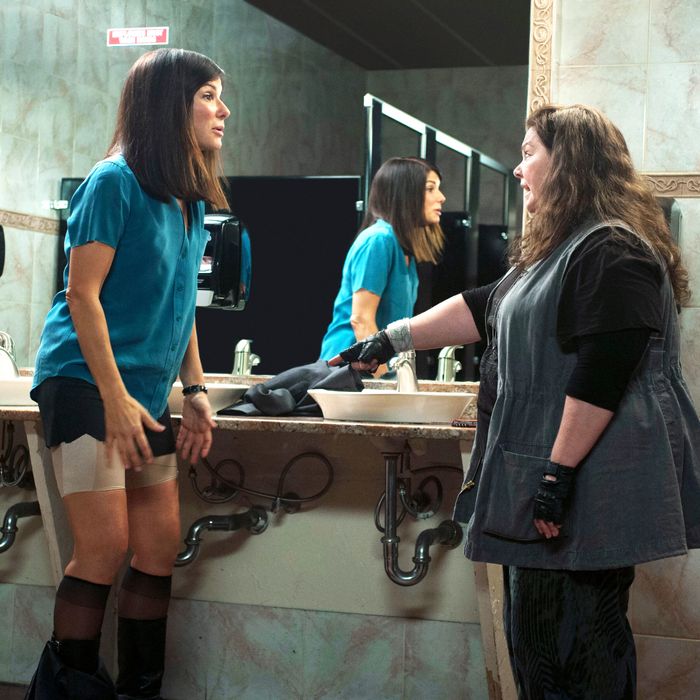 Photo: Courtesy 20th Century Fox
Shapewear has a reputation for being unforgiving, torturous even — the term "sausage casing" came up a lot in interviews for this story. No longer simply a fixture on red carpets, shapewear is now also for civilians who want instant lifting and tucking for special occasions, or even just for everyday wear. To find the best shapewear that's also comfortable enough to wear to work, we spoke to boutique owners, plus-size stylists, and Hollywood stylists and costume designers about their go-to shapewear styles and brands. Below, their 26 picks, including bodysuits, briefs, and lingerie.
Best bodysuits
When it comes to shapewear, celebrity stylist Ali Levine says to always consider "the Four f's: fit, form, fabric, and fashion." This Bali body briefer, she says, delivers across all four categories. The stretch lace looks chic, while the softly lined underwire cups and hook-and-eye closure will show no lines under your clothes. "Very sexy, as well as slimming and trimming for the body. To me, it's the perfect blend between comfort, function, and fashion. Great price point as well!"
Of course, we couldn't write a story about shapewear without mentioning Spanx. As Levine says, "We all think Spanx when we hear shapewear." Dina Scherer, a wardrobe stylist, personal shopper, and the owner of Modnitsa Styling, likes this Spanx bodysuit because it's possible to wear it with backless dresses or low-cut tops. Its design has openings that show skin in the front and back, but its mid-thigh-length legs and padded cups mean it still provides ample support. If you're looking for a more traditional, full-coverage bodysuit, Spanx also makes this mid-thigh, strapless option.
For open-bust bodysuit option, Levine recommends the "Miraclesuit" by Bare Necessities, which shapes the midriff, tummy, thighs, and bottom with its stretch microfiber and mesh material. The bodysuit also has an open-crotch design so you don't need to wriggle out of it to go to the bathroom. Plus, the legs are sheer, so they'll be virtually invisible under your cocktail dress. "It's a great shaper for the red carpet that's very smoothing."
And should you want something to wear under a strapless dress, Levine says, "The TC Shaper gives you that perfect foundation for your body." The strapless sweetheart neckline and push-up demi bra looks great under most necklines, and it shapes your stomach, waist, and back. "It sculpts your entire body," says Levine. "I've used it for awards shows like the Emmys and Oscars."
For something that can actually transform your figure, Levine tipped us off to Jackie London, a New Jersey–based store that offers both shapewear and fitness pieces. Unlike the bodysuits above, the Bodyshaper offers a higher degree of compression and support to pull your waist in — almost like a waist trainer. "Jackie London has a great bodysuit. I've used this for celebs for the red carpet and it changes their silhouette, truly!" Jackie London has a couple different bodysuits, from a below-the-bra option, like this one, to a more seamless all-in-one bodysuit.
According to Danny Koch, the fourth-generation owner of the Upper West Side's Town Shop (one of the best bra shops in the city for people with big boobs), Body Wrap has been around since way before Spanx. "It's still, to this day, one of the favorites of our sales staff. It has a terrific hold, a really great feel, and it's thinner than most shapewear." Not only is the brand an OG, it's also size inclusive, with this plus-size bodysuit (that basically looks like a bathing suit), which comes in sizes up to 3XL.
It shouldn't come as a surprise that our very own Alison Freer, an expert shopper and costume designer who knows seemingly all of Hollywood's tricks and secrets, also has some thoughts on shapewear. Here's what she had to say: "Actresses on TV shows all show up to work with some sort of full-body shaper (from thighs to underbust) that can be worn with their own bra. We call it the 'sausage casing,' but it really works wonders, making your clothes lay perfectly with zero lumps or bumps." Her favorite of these "sausage casings" is this one from Rago, a brand started by a pair of Italian immigrants in 1947. Freer says it's "so firm you could bounce a quarter off of it, but it's still shockingly comfortable — a testament to what proper garment construction can do for the female form."
Best shorts


"The best shaper garments are always high-waisted, as anything that cuts you off in the middle of your midriff won't be able to do much real shaping," says Freer. (This seems to be a general consensus among our experts.) She told us that this long-legged pair of shorts has "totally flat seams that won't ever show under clothes, a split crotch so you don't have to wriggle out if it to use the bathroom, and special grippy, lace leg holes that don't ride up or bind your thighs." Freer went on to explain that the "directional contour bands worked into the lace are what allow it to shape your waist, hips, and derrière — while still moving with your body for maximum comfort."
Speaking of high-waisted, here's a tummy-shaping option that Levine recommends from Spanx. "Though they are not the be-all and end-all of shapewear, I will absolutely go for a Spanx high-waist brief," she says. "They grab just enough and give the right shape."
According to Koch, lots of shapewear these days are all about targeted compression. As he explains it, "Shapewear used to be a sausage case that just squeezed everything, but the issue is that, when everything's squeezed, it needs somewhere to go — up, down, or sideways. Now it's about zoned compression, so nothing goes where it's not supposed to go." That brings us to Spanx's OnCore collection, which Koch says is particularly good at compressing, not squeezing. These are slightly more supportive than the Spanx everyday panties above, and will sculpt your figure a bit more. "We sell a ton of them," Koch says. "And they're offered in plus sizes, too."
Another high-waist shaper Koch recommends if you want that smoother, targeted compression look is this one from Paris-based lingerie and shapewear manufacturer Simone Perele. "They have a group of shapewear that works and is also pretty — which is not something that other people have done." The lace detailing, in particular, feels more vintage sex kitten than grandma. "We've sold like a thousand pieces already."
Koch is also a big fan of the Oprah-approved shapewear brand Yummie, which he says is "really terrific" for smoothing and shaping. He says these high-waisted shaping shorts will lift your rear while effectively smoothing out your hips and waist.
Best tanks
Photo: 18-08-07 zainagohou AM1 B4 corypeterson W
While it makes suitable shapewear bottoms, Yummie is perhaps best known for its tanks, which are what Levine usually has clients wear for red-carpet and press events. "I like how soft yet fitted they are," she told us, pointing to this shaping tank — which contains two movable inner panels — that she "especially loves for underneath sheath dresses and blouses." With details like a reversible neckline and nonslip hem, the tank could even be worn on its own "with a nice pair of trousers," she adds.
Koch agrees: "These are a little bit softer, a little bit more forgiving. Some people don't like to have things that feel incredibly tight, but they still want to smooth themselves out." This style also has temperature-regulating technology to keep you cool. And remember: Step into the garment and shimmy it up.
Best briefs
Almost all of the briefs recommended to us had high-waisted control tops. Case in point: This lacy option from Simone Perele that Koch likes for its feminine lace detailing.
Or this Baserange-y compression style from Spanx, another Koch favorite from their OnCore line. Agrees Scherer: "This brief is lightweight, doesn't push or pinch, and provides smooth and flawless results."