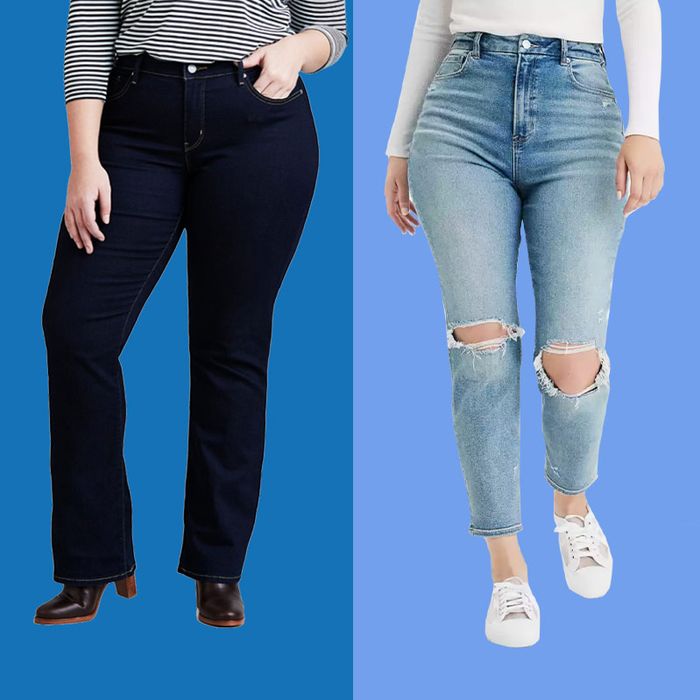 Photo-Illustration: Courtesy of the retailer
Finding jeans in that elusive butt-lifting or ankle-grazing style is hard enough. But it can be even harder for plus-size women who are seeking something both flattering and comfortable. "It's rare for plus-size women to have a favorite pair of jeans, that only started happening in the last few years," explains model Essie Golden. But, as she notes, the tide has been turning, with more and more brands that accommodate plus-size women popping up and "straight-size" brands offering new plus-size options. When it comes to shopping for plus-size denim, Marie Denee, the editor in chief of The Curvy Fashionista and a plus-size industry expert, offers this tip: "Be mindful of the percentage of elastic in your jeans, because that will determine the level of comfort, how they wear, and how they recover." To find the best plus-size women's jeans, we asked Golden, Denee, and 17 other cool women — including models, fashion bloggers, designers, and influencers — about their favorites. Below, the 22 pairs they recommend, all of which range in sizes from 14 to 40.
Best under-$50 plus-size women's jeans
Photo: retailer
Jane Belfry, the founder of body-diverse talent agency The Btwn, says people always ask "Where did you get these?" when she wears them. The Ridley jeans, which go up to a size 24, have "fun details" like a raw hem and "more modern washes," she explains. Model Felicity Hayward also recommends them, calling the jeans "an absolute classic" and "a wardrobe staple for plus-size women" that she has in every color. "The material is thick enough not to tear and strong enough to hold you in, but stretchy enough to still be comfortable," she promises.
Photo: retailer
"As a curvy girl, some high-waisted jeans are barely high-waisted and don't cinch in as much at the waist as they should to create a silhouette," says travel blogger and digital strategist Samantha O'Brochta. "But these do." Available in sizes from 12–22, she specifically loves the jeans' button-fly because the buttons "go the entire length of the torso and pull in any rogue parts of my stomach." As a bonus, she adds that the buttons guarantee that "there are no accidental zipper slips."
According to fashion blogger Mona Seddeek, the Rockstar jeans from Old Navy — which go up to a size 30 — are great for petite plus-size women because they come in three inseam lengths, including short. "My favorite aspect about them is that they are affordable and have amazing stretch but don't lose their structure," she says.
Lauren Chan, the founder and CEO of luxury plus-size brand Henning, says that while she has "long loved the look of vintage mom jeans," she had a hard time finding them in plus-sizes. That was until American Eagle released their Curvy Mom Jean in sizes 00 to 20. The brand makes these with short, regular, and tall inseams, so there are a variety of lengths to choose from, too.
Best under-$100 plus-size women's jeans
Levi's are extremely popular amongst the models we spoke to, with two of them each suggesting a different style from the brand's reasonably priced plus-size line. This first pair came recommended by Model Yasmin Geurts, who calls the black bootcut jeans her everyday go-tos for work. "They're a mid-high to high-waisted jean that comes in right at my belly button and sucks everything in," she explains of the denim that goes up to a size 26. "The leg isn't straight and narrow and the bootcut flare actually balances all my curves." Guerts also loves the jeans' back-pocket detail: "They're wider and fan out to the side a little, so my butt looks great."
Photo: retailer
If you prefer a slimmer fit, Hayward told us that Levi's Wedgie Fit Jeans are second to none when it comes to style and quality. They "can be paired with sneakers for a more casual look, or with some pointed stilettos to elongate those lovely legs," she says. Not only that but "the sizing is perfect." (The jeans come in sizes from 16 to 26.)
Megababe founder Katie Sturino, a body-positivity advocate and author, loves these affordable jeans from Torrid. "They maintain their shape all the way down, which can be hard to find," she says, adding that the brand's denim is generally "comfy and affordable, with a great fit." The jeans go up to a size 30 and you can choose from five different inseams — regular, tall, extra tall, short, and extra short — to give you an even better fit.