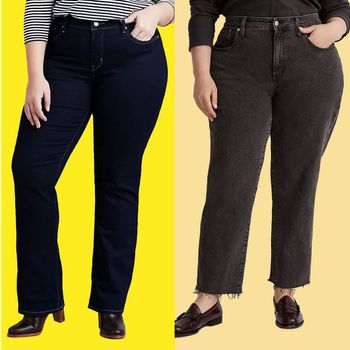 Photo-Illustration: Courtesy of the retailer
Up until very recently, many jeans on the market didn't come in plus sizes at all. "It's rare for plus-size women to have a favorite pair of jeans, that only started happening in the last few years," explains model and digital creator Essie Golden. Though there are ostensibly more to try on now, there's still a long way to go in terms of fit. "The vast majority of brands adding plus sizes are just sizing up from their straight sizes and having that same design team (made up of mostly thin people) expand things," says Virginia Sole-Smith, author of the newsletter Burnt Toast. And she should know: Sole-Smith tried on over 60 pairs of plus-size jeans for a series called "Jeans Science." Her takeaway? There's no one-size-fits-all "unicorn." However, that's not to say that your new favorite pair isn't out there — you just need to know where to look. To help, we asked cool women — including models, fashion bloggers, designers, and influencers — about the plus-size jeans they wear.
The pairs recommended here range from around size 14 to as high as size 40. But those aren't actually the numbers to pay the most attention to. Sole-Smith says you're better off completely ignoring the traditional sizing system in favor of knowing the measurements of your hips, waist, and inseam. You'll get the best fit by comparing your measurements to those on any brand's size chart — which creative digital strategist Samantha O'Brochta says you should always double-check before adding any jeans to your cart.
One of many pearls of wisdom I heard from Marcy Guevara-Prete, co-owner of consignment store the Plus Bus: Since plus sizes tend to sell out fast (similar to taller lengths), she usually recommends brands rather than particular pairs of jeans. (That's a guideline I sometimes followed when naming the best of the best below.) She also suggests ordering multiple sizes and becoming familiar with a brand's return policy since "you never know how something is going to fit until you try it on."
I've included both plus-size-specific brands (like Torrid) and "straight-size" brands (like Madewell) on this list. Blogger Casey Brown also suggests looking at styles labeled "curvy" to ward off the dreaded waist gap, so I've included those wherever possible. (A tip if you're set on shopping secondhand: Vintage Levi's 550s and 560s are among the most curve-friendly, according to Emma Zack, founder of Shop Berriez, who learned about them from denim aficionado Shelby Anderson of House of Tame.) I've also listed each style's inseam length(s).
"Stretch is often thrown out as the solution for plus-size bodies, but I find it to be of limited use," Sole-Smith says. Marie Denee, editor-in-chief of the Curvy Fashionista, agrees: "Be mindful of the percentage of elastic in your jeans, because that will determine the level of comfort, how they wear, and how they recover." As I've learned from covering jeans, one to two percent of stretch (usually listed as elastane or spandex on the tag) is more than enough. Sole-Smith's tip is to wear a pair for a full day (with tags on) to see how they hold up, as you can't tell too much from the first try-on. "Often the jeans that feel best then are the most doomed," she says. Every jean on this list is categorized as "non-stretchy," "stretchy," or, if there's more than a two percent stretch, "very stretchy."
Skinny jeans were the most popular cut among the women we talked to. But O'Brochta mentions that companies have been expanding their extended-size offerings — a pair of well-fitting straight-legs on a plus-size model convinced her to finally give the cut a chance. I've included a variety of cuts so the guide isn't too skinny-jean focused.
High quality doesn't have to come with a high price tag — each pair is marked as $ (under $100), $$ ($100 to $150), or $$$ (over $150). These prices are on par with what we've seen on the plus-size jean market.
Best overall plus-size jean
Sizes: 14W–28W with a 28-inch inseam | Stretch: Stretchy | Cut: Straight-leg | Price: $$
Madewell's denim has been recommended to us time and time again, which is why we think it's worth investing in. The company's curvy collection earned raves from two of the women we talked to. Sarah Chiwaya, a plus-size-brand consultant, points out that the line is made with hourglass shapes in mind and features contoured waistbands, longer rises, and more room through the hips.
Brown pointed us to the Curvy Perfect Vintage jean in particular. (This style tends to sell out quickly, but this version, in the brand's lunar wash, is still in stock and available in plus sizes). She heard about the pair from a friend who happens to have a similar body type with larger hips and a smaller waist. The denim is fitted enough to feel supportive but also "not suffocating when I sit," Brown explains. The jeans do have a hint of space in the back (though not enough to be called a true gap) and some looseness through the thighs and calves, which isn't always easy to find in straight-leg jeans. Plus, she says, they already feel lived-in from the first wear.
Best (less-expensive) plus-size jean
Sizes: 23–37 with 28.5-, 30.5-, and 32.5-inch inseams | Stretch: Stretchy | Cut: Straight-leg | Price: $
Abercrombie has been around for over a century, but its recent rebrand, centered on an inclusive range of sizes and fits, has made it a favorite among denim enthusiasts. The company's Curve Love collection is designed with an extra two inches through the hips and thighs for hourglass shapes (as explained in our guide to the best jeans for tall women). I heard rave reviews of the brand's curve-specific options from Guevara-Prete, content creator Marielle Elizabeth, and brand strategist Rachel Richardson. "If there's one thing Abercrombie does well, it's jeans," Guevara-Prete declares, adding that the company understands "how to accentuate curves." Elizabeth, a self-described "thick-thighed person," says the additional room in that area makes a big difference. The jeans don't tighten around her legs, and they fit her waist-to-hip ratio, which has a ten-inch difference. "I never thought I'd say this, but I'm a huge fan of Abercrombie jeans now," Richardson adds. A big part of Abercrombie jeans' appeal for her is the number of inseam lengths, which are harder to find when shopping for extended sizes. There are four to choose from: extra-short, short, regular, long, and extra-long — though the extra-short is only available for sizes 23 to 29, and extra-long is offered in sizes 25 to 32.
Best jean for plus-size petite women
Sizes: 00–40 with a 24-inch inseam | Stretch: Very stretchy | Cut: Skinny | Price: $
Plus-size jeans with shorter inseams can be difficult to find. Universal Standard makes the search easier: These high-rise Seine skinny jeans are offered in a 24-inch inseam (the "standard" length is 27 inches, for reference). Petite-plus influencer Natalie Craig (who's five-foot-two) previously told us the brand makes jeans that are just the right length and still "hug my curves comfortably" — an improvement over other brands, in which "I usually have to roll my jeans or settle for an 'ankle' fit." Freelancer Maggie Fremont introduced us to this specific pair. "Miracle of miracles, as structured as they are, I can still move (and sit) without restriction," she says. 
Best plus-size jean for tall women
Sizes: 10–30 with 25-, 27-, 29-, 31-, and 33-inch inseams | Stretch: Stretchy | Cut: Skinny | Price: $
We actually heard about the Torrid Bombshell specifically from a body-positivity advocate and two petite-plus influencers. These earned a spot in our guide to jeans for tall women, with Megababe founder Katie Sturino saying that Torrid does tall plus sizes especially well, offering tall (31 inches) and extra-tall (33 inches) inseams. Whereas other skinnies can sag at the ankles, "these maintain their shape all the way down, which can be hard to find," Sturino says. Craig and Tinsaye Berhanu, a petite-plus fashion influencer, also approve of these. Berhanu likes that the elastic waistband doesn't roll down. And content creator Nikki Apostolou says they "hug my curves, cling where I need them to, and flatter my more apple-shaped figure."
Best plus-size skinny jean
Sizes: 10–32 with a 27-inch inseam | Stretch: Stretchy | Cut: Skinny | Price: $
Since there were a number of skinnies recommended, I went back and forth about which would earn the title of the best of the best. I ended up choosing these from Molly & Isadora, an in-house brand of plus-size-centered company Dia & Co, because the jeans are a true skinny style, being incredibly fitted. TheCURVYcon co-founder Chastity Garner Valentine gave the Leroy jean a strong endorsement, praising its "perfect tapered ankle." These also come in a "classic" length, which has a 29-inch inseam instead of the 27-inch on the "ankle" version. Two other highly recommended skinny jeans that were mentioned were the Good American Always Fits Good Legs from Richardson and Old Navy's Rockstars from blogger Mona Seddeek. Richardson gets compliments whenever she has hers on. Seddeek says the Rockstars keep their structure even with their generous stretch.
Best straight-leg plus-size jean
Sizes: 14–28 with a 29-inch inseam | Stretch: Very stretchy | Cut: Straight-leg | Price: $$
Freelance writer Liz Black has always gone for pairs that are "high-rise, strong, and stretchy" when going jean shopping. The last of those "standards" has become more important for her since giving birth back in April, as "getting down on the floor with an infant isn't easy in something with no stretch." These are among the stretchiest jeans on our list, with "no real stiffness," according to her. (It features NYDJ's "Sure Stretch" denim, which is a combination of cotton, viscose, modal, polyester, and elastane.) Even though the jeans are designed to be ultrastretchy, Black promises that the pair doesn't stretch out too much, bouncing back into its shape. (NYDJ recommends sizing down one size for the best fit — Black usually takes an 18W in the brand and is between an 18 and 20 elsewhere, for comparison.) She considers the jeans "a cross between a skinny and straight-leg," more form-fitting through the thighs and kicking out to a released, raw-edged hem.
Best plus-size boyfriend jeans
Sizes: 00–40 with a 26-inch inseam | Stretch: Stretchy | Cut: Straight-leg, boyfriend fit | Price: $$
Strategist writer Dominque Pariso (who also did some of the reporting for this story) is a fan of Universal Standard's not-boring basics. The brand originally gifted her these cropped Bae jeans, and years later she still considers them a solid option, particularly for their practically unheard-of size range. At one point, she was wearing them at least twice a week — and they never developed holes in the thighs, which Pariso thinks is "a small miracle in itself." These "manage to hold their shape throughout the day despite their healthy stretch," she adds. And the company does suggest sizing down if you like a slimmer fit.
[Editor's note: Some sizes in the Bae Boyfriends are currently sold out, but you can sign up for a waitlist to know when the jeans are back in stock.]
Best (less-expensive) plus-size straight-leg jean
Sizes: 14W–30W with a 31-inch inseam | Stretch: Stretchy | Cut: Slim straight-leg | Price: $
A trip to Target led content creator Sydney Scott to her current favorite pair of jeans — surprising considering that she has tried pairs at much higher price points. But for $35, you really can't beat them. That's in part because of its straight leg, which Scott points out is harder for plus-size folks to find. The jeans have a "pretty shockingly great" fit, according to Scott, "snuggly everywhere but don't feel like they're squeezing me." (The jeans are also cut in a way that's slimmer than a traditional straight-leg.) On the subject of stretch, she describes them as decent, especially compared to other plus-size-specific lines that are too stretchy, and straight-size-oriented labels that often miss on a curve-specific fit. These run true to size and have a high-but-not-too-high rise with no waist gap in the back.
Best plus-size bootcut jean
Sizes: 14–26 with no inseam listed | Stretch: Stretchy | Cut: Bootcut leg | Price: $
Levi's jeans are a favorite of models Felicity Hayward and Yasmin Geurts. Hayward calls her Wedgies second to none when it comes to style and quality. But if you're looking to update your closet with a more unexpected cut, Geurts' go-to is the 315. "The leg isn't straight and narrow, and the bootcut flare actually balances my curves." These can be a mid- to high-rise depending on your shape, according to Geurts, but they come right up to her belly button. The back pockets are also particularly butt-flattering. "They're wider and fan out to the side a little, so my butt looks great," Geurts says.
Best plus-size wide-leg jean
Sizes: 00–26 with a 33.5-inch inseam | Stretch: Not stretchy | Cut: Baggy, slightly oversize | Price: $$
When I emailed photographer Lydia Hudgens to ask about her favorite pair of jeans, it took her less than ten minutes to reply back with the words "Good '90s Loose from Good American." (Notable: Model Winnie Harlow similarly calls them "bomb-ass jeans.") Hudgens, despite not wearing denim that often, owns three of them. "They remind me of the jeans that straight-size girls wear," she says. "We rarely get fashion-forward options that aren't bedazzled or covered in crazy prints." These are also a contrast to the cuts plus-size jeans traditionally come in, which are more figure-hugging. The Good '90s Loose are a little oversize, lower-waisted, and looser in the legs. The length of the legs is another reason Hudgens likes them — since she's on the taller side, she needs a 33- to 34-inch inseam, which these jeans have for a past-the-ankles hem. (And another baggier-fitting jean I heard about was Old Navy's High-Waisted OG Loose Jeans, which yoga instructor Jessica Rihal says don't make her "feel like a stuffed pepper" as other pairs do.)
Best rigid denim plus-size jean
Sizes: 0–28 with up to a 28-inch inseam | Stretch: Non-stretchy | Cut: Straight-leg | Price: $$$
New York–based Wray has been on our radar for a while as one of the few sustainability-focused plus-size fashion brands. Stylist Ansley Morgan pointed out that the clothing-maker regularly works with plus-size creators. (They include Elizabeth, who was once a fit model for the company's jeans.)
All of Wray's jeans are available in sizes 0 to 28, which is the equivalent of 25- to 59-inch waistlines, a span that's often hard to find. Elizabeth also appreciates that the denim comes in difficult-to-find (in plus sizing), wider-leg silhouettes — even a carpenter-style pair. The Drews have a classic straight-leg shape and are notably non-stretchy because they're made completely of cotton. The traditional blue wash makes them feel vintage-y, as though they were "designed in the late '90s in the best possible way," Elizabeth says.
[Editor's note: Some sizes in the Drews are currently sold out, but you can sign up to be notified when yours is back in stock.]
Some more plus-size women's jeans we've written about
• Christina Andrew, model
• Nikki Apostolou, content creator
• Jane Belfry, founder of body-diverse talent agency The Btwn
• Tinsaye Berhanu, petite-plus fashion influencer
• Liz Black, freelance writer
• Casey Brown, blogger behind Streets, Beats, and Eats
• Sarah Chiwaya, plus-size brand consultant
• Natalie Craig, petite-plus influencer
• Marie Denee, editor-in-chief of The Curvy Fashionista
• Marielle Elizabeth, content creator
• Yasmin Geurts, model
• Essie Golden, model and digital creator
• Marcy Guevara-Prete, co-owner of consignment store the Plus Bus
• Felicity Hayward, model
• Lydia Hudgens, photographer
• Ansley Morgan, stylist
• Samantha O'Brochta, creative digital strategist
• Rachel Richardson, brand strategist
• Jessica Rihal, yoga instructor
• Sydney Scott, content creator
• Mona Seddeek, fashion blogger
• Virginia Sole-Smith, author of the Burnt Toast newsletter
• Katie Sturino, founder of Megababe
• Chastity Garner Valentine, co-founder of TheCURVYcon
• Emma Zack, founder of Shop Berriez
Additional reporting by Priya Rao and Dominique Pariso
The Strategist is designed to surface the most useful, expert recommendations for things to buy across the vast e-commerce landscape. Some of our latest conquests include the best women's jeans, rolling luggage, pillows for side sleepers, ultra-flattering pants, and bath towels. We update links when possible, but note that deals can expire and all prices are subject to change.