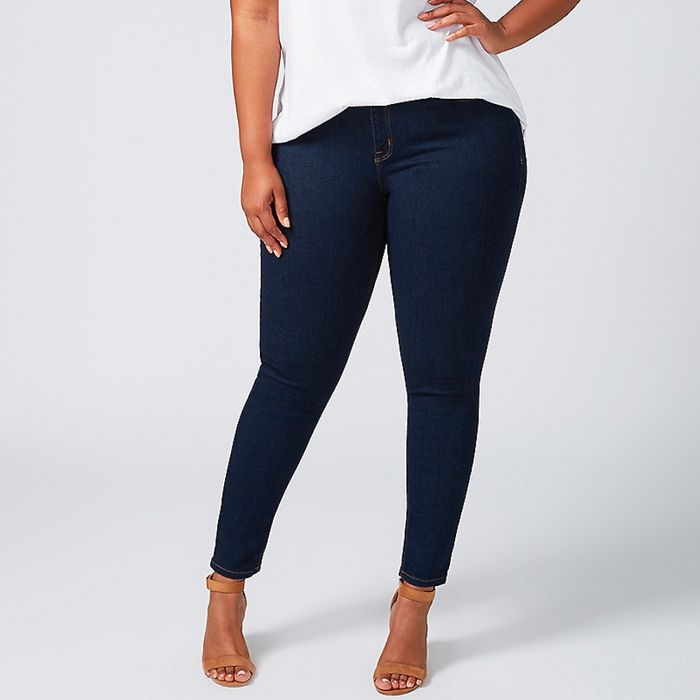 Lane Bryant's jeans won't tear in the thigh area.
Photo: Courtesy of the retailer
While finding jeans in that elusive butt-lifting or ankle-grazing style is hard enough, it becomes that much harder for plus-size women seeking something both flattering and comfortable. And for the 67 percent of American women who are above a size 14, it's practically impossible, thanks to a lack of plus-friendly options. The tide has been turning lately, though, with new brands cropping up to accommodate plus-size women and "straight-size" brands offering plus options. "It's rare for plus-size women to have a favorite pair of jeans," explains model Essie Golden. "It's only been in the last three years that that could happen." When it comes to shopping for plus-size denim, Marie Denee, editor-in-chief of The Curvy Fashionista and a plus-size-industry expert, offers this tip: "Be mindful of the percentage of elastic in your jeans, because that will determine the level of comfort, how it wears, and how it recovers." To find the best plus-size jeans, we turned to 14 experts — including models, fashion bloggers, designers, and influencers who range from a size 12 to a size 26 — and asked them about the figure-flattering pairs they swear by. Read on for their picks.
Best high-waisted plus-size jeans


Sarah Chiwaya, a plus-size-brand consultant and the founder of Curvily, pointed us to Madewell, which now makes their High Rise Skinny Jean up to a size 37. "When it comes to skinny jeans, the higher the rise, the better," she explains. Madewell designed the jeans specifically to accommodate an hourglass shape, with details including a contoured waistband, longer rise, and more room in the hips. "The medium wash is super-versatile, and the painted-on fit makes my legs look wonderfully long."
Model Felicity Hayward told us that Levi's Wedgie Fit Jeans are second to none when it comes to style and quality. They "can be paired with sneakers for a more casual look, or with some pointed stilettos to elongate those lovely legs," she says. Plus, "the sizing is perfect."
"As a curvy girl, some high-waisted jeans are barely high-waisted and don't cinch in as much at the waist as they should to create a silhouette, but these do," says travel blogger and digital strategist Samantha O'Brochta. She specifically loves the button-fly detail because the buttons "go the entire length of the torso and pull in any rogue parts of my stomach that most jeans don't even start to." And, as a bonus, the buttons guarantee that "there are no accidental zipper slips either."
Best plus-size jeans for a small waist
"I'm an extreme pear shape; I have a 20-inch difference between my waist and hips, so I usually have that large gap in the back of my jeans," says TheCurvyCon co-founder and Garnerstyle influencer Chastity Garner Valentine. That's why she loves the NYJD Sure Stretch Skinny Jeans. They have "more of a tapered waist" that fits both the hips and the waist, she explains. "I also liked that the ankle opening is small, because sometimes you get jeans with three or four inches of extra fabric around your ankle." She adds that the eight pairs she owns still haven't worn out.
Best stretchy plus-size jeans
Model Karissa Rodriquez told us that she wears this pair of Lucky jeans "to every single one of my castings with a white T-shirt, black T-shirt, tank, everything." She loves them because even though her body fluctuates between a size 14 and 16, "these fit me just the way I want" due to the amount of stretch that's in the denim.
Best plus-size jeans for chub rub


Annette Richmond, fashion, lifestyle, and travel blogger, says she "was never a jeans-and-T-shirt girl because I have thick thighs that rub against each other when I walk." But then she found the Super Skinnies, which don't rip or tear in the thigh area because "they have just enough stretch to be comfortable and supportive without being restrictive or so stretchy that they lose shape easily." Golden, who wears a 22 or 24, also loves them and says that "they're actually great because they don't feel like jeggings. One of the worst things about plus jeans is that they fit one way in the morning and then by the end of the day, they become too loose." These, on the other hand, stay up without any gapping or sagging and "hug my every curve all day." This is due to Lane Bryant's new technology, says Denee, which includes a built-in mesh panel at the waistband "that doesn't pinch and doesn't stick up in the back."
Best butt-lifting plus-size jeans


"Accessible quality denim in my size is a very hard find — I've been hunting for them my entire life," says model Denise Bidot, who declares that Good American Good Waist Jeans "definitely got it right." Not only is the fabric soft and stretchy, but they don't lose their shape after you wear them. "The high-waist pair make my butt and waist look phenomenal, and I feel beyond comfortable running around town when I'm wearing them," she adds. Valentine is also a big fan because the Good Waist Jeans can complement a variety of body types since they "hit at the high waist."
Best bootcut plus-size jeans


Model Yasmin Geurts calls this boot-cut pair of Levi's her "everyday go-to for work." Of the fit she says, "They're a mid-high to high-waisted jean that comes in right at my belly button and sucks in everything. The leg isn't straight and narrow; the boot-cut flare actually balances all my curves." Geurts also loves the back-pocket detail: "They're wider and fan out to the side a little, so my butt looks great."
Most comfortable plus-size jeans
"The higher you go up in jean sizing, the harder it becomes to find a pair that doesn't also come embellished with patches, intentional rips, or, worst of all — whiskering," says model Christina Andrew. "Sometimes you just want a simple pair of jeans that say nothing." Which is why this pair by AYR "changes the game" due to their high-quality denim and refined design. The comfort also can't be beaten: "Simply put, I'd wear these on a plane."
Best tall plus-size jeans


"I'm tall and plus-size, so there are a lot of different things I need to look for," explains TheCurvyCon co-founder CeCe Olisa. These jeans from Torrid fit the bill because the "waist sits in a really good place — it's not low, or too high-waist," which accentuates her "apple shape." And when it comes to the fabric, "the Curvy Skinny feels like regular denim," as opposed to overly stretchy cotton. "I've had these jeans for more than a year, and I'm a size 20 now, but I've worn them at a size 24, and the shape and the structure hold up whether you size up or size down."
Best petite plus-size jeans
According to fashion blogger Mona Seddeek, the Rockstar jeans from Old Navy are great for petite plus-size women. "My favorite aspect about them is that they are affordable and have amazing stretch but don't lose their structure," she says.
Best mid-rise plus-size jeans


If you prefer a mid-rise option, Levi's 310 Shaping Super Skinny Jeans are another favorite of Golden's. "They shape you out and hold you in place without creating rolls," she says. "These also make my butt feel good and create tummy control, which I appreciate." She also notes that while most jeans get holes in the thigh area after only two of three months, these have lasted two or three years without that happening. "When I bend over, I never have to worry about hanging out. They move with me."
Best wide-leg plus-size jeans


"As a plus-size woman, I struggle to find jeans that are unique. There is a surplus of stretchy skinny jeans in my size, but when I want something out of that realm it is difficult to find," explains Ansley Morgan, model and intern at clothing line Second Sight. Morgan specifically cites Anthropologie's newly launched plus-size collection as a treasure trove of different styles and novelty designs. "I specifically love their extensive selection of high-waisted, wide-leg jeans. Recently, I only want to wear wide-leg pants, and Anthropologie has made that possible with this pair of carpenter jeans where it's all in the details," like exposed, quilted seams and large pockets.
Best cropped wide-leg plus-size jeans


"Finding a pair of wide-leg cropped denim in plus that actually fits nicely felt impossible for a while, but since DL1961 launched their Hepburn style in their inclusive range, I've found my perfect pair," Chiwaya told us. Not only does she have the same pair in two washes, but she also wears them "more than any other style in my (quite extensive) denim wardrobe."
Best boyfriend plus-size jeans


Chiwaya also pointed us to this boyfriend style from Dia & Co that she says turned her into a "convert." She adds, "I get questions about these from my readers every time I wear them because they hit that sweet spot between not too fitted and not too shapeless that really defines a great pair of boyfriend jeans." The style comes in three washes and goes from a size 12 to a size 32.
Best plus-size mom jeans
Lauren Chan, the founder and CEO of luxury plus-size brand Henning, says that while she has "long loved the look of vintage mom jeans," she had a hard time finding them in plus sizes until American Eagle released their Curvy Mom Jean in sizes 00 to 24. They also make them available in short, regular, and tall sizing, so they'll fit a variety of heights as well as sizes.
"ASOS was one of the first places I was able to find stylish plus-size clothing back in high school," says Morgan, who calls them a "tried-and-true favorite" for jeans, specifically for '90s-inspired style. While these are technically called boyfriend jeans, Morgan says they look much more like mom jeans in person due to the "high waist and the classic wash."
Best plus-size flare jeans