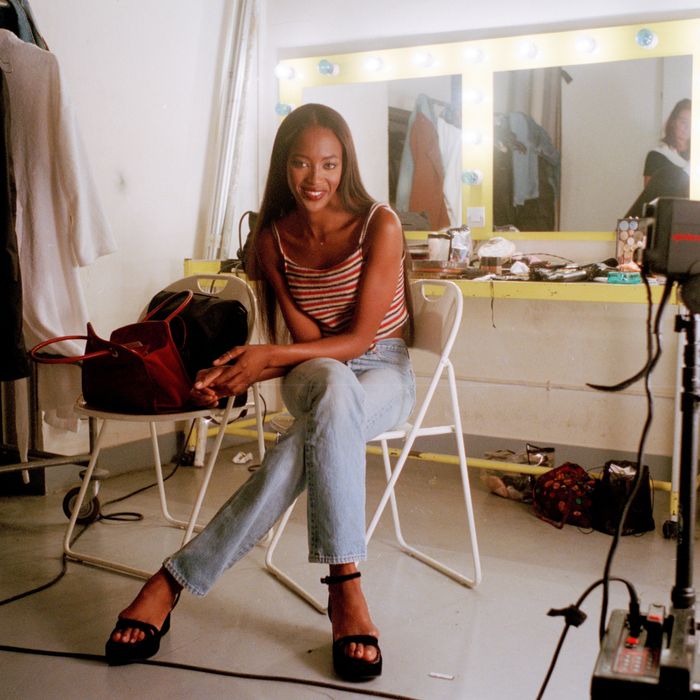 Photo: GYSEMBERGH Benoit/Getty/Paris Match via Getty Images
There's lots of advantages to being five-foot-nine — seeing above the crowd at concerts (when those were a thing) and always being able to reach the top shelf of the pantry — but finding jeans that fit me is not one of them. To put it into perspective, the average inseam for skinny jeans is about 28 inches, but I have a 32-inch inseam, so I'm always looking at a solid four-inch crop unless I buy the tall versions, which can be more expensive or in limited stock — especially when I'm trying to hit the sales section. And unlike petite women, who can have pants hemmed if they're too long, I'm out of luck when my pants are too short, because it's not like I can add extra fabric. Because I completely understand the struggle, I spoke to 13 tall women, between the heights of five-foot-eight and six-foot-six, to find their favorite skinny jeans, boyfriend jeans, even flared jeans that actually fit.
Best skinny jeans
Three of our experts called out Madewell as an exceptional place to buy tall jeans. Hannah Starke, a Strategist social-media editor who's five-foot-ten, says these are "the only jeans that fit my body correctly." Because she's curvy, she typically has to size up in jeans in order to account for her hips, but these from Madewell are designed with more room in the hips and a longer rise to accommodate those with an hourglass shape, so she can buy true-to-size. "These hit my natural waist and fit it properly, but they also fit my hips and thighs, which has never happened to me before in the history of jeans," Starke adds. They have a 30 1/2–inch inseam and come in non-curvy options, in case you don't need the extra hip room.
The tallest experts I consulted all recommend ASOS's tall brand, which Alicia Jay, founder of tall-focused fashion blog Tall Swag, describes as "fabulous" and something of a sleeper hit. Because she's six-foot-six, she looks to brands that offer her as many options as possible, with as long of inseams as possible, and the jeans at ASOS go up to 38 inches. Plus, they're all actually good quality for the price. Opal Hoyt, lead singer of Zenizen, also likes the longer fit of ASOS, calling them "an affordable standard skinny jean." If you don't need quite that much length, they also have pairs with just a 32-inch inseam.
"Good American is known for their fit and have been size inclusive since day one," says Katie Sturino, founder of Megababe and body-positivity advocate. They have nearly a 30-inch inseam, go up to a size 24, and are made with a so-called "recovery fabric," which "gives you more wears between washes and preserves the pair's original shape," according to Sturino. So even though they're skinny jeans, "they're so comfortable and feel really good to put on."
Starke also recommends Old Navy for tall jeans "because they're very cheap and very comfy." Plus, they're surprisingly good quality. "I've had my favorite pair for over a year, and I'm not careful with them at all, but they still look and fit great," she says. This pair comes with a 33-inch inseam, and while most cheap jeans have that "jegging" feel, these don't: "They're slightly stretchy, but not in a weird jegging way. Being curvy, I won't wear jeans that don't have some kind of stretch."
Lucy Litman, who's five-foot-eight, says these jeans "have the perfect amount of stretch and come with an option for an extended length." Their tall inseam is 32 inches — their regular is 30 inches — and they come in a wide variety of washes, so you could buy multiple pairs, if you were really into them, without it looking like you only own one pair of jeans. They're labeled as having "extreme stretch" but don't give you that jegging feel. Litman also loves the high rise on this pair: "They go up really, really high, which is perfect if you have a longer torso like me."
Sturino recommends Torrid for any tall, plus-size women because "they're comfy and affordable, with a great fit." The brand offers two different tall inseams — tall, which is 30 inches, and extra tall, which is 32 inches — to better customize your fit. But unlike other skinny jeans, which can become baggy toward the ankles, "these maintain their shape all the way down, which can be hard to find," Sturino says.
Yes, these are jeggings. But don't disregard them. Sarah Agate, an account manager for the Lede Company, who's six feet tall, admits this option is "kind of different" and originally she "felt weird getting Spanx pants," but she's now "obsessed." She calls the tall option "the perfect length for your legs and are also properly high-waisted." As she explains, "One of my biggest issues in finding pants as a six-foot woman is that they never seem to be long enough and also tight enough at my waist. If I opt for longer pants, I usually have to go up a size and then they are too big and I'm constantly pulling them up all day." For her, Spanx solves this problem because they "provide a snug fit" in all areas "without having to compromise on length." She and her sister, who's six-foot-one, now both own them. "My legs have never looked better, and I get compliments all the time," she says. They also come in white and light-wash denim.
Akia Danielle, a six-foot-tall style blogger, loves Amalli Talli because the founders themselves are tall women, so "they get what we need," she says. She describes these jeans as "fuss-free and easy to style." They're not as skinny as some other options, so they're a bit more of a cigarette pant. But they come in 35- and 37-inch inseams and go up to a size 38, so you'll be able to dial in the right fit. And if you're not interested in blue jeans right now, they also come in black.
This is another brand designed by and specifically for tall women; the founder herself is six-foot-three. And Jay says that their skinny jeans are something "every tall girl should have in their closet," because they're "well-made jeans with ample stretch." She wears their midnight skinny jeans most often. They start at size ten and go up to an 18, with two inseam choices of 34 and 36 inches.
Two of our experts also recommend Fashion Nova because they "cater to curvy and tall girls," as Esther Ongenda, Toronto-based lifestyle blogger who's six feet tall, puts it. She notes that they don't have a "tall" section, but the inseam lengths are generous enough to find something appropriate for your size. The high-waist skinny jeans are her "go-to pair" because they're "stretchy, cozy, and trendy." They have an inseam of 31 inches and a high waist to accentuate her curves. Nailah Geter, founder of Cocoa Butter Kisses Cosmetics, who's five-foot-ten, prefers their canopy jeans, which also hug her curves, but they're distressed in just the right spots for tall women so you don't awkwardly have rips on, say, your thighs, instead of your knees. They have a 30-inch inseam and also come in plus sizes.
Best boyfriend and straight-leg jeans
Emily Atkinson, a Nashville-based teacher who's five-foot-nine,