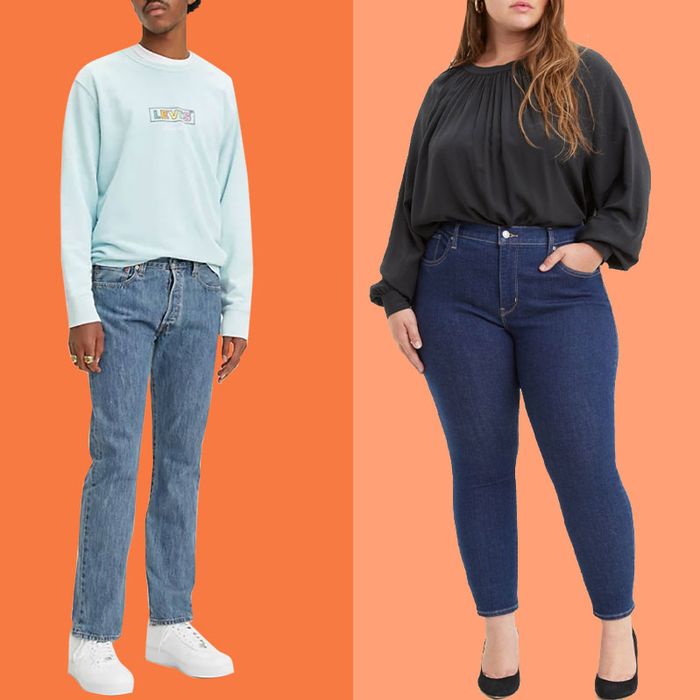 Photo-Illustration: retailers
Anyone who has shopped a bigger-box brand knows it can be hard to figure out where to begin. There are dozens upon dozens of options that all seem as worthy as the next, but the reality is that products from any given brand are not all created equal. When you shop as regularly as we do, you learn that many brands just do some things better than they do other things. Levi's, with more than 400 styles of jeans alone (in nearly as many washes), is one of those brands — its expansive inventory of denim, whether wide-leg, high-rise, or skinny-fit, must be carefully picked through to find the perfect pair. To make it a little easier, we've sifted through our archives to put together a list of the Levi's garments that celebrity stylists, denim experts, podcasters, plus-size models, stylish teens, and other cool people (including our writers and editors) have recommended on the Strategist. Since these products come in various colors and washes, we've tried to include two retailers wherever possible to offer the maximum selection.
For women
The Wedgie High-Rise Jeans are not only one of the most recommended pairs of Levi's we've written about, but one of the most recommended pairs of women's jeans in general. Their high waist and tapered legs are two universally flattering details that stand out to almost everyone who's told us about the jeans, but those are not the only reasons women love them. "They make my butt look good and are comfortable and easy to throw on," according to Strategist deputy editor Maxine Builder, who says the slightly cropped Wedgies are her "go-to, everyday jeans." Le Whit co-founder Liza Curtiss loves them, too (particularly in black). "They hit well and always show off my favorite boots," says Curtiss, who notes the jeans also have deep pockets. They're also a favorite among teens. "I tend to go for the Wedgie," says influencer Lola Keyser, who describes the jeans as "a mom-style pair."
Just as beloved as the pair above, Levi's Wedgie Straight Jeans have, well, a straighter leg than their tapered sister. "They're popular because they fit you like you want old 501s to fit," explains Bird clothing founder Jennifer Mankins: A "perfect straight leg, but with a bit more of a generous, modern cut." She describes the rise as "high, but not too high," and the jeans have a subtle stretch that Madewell designer Joyce Lee says makes them "super comfortable … without losing an authentic vintage look." Dianna Cohen, the founder of hair-care line Crown Affair, calls the Wedgie Straight Jeans a daily staple, even for working from home. "It's the only pair I've worn frequently at home during quarantine — they're almost as comfy as sweatpants," she promises. "They look as great on when they're still tight and just out of the wash as they do once they're more worn and loosen up through the week." Celebrity stylist Ali Levine describes their relaxed fit as modern while "still hitting the right notes for a mom jean," and Richer Poorer brand director Allie Greenberg adds that, with 26- and 28-inch inseam options, they're "great for shorties like me."
The Plus-Size Wedgie Jeans are a favorite of model Felicity Hayward, who told us that they are unbeatable when it comes to style and quality. She describes the sizing in one word — "perfect" — and adds that the jeans "can be paired with sneakers for a more casual look, or with some pointed stilettos to elongate those lovely legs."
The 315 Shaping Boot Cut Jeans are another favorite among plus-size women, with model Yasmin Geurts calling the style her "everyday go-to for work." She says that they "come in right at my belly button and suck in everything," adding that the flared legs "actually balance all my curves." Geurts also loves the jeans' wider back pockets, telling us they make her butt "look great" because of the way the pockets "fan out to the side a little."
"It took me 34 years, but I finally tracked down the perfect jean," designer Susan Alexandra says of these oversize, relaxed-fit jeans that she notes "are often sold out" (a telling sign of their popularity). They're a "wardrobe staple," she adds, as well as a convincing dupe for vintage denim. "I had mine nipped in the waist to give them that perfect 'I got these at a flea market in Berlin' look." College student Sylvie Nelson also swears by Levi's Women's Dad Jeans, calling them an essential part of her "comfortable stay-at-home uniform that still makes me feel cute."
"They shape you out and hold you in place without creating rolls," model Essie Golden says of the mid-rise 310 Shaping Super Skinny Jeans. "These also make my butt feel good and create tummy control, which I appreciate." Golden has worn hers for two or three years, telling us they haven't developed any holes in the thigh area (a common problem she has with other brands).