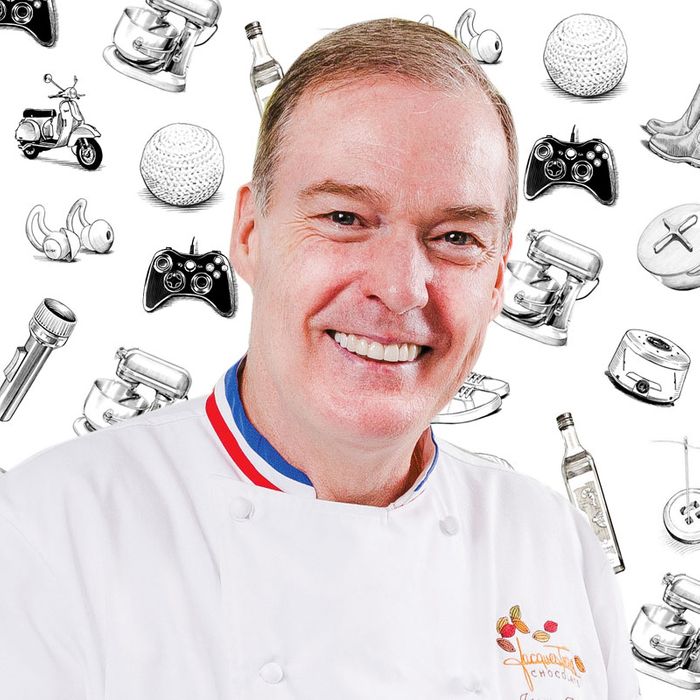 Photo-Illustration: The Strategist; Photo: Joel Marasigan
If you're like us, you've probably wondered what famous people add to their carts. Not the JAR brooch and Louis XV chair but the hair spray and the electric toothbrush. We asked pastry chef Jacques Torres, who is the head judge of Netflix's Nailed It! and recently partnered with Woodford Reserve to create a bonbon benefiting the Jacques Pépin Foundation, about the hard-to-lose reading glasses, honorary chef's jacket, and wedding band he never takes off.
This was a gift, and I fell in love with it. Many coolers for wine are made out of terra-cotta, which works well, but this one works even better. I am from Bandol, in the south of France. If you Google Bandol, you will find Bandol wine. Bandol wine put rosé on the map. But you really need to chill rosé. Here's an interesting story about rosé: I was in Ibiza, and my cousin used to go to all the restaurants over there to sell wine. We drank together one day. He kept the bottle on ice, then served us half an inch to three-quarters of an inch in a glass. That's it. But he poured frequently. I asked him, "Lucas, why do you serve so little wine?" He said, "Because I want you to enjoy it cold. It is 100 degrees outside, the wine will warm quickly if left out." I didn't even think about that. He's a smart man. Now, I do that, too. Except instead of an ice bucket, I use this cooler. I keep it on my table and it keeps my wine very cold. It's easy to travel with, too.
Photo: The Strategist; Photo: Retailer
Maybe because I am from Bandol that I feel this way, but the rosé from here is best. You cannot call it Bandol wine if it is not made in Bandol territory and using a certain percentage of Mourvèdre grapes. The plant also has to have a certain age in order to have the Bandol name. It is very, very serious. There are maybe 50 or 60 different properties that make wine in that little village. But Domaine Tempier is some of the best. I took my wife there this year, and I asked for the daughter of the original owner because she is a friend. But I found out she is actually retired. I forget that I am at the age now where a lot of my friends are retired. I am sure she left the brand in good hands. It's an incredible rosé.
I am not, how do you call it, a fashion man. But if I buy something, I want good-quality things. And Bragard makes their jackets with a really high-quality Egyptian cotton. We spend so much time in these jackets, so they need to be nice. It's also very warm in our kitchen. We keep it at 80 degrees at all times, so when you sweat, your skin can get irritated if it's not good quality, and you can feel very uncomfortable. I wear the jacket that Bragard specially makes for people who won the Meilleur Ouvrier de France, or MOF, which is a very prestigious competition in France. I won that competition when I was 26. My jacket has blue, white, and red on the collar; I wear the French flag around my neck. I also buy it because of the buttons; they're round, instead of flat. Imagine you are in a kitchen and very hot liquid falls on you or you splash oil and you set yourself on fire. The buttons allow the jacket to be pulled off in a matter of seconds in case of an accident, so you don't burn yourself. If your jacket has flat buttons, good luck getting it off. You'll be very badly burned. This scenario has happened to me a couple of times. Look, it's hot oil and sugar and water, it is bound to happen, and this jacket is very practical.
Photo: The Strategist; Photo: Retailer
I love peanuts so much. We stopped working with them in my factory because it is a deadly allergy. We have a peanut-free factory and I do not allow anyone to bring them in for themselves. So at home, I eat a lot of peanuts. My father loved peanuts. We used to watch TV together and eat peanuts. We don't buy peanuts already shelled, though. You need the shell. But my mom would get mad at us because we made a mess. When I came to America, I started to research the best place to buy peanuts in the shell because most Americans buy them already shelled. I started getting these, and after dinner, I sit and talk to my wife while eating peanuts. You know how kids go outside to play during the day and it's just a time for them to do something they enjoy? Eating these is like my little recess for the day.
These are like regular glasses, but the two sides of the glasses are connected in the middle by a magnet. I wear them on my shoulders, so they hang; then when I need glasses, I click them together and have glasses. I can see faraway things pretty well, but with age, I stopped being able to see close things well. These are very practical. I never lose them. There is no chance they will fall into a bowl of chocolate at work. But it is funny because when I used to ride my motorcycle — I gave it up about a year ago — I would forget that I have these glasses around my neck. I would take my motorcycle out, then as I started to drive, I could feel something shift around my neck. Then I would realize my glasses were gone. That is the only time I lost them. Other than that, they're difficult to lose.
Call me lazy, but these make things so much more efficient. I'm all about convenience. In France, we use these things that we call gloves. It's a square fabric with two sides and a hole in the middle, like a mitten, almost. You put your hands in the middle, then take the soap and make the bubbles with the mitt. You put it on your right hand to wash your left side, then put it on your left hand to wash your right side. One day, I saw these exfoliating gloves in the supermarket that are similar but have five fingers and you put them on both hands. I now can wash myself with two hands, and it goes a lot faster. It's kind of like the gloves I used to use to wash my boat. I lived on a boat for six years, and every time you come back to shore, I put on these gloves to wash it. I exfoliated my boat the same way I exfoliate myself. It's a funny invention, no?
Photo: The Strategist; Photo: Retailer
I'm French, and I think I look good in jeans, so jeans are my everyday piece of clothing. I wear them at work. Even on TV, I wear these jeans. I'm always in jeans. These give a little bit, so if I gain a couple of pounds, I don't have to change my jeans. Look, we all have our little secrets, no? Bad jeans are like bad knives to me. If you feel like your jeans are a prison and you don't feel good in them, then you should change your jeans. There is no reason to wear bad jeans, just like there is no reason to put up with a bad knife.
I don't listen to music when I'm working because everyone in my kitchen is younger than me, so they might not like the music I choose. But I like to have this speaker for my kids. When we travel, we play "Baby Shark," of course, and other goofy music they love. It is small, so it's very portable, but the sound is amazing. I'm not a connoisseur of sound and couldn't tell you what makes some sounds better than others. But I think this is great. It doesn't distort the sound, and it connects to my phone right away. My kids like to dance with it.
I like to cook. My son is 5 and my daughter is 2 and a half. The only food they eat that I don't make for them is McDonald's; they love McDonald's, especially the French fries. So outside of that, I make everything they eat. I hate bad knives. When I was shooting my show Nailed It! in California, we rented a house in Los Angeles that was furnished, and I forgot my knives. I figured they would have some that would be okay to use, but I was sick to my stomach using their knives. That was a catastrophe, and it was so hard to cook with. So from that point, I always bring my knives everywhere. If I spend the weekend at a friend's house or travel for a long period of time, my knives are with me. These knives are not the most expensive knives — some Japanese knives can go for $500 or even a couple thousand dollars — but they're very good. They go through anything you need, and they keep the sharpness. They are also light. A knife is like a pen. When you write a letter with a good pen, you feel good about it. A bad knife is just as frustrating as a bad pen. Both are a little bit like an extension of your finger.
This is a luxury, but it is made in France and very, very good. It is not the typical American recliner — the one that has something on the side that you pull and your feet jump up and your back falls down. This is electric, so it goes back very gently. You lay horizontally, but you still have a curve. It is not zero gravity, as they say it is, because you have to be in space to have zero gravity. I will fall asleep in it if I stay in it long enough. I like how it looks, too.
Photo: The Strategist; Photo: Retailer
The meaning behind this ring is beautiful. It's one ring, but it has three different-colored bands that roll into each other. They stay together as an infinite circle because they're meant to be together, and they just fit perfectly together. My wife and I both have one, but hers is a bit thinner than mine. It is our wedding band, so in turn, the symbol of our marriage. I never remove it. My wife originally saw it and told me about the meaning behind it, and it was perfect for us, so I said, "Yes, we have to get these." I don't wear jewelry — only this ring and a little cross my mother gave me around my neck — so if it was going to be something I would wear every day and never take off, I wanted to love it.
I have a strong relationship with Jacques Pépin. He's an amazing man — an artist, a painter, very educated, a wonderful chef, and a great friend. I always say that I want to be him when I grow up, as a little bit of a joke. We have a mutual respect for each other, but I have such a deep admiration for him. He asked me if I would be a part of this collaboration, and before I even knew what it was about, I said, "Of course. Whatever you want, Jacques." He would never ask me to work with anything and on any project that was not top-notch. I was excited when he said wanted me to develop chocolates using Woodford Reserve, which is a great, double-oaked bourbon whiskey, to benefit his foundation. I love what we came up with. I like dark alcohol — dark rum, dark whiskey. I'm not someone who drinks much, but from time to time, I enjoy having a glass of dark alcohol, and Woodford is great. I love the flavor. Typically when I make chocolates with alcohol, I boil the alcohol to remove it from the bonbon, but we didn't with this one. We kept the whole flavor and personality of the bourbon whiskey by doing that. We did a dark ganache with a little bit of milk chocolate and a 60 percent cocoa content shell. I'm very happy with what we've come up with.
The Strategist is designed to surface the most useful, expert recommendations for things to buy across the vast e-commerce landscape. Some of our latest conquests include the best acne treatments, rolling luggage, pillows for side sleepers, natural anxiety remedies, and bath towels. We update links when possible, but note that deals can expire and all prices are subject to change.