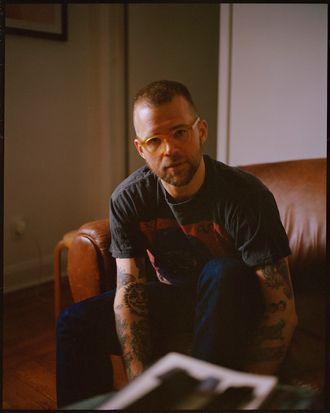 If you're looking for the most powerful hair dryer or the handiest chef's knife, those things can be easy enough to find. Other objects of desire are a little more taste-based. What's the next status water bottle or hand wash, for instance? If you have a burning question about the next fanny pack or Noah rugby shirt, Chris Black is here to answer it in a regular column.
I have decided to get rid of my boring taper fade of many years and grow my hair out. Any thoughts on hats or other head coverings to help me with the awkward in-between stages? I'm in California, so nothing too warm, please.
Happy to help you during this difficult time. If you are in California, the only answer is a simple and cool baseball hat. A beanie will be too warm, a fedora is ill-advised, and I cannot recommend a yarmulke without knowing your religious affiliations.
If you are into sports, Nike's Team Featherlight Hat II is the one. No logo on the front, just an iconic check on the side. Breathable and always in style.
This Happy Games hat from Jam Store screams California to me. Beautiful green color, fun smiley in the graphic. Full coverage!
If you are a pop star or wildly popular on Instagram, you can wear this Come To Brazil hat. One selfie will have your devout followers going nuts in the comments.
You didn't specify, but maybe you are rich? If so, the Loro Piana baseball hat is for you. Navy cashmere with a tonal logo. You will look great hopping out of your Tesla.
After further thought, I should recommend a bucket hat. Only a pro can pull one off, so be wary. This colorful cotton version from Folk would work in many seasons. Good luck on the hair, it's going to be a long road.
What clothes do you recommend for running outside in the cold?
You are getting those miles in even when the temperature drops! Kudos. Treadmills suck. But you don't want to overdress; it will lead to overheating. This shit is an art form!
I would say gloves are an essential piece. We aren't trying to lose any fingers, just calories! I use the Patagonia Wind Shield Gloves. They are breathable but warm, and feature built-in, stink-resistant "polygiene," according to the brand. They also allow you to use your phone so that you can check your DMs on mile 11.
You have to keep your dome and ears covered. This beanie from the technical-fabric gods at Gore helps trap heat while wicking away sweat. The yellow band is cool and also helps with safety if you're running during darker hours, but the hat comes in a couple of other colors as well.
You will need some tights. Nike's Shield running tights are snow-, ice, and rain-resistant. Don't wear shorts over them; you are a real athlete, not a private wealth manager at Equinox.