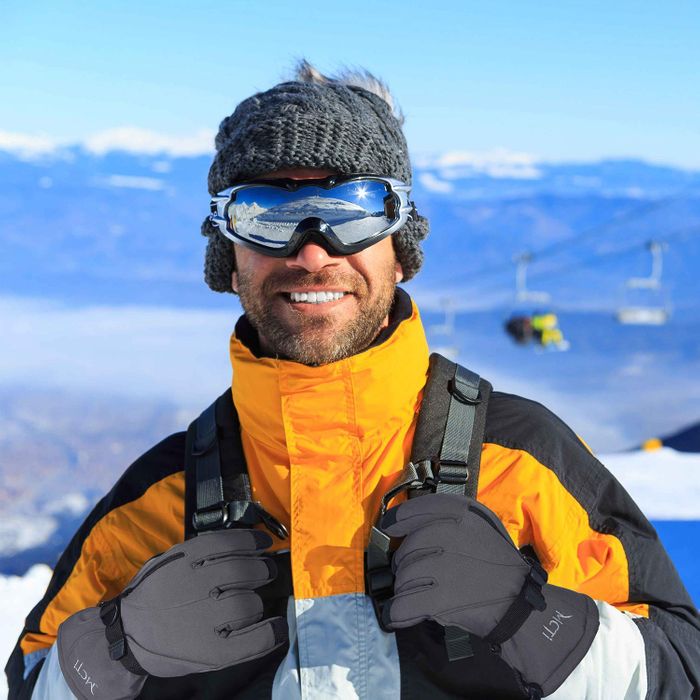 Photo: Courtesy of the retailer
Here at the Strategist, we like to think of ourselves as crazy (in the good way) about the stuff we buy, but as much as we'd like to, we can't try everything. Which is why we have ​People's Choice​, in which we find the best-reviewed products and single out the most convincing ones. (You can learn more about our rating system and how we pick each item ​here​.) 
While we've written lots about cold-weather gear — including the best winter boots for men, the best men's parkas, and the best wool socks — here, we've rounded up the best men's winter gloves, as praised by the most enthusiastic reviewers on Amazon.
Best-rated men's winter gloves
Over 1,800 purchasers praise the insulation and waterproof performance of these Carhartt gloves. According to one user, "The outer shell is seemingly impenetrable for water," and dozens of other reviewers attest to how waterproof these gloves are. "After working in the snow for 20 hours straight, still no water got on the inside," one writes, while another even "tested them in a cooler full of ice water" and found that they are, in fact, waterproof. Another says that they do have their limits — "you can't hold them under water" — but still thinks "this pair of gloves are the bomb," because they'll keep hands both dry and warm. "Prior to this, my hands would feel like they were being chewed on by the frozen teeth of white walkers north of the wall in Game of Thrones," writes one reviewer, but now, these gloves are keeping his hands warm even during the "brutally cold New England winter mornings and evenings."
Best-rated (less expensive) men's winter gloves
"Be forewarned — these are not the gloves you will want to put on to work outside, to play in the snow, or to wear in temperatures too far below freezing," writes one reviewer, but the consensus is these gloves are ideal for mild temperatures. One customer thinks they are perfect for their "cool mornings in the high 30s–low 40s," while another says they "cover 90 percent of my cold-weather needs in NYC metro area." And what they lack in warmth or insulation, they make up for in function. According to one reviewer they are "thin enough to grasp keys, etc. from my pockets." Others say the thin material makes them good to wear while exercising outdoors. "These are excellent gloves to wear while running," one notes, while another avid cyclist uses these on his 3-hour bike rides.
Best waterproof men's winter gloves
"I had been searching for some time for a set of truly warm and waterproof gloves that wouldn't break the bank," writes one purchaser who says that after trying out "several brands" only to end up "disappointed by all of them," these gloves were the first to actually work. "We had another brutal winter in the northeast, and I had to run the snowblower in sub-zero wind chills on multiple occasions. My hands stayed warm for a long time, and never got wet." Another reviewer shares how they tested these out in intense conditions, "power washing" cars in cold winter weather. "When it's 30-40° out and you have to wring out a chamois your hands freeze in like 2 seconds," they write. "I was SUPER skeptical of these gloves as I bought a different pair that claimed to be waterproof for $20 and they soaked right through. Well, let me tell you guys. I worked outside all day yesterday with these. The outside got soaked from blowback water and wringing the chamois out, but my hands were completely warm and dry the entire time."
Best leather men's winter gloves
More than one fifth of reviewers reference how nice the leather is on these gloves. One customer describes the leather as, "top quality, not too soft, and easy to work with." And because the "leather provides a good grip," according to another reviewer, many agree that these make "excellent driving gloves." Another adds that they are "Not too thick so I can grip the steering wheel just fine." Dozens of reviewers also comment on how warm the gloves are, and one thinks they are so "well insulated and thick so they could definitely be used as a work glove." According to one reviewer, they can handle almost any task, "Including: splitting firewood, shoveling snow, scraping snow, taking out the trash, moving furniture, etc., etc. They have never let me down."
Best winter gloves for men that aren't bulky
"When the Siberian Express comes blasting down the great plains you better be wearing a good pair of gloves like these on your paws," writes one reviewer, who is one of over 850 five-star reviewers who call these gloves warm. The Heatlok thermal layer inside makes one customer feel like "I stuck my hands into a warm tub of soft cotton," but these gloves also help keep the cold out with an elastic wrist that "prevents warmth from escaping," says another. Reviewers also enjoy that they aren't too bulky, allowing them to still use their hands, but still, don't expect to do too much in these gloves. Despite the name, many agree with this reviewer who says, "They are NOT work gloves," as they aren't waterproof, but the suede palms are sturdy enough for "gripping a snow shovel or steering wheel."
Best men's winter work gloves
Though many winter gloves don't allow for enough movement to be work gloves, reviewers of these Carhartt gloves report doing tons of activities while wearing these. "I mostly use them for chain sawing, moving branches, chopping and collecting firewood," one writes. "They are extremely durable (chainsaw kicked back and got me on the hand, but didn't penetrate or even tear the glove!), are pretty nimble at the fingertips, and cuffs that can go over any size jacket sleeve and cinch tight." More than a dozen others also call these gloves durable, including one who says "My last pair lasted six years, handled some serious work." And while the outside of a glove has to be pretty rugged to withstand all of this, it "feels like a baby's blanket on the inside," according to one reviewer.
Best touchscreen-friendly men's winter gloves
Reviewers love that they can use these gloves with their phone. One user has been able to use their phone as if they weren't wearing gloves: "It has been two or three months since I've had them and I can slide to unlock my iPhone 5, make calls, text, scroll on Instagram, so the touchscreen tech is on point." But these gloves are also warm. One reviewer "bought these because they seemed a little thicker than other touchscreen-compatible gloves," and says, "They are warm enough that I wear them all the time now, even when the temperature is -20 Fahrenheit."