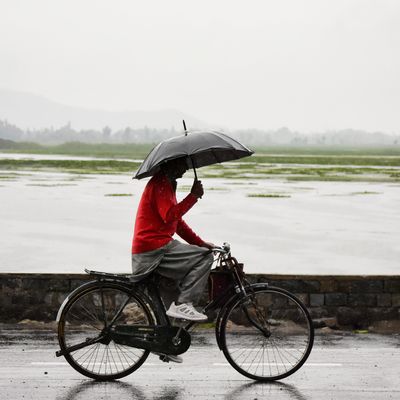 Photo: Getty/NurPhoto via Getty Images
I'm one of many people who has taken up cycling this summer. It's both a logistical solution (being one of the safest ways to quickly get from points A to B) and recreational activity that helps me destress and get out of the house. But with every new hint of chill in the air, I realize that the consistently warm, cloudless weather and dry streets I've come to rely on aren't going to be that way for much longer.
To learn how to best prepare myself and other new bikers for riding in the fall and winter, I reached out to four experts — including a bicycle-store mechanic, a bike messenger in New York City, a cyclist who rides as part of his regular fitness routine, and a cyclist who regularly rides recreationally — about what they use to winter-proof their bikes and themselves. (As one expert puts it: "Your bike can't get cold. You're the one who gets cold.") Before we get into their recommendations, a note that three of our experts told us that anyone who owns their bike and plans to ride it in the fall and winter should visit a shop for servicing while it's still warm out, because a bike that's in good shape at the start of those seasons will be far more likely to get through them seamlessly. Also: While fall and winter present a unique set of challenges for bikers, anyone looking to solve more common biking problems should consult our story on how to do just that.
The best tires for inclement weather
According to our experts, winter-proofing any bike starts with the tires. As our fitness-focused cyclist Melvin Onyia, who works as a software developer, says, "A bike frame is resilient and prepped for all terrains and weather. But when it comes to tires, you simply want thicker ones for winter." That's because the wider and more textured the tire, the better grip it'll have on slippery surfaces. "If you're on thinner tires that are super smooth, you're going to probably slip out on slick corners," explains New York City bike messenger Paul Solis. "But snow is totally doable as long as you have a wide tire." Given the unpredictability of New York City streets, Solis says he actually "rocks winter tires all year round." Specifically, these Schwalbe Smart Sam Plus Tires. "They have nice tread, they're wide and thick, and they're essentially puncture-proof — I almost never get flats." That's a big achievement for winter biking in the city because, "in the winter, you don't know what you're riding over," he says. "It could be nails and you won't see them because of snow. Not to mention the fact rain washes all the debris from the sidewalk into the street." Recreational cyclist and travel writer Sebastian Modak (who was last year's 52 Places Traveler for the New York Times) also told us he is going to switch out his bike's current tires for a winter-ready pair from Schwalbe. "Those things are bulletproof," he says of the brand, "and great for multi-day touring trips in the fall."
Studded tires for heavy snow
Photo: retailer
If you think you'll be regularly cycling on snow and ice (which most city dwellers, thankfully, will not), Ben Sawyer, a mechanic at Portland, Maine's CycleMania, says that "studded tires are great," adding that Schwallbe's are the most popular. Though he notes that any studded tire you get will also depend on the bike you have: "It depends the size of your bike's wheels and if there is enough clearance, which refers to how much room your bike frame has to accommodate a studded tire." While tires with studs will be better for regular riding over ice and snow, he notes that the downside is they make a bike "a little louder and a little slower."
A set of bike lights
Photo: retailer
While the right tires will keep you more stable on wet or icy roads, our experts say you'll also need lights on the front and back of your bike to keep you safe from drivers who may struggle to see you in inclement weather and as days start to get darker earlier. "Lights become super important in the winter," says Modak. "The back one especially, because you can't know if the cars behind you can see you." Modak says to look for a light that can flash because, "during the day, you can't create the beam you get from a permanent light at night, so you need a different way to get drivers' attention." Sawyer tells us CycleMania sells "a ton" of these Ion Pro Lights made by Bontrager, a brand he calls "a great company" and makes other things on this list.
A less-expensive set of bike lights
Photo: retailer
This more affordable light set comes recommended by Modak, who says it's what he uses. "They're not the fanciest lights around, but do they do the trick for a price much lower than the big brands. I especially like the front light, which has two different beam strengths and two different flashing settings. Best of all, it uses an elastic mounting system that makes it super easy to put on a variety of handlebar sizes."
A fender
Photo: retailer
Once you've sorted your tires and lights, the next thing our experts say is you'll want to attach to your bike is a fender, which Sawyer says is necessary so you don't get "covered in road grime." Modak is a fan of fenders, too, telling us they're "crucial" for preventing "a giant mud or water stripe down your back" at the end of a ride. His favorite fender is made by the brand Velo Orange. "It holds up great and, as a bonus, it also makes your bike look really cool, as it has this battered-metal appearance, which is fun."
A kit to clean your chain
Photo: retailer
The inclement weather of fall and winter generally means you're riding over dirtier streets, which can result in bike chains getting dirtier, faster. Modak says that any large pieces of dirt on a chain or wheels can be removed by spraying a "simple degreaser like WD40," but after that, he recommends using this kit to give your chain a more thorough clean. "The cleaning kit includes a contraption that fits over your chain," he explains, "and degreases it as you move the chain through it."
A (wet) chain lubricant
Photo: retailer
After cleaning your chain, Modak recommends applying a lube to keep it moving smoothly. "You should make sure your bike chain is lubed up no matter the season, but it becomes especially important during wet and cold seasons, because it's easier to get it dirty, which will then wear down your components and also create that annoying squeak," he says. While dry lube is best for summer, he says that "in the winter, when it's going to be wetter, you should use wet lubes," which are water-resistant. He says Finish Line is "the standard" brand when it comes to wet lubes, adding that bike lube, generally, is "very easy to apply, and there are tons of tutorials online."
A waterproof bag
Photo: retailer
As you'll learn below, all of our experts say that layering up (rather than having one big coat or one sweater) is essential for cold-weather biking, because your body temperature fluctuates as you ride and you will want to regulate that by dropping or adding layers. "With clothes," explains Sawyer, "it's about staying warm, but not getting too warm. When you're riding a bike, you're working hard, so if you wear a snowsuit, you'll lose the ability to move around and will overheat." The "trick," adds Onyia, "is to get to a place where you're warm but not hot." Key to being able to shed and add layers, the experts say, is a bag you can attach to your bike to hold them. Both Sawyer and Solis recommend Ortlieb's Classic Pannier, which is designed to clip on to the side of a bike frame. "Ortlieb makes really good waterproof panniers," says Sawyer. "You can put your stuff in and not worry about rain or snow getting in." The bag is "so waterproof," adds Solis, "that I'm sure it could be totally submerged and come out fine." (He adds that the brand also makes a pannier that converts into a backpack, for those who might be more inclined to invest in a two-fer.)
A bike designed for winter riding
Photo: retailer
If you've read this far and find the thought of getting all the above gear a bit daunting, Sawyer notes that you could just buy a bike designed for riding in winter weather. Of those bikes, which he notes are often called "fat-tire bikes," Sawyer says the Trek Farley 5 is "far and away the one we sell the most of." Calling it a "fantastic entry-level winter bike," he explains that it has "really wide tires, which have so much traction and such a big footprint that you feel like you're floating over the snow."
Photo: retailer
When it comes to preparing yourself for fall and winter cycling, our experts note that, in terms of clothing, you could really put together a whole wardrobe just for cold-weather rides (that wardrobe, they say, should at least include tights and other warm base layers, along with waterproof shoes). But they also mentioned several specific accessories — gloves, socks, caps — that can be worn by most anyone and will go a long way toward making biking in the fall and winter more bearable. Two of our experts say gloves are an essential part of their cold-weather wardrobe. "When you're riding, your hands are always stationary," explains Onyia, "so during the winter, your feet and hands will usually start to get very cold first." Melvin says that he loves these gloves from Swiss brand ASSOS because the company is "cycling-specific, and really into their research and development."
A (less-expensive) pair of biking gloves
Photo: retailer
Solis, our other glove fan, tells us that after cycling "through so many pairs that claimed to be waterproof but weren't," he now relies on these more affordable gloves from wet-weather-apparel brand Showers Pass, which have "already survived a couple of winters."
A pair of liner gloves
Photo: retailer
For anyone logging double-digit miles on their bike in colder weather, Onyia suggests wearing a pair of liner gloves beneath your main biking gloves for added warmth, as he does for his 50-mile rides. He specifically recommends these liner gloves from Smartwool, a base-layer brand that Sawyer, Modak, and Solis also mentioned by name.
Hand and foot warmers
Photo: retailer
"Personally," Onyia adds, "I've gone to the extent of putting heat packs in my gloves, to try to create a mini campfire in my hands. I just can't deal with numb hands and feet." If that sounds like you, he loves these heat packs, which include warmers for hands and feet. (The set comes with 24 pairs of hand warmers, and eight pairs of foot warmers, all of which are single use.) With gloves and some of these, Onyia says "cold-weather cycling can become just as comfortable as warm-weather cycling."
Warm socks
Photo: retailer
Modak also told us about how feet can get chilly on a bike. To help prevent cold feet, he swears by these wool socks from Swiftwick, which he "uses religiously" come wintertime. "When I'm wearing them, I never even notice if my feet are overheating or too cold," Modak says.
Wind-deflecting sunglasses
Photo: retailer
Onyia tells us he wears these glasses year round to help with the wind, which gets even "worse" in the winter. "When you're going 20 miles an hour and the wind is blowing into your eyes, it's going to dry them out," he explains. His Oakley sunglasses protect his eyes from winter wind, Onyia says, while being exceptionally durable and exceptionally light. "I don't want to feel anything on my face while riding, and these have been great," he promises.
A skull cap with ear protection
Photo: retailer
Lastly, while you must wear a helmet in all seasons, they never really provide much warmth. That's why Solis wears this cycling cap under his helmet "pretty much every day" in colder weather. It's thin enough to slip under any helmet and, what's more, "it has ear flaps that cover your ears, for when it gets really cold."
The Strategist is designed to surface the most useful, expert recommendations for things to buy across the vast e-commerce landscape. Some of our latest conquests include the best acne treatments, rolling luggage, pillows for side sleepers, natural anxiety remedies, and bath towels. We update links when possible, but note that deals can expire and all prices are subject to change.