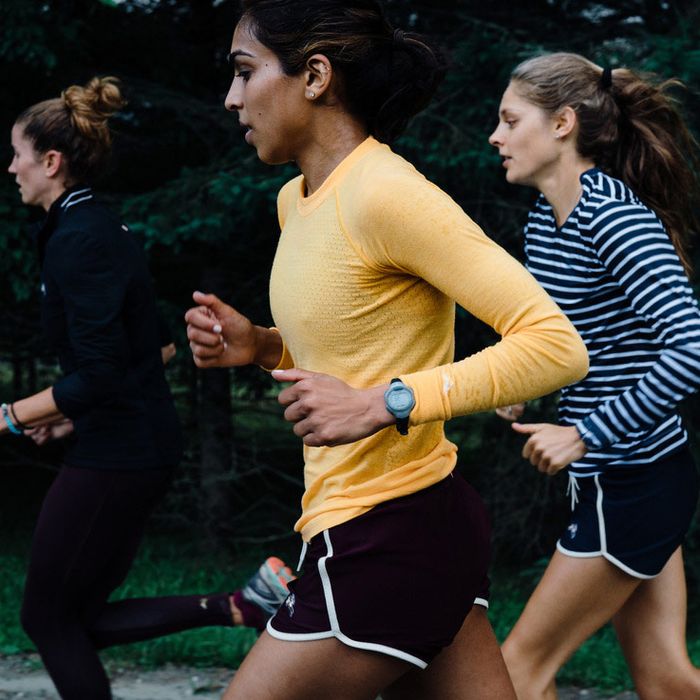 Photo: Courtesy of Tracksmith
Dressing for outdoor workouts in the summer doesn't take much thought. Throw on a pair of shorts, a shirt, and, for women, a sports bra, and you can be out the door in minutes. But cold weather exercise requires a lot more consideration. Your clothes have to both keep you warm and prevent overheating as you build up a sweat. For athletes, base layers made of technical fabrics worn close to the skin are the first line of defense against the winter chill.
Along with year-round runners and cyclists, we asked skiers, snowboarders, and alpine hikers to recommend their favorite base layers. Their picks, with options for different activities, climates, and fabric preferences, will keep you warm — but not too warm — on the roads or slopes, no matter the weather.
Best base layers for running
"I may run through shoes in a hurry, but I hold on to base layers like grim death," says City Coach co-founder Jonathan Cane. "The key elements are something that's breathable, long-sleeved, and wicking. Cotton absorbs and holds moisture, whereas high-tech man-made fibers wick it away and keep you comfortable." Nike makes some of his favorite base layers, which can be worn on their own on a mild day or under more layers on a colder run. Designed to be worn close to the skin to maintain body heat — and to avoid bulkiness under additional pieces — the Nike Element long-sleeve top is made from flexible and breathable technical fabrics.
Cane also likes Under Armour base layers, which he says remain soft and comfortable after years of use. These fitted long-sleeve tops are made from a brushed material that feels cozy on the skin. The thumbholes keep hands cozy and also prevent the sleeves from bunching up under a jacket.
While synthetic materials abound in running clothes, Cane says "merino wool is also an increasingly popular base layer." The all-natural fabric is surprisingly effective at keeping you warm, even when you sweat. Tracksmith's merino long-sleeve top features thicker knit wool on the arms than on the body, as your extremities generate less heat while running. It's also lightweight and soft to the touch.
Best base layers for cycling