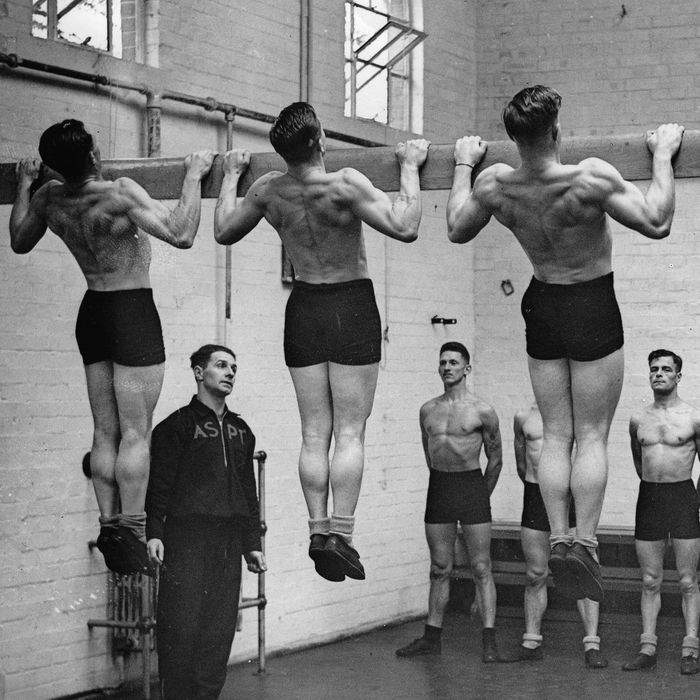 Photo: Anonym/Getty Images
When it comes to showing off your status as you sweat, sneakers probably allow you to flex more than any other workout accessory. So after exploring the status gym sneakers for women to wear when they hit the treadmill, yoga mat, or free weights, we wanted to turn our attention to the ones stylish guys wear to stand out during a workout. And although there was some overlap between the two sexes (which is not totally surprising), the cool people we asked about status gym sneakers did point out some newer brands and trends we didn't uncover in our last deep dive into status fitness footwear.
The 12 people we spoke to told us that, in general, in-the-know fitness folks these days are trading the types of fugly sneaker that once showed status for more understated styles. As Ted Stafford, the fashion director of Men's Health, told us, "The dad-sneaker trend has maxed out, and I think lots of guys are looking for a sneaker that's understated, versatile to wear with many looks, and, above all, comfortable for being on the move." Read on for the pair our panel crowned the next status gym sneakers for men and for other specific sneakers for weight lifting and cross-training that they say will set you apart (at least aesthetically) while you break a sweat.
The next status gym sneakers for men
Without a doubt, On Running sneakers are the next brand to know, according to the experts we spoke with. "They're becoming crazy popular lately. I'm seeing more and more people wear them at private gyms in Los Angeles," says fitness expert Kenta Seki. While the Zurich-based brand isn't new — it was co-founded in 2010 by former three-time world duathlon champion and Ironman winner Olivier Bernhard and two friends — it's still "more under the radar," explains Bari Lieberman, a trainer and product manager for the fitness app Tone It Up. As the name suggests, the Cloudstratus running shoes — which have a highly cushioned sole, mesh upper, and wide platform — are ideal for runners because they offer soft landings and springy takeoffs with each stride, and they protect joints from wear and tear. But according to Rhys Athayde, the chief experience officer and founding trainer at Dogpound, On Running sneakers are not only great for trail and road running — they're also good for hiking, running-based workout classes, and even walking around town, because they exist at the intersection of "function, comfort, and style." Athayde adds that his clients often rave about the sneakers because they're as comfortable and supportive as they are versatile. "I have never had a client get blisters from wearing these shoes," he says. Stafford agrees, telling us that "guys who are looking for a training sneaker with the latest innovation for comfort and performance should try On Running training sneakers as soon as they can. They'll be hooked." For those who really want to show their status, the Cloudstratus sneakers also come in a can't-miss shade of orange.
The men's status gym sneakers for weight lifting
The perennial footwear of skaters and street-style stars alike is having a bit of a renaissance at the gym, according to many of our panelists. "I'm seeing more people in the hard-core fitness community train in basic sneakers like Chuck Taylors," says health-and-fitness writer Michael Easter. He admits that power lifters have worked out in Converse for years but notes that he has started to see the style trickle into luxury and chain gyms. Much like the current popularity of barefoot running and weight lifting, Chucks are part of a more accessible, less-is-more approach to fitness. Both Tone House's director of training, Shaun Jenkins, and fitfluencer Anna Victoria tell us that they wear Converse when lifting, while celebrity personal trainer Jason Wimberly explains that the fitness community is taking a step back from super-technical sneakers in favor of more minimal styles. "Trendy does not always mean better, and when it comes to choosing a training shoe that is right for you, I am always a fan of less is more," he says, noting that, in his 17 years as a trainer, he has seen many clients struggle with foot problems that are often a result of the wrong shoe. Workout sneakers that put the foot in an unrealistic position — either from too much cushioning or uneven stability — can create problems down the road, which is why All Stars have garnered a strong fan base among weight lifters, he says. "While there is some benefit to cushy running shoes if you're going for distance, when it comes to weight training, it can actually hinder your lift," he adds. These have a solid flat sole that keeps feet as close to the ground as possible when squatting and lifting heavy weights; this helps prevent slipping, which can cause injuries.