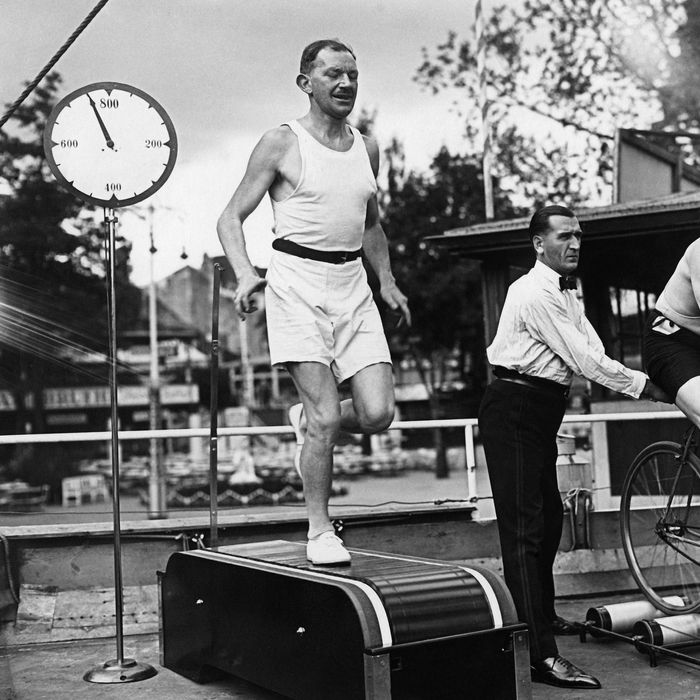 Here at the Strategist, we like to think of ourselves as crazy (in the good way) about the stuff we buy, but as much as we'd like to, we can't try everything. Which is why we have People's Choice in which we find the best-reviewed products and single out the most convincing ones. (You can learn more about our rating system and how we pick each item here.)
And while we've written about all sorts of fitness equipment — including fitness trackers, home-gym equipment, and the best expert-recommended treadmills — here we've rounded up the best treadmills for home use, as praised by the most enthusiastic reviewers on Amazon.
Best-rated treadmill
With more than 300 five-star reviews from verified purchasers, this folding treadmill receives high marks for its price and compactness. Some reviewers, including this one, admitted they were initially hesitant to order a treadmill online but found that the TR150 couldn't be easier to setup or use once it arrived: "After I took it out of the box I was pleasantly surprised. I am not a 'handy' person at all, but the assembly was a breeze … and no swearing on my part. I was running on the treadmill in less than 30 minutes after receiving it." That reviewer adds that this treadmill is the "perfect size, because it's compact." Another enthusiastically called out the relatively low price, writing, "WOW, GREAT DEAL. Delighted we did not buy the $600 to $1,200 treadmills we were looking at." That reviewer goes on to say, "We would buy it again in a minute. Could not be happier."
Best-rated (less expensive) treadmill
"I am so grateful that I finally found a good quality treadmill at this price point," writes one satisfied customer, who adds that this model "runs smoothly." Others highlight how simple it is to assemble: "It was super easy to set up, my husband did it in less than 15 minutes," says another buyer. "It's light, has a small footprint and is very quiet." One reviewer who bought it as a Mother's Day gift for her mom says, "Now my dad wants one. They love it because they can easily move it when a guest comes into town." Another echoes that sentiment and praises the portability and space-saving benefits of this particular treadmill: "It is so easy to fold and very portable. The wheels work great and I love being able to move it anywhere with ease." Additionally, you can use an app to connect this treadmill to a smartphone via Bluetooth.
And now, some micro-picks for every type of treadmill you might be looking for.
Best beginner treadmill
"This is a great purchase if you are just getting into treadmills," advises one buyer, who, along with many others, recommends this model for anyone looking to buy something simple, compact, and foldable. "It is extremely easy to use … and compared to the prices of some other treadmills, this was an excellent value." Another further praises how good it is for the price, saying, "The pause mode is a good feature other treads in this price range often do not have. For home use, it really is an excellent value and a well-made product." And multiple reviewers weigh in to say that the fold-up feature makes it a cinch to store or move around when not in use. "It has wheels for easy mobility, it folds up to save room, and it comes down with just a push on the bar. Easy peasy," says one.
Best commercial-grade treadmill
We've written about this treadmill before: It took the top spot in our roundup of treadmills recommended by personal trainers. And although this model is undoubtedly an investment, reviewers love it, too, with one noting that it delivers "gym-treadmill quality at home-treadmill pricing. If you are looking for a top treadmill at a reasonable price, look no further." Another satisfied customer writes, "When I began looking into purchasing a treadmill, I knew NordicTrack was the way to go. However, I have been blown away by the quality and functionality of the Commercial 1750." That reviewer goes on to highlight the "iFit software that's built into the beautiful touchscreen display," adding, "on top of that, the easy storage mechanics and built in Bluetooth speakers were icing on the cake."
Best treadmill with a touchscreen
"Let's start by saying: this treadmill is B.O.M.B," writes one reviewer who loves this machine — and the fact that it comes with a free, one-year iFit subscription that includes touch-screen-assisted features such as interactive routes through famous destinations around the world. "This is some real live 'Jetson Livin.' I love it, this is hands down the best investment. Worth every penny." Another purchaser says, "This treadmill is everything I was expecting it to be and more," pointing out the "enormous variety of preloaded workouts that will make time pass fast even when you're working out at home and we all know how boring that can get." A third chimes in to praise the ten-inch screen, adding that the "thoughtful video workouts provided take the boredom out of treadmill training and are truly engaging."
Best durable treadmill
According to many purchasers, this model hits a sweet spot in terms of price and performance. "There seem to be a lot of treadmills on the market that are either too expensive, or not sturdy enough. My 235 lb body hardly shakes this thing, so it is well worth the medium price. All-around great and would recommend to anyone who wants more than the cheap $300 treadmills but can't afford the $3000 gym quality ones." Another reviewer notes how strong and durable this treadmill is, even right out of the box. "I immediately did a run after the assembly people left. By far the sturdiest treadmill I've owned. Nothing shook. The rebound on the deck was just perfect."
[Editor's Note: This treadmill is temporarily out of stock but you can backorder it now and get it delivered by Amazon when it's in stock.]
Best treadmill with Bluetooth
Reviewers like that this treadmill from Horizon Fitness delivers features like "Bluetooth connectivity, incline, and speed adjustment" for a more budget-friendly price than some other models with comparable features. "Great price for a treadmill with Bluetooth," writes one purchaser who adds, "I've had it two weeks and love it." Another happy reviewer says, "Love that it connects to Bluetooth so I can watch my shows while working out. It's also the quietest treadmill I've ever encountered, which is great when I'm up before my husband in the mornings."