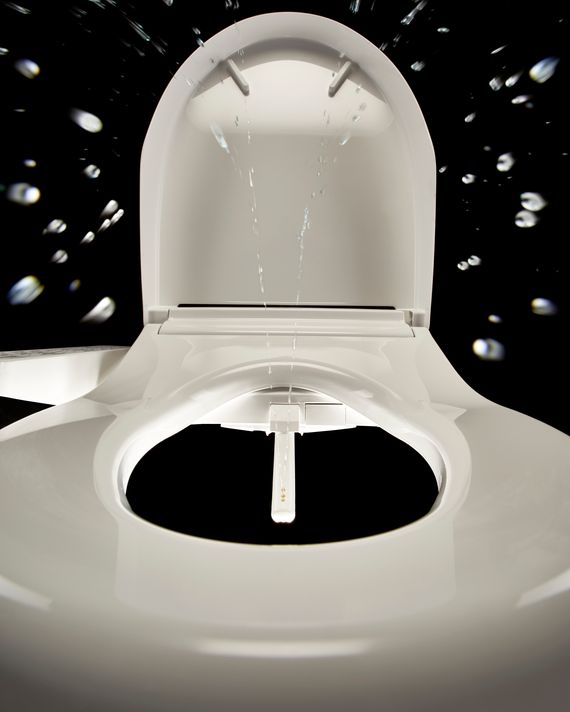 When toilet paper was in short supply, investing in a bidet suddenly seemed like a good idea (though many have been enjoying the benefits of this butt-washing device for years). In its most basic form, it uses a stream of water to cleanse your posterior after you poop. Besides requiring far less toilet paper, which can be abrasive to your butthole, using a bidet is more hygienic, which leads to better overall ass health. "If we're talking about bidets, we're also trying to make sure people are educated about pooping the right way: not straining, not sitting too long on the toilet, and not wiping too much," says anal surgeon and sexual-health and wellness expert Dr. Evan Goldstein, who is also a co-founder of the sex-care brand Future Method. "With bidets, we're cleaning in a way that is much more strategic, less irritating, and environmentally helpful." (Goldstein recommends patting the area with TP after you've cleansed with water rather than wiping.)
The more you learn, the more the concept becomes appealing, but for those unfamiliar with it, springing for one can be quite intimidating. There are many styles, price points, and features to consider such as whether you want a simple manual bidet attachment or an electronic seat that sprays warm water and is fully adjustable. If you're interested in incorporating a bidet into your personal-hygiene routine but don't know where to start, we spoke to bidet experts, plumbers, and, yes, bidet users themselves to help you find one that's right for your butt. Before you commit, though, you'll want to check the style of toilet seat you have (round or elongated) and whether your bathroom is equipped with the proper plumbing and outlet access.
Bidet attachments can range from under $50 to over $500, and the main feature dictating the price is whether it's manual or electric. Manual bidets require no electrical hookup, making them easier to install, but they lack some of the features of electric bidets. You can still adjust the nozzle and water pressure and even control water temperature with some manual models, but if you are interested in a dryer, automation, or a massage cycle, you'll need an electric bidet.
Bidets aren't just for butts, which is why you should look for a model with either two separate nozzles or one whose position you can adjust for front feminine wash and rear wash. It's great for refreshing yourself after sex or when you're on your period.
If the idea of having cold water blasted at your rear end sounds unappealing, you'll want to look for a model with a warm-water hookup. With an electric bidet, you're pretty much guaranteed to have a warm-water option, but with manual models, you'll need to read the fine print.
Best overall manual bidet
Manual versus electric: Manual | Dual wash: Dual wash | Warm water: No warm water
The overwhelming favorite among the bidet enthusiasts we spoke to was the Tushy for its ease of installation and use. It attaches to your toilet bowl (you place your existing seat on top of it), requires no electricity, and comes with a hose to connect to your clean water supply, making it "very much plug-and-play," according to production accountant Ian Mesa-Jonassen. Simple knobs allow you to adjust water pressure and the angle of the self-cleaning nozzle (from front to bum) in one "timeless design," as housing expert Thomas Jepsen describes it. The results are great. Mesa-Jonassen says "feeling clean down there" has improved not only his mental but physical health: "I can, with confidence, say that my butt health is at a resounding 100 percent." I've owned the brand's Spa model (more on that below) for about two years now and can agree with everything the sources called out. I especially like how sleek it looks compared to other bidets. While mine does have the extra hose for warm water — the only main difference between the Classic and Spa — I did use my bidet without warm water for about six months, and it was extremely easy to use.
The Tushy is also great for women and their needs. Morgan, a photographer and mom of three, uses it every day but says the gentle stream of water was especially helpful when she was postpartum. Sally, a new mom, says the Tushy similarly saved her when she was in her third trimester of pregnancy, when moving around became more difficult and peeing much more frequent. "I started to feel raw from all the tissue wiping, but that raw feeling went away almost instantly with the bidet, and I wasn't needing to use nearly as much toilet paper." While you're shopping, keep in mind that the Classic model will supply only room-temperature water.
Best less expensive manual bidet
Manual versus electric: Manual | Dual wash: Dual wash | Warm water: No warm water
If you're looking for a bidet attachment that offers front and rear washing and is a little more affordable than the Tushy, Jepsen recommends the Luxe bidet toilet attachment (though he admits it's not quite as sleek as Tushy's). Still, it's a great entry-level bidet that he says allows you to easily adjust the water pressure. It's operated by dual nozzles, one for front feminine wash and the other for rear wash, plus two knobs: One adjusts water pressure, and the other controls the feminine wash and engages the nozzle-cleaning mode. The nozzles retract and come with a guard gate to prevent splash back, keeping everything hygienic.
"The female setting didn't disappoint in helping me feel fresher during my cycle," says one buyer on Amazon, where it's highly rated. "The wash setting is for the booty, and it pretty much eliminates the need to use toilet paper. I had no trouble centering it to hit the money spots and am glad I bought this model with both nozzles." Strategist senior editor Crystal Martin swears by a Luxe bidet attachment (the Neo 120), which does not have feminine front wash. "The cold water could be a jolt to an uninitiated tush and took some getting used to, but now it's refreshing," she says. "I just like the bidet experience overall. Not having to interact with my own poop is everything."
Best manual bidet with warm water
Manual versus electric: Manual | Dual wash: Dual wash | Warm water: No warm water
As mentioned, this is the Tushy model I own myself. It has all the same features as the Classic with the addition of a separate knob to control water temperature as well as pressure. To install the Spa properly, you'll need access to your sink for hot water to hook up the nine-foot-long connection hose. While the Tushy on its own is great, it's well worth it to take the extra step. Compared to the standard room temperature, the customizable temperature settings are a game changer (I tend to keep mine on the warmer side almost all the time). I still get the nice clean feeling after a rinse, but without the initial shock of cold water.
Best manual bidet seat
Manual versus electric: Manual | Dual wash: Dual wash | Warm water: No warm water
Instead of installing a bidet attachment to the underside of your toilet set, consider a manual bidet seat that replaces the entire thing. The AquaWash SpaLet is a favorite of Mark Feldman, the chief home officer of the online home-décor and furnishings site Riverbend Home, for its streamlined design and strong water pressure. It features dual self-cleaning nozzles for easy front and back washing and is operated by a discreet side handle. Cleaning the whole thing is really easy, too, according to Feldman, as the nozzles are detachable and the unit itself has a quick-release button that makes it easy to lift off. It's also the most unobtrusive-looking of the manual bidet attachments on this list, if you'd rather not have a control panel protruding from the side of your toilet. And, of course, it requires no electricity. "This particular model is at a great price point, especially for the features," Feldman concludes.
[Editor's note: This model is currently only available for elongated toilets, so make sure that matches what you have at home.]
Best overall electric bidet
Manual versus electric: Electric | Dual wash: Dual wash | Warm water: Warm water
If you're familiar with bidets, you've probably heard the name TOTO. Its bidets are the pick of three panelists, including Gerald Carpenter, a professional plumber and the founder of the website Sanitary Review. His vote goes to the C100 Washlet, considered an entry-level model in the world of high-end electric models, which comes packed with the following features: front and rear washing with adjustable spray power and water temperature; a heated seat; a tank-type heating system that supplies at least 40 seconds of warm water; air deodorizer; pre-mist, a mist that coats your toilet bowl so your doo-doo does not stick; and a warm air dryer. It's the C100's three dryer settings that Carpenter especially likes as they let you choose the most convenient airflow speed and temperature as opposed to other bidet-seat dryers that are "overly powerful or too weak." It comes with a self-cleaning nozzle that washes itself before and after every use and is operated with a side-control panel (versus a remote control, which usually comes with higher-end units).
An anonymous user who owns a TOTO toilet bowl equipped with an older model of the TOTO washlet says her bidet is "life changing" and one of the reasons she bought her apartment. "I use less toilet paper, it gets you way cleaner, and I think it's better for you," she says. She loves the heated seat, which she keeps on all year except during the summer. Another female user raves about her C100's heated seat, calling it one of the best parts of owning a bidet (plus the fact that she, too, saves on TP).
[Editor's note: The links below are for round toilets only. We did find a slightly different version of the Toto Washlet for elongated toilets that's about the same price at Home Depot. And here's a handy guide for feature comparisons.]
Best less expensive electric bidet
Manual versus electric: Electric | Dual wash: Dual wash | Warm water: Warm water
"If you want a high-end heated bidet seat with adjustable water pressure and temperature without robbing a bank, this budget model by Brondell is a great option," Carpenter says. In addition to adjustable water pressure and temperature control, the Swash 300 features posterior and feminine front wash, an adjustable heated seat with three settings, dual anti-bacterial self-cleaning nozzles, aerated wash spray, a slow-closing lid, automatic ecomode, and a smart body sensor. While it doesn't come with more high-end features such as a deodorizer or warm drying, it does come with an easy-to-use remote control, which, according to Carpenter, "makes it one of the most straightforward and advanced devices in the price niche."
[Editor's note: This model is currently only available for round toilets, so make sure that matches what you have at home. We also found the more advanced Swash SE 400 available for both round and elongated toilets for about the same price.]
Best high-end electric bidet
Manual versus electric: Electric | Dual wash: Dual wash | Warm water: Warm water
Strategist writer Lauren Ro's husband spent hours researching the perfect bidet, and decided on BioBidet's BB-2000 seat, which is a popular pick on bidet-supplier sites. One of its standout features is its upgraded heating system, which provides a continuous stream of warm water. The water comes out of a stainless-steel nozzle that provides rear, feminine-front, and vortex-enema modes (indicated on the remote by a graphic of a butt and a drill-like spray, an image Ro finds "delightful"). It also has unique features such as an air deodorizer, an adjustable warm-air dry, and various massage-wash modes.
Ro's husband's favorite thing about the BB-2000, though, is it gets him exceptionally clean. "I used to use an inordinate amount of toilet paper whenever I pooped. I don't know the number of times I've clogged a toilet with an absolutely gargantuan wad of TP," he says. "Now I just run the wash cycle on my bum, use a modicum of TP, more or less to get visual confirmation that I'm clean, and I never clog the toilet." (He goes through the two-minute wash cycle twice before going through the three-minute dry cycle.) Ro finds that the feminine-front mode is strong enough for rear washing (even though she rarely goes the whole two minutes), and she never does the dry mode, mostly because cycling through the entire process takes at least five minutes. She also loves it for refreshing during periods and after sex.
Some Strategist-approved bathroom accessories
• Gerald Carpenter, plumber and founder of Sanitary Review
• Mark Feldman, chief home officer of Riverbend Home
• Dr. Evan Goldstein, co-founder of sex-care brand Future Method
• Thomas Jepsen, housing expert
• Crystal Martin, Strategist senior editor
• Ian Mesa-Jonassen, production accountant
• Lauren Ro, Strategist writer
The Strategist is designed to surface the most useful, expert recommendations for things to buy across the vast e-commerce landscape. Some of our latest conquests include the best women's jeans, rolling luggage, pillows for side sleepers, ultra-flattering pants, and bath towels. We update links when possible, but note that deals can expire and all prices are subject to change.
Every editorial product is independently selected. If you buy something through our links, New York may earn an affiliate commission.