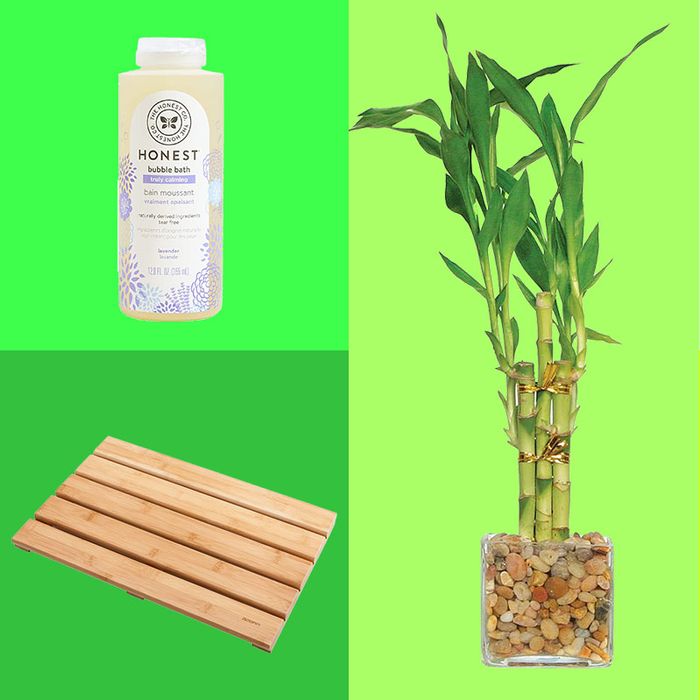 Photo-Illustration: Courtesy of the retailers
Whether you're a shower person, a bath person, or a sheet-mask-every-day person, chances are you spend a lot of time in your bathroom. While we've rounded up the best accents for your apartment, bedroom, and kitchen elsewhere, here we've found the best inexpensive bathroom-décor ideas — from spruced-up versions of powder-room necessities to clever space-saving accessories to everything you'll need to turn even the saddest, tiniest bathroom into an at-home, spalike retreat. All the things on this list are available on Amazon, but we've found some elsewhere, too, for those who like to shop around.
To keep your favorite books and magazines safe from toothpaste, bathwater, and other hazards.
"The matchbooks look like a prop from the Boogie Nights set, but all each carries are brief bursts of incense," writes former Strategist senior editor Margaret Rhodes of these fragrant incense matches that she says are better (and cooler looking) than any bathroom candle. "Light one, burn it down a quarter of an inch, and it emits a brief wisp of fragrant smoke — no need to leave a lit candle unattended."
These Turkish hand towels are known to be superabsorbent and quick-drying. They're also a bit cooler looking than your average hand towel, thanks to the fringe and textured cotton fabric.
For those who prefer a stronger fragrance, this earthy, pine-scented room spray from Bay Area–based Juniper Ridge comes in an Aesop-esque bottle that's nice enough to leave on a shelf (or a toilet lid).
These damp-and-heat-resistant floating shelves would be a serious upgrade from over-stuffed plastic caddies. Use them for face towels, toothbrushes, diffusers, plants and other toiletries.
For those who prefer a cleaner look, some of these all-white floating shelves may be a better option.
Who knew a toilet-paper holder could be so elegant? This one has a brushed-brass stand and a genuine marble base.
The calming colors of these hair-catchers for your shower drain will make them far more pleasing to look at, even when full of hair.
Wear this sleek cotton robe while drying your hair, doing your makeup, or indulging in a deep-conditioning treatment.
This waterproof mini Anker speaker is Bluetooth-compatible, surprisingly powerful, and lets you listen to podcasts in the shower.
A handsome handwoven laundry hamper with two compartments so you can easily sort your whites and darks.