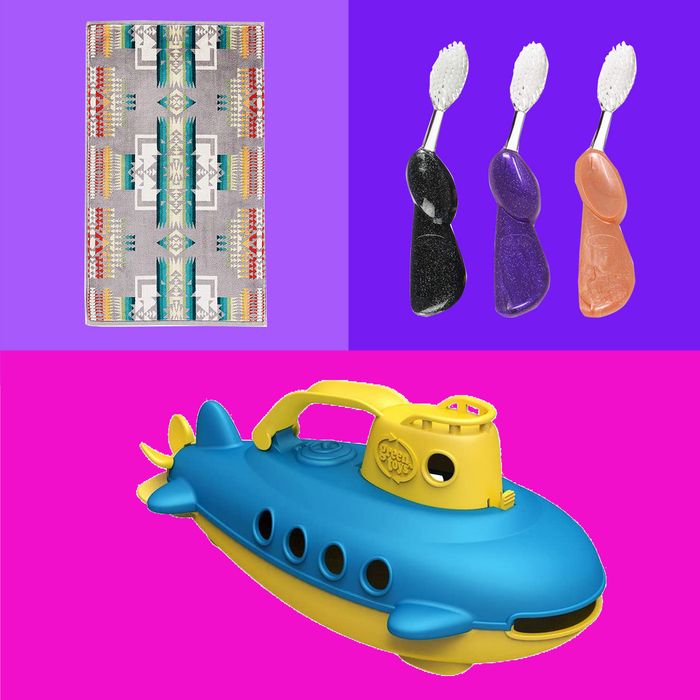 Photo-Illustration: Courtesy of the retailers
Whether you're a shower or bath person or a sheet-mask-every-day person, chances are you spend a lot of time in your bathroom. While we've rounded up the best accents for your apartment, bedroom, and kitchen elsewhere, here we've dug through Amazon to find the best bathroom-décor ideas. Below, you'll find spruced-up versions of necessities and spa-like indulgences to give your grooming routine, whatever it may be, a tad more ambiance.
Recycle those too-bright Kleenex boxes: your bathroom tissues deserve a well-designed home.
When was the last time you could call your toilet-bowl cleaner cute?
Forget Marvis! This is the best fancy European toothpaste, which one Strategist writer describes as tasting "like if Fernet Branca were spiked with the most delicate whisper of spearmint."
These damp-and-heat-resistant floating shelves would be a serious upgrade from over-stuffed plastic caddies. Use them for face towels, toothbrushes, diffusers, plants and other toiletries.
Charcoal that's not in your juice or your toothbrush.
We've written about our love for this cute, sustainable little soap dispenser before.
More charcoal, this time in a towel. Beauty enthusiasts swear by the powers of exfoliating with charcoal towels.
Bamboo is one of the few indoor plants that will do just fine in a humid and low-light environment like a bathroom.
This small white trash can from Brabantia is a sophisticated upgrade from boring stainless steel.
Swap the view of your backyard or an airshaft for this birch forest.
This nice-looking bamboo tray allows you to easily bring your books, magazines, hairbrush (and yes, wine) into the tub with you.
Strategist editors love a bamboo bathmat too, not only because it seems like something you'd see at a fancy spa, but also because it means you will never wash a grimy bathroom rug again.
Dump the ratty cardboard box and put your Q-tips on display.
More of our favorite bamboo, this time as a side table to place just outside a shower curtain that doubles as storage thanks to its handy bottom shelf.
In the right bathroom, this space-saving wall ladder (a Strategist favorite) would be a more stylish (and more ventilated) way to hang towels, or clothes while you shower.
Use the basket as a hamper or storage for linens — the handy straps make it easy to tote.
Portland-based Pendleton first wove this pattern in the 1920s, in honor Chief Joseph, who led the Nez Pearce tribe to Oregon.
As fun as these are to look at, they're even more fun to use, with their giant bristle heads and comfy rubber grips.
Squeeze out every last drop of that toothpaste or hand cream in style.
A submarine bath toy with a spinning rear propeller for the young (and young at heart).
Use this to keep all your extra rolls of toilet paper on hand but out of sight. It also doubles as a small freestanding shelf.
Stick this small self-adhesive silicone organizer to the wall of your shower to store small items like your razor and toothbrush. The company also makes a small matching mirror to stick above it.
Sleeker than your average brush holder. Plus, its design keeps residue from yucking up the base.