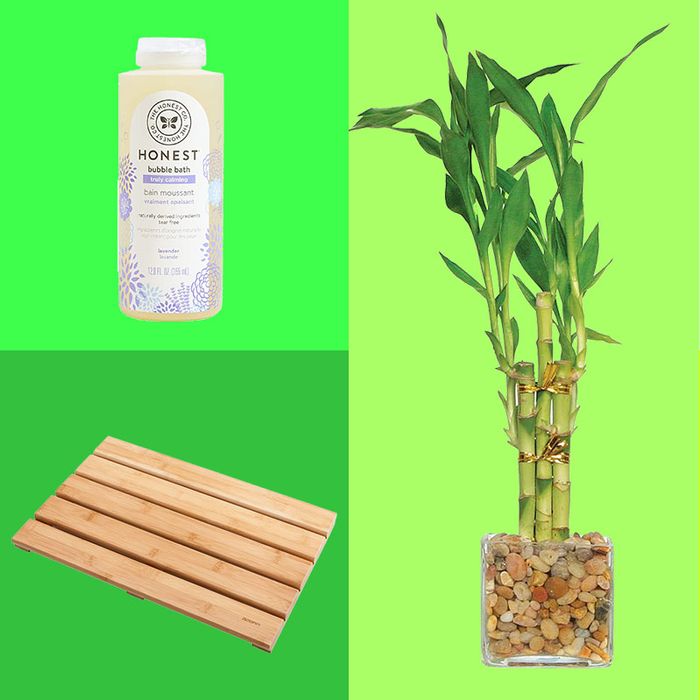 Photo-Illustration: Courtesy of the retailers
Whether you're a shower person, a bath person, or a sheet-mask-every-day person, chances are you spend a lot of time in your bathroom. While we've rounded up the best accents for your apartment, bedroom, and kitchen elsewhere, here we've found the best inexpensive bathroom-décor ideas. Since we can't spend hours at the spa right now, we found everything you need to turn even the saddest, tiniest bathroom into an at-home wellness retreat. Below, you'll find spruced-up versions of necessities, clever space-saving accessories, and spalike indulgences. While all of the things on this list are available on Amazon, we've found some of them elsewhere, too, for those who like to shop around.
Keep your favorite books and magazines safe from toothpaste, bathwater, and other hazards.
Treat yourself to an all-natural lavender-scented bubble bath that writer Hannah Morrill says "filled my bath with mountains of frothy whip."
Wear this sleek cotton robe while drying your hair, doing your makeup, or indulging in a deep-conditioning treatment.
This waterproof Bluetooth mini Anker speaker is surprisingly powerful and lets you listen to podcasts in the shower.
These Turkish hand towels are known to be superabsorbent and quick-drying. They're also a bit cooler looking than your average hand towel, thanks to the fringe and textured cotton fabric.
Who knew a toilet-paper holder could be so elegant? This one has a brushed-brass stand and a genuine marble base.
A handsome handwoven laundry hamper with two compartments so you can easily sort your whites and darks.
If you need to get a bit more up close and personal while you do your makeup or put in your contacts, this compact vanity mirror should do the trick.
Here's an adorable nonslip mat that will surely add some cheer to your your tot's bath-time routine.
This acrylic organizer is a favorite of Strategist beauty writer Rio Viera-Newton, who recommends taking advantage of vertical space when storing all your beauty products. Obsessives like her will also appreciate how the see-through acrylic makes it easy to see your precious lotions and potions.
If you're looking for more storage, this three-tier metal cart follows Rio's vertical-space rule and is slim enough to slip into a narrow nook. The minimalist design and black color add to its unobtrusive feel.
This clever cover requires you to tip your Kleenex box on its side so that the top of the box can become a handy catchall.
When was the last time you could call your toilet-bowl cleaner cute?
Forget Marvis! This is the best fancy European toothpaste, which one Strategist writer describes as tasting "like if Fernet Branca were spiked with the most delicate whisper of spearmint."
These damp-and-heat-resistant floating shelves would be a serious upgrade from over-stuffed plastic caddies. Use them for face towels, toothbrushes, diffusers, plants and other toiletries.