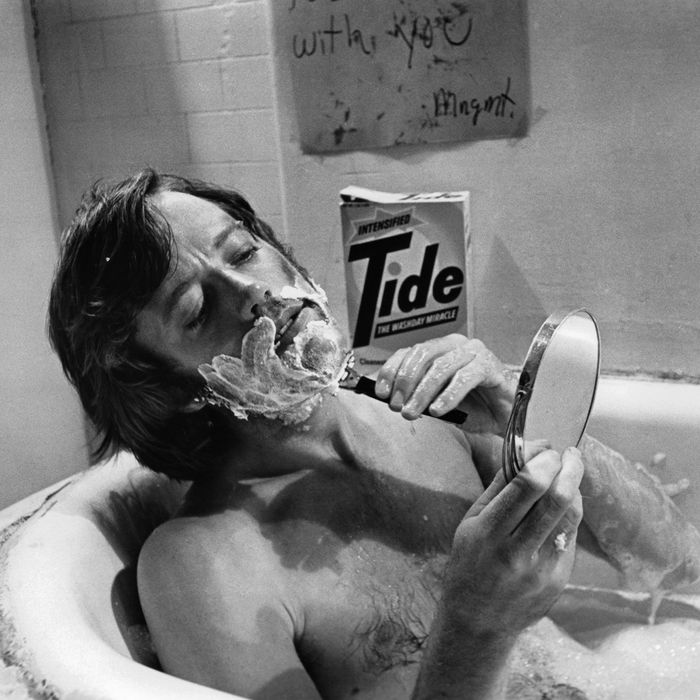 Photo: Columbia Pictures/Getty Images
You might think shaving is as simple as grabbing the first pack of cartridge razors and can of shaving cream you see at the drugstore. And although that may work, getting a better shave — one that won't leave you with inflamed bumps on your face or neck or an uneven-looking beard or stubble — often requires some research into the best tools to use. Well, we went ahead and did that research for you (you can thank us later) and, after speaking to dozens of grooming experts and guys with great facial hair, put together the list below of everything you need for a proper shave. It includes expert-recommended products, things we've tried and loved ourselves, and other stuff passionate reviewers swear by. Read on for all the creams, razors, combs, trimmers, brushes, cleansers, balms, and aftershaves you need to get a barber-quality shave in your bathroom.
Shaving creams
When we pored through hyperenthusiastic Amazon users' reviews of shaving creams, this one came out on top. It "lathers for days," according to one reviewer, while another writes "this is exactly what I would expect an old barber shop in 19th-century England to smell like." Other top-rated shaving creams on the list include recommendations for creams to buy in bulk, ones to use with cheap razors, fragrance-free options, and more.
Another tried and true shaving cream, Proraso was the No. 1 pick when we surveyed grooming experts about the best shaving cream for men. It's made with glycerin, lactic acid, and menthol, which barbershop owner Russell Manley told us "work in combination to open up the pores and raise the beard hair. This helps to ensure a close shave with lower likelihood of ingrown hairs."
Writer David Walters swears by this Cremo Shave Cream, which he says gives him a surprisingly close and comfortable shave even on his sensitive skin. He also can't get over how long one bottle lasts him, especially at such an affordable price.
Cartridge razor
Cartridge razors with disposable blades are often the most practical option for men who want a quick, safe, and close shave. The Mach 3 is a trusted classic, according to the experts we spoke to about the best razors for men, who note its three-blade cartridges are a happy medium between single-blade razors and newer, five-blade cartridge styles. Other expert-approved cartridge razors include Harry's and the Shick Hydro 5 (which one groomer recommends if you've got sensitive skin).
Straight razor
If you want to try giving yourself a hot-towel-style shave at home, you'll need a good straight razor. When we asked experts to recommend their favorites, they told us that using a "shavette" straight razor like this model may be the best if you've never used one: Shavettes are lightweight and easy to control but still allow for a nice, close shave. Master barber Angelo Ruscetta recommended this affordable shavette from Parker, but our expert-approved list of straight razors also includes more traditional options, less expensive alternatives, and styles from Japan.
Safety razor
When we asked 13 grooming professionals about the best razors for men, 11 of them told us that a safety razor is actually a better style to use than the more ubiquitous cartridge razors. That's because, like straight razors, safety razors shave with one blade, which means there's less of a chance of causing ingrown hairs and razor burn. The German-made Merkur 34C topped our list of expert-recommended safety razors, because it has a shorter, "easier to grip" handle and a closed comb, meaning it "offers a more protected shave."
Electric razor
After testing more than a few electric razors, we deemed this Philips Norelco model the best. "It's lightweight, feels good in the hand, and catches hairs on the first pass with hardly any effort." Plus, it's easy to clean "with just a rinse under the sink."
Back-hair shaving tool
Walters, who turned us on to the Cremo shaving cream above, also swears by this plastic wand that securely holds a cartridge razor and allows you to shave hair from that impossible-to-reach, middle-back triangle all by yourself. With "a few easy up-and-down swipes," the Razorba solves the unfortunate dilemma of back hair "with the ease of a back scratcher," he writes.
Manscaping tool
If you're looking for a tool to manscape, experts told us this two-headed Philips Norelco shaver is the most essential. On one end, it has a foil razor, and on the other, a trimmer. According to groomer and hairstylist Ronnie Peterson, "The adjustable trimmer is better for sensitive areas like the crotch," and you can use the foil-covered end "on the chest if you want to go really clean." Our full list of expert-recommended manscaping tools also includes more specific picks for difficult areas like the nose and groin.
Beard trimmer
Writer Kurt Soller, who tells us he "has the kind of stubble that's not quite a beard — but always verging on it," swears by this Philips Norelco electric beard trimmer for keeping that stubble at the perfect length. Among the reasons he loves it are a convenient radial dial that lets you easily choose lengths as short 0.5 millimeters, and a vacuum-suction feature that collects the majority of your shaven hairs. Soller tested a lot of beard trimmers to find his favorite, though, and discovered more than a few worthy options, including ultralight models, a travel-friendly one, and more.
Beard combs