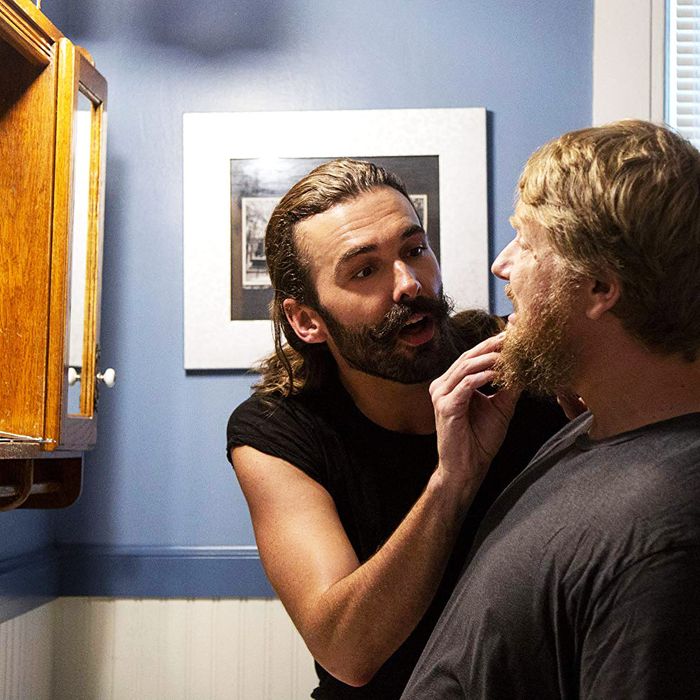 Photo: Courtesy or Scout Productions
In the quest for a healthy beard, moisture — for both the actual hair follicle and the skin underneath — is paramount. Without moisture, your beard will look dull and brittle, and it might start to feel itchy or develop dandruff — something you definitely don't want. But just a few drops of beard oil massaged from the roots of your facial hair to the tips can make your beard glow with the intensity of polished gold.
The world of beard oils, though, can quickly feel overwhelming: a quick Google search will turn up more iterations of the concoction than we can count. So we called up nine grooming experts to help us separate the good from the great. Two top criteria came up over and over again in our conversations: ingredients (and their quality) and scent. In both cases, our experts agree that less is more. Tony DeAngelis, a co-owner of Blue & Black Barbers who makes his own beard oil that he sells at his shop, says to look for a "light oil that's paraben-free with a scent you won't get tired of." He and the rest of our experts all agreed that the best beard oils will all contain jojoba, argan, grape-seed, or other naturally derived oils that will condition your facial hair and moisturize your skin without clogging your pores. But each had their own favorites when it came to specific brands. Read on for all of their picks, which include fast-absorbing options, oils for treating dandruff and promoting hair growth, and others that come in various soothing scents. We've even included the ingredients the pros say you should buy if you want to make your own beard oil at home.
Best overall beard oil
All of the beard oils our experts recommend, including this one, either contain jojoba oil, argan oil, grape-seed oil, avocado oil — or a combination of the four. According to Chad Beightol of New York City–based grooming store Consiglieri, "jojoba oil is closest to the oil in your skin, and therefore doesn't clog your pores." Argan oil has high levels of vitamin E, omega 3 fatty acids, and antioxidants, making it an excellent anti-aging moisturizer and great for softening dry, damaged hair. Grape-seed oil, which is lighter than jojoba oil, is high in linoleic acid and thought to reduce clogged pores, so it's great for oily skin. And avocado oil is rich in oleic acid and monounsaturated fats, which help it to penetrate into the hair shaft.
Grave Before Shave, which is formulated with jojoba oil, also contains tea-tree oil, a common ingredient in dandruff shampoos because it soothes skin while clearing clogged pores. Arthur Iskhakov, master barber at Barbers Blueprint; beard-care expert Matt Benevento (who describes himself as a "faithfully bearded man"); and Colorado-based plastic surgeon Dr. Manish Shah all recommend it for its solid but simple list of ingredients. The oil also comes in a variety of scents, including bay rum, sandalwood, and pine, a feature Iskhakov likes because "there is a scent for every man's preference."
Best (less expensive) overall beard oil
This oil from Honest Amish Man, which has jojoba and argan oils in it, comes recommended by Luca Blandi of Oscar Blandi salon, who says it's versatile enough to handle all hair types and has a pleasing "manly" scent. It's also an oil that Strategist writer David Notis used when growing out his beard; he says it's "really terrific," adding "if you're concerned about synthetics and preservatives, the stuff is just a blend of different organic oils, avocado, pumpkin seed, sweet almond, and argan."
Best fast-absorbing beard oil
Baxter of California's beard oil, which has avocado oil in it, comes recommended by Beightol and Shah. Beightol says it is part of what he calls the "next generation of beard oils" because, instead of argan or jojoba oils, its "primary moisturizing ingredient is squalene — a water-based moisturizer that penetrates and absorbs quickly into the skin." Shah also likes that it includes squalene (which he says is one of his favorite moisturizers) in its formula of high-quality oils and antioxidants.
Best woodsy-scented beard oil
Benevento told us that he uses Austin-based brand the Bearded Bastard's earthy-smelling beard oil (which gets its scent from essential oils of cedar, pine, and sandalwood) every day. "Every morning, I dampen my beard and carefully massage the beard oil into my facial hair and skin. I then use a beard comb to straighten and style my beard." On top of making his beard look and smell great, Benevento likes that this oil is "made with ethically sourced, all-natural ingredients," including grape-seed, argan, and jojoba oils.
Best exfoliating beard oil
Barber Roderick Hampton of Miracle's barbershop in Brooklyn swears by this beard oil formulated with argan, hemp-seed, apricot kernel, and avocado oils. Shah is also a fan, noting it additionally includes Dead Sea salt, which he says gives the oil added "anti-infective and exfoliating" properties. For men who suffer from ingrown beard hairs or facial-hair dandruff, this is a good choice. Hampton adds that it has a fresh, citrusy smell thanks to its unique blend of essential oils.
Best growth-enhancing beard oil
Pedro, a master barber at Klippers Barbershop in New Jersey who goes by the nickname "Wolf of Broad Street" (and declined to give his last name), recommends this oil from extremely good beard–haver Rick Ross, saying "you can comb, brush, or pick it through your beard to distribute the product equally." This beard oil contains grape-seed and jojoba oils, and Shah, another fan, notes it also has linoleic acid, which he says "is anti-inflammatory and especially helpful in beards of men of color who are more prone to ingrown beard hairs. A good beard oil like this one that keeps inflammation to a minimum should help reduce the incidence of ingrown hairs." It also contains castor oil, which Shah says has "anti-bacterial and anti-fungal properties, and stimulates prostaglandins, which aids in hair growth."
Best combination beard-and-hair oil
Blandi, who told us he's a fan of getting the most for your money, also recommends this beard-and-hair oil from professional grooming products line Sebastian. It contains argan, jojoba, and grape-seed oils, and on top of moisturizing and adding a healthy sheen to your beard, it will also help define its shape. But it's versatility doesn't stop there. Blandi adds that you can also use it in your hair for styling or added shine.
Best beard oil for softening and smoothing
Joseph Rosenfeld, a New York–based personal stylist who says he's had a beard for going on ten years, told us Aesop Shine is his go-to beard oil. In addition to grape-seed and jojoba oils, it contains linoleic acid, an omega 6 fatty acid that Rosenfeld says helps the product penetrate the hair shaft and soften hairs while improving hydration. He adds that this consistently makes his beard look good without ever leaving any residue behind. "I apply a few drops onto a small beard brush and then brush through to evenly distribute the oil."
Adam Rinn, the host of the annual Coney Island Beard and Mustache Competition, who told us he's had a beard on and off for most of his adult life, suggests Brooklyn-made Royal beard oil for its short list of ingredients: Moroccon argan oil, jojoba oil, and vitamin E. But he also likes it because it "feels good," and because it comes in an unscented version, for those who don't want a strong smell under their nose all day. (For those who do, Royal also sells its oil with various scents including what and what citrus, pine, and mint.)
Best oils for making your own beard oil
If you've got the extra time on your hands and are brave enough to try making your own beard oil, DeAngelis recommends starting with a 50-50 combination of argan and jojoba oils, which he suggests buying in small quantities and combining in an empty glass bottle. Then, if you prefer something scented, he suggests playing around with different essential oils depending on if you like woody, earthy, or citrusy smells. Ideally, DeAngelis says you would visit Manhattan-based essential oil shop Enfleurage for a guided tour of scented oils that you can test on your skin. But if you can't make that trek, he says you can go to Whole Foods or your local health-food store and take a whiff of a few different oils, including tea-tree, lemon-eucalyptus, or a set of different woodsy scents.
The Strategist is designed to surface the most useful, expert recommendations for things to buy across the vast e-commerce landscape. Some of our latest conquests include the best acne treatments, rolling luggage, pillows for side sleepers, natural anxiety remedies, and bath towels. We update links when possible, but note that deals can expire and all prices are subject to change.