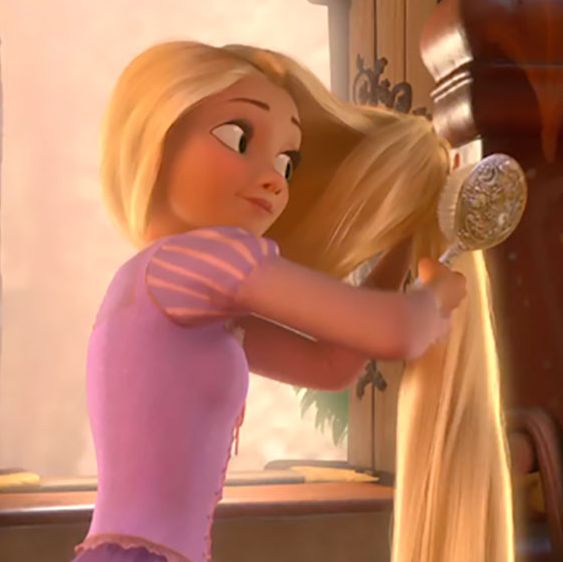 Compared to something like a tattoo, a dramatic haircut is a less risky physical alteration (as your well-meaning friends will no doubt remind you, "at least it'll grow back.") Whether you've chopped your waist-length hair into a simple bob or a spunky pixie cut, it's true that your hair will, eventually, grow back, but what to do during that dreaded in-between phase?
It seems counterintuitive, but experts say you should still get your hair cut regularly while you're growing it out. "Keeping clean ends — getting trims every six to eight weeks — helps hair grow much faster than keeping ends that are damaged or split," says Joey Silvestera, founder of Blackstones and Five Wits. Ryan Cunningham, a stylist at Whittemore House, adds that frequent snips prevent awkward, in-between stages by giving hair a style that works with whatever length you're at. We asked Silvestera, Cunningham, and three more stylists to recommend products for every step of the way, from thickening shampoos to headbands and clips for dealing with wayward strands.
Best shampoos and conditioners for growing out hair
According to Tahlya Loveday, art director at the Drawing Room, "if you're looking to grow your hair out, there are no shampoos or conditioners that will make that happen." Instead, she looks for certain ingredients — like peppermint and caffeine — that improve scalp health, fostering the growth of strong hair that doesn't break or split. "These ingredients are designed to help promote blood flow to the scalp, which is great for your hair bulbs," she says. "This helps your hair grow thicker, stronger and healthier from the root." Spoke & Weal co-founder and color director Christine Thompson, likes this peppermint-rich shampoo-and-conditioner combo which she says "helps stimulate circulation to the scalp and [is] clarifying, leaving the condition of the scalp good for growth."
To help fine hair look fuller as it grows out, Cunningham uses this volumizing shampoo from Sachajuan. "I like that it does give volume and it's not too heavy," he says. "It's a very light shampoo" that won't weigh down fine hair. Heat-protective ingredients prep hair for blow drying or flat ironing.
Dyed hair requires even more specific care when you're trying to grow it out. "You need to have a really good color-safe shampoo," says Cunningham, "something really hydrating, especially when you get highlights." If you're just coloring hair darker to cover grays this is less of a problem, but he says that lightened hair, which is stripped of its natural color, requires something rich and moisturizing like this Oribe duo.
Amy Schiappa, owner and master stylist at Fringe, likes Pureology's formulas for stripped, color-treated hair. "You have to do a lot of treatment in order to get your hair long when it's colored," she says. Bleached blonde hair is especially prone to breakage, and this shampoo and conditioner repairs and strengthens damaged strands.
Best strengthening products for growing out hair
A common mistake Cunningham sees among his clients looking to grow out their hair is waiting too long in between cuts and ending up with tons of split ends. "If they want to look like Rapunzel I can get them there, but if you wait six months [in between haircuts] I'll have to cut more than I wanted to," he says. Certain products, like this treatment recommended by Loveday, keep hair going strong between cuts. "The Repair Booster is rich with keratin, which is responsible for [hair's] structural integrity and strength. It also contains fiber actives which help repair the internal damaged fibers and strengthen them to protect against future damage," she says.
At her salon, Schiappa offers clients Olaplex treatments to boost hair health between cuts. The professional procedure restores hair bonds and prevents future splits and breakage. For take-home use she likes this equally effective rinse-out treatment. "It really strengthens your hair," she says. "It actually corrects any damage to your hair if you use it over a long period of time."
Note: It's also one of Rebel Wilson's favorite things. As she told the Strategist, "It's thickened my hair and stopped it from breaking as much. My hairdresser, unprompted, said to me, 'Wow, whatever you're doing's made a huge difference.'"
Best styling products for growing out hair
One of the hardest parts of growing out your hair is finding a way to style all those awkward in-between lengths (like when your pixie cut is not yet a bob or your bob is not yet shoulder-length). Depending on your hair texture and desired look, there are a number of products stylists turn to for dealing with these not-quite-grown-out phases. "The biggest thing is creating a look for the length where you are," says Cunningham. Regardless of what style you're going for, he says he likes to use Sachajuan mousse as a base because it adds both a little bit of volume and laminate to protect hair from heat.
Cunningham also believes you should go with products that work with your hair's texture. For curly or wavy hair, he reaches for one of his favorite curl creams. "I'm really picky about my curl creams," he says. He likes that this one has a smooth, nonsticky consistency for hair that's flexible and soft to the touch. For straight and slicked-back styles he prefers the Sachajuan wax, which he says has a cream-like feel. He'll use the wax on damp hair, combing it back and letting it air dry in place, or on top of flat-ironed hair.
Without length to weigh it down, shorter hair can be more vulnerable to frizz or unruly ends. Cunningham uses this oil to smooth out ends and add moisture and shine. He says it's "a wonderful finisher because it's not a silicone, it's just an oil and it's actually really good for the hair and it doesn't build up too much." It can also be used on damp hair before blow-drying or straightening.
Best tools and accessories for growing out hair
Along with the right products, a good flat iron can give in-between hair a nudge in the right direction. "The hardest part to get over for girls with mid-length hair is when it starts to hit the shoulder and flip out and up," says Silvestera. "This flipping makes hair look shorter." He likes using a GHD iron "to smooth and straighten hair out or even to curl the hair under." Cunningham likes GHD as well, especially their smaller one-inch straightener that's easier to maneuver on short hair.
Like peppermint shampoos, brushing your hair stimulates the scalp to promote hair growth. Thompson advises, "Brush your hair every day with a brush that stimulates your scalp. This helps spread the natural oils on your scalp through then ends of your hair, adding some conditioning and protection. Most of all the regular stimulation keeps blood circulation and activity up." She uses the cult favorite Mason Pearson brush.
Always useful for taming in-between hair or guiding bangs as they grow into long layers, bobby pins are essential whenever you're growing out your hair. Beyond the basic drugstore packs, stylists like adorned versions for special occasions or even to add some variety to your everyday look. "For the awkward phases of hair growth, you can use beautiful accessories that could even become a part of your normal daily styling routine," says Loveday. "Pink Pewter has some really amazing handmade headbands, scrunchies, pins, clips and combs for all occasion and hairstyles." Choose from an elegant faux-pearl clip or this edgier metallic version, both with velvet backing to prevent hair from slipping out.
While one advantage of having short hair is not having to worry about finding a (perpetually disappearing) hair tie, as it starts growing out, there are times you'll wish you could rely on an easy ponytail or bun. "For people who like to exercise and they can't put [their hair] in a ponytail, I totally recommend a headband," says Cunningham. Make sure to choose a soft band — he likes ones from Lululemon — that won't pull at your hair. Designed for working out, this style wicks away moisture to keep sweat out of your eyes, and has velvet bonding to stay in place.
Best supplements for (helping) to grow hair
You've probably heard that the B vitamin biotin can supercharge hair growth, but this only somewhat true. "Nothing really makes your hair grow faster if your hair is already at full health," says Loveday. She explains that normal hair growth ranges from a quarter of an inch to a half an inch per month, and taking biotin will move you toward the higher end of that spectrum — but not beyond it — if your hair is damaged, by improving scalp and root health. "This helps stop your hair from splitting and breaking which does help your hair grow," she says. "I found the best results in anyone with medical problems, post-surgery, post-pregnancy, or a vitamin deficiency." So while it won't make your mane grow an inch overnight, this supplement may give your hair a boost. These gummy vitamins pair biotin with folic acid, another B vitamin which Thompson says aids growth.
Lots of Silvestera's clients take these Grown Alchemist supplements to boost their hair growth. "The ingredients in the product create the environment on your scalp and with your follicles for healthy hair to grow," he says. Along with biotin, it includes riboflavin (a building block of collagen, a protein found in skin and hair) and silica (which may be effective in preventing hair loss).
The Strategist is designed to surface the most useful, expert recommendations for things to buy across the vast e-commerce landscape. Some of our latest conquests include the best acne treatments, rolling luggage, pillows for side sleepers, natural anxiety remedies, and bath towels. We update links when possible, but note that deals can expire and all prices are subject to change.
Every editorial product is independently selected. If you buy something through our links, New York may earn an affiliate commission.