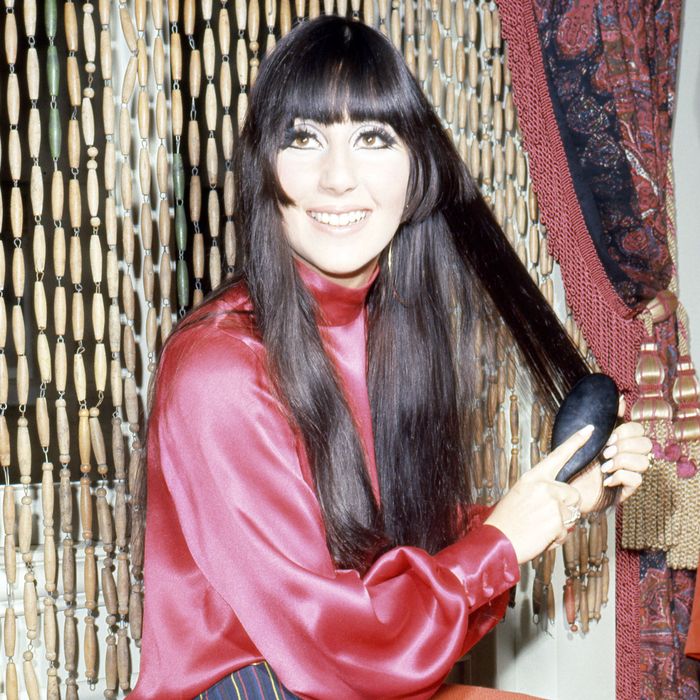 Photo: Silver Screen Collection/Getty Images
Flat irons seem pretty straightforward since they require just a few passes with a steady hand to do their job, but certain things can set a good one above the rest: a range of heat settings to adjust for style and hair texture, a lightweight body, and (if you're feeling greedy) dual-voltage flexibility for traveling abroad. To find the best tools for the job, we polled 19 hairstylists for the models they depend on to give their clients sleek sheets of hair minus the static and the heat damage.
Best overall flat iron
Four hairstylists recommended this professional styling iron from GHD, or "Good Hair Day." (The U.K. brand was a nearly unanimous favorite among stylists we polled about the best curling iron.) "I love GHD in general because they use a longer cord," says celebrity hairstylist Luca Blandi, who has worked with clients such as Anne Hathaway and Kate Bosworth. He specifically loves the brand's Platinum+ models because they're made from a lighter material, which is a godsend "especially for hairdressers because we use them all day. It's less strenuous on our body and hands."
Blandi and hairstylist Nunzio Saviano both point out the intuitive heat settings on GHD tools, which max out at 365 degrees (supposedly the optimal temperature for avoiding heat damage) and spread heat evenly through the plates. Michelle Obama's hairstylist Yene Damtew uses this flat iron on the former first lady's hair, and loves it because it's sleek and lightweight. She notes that all GHD irons are good for creating "a multitude of hairstyles and producing shape and movement for all hair textures." After all, it is called a styler — and celebrity stylist Hos Hounkpatin says it's just as good for adding beach waves to hair as it is for straightening it. He also recommended this iron as one of the best to straighten out natural hair for a silk press because "you don't have to go over the hair as much with it; you can already see with one touch how smooth your hair gets with a beautiful soft shine."
Best ultrathin one-inch flat irons
If your hair is shorter or you want something more precise, hairstylist Felicia Rials of West Hollywood's 901 Salon recommends a mini-iron — specifically, this thin one-inch BaBylissPro Nano. "I mainly use a flat iron when cutting a bob. It helps me get the hair very straight so I can see what I'm cutting," she explains. "I can also get into the root and hairline to make those baby hairs lie flat." She loves the BaByliss because it's superthin and lightweight but also hot enough — with 50 heat settings — to really smooth the hair. The heat settings make it a great option for straightening naturally curly hair, too. "I like it because it has an optimal temperature of 450 degrees, which really allows the hair to become as straight as possible and leaves a great luster," says Kadeisha Placide, the manager and lead stylist at Classic Beauty Studio. This is a titanium-plated flat iron, not a ceramic iron, but Placide says they both have their place. "Ceramic-plated irons help to eliminate frizz and make heating plates smoother, so they're less likely to pull hair," she says, while a "titanium hair straightener delivers the fastest heat transfer for immediate and superior results." Mika English, who recommended this flat iron for a silk press, thinks that a titanium-plated flat iron is a better option for curly, textured hair than a ceramic-plated one because the metal plates heat more evenly than the clay-based ones as well. No matter what type of iron you choose, using it with a heat protectant is always recommended. Placide likes using Design Essentials Agave & Lavender Weightless Thermal Protectant Serum during each thermal service.
Rials also likes flat irons that incorporate the gemstone tourmaline, like this one-inch T3 SinglePass Luxe. "I go for [flat] irons that have more tourmaline because they have a very high output of negative ions," she says. Negative ions, she explains, help seals in hair's natural moisture and creates that shiny, silky effect. It also helps to eliminate frizz and static electricity. Rials also just likes how hot this SinglePass gets (it has five heat settings, and goes up to 410 degrees), and that it offers consistent heat from root to tip.
Jessica O'Keeffe, a stylist at Hawthorne Studio, says that Izunami is her all-time favorite brand when it comes to flat irons. "Izunami is a Japanese brand, and they produce super-high-quality flat irons with all the newest technology," she says. This model has ceramic plates, which she prefers, and it has the ability to control the temperature. "If you're looking to just put a wave in or just polish a blow dry you don't need a superhigh heat, but some textures need a superhigh heat, so if you want something that's more versatile then you go with something that has a temperature control," O'Keeffe says. She also recommends a one-inch iron, noting that "the only reason you would go wider is if you were doing thicker hair or really long hair and you were just trying to be faster and only wanted it to be straight." And while this brand might not be as well known as others on this list, O'Keeffe still swears by it and says it's long-lasting too. She uses it every day, multiple times a day, as a stylist, and says her Izunami flat iron has lasted more than five years now.
Best 1.25-inch ceramic flat iron
The hair experts at the Serge Normant at John Frieda salons prefer this Harry Josh ceramic iron. Per stylist Joseph Maine — who frequently works with SNL actresses such as Aidy Bryant and preps Priyanka Chopra for events — the large plates accommodate all hair lengths and slide through quickly, while the curved edges work for adding bends in hair. "Its long swivel cord makes it easy to maneuver around my clients, and the temperature dial makes it easy to turn the temperature down for simple touch-ups or up for more intricate straightening," he adds.
Stylist and colorist Jacob Schmidt likes that it heats up fast and smooths hair in just a few passes, thus minimizing heat damage. "I've been using it for treatments like keratin, and it gets the job done quickly and efficiently."
Best 1.5-inch ceramic flat iron
This flat iron uses the same ionic technology as the T3 above, and Latanya Williams, a stylist with mobile hair salon Yeluchi, says, "It helps with frizz and locks in moisture, which is ideal." She recommended this to us when we asked her how to achieve a salon-quality silk press at home, explaining that ionic technology puts this a step above plain ceramic flat irons. This one has 24K gold ceramic plates that she says help with even heat distribution, and it also has digital temperature controls and auto shutoff. Plus, she adds, "It hydrates hair and can be used to create curls and waves."
Best two-inch ceramic flat iron