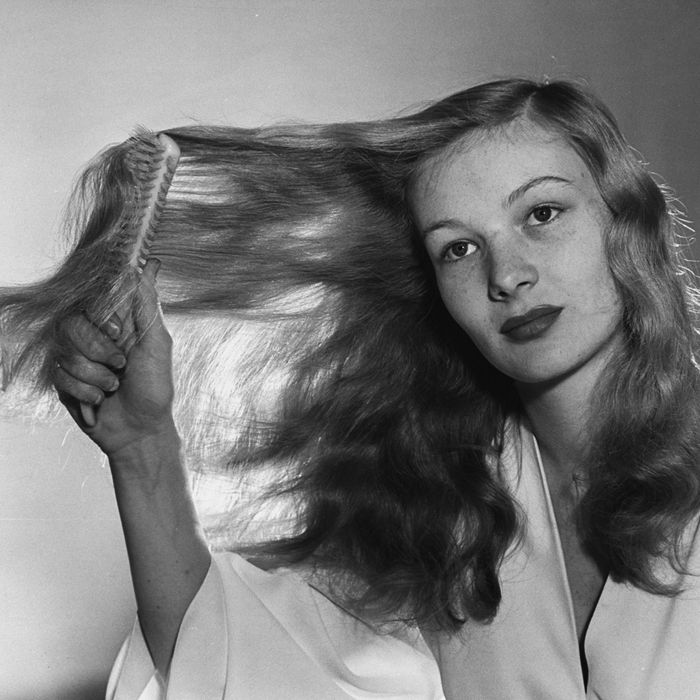 Photo: Bob Landry/The LIFE Images Collection/Getty
The kind of hairbrush you'll want to use largely depends on the hairstyle you're trying to achieve — whether that's blow-drying it pin straight or just brushing out damp hair after a shower to let it air-dry — and the right brush can cut down on blow-drying time (making for less fried, healthier hair) or even help exfoliate and invigorate your scalp. To find out which brushes will get the job done for each occasion, we reached out to an expert panel of hairstylists and salon owners to hear their thoughts. Before we get down to the specifics, though, some general brushing advice: "Always start by brushing the ends first then move up the strands. This will prevent breakage," says Jennifer MacDougall, a New York–based beauty expert, who has worked as a lead hairstylist on Project Runway. "Start from the underneath first, clip the top up, and gently brush in sections." Now for the brushes.
Best hairbrush overall
An unsurprising yet undeniable choice: Mason Pearson, the British brush company that has been around for 130 years, has something of a cult following — and according to three of the experts we spoke to, the brand's boar-bristle–and–nylon brush still stands up to the hype and stands out among anything else out there today. "The Mason Pearson has hundreds of tiny boar-bristles, which are softer and more gentle for brushing through your hair," says Sara Jane Booth, a hairstylist who will soon be based at the new salon My Darling Ivy. Booth says that the Mason Pearson's boar bristles create less friction and separation in the hair than a brush with rigid plastic bristles would, and that this helps move the hair's natural oils from the scalp down the hair shaft. Combined with the nylon bristles, which create less static than natural bristles, you have a brush that smooths tangled hair and, thanks to those natural bristles, keeps oil well-dispersed. "Another benefit, according to Booth, is that the brush gives "a great scalp massage — and is a scalp stimulator, which can possibly encourage hair growth." Booth notes that the bristles sit on a padded cushion, which pushes up and down as the brush moves along the curve of your scalp, allowing the bristles to catch every inch. "The little boar bristles are like a thousand soft scratches," she says.
MacDougall is also a fan of the Mason Pearson brush, and like Booth, praised the brush's ability to "stimulate and exfoliate the scalp." Clyde Elezi, the creative director and founder of the Drawing Room New York in Soho recommended the brush as well, citing it as an example of a natural-bristle paddle brush, which is a useful tool for those with long hair, thanks to its larger head size, which reaches more strands than a smaller brush might. "The Mason Pearson brush helps to smooth the cuticle while distributing hair's natural oils evenly," Elezi says. The brush has also appeared in many a What I Can't Live Without, including Charlotte Tilbury's and Jane Seymour's — who, we should note, both have great hair.
Best brush for detangling wet hair
If you're looking for a brush to run through damp hair after a shower, the stylists we spoke to suggested using a wet brush. Unlike a boar-bristle brush, wet brushes have bristles with smooth plastic tips, which are less likely to break wet hair, when the strands are at their weakest. And similar to how you might refer to a tissue as a "Kleenex," the term "wet brush" refers both to this style of plastic-bristle brush as well as the original, name-brand Wet Brush. Masami Hosono, founder and creative director of Vacancy Project, says that at her salon they use wet brushes to detangle wet hair before starting a haircut. MacDougall seconded Hosono's recommendation of the wet brush for detangling, and Strategist contributor Alice Gregory is a fan, too. In her ode to the wet brush, she writes, "I'm so afraid of showering without it now that I bought an extra one to just store in my suitcase. I even bring the one I keep at home with me when I go to get my haircut, lest they're not equipped for the job — anything else seems masochistic." According to the brand's website, part of the reason why Wet Brush is so effective at detangling is its "ultra-soft IntelliFlex® bristles," which are what lets the brush glide through hair so easily, therefore minimizing breakage (and the pain of tearing through tangled hair). The price is also a draw: "Wet brushes can be really cheap," Hosono says. "I just buy, like, Ricky's. Nothing special." While there are plenty of affordable versions wet brushes on the market, the original, name-brand one is quite affordable, too, at just $10.
Best brush for detangling fine wet hair