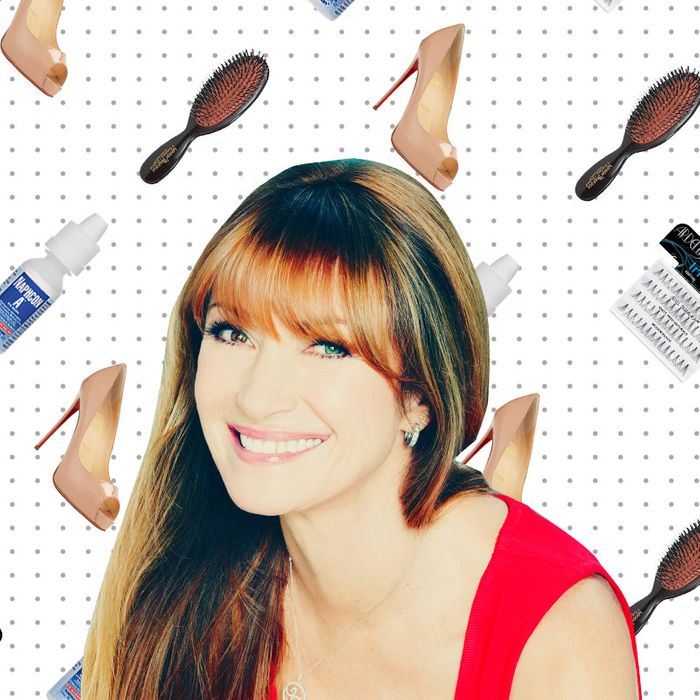 Photo: Guthy Renker / Courtesy Retailers
If you're like us, you've probably wondered what famous people add to their carts. Not the JAR brooch and Louis XV chair, but the hand sanitizer and the electric toothbrush. We asked actress and artist Jane Seymour about the anti-redness eyedrops, iPad, and false eyelashes she can't live without.
It's for red eyes, and when I'm working on a film or I'm being photographed, if I've had to cry in the scene or if I have allergies or if it's just a late night or a long day, this takes the red out really instantly. People used to use those blue drops, which are really bad for you. Naphcon A is safe and works very, very well. It works better than any other no-redness eye drops. I was told about it from an eye doctor at UCLA, and those days it was prescription. Now, you can get it over the counter. That's always in my purse, always.
I used to always use a waterproof Christian Dior mascara, but I haven't used that in years. This is my new go-to, it's called Full Fat Lashes. The reason I use it is it goes on beautifully, better than any other mascara I've found. Since I wear individual false lashes, I find that it connects my natural lashes and gives a very natural look. It doesn't spread anywhere, and when I take it off, it comes off very easily. It doesn't irritate my eyes, and no particles fall on my face.
Actually, I use the cheapest [individual lashes] out there: Ardell, usually knot-free. I use the white Duo glue with it rather than the black. I definitely do not use any of those permanent-type glues. I am a great believer in putting things on and being able to take it off in such a way as to not hurt my actual eyelashes or my eyes. I find that when I put individuals on, if I open or close my eyes or move my eyes in any way, I don't feel they're sort of stretching off the band, which I always feel if I have a strip. If I have a strip of eyelashes, it doesn't matter how well they're put on, they irritate my eyes, I can feel them. Whereas I can wear the individuals and have absolutely no sensation whatsoever of wearing any lashes at all. I'm also able to put them on with the Charlotte Tilbury Mascara. Every makeup artist I ever worked with always lets me do my own lashes, because they say I do it faster and better than they're capable of doing.
I'm not sure what that is, it's just small and round and a friend of mine gave it to me, and I have a son who writes and performs music and invariably I suddenly want to show off what he does. … I haven't managed to figure out how to use my speakers in my house, which, by the way are being redone right now, and never worked properly. Anyway, I find it hilarious that I have a major speaker system and yet I can never get the immediate sound I want in the place that I want it at the level I want it as easily as I can with that portable speaker.
Editor's Note: This is the newest version of the UE Boom speaker, not the exact one that Jane has.
It is my secret weapon for why I still have hair. Actually, believe it or not, the more expensive boar-bristle one does not work as well for my hair as the mixed-bristle — and they get stolen all the time. So I usually have to put some sort of major, large, ugly looking mark on it just to make sure people know it's mine and not theirs. I can do everything with them. I can smooth my hair out, I can blow-dry with them, I can tease with them, I can style with them, I can detangle with them, and I can carry it in my purse. I've had long hair pretty much my whole life. Right now, it goes to my mid-back, which, for my age, is quite rare. But I have very fine hair, like baby hair, so I have to be really careful with it, and what happens with this brush is it does enough of a massage or a brushing action to my scalp, which I think helps your hair grow and keeps your scalp healthy. But it never tears my hair.
Well, my hair is very fine, as I said, and to get volume at the roots, I find that Phyto Volume is excellent. It doesn't dry my hair out. It doesn't make it sticky. I can get great volume from it, and it's my real go-to product in terms of getting volume in my hair, especially for my bangs. I have a widow's peak, I have a cowlick. I have to do the bangs first and train them as to where they're going right off the bat before I attempt to do anything else for the rest of my head, and the Phyto Volume really helps.
I use my iPad all the time. I own a laptop that I have never used, ever. It was a terrible waste of time and money. I'm not very computer-savvy, but I'm very iPad-savvy. My iPad goes with me wherever I go. I love to take photographs. I love to design on it, to draw and create, I love to watch movies on it with streamed material, I love to read books on it. My iPad is glued to me, 24/7.
It's a stick concealer — it looks like a lipstick. It's crazily expensive, but I found that even if I don't have a foundation with me, I can get away with using that, either thick or thin. I can water it down literally with water. I didn't realize you could do that, but it's got a great consistency. It's a very, very fine pigment. The color's perfect for me — I use ocher — and it takes away the blueness or any kind of tiredness under my eyes and could disguise any zits or spots that I have.
When I first heard about Louboutin, I said, there's no way I'm ever going to spend that kind of money on a pair of shoes, but then I realized I had at least 15 or 20 pairs of shoes in my closet that were beautiful, but I couldn't wear them for more than 5 minutes and some were quite expensive. There is something about the cut of Louboutin on me, especially for a high heel, and the way that the weight is distributed, that I'm able to wear a Louboutin shoe, morning, noon, and night, without any problem, and I've never come across a shoe that could do that. So I do have a pair that literally I'm going to wear out, which are nude patent leather with a peep toe. And the reason those work so brilliantly is that if I'm traveling and my feet swell for whatever reason, they always fit. I've noticed that wearing a nude pump helps me look taller than I am. I'm only five-foot-four … So it's completely practical in terms of just making myself look the best that I can, given what I was given at birth.
Crepe Erase approached me and asked me to try it, and to be honest, the first time I tried it, I thought, I'm sure this is just another cream. [Editor's note: Seymour is a spokesperson for Crepe Erase.] I also wasn't sure I wanted to talk about crepey skin, because I didn't want to draw attention to that. When I tried it the first time, I didn't tell anyone I was trying it. I noticed an immediate difference, but I didn't think anyone else would. I didn't mention it to anyone, went to workout, [and] my workout lady said, "Oh, have you had a laser treatment? Have you done some some special skin treatment with your body, because your skin looks amazing." I went, "No, I'm just using a cream," and then I came back two days later. She said, "You look even better now than you did the other day. What are you doing? What is this cream?" So I shared it with her and then shared it with my sister. … It works and I am thrilled to be the ambassador for it, and I can't get enough of it myself and all my friends, that's all they want for me: "Can you get us some of that?" Yes, I can. [Laughs.]
The Strategist is designed to surface the most useful, expert recommendations for things to buy across the vast e-commerce landscape. Some of our latest conquests include the best acne treatments, rolling luggage, pillows for side sleepers, natural anxiety remedies, and bath towels. We update links when possible, but note that deals can expire and all prices are subject to change.