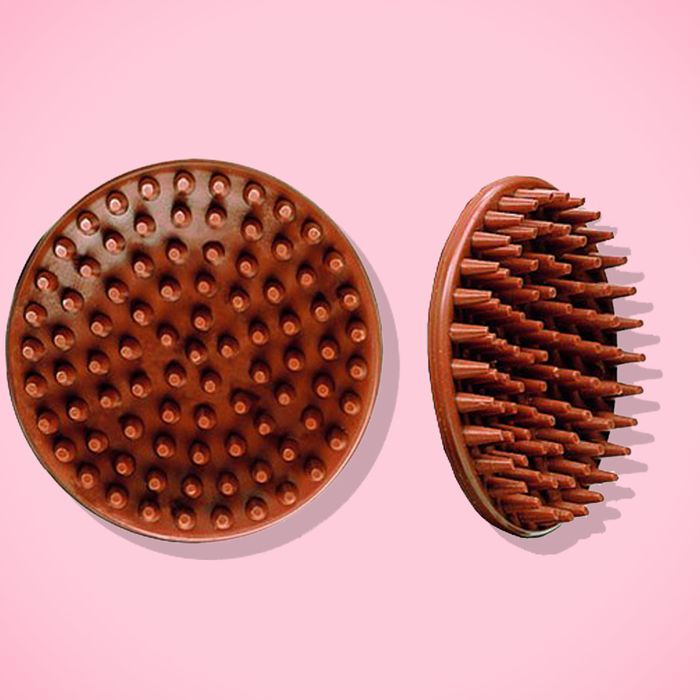 Those rubber nubs are like tiny little fingers.
Photo: Courtesy of the retailer
I am obviously not a doctor. I am, however, a very good Googler of random symptoms in search of a self-diagnosis — to the point where actual doctors are always impressed by the amount of knowledge I possess about diseases I most definitely do not have. So when I started having itchy, flaky patches of skin on my scalp last year, I didn't head straight to the dermatologist first — I cracked open my computer and consulted the "Diseases and Conditions" tab at MayoClinic.org that I have open at all times. Turns out, I was suffering from a bit of seborrheic dermatitis: a noncontagious skin rash — kind of a turbocharged version of regular old dandruff.
Even real doctors don't actually know the root cause of seborrheic dermatitis, though winter weather, stress, fatigue, and certain neurological conditions can cause flare-ups (a nasty little guy called Malassezia in skin's oily secretions may also play a role). I successfully treated my flaky, itchy scalp with a medicated shampoo, but the thing that has really kicked my seborrheic dermatitis's butt was a $6 hard-rubber shampoo brush.
After breaking a few fingernails in a desperate attempt to give my scalp a good scrubbing, I finally Googled "scalp brush," which led to me purchasing multiple crummy, hard-plastic versions until I finally settled on this one. Its flexible vinyl bristles give just the right amount of scrubbing pressure without scraping or scratching your head. It works to break up any stubborn dandruff flakes and gets my scalp cleaner than my hands alone ever possibly could —a total luxury for the cost of two lip balms.
Here's how I use it: I apply shampoo directly to the brush and massage it into my scalp in the mornings (it's better for tight circles on the skin than combing through the hair). I don't think I can properly explain via the written word how blissful the experience is. The effect is much like getting a scalp massage at the hair salon (with extremely firm fingers). I even use it while rinsing my hair, to ensure I've gotten all the shampoo and conditioner off my scalp. As a result, my dry, patchy flakes are now totally gone — and my scalp, a notorious grease pit, feels cleaner and squeakier than it has in years.
An arsenal of Strategist-approved dandruff-fighting stuff