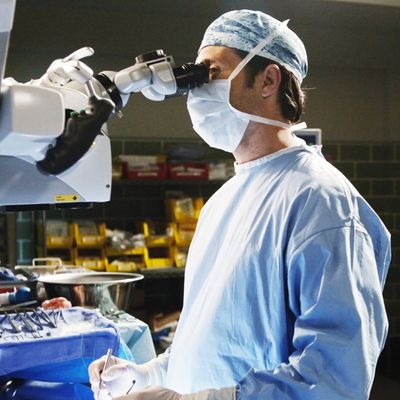 Status can be a funny thing. Of course it is most obviously expressed through shiny hardware and easily recognizable logos, but it gets far more interesting when you start to observe the more subtle signals — the way you tuck in your shirt, or what you eat for breakfast, or your particular brand of notebook can mark you as in or out. And of course, what counts as a status item varies wildly across human tribes. In our series Insider Goods, we're talking to members of different tribes (some with their real names, some anonymously) to learn about the niche status items among plantfluencers, Broadway actors, or ballerinas.
Today we hear from Rahul Jandial — brain surgeon and neuroscientist at City of Hope hospital in Los Angeles and author of Neurofitness: A Brain Surgeon's Secrets to Boost Performance and Unleash Creativity — on the shoes, pocketknives, and eye drops that are popular among neurosurgeons.
This is a classic. It shouldn't surprise anyone — surgeons like blades. And these are common questions when we hang out: What's the knife you have in your house? What's the knife you have in your car? What's the knife you have with you if you go hiking or on a picnic? And this is just the thing because of its timelessness. The Opinel 6 was used by Picasso to sculpt. It's in the British [Victoria and Albert] Museum because of the simplicity of the design. [In 1985, the museum called it one of the "100 most beautiful products in the world."] It's a beautiful thing that's timeless and has been through generations — not expensive, artsy, and gorgeous. It's just an all-purpose knife, whether you're opening boxes from Amazon or Ikea or you just have it in your car.
A lot of people use clogs, but they're for surgeons that don't use foot pedals [to control instruments]. As brain surgeons, we don't just operate with our hands — our drills are controlled by foot pedals; the farther you push the pedal, the faster the drill goes. Clogs are clunky and you can't feel how far [you're pushing the pedal]. These shoes help me feel where I am with the drill pedal on my foot. There was a professor who had these, and I said, "You wear dress shoes in the operating room?" He said: "One, it's a cool look, and two, I can feel the pedals more."
These are the ones that my [fellow surgeon friends] and I need. The top of the shoe is soft leather, so your foot doesn't fatigue as you're going up and down with it. After wearing them just a few times, the leather bottoms sort of become contoured to your feet. They're almost like bespoke shoes for the bottom of your feet, and they are very comfortable for standing.
[Patients] like to see rested, fresh-looking eyes. We operate using a microscope, so if you think your eyes get tired and red from looking at a computer screen, imagine [looking at] 20x magnification for six hours. But when I'm talking to patients about cancer, I like it if my eyes are fresh-looking. Surgeons want patients to know that we're not tired. We've always used [Rohto] drops. They're extremely soothing, and feel like you're putting chilled water on your eyes. Plus, I find these tend to have less of that rebound eye redness than with Visine and other products.
You gotta have a great white dress shirt. You have to be well-dressed, but it can't look crazy. It can't be too colorful. David Donahue white shirts have the best texture and the best collars. The fabric is thick so your anatomy doesn't show through [like in a] flimsy white shirt. They get softer the more you wash them, but not thinner. The collar's not all flimsy and drapey either.
When we give talks — academic surgeons are expected to travel around the world and give talks — I wear these metal collar stays. They keep your collar from poking out. Your shirt looks sharp-looking and not looking like a '70s flared collar.
Surgeons have to carry so much stuff. You are paged via your phone, so you can't be without your phone. We also have to carry these things called loupes (or glasses with magnifying lenses on them like a jeweler's). So if you've got that, your keys, a wallet, and a phone, it's such a cluster. That's why I have my phone and wallet combined. This phone case can fit my driver's license, a credit card, and a $50 bill in it, so that gets rid of needing a wallet.
We academic brain surgeons are expected to write — it's not just doing operations. We have to share what we found through the operations with the world. So we are very much on our laptops when we travel, and when we're at home, for academic purposes. I love the MacBook [Pro] 13. It's about the same weight as a MacBook Air. What's great is it's got the touch bar and Touch ID. We have to change our passwords almost every two months [for patient security], so to access patient data, my laptop has to be secured. With Touch ID, it's just so easy. And the touch bar on top is great because I can have multiple screens and windows open and it lessens the clicking [back and forth].
Brain surgeons at academic universities cannot get promoted unless we have been invited to lectureships by other prominent academic universities. [As I mentioned], traveling is a key part of what we do to share information with the other university centers. In the last month and a half, I've been to London, Bogota, and Panama. This bag is the best because it looks better with wear, like distressed shoes. It's got multiple compartments. The laptop fits in the front without it toppling forward. You have your blazer, pants, and white dress shirt in the back compartment, and then you have casual clothes in the slightly folded compartment. I don't have to worry about security lines or if my luggage will be too big to fit in the overhead compartment.
The Strategist is designed to surface the most useful, expert recommendations for things to buy across the vast e-commerce landscape. Some of our latest conquests include the best acne treatments, rolling luggage, pillows for side sleepers, natural anxiety remedies, and bath towels. We update links when possible, but note that deals can expire and all prices are subject to change.