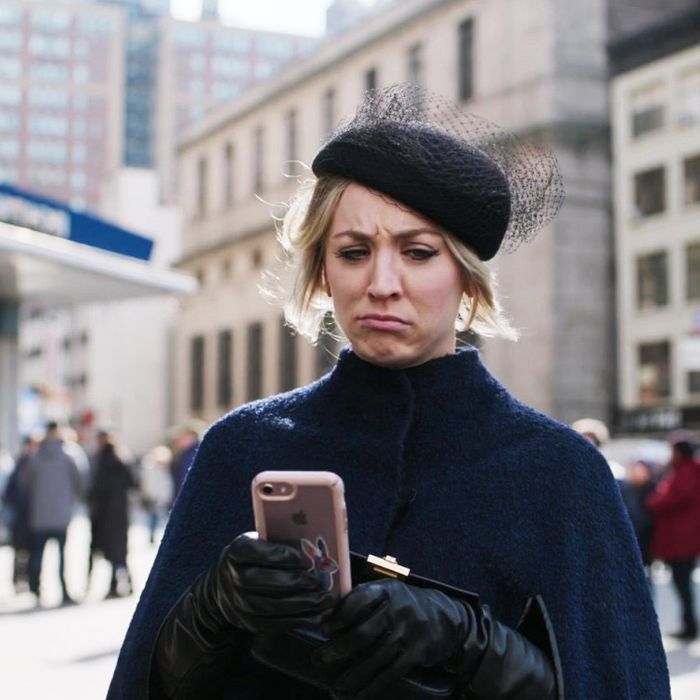 When your iPhone falls, it's always in slow motion. Otherwise there wouldn't be enough time for you to feel your heart stop, regret every decision that brought you to that moment, and then give up and look on helplessly as you wait for the glass to shatter into a 1,000-piece puzzle. And of course you didn't sign up for AppleCare. To avoid turning your life into a series of mental Zack Snyder action sequences, we asked 14 stylish people (including a few phone-loving Strategist writers) to tell us about the cases they use to protect their precious iPhones. Their favorites include thin, sleek-looking options, cases so thick they look like they could be dropped off a building, bumper cases that safely bounce, and more artsy cases that protect while also providing some self-expression. One quick note before we begin: While most of the cases featured in this story are for the iPhone 12, you should be able to find a majority of them for older models.
Best clear iPhone cases
It's all about "functionality!" says Octavio Platon Akel, an illustrator and creator of the stylish footwear Instagram page Monsieur Saturday. "The most important thing is protection from my two kids — a 3-year-old and a 1-year-old. They fight over the phone, and the case protects it when it inevitably flies all over the place." Akel likes to keep things basic, with minimal color. It's also important that his case be sleek because sometimes he needs to quickly grab his phone out of his back pocket while dealing with his kids.
"I've always had a thing for clearish phone cases," says Strategist staff writer Tembe Denton-Hurst. "That's because, well, I like to see my phone. If I'm spending so much money, at the very least you should be seeing the phone I paid for." She chose this Spigen Ultra Hybrid after a quick search on Amazon because she liked the raised bezels that protect the screen and the camera bump. Unlike other cases, this one also has larger covers on the volume rockers and power button, making them much more responsive. Plus, "its back is clear but the edges match my phone color, which I think looks sleek but still has a little bit of flair," she says. And it works: "I have dropped my phone more than a few times in impressively dramatic ways. Recently, I tripped up the steps at McNally Jackson and slapped my phone against the steps. It landed facedown, but I was impressed to see that it was crack-free and my case was totally intact."
"I take pride in taking really good care of my stuff, including my iPhone, which I've never broken before, knock on wood," says Strategist writer Lauren Ro. When she recently brought her iPhone to the Apple Genius Bar, she says they were impressed with the condition of her five-year-old iPhone. "I give all credit to this clear plastic case, which I was first drawn to for its simplicity and lack of color. It almost looks invisible," she says. "It fits my phone like a glove, but it's also easy to remove and put back on for cleaning." Ro says the case has withstood drops on asphalt, concrete, and even tile floors. "And it was only $9! [Editor's note: It's since dropped to $6.] It's gotten a little discolored over the years, which would be the only reason to replace it."
Designer Amardeep Singh always chooses low-profile minimal cases. "This one is kind of grippy which is nice, and has a lip for the front and for the cameras, which is kind of the only thing I look for in a case," he says. The lips keep the delicate surfaces of your phone raised and protected from anything you might set your phone on.
Best thin iPhone case
Thin cases protect your phone without adding weight or bulk, keeping it comfortable to hold and easy to use. This one was suggested to us by Isaac Hindin-Miller, the founder of I Like You and a DJ. After using thick cases in the past and still smashing his screen into oblivion, he now prefers the thin and sleek Peel case. We've been fans of Peel for years at New York magazine. Contributors Jake Swearingen and Paris Martineau describe Peel cases as "low-key [options] that won't hide the glory of your shiny new iPhone from the world." They say the cases are "crazy thin — like, 'you will forget you have a case on' thin … [and] still offer some protection if you fumble your phone onto the sidewalk." Strategist columnist Chris Black found his Peel cover via Instagram. He says it's the definition of barely there, so innocuous you barely notice it on your phone. "The price is right, and it fits in the pocket comfortably," he says, before adding that Peel also makes a great glass protector.
Best ecofriendly iPhone case
We were put on to the Pela case by Bianca Valle, an artist, nutritionist, and all-around creative, who likes it because of its biodegradability. The case is made from flax-straw materials that will break down naturally in compost. It has a soft flexible outer shell, and Valle says she's a fan of the green color, since it matches with almost anything. There's also a wrap-around lip that protects the camera and your screen from scratches.
Best rubber iPhone case
Illustrator Maggie Stephenson just bought her second of these cases when she upgraded to the iPhone 12 Max Pro. She loves the nonslip material and says, "the cases almost have a rubbery feel to them, which is great if you're clumsy like me." Before getting these cases, she had several "literally slip out of my hand and break," and one time a phone "slid across the kitchen counter … only to fall on the ground and shatter." But that's no longer an issue for her anymore. "Another bonus is the clean look and the trendy colors," she says. "It's hard to pick just one!"
OtterBox has long been known for building the toughest cases, but they've also long been known for something else, says Strategist writer Louis Cheslaw: "Nobody, not even people who recommend them, thinks [the] cases are particularly nice-looking." After two unsuccessful tries with other OtterBox options, Cheslaw finally landed on the Aneu. It's "far slimmer than the Commuter case," he says, "and it has a rectangular shape (and edges) and an open charging port. The body comes in a handful of simple, solid colors, and some styles have a bit more visual interest in the form of different colored sides and side buttons." Plus, "It slides in and out of pockets with ease, yet its sides have some grip to them so the case never feels as though it will slip out of my hand," Cheslaw says. "And it still functions like an OtterBox where it counts: I've dropped my phone a few times since getting the Aneu case, and there's not a scratch — on it or the phone — to be found."
Best premium leather iPhone case
Hender Scheme is a Japanese accessories and footwear label known for its reproduction of classic Jordans and other popular sneakers. They often make handcrafted accessories, too, like this leather iPhone case that Timothy Grindle, the co-founder of the menswear shop Canoe Club, recommends. "I've had mine for about a year now and because it is all-natural vegetable tanned leather, like all their shoes, the patina from use and age is really beautiful," he says. "I have a 1.5-year-old daughter who grabs it and tosses it off the couch almost daily and I have had zero issues, so I feel like that is a pretty good test." Grindle used an Apple leather case in the past, but the leather peeled, and after a few months it looked dingy. The patina on the Hender Scheme case, however, darkened into a nice brown — "some just from use and some from sun exposure," he says. "It has gone from a super light tan to a nice medium brown with darker spots where there is more use."
Best artsy iPhone case
For a one-of-a-kind case, fashion writer Alyssa Coscarelli recommends this one from Memor Studio, which is inspired by mosaic arts. The case is only available for preorder, but you can pick a color and get a custom one-of-a-kind case. "Taking photos and selfies is actually part of how I make a living, so I'm always looking for cases that are stylish and unique and add something to the outfit rather than taking away from it," she says. "Each case features a variety of talismans, glass pieces, tile, coins, shells, or other findings. It's such a special case and gets compliments left and right. I love that no one else has this exact one but me." Although Coscarelli says she's constantly dropping her phone on the tile floors of her bathroom — "slippery hands from frequent hand-washing and lotioning!" — the screen hasn't cracked yet.
Best bumper iPhone case
Former tech columnist and Strategist contributor David Pogue uses this and only this case for every smartphone he owns. It looks like a simple rectangular plastic frame that sits around the edge of the iPhone, he says, "but once it's on your phone, you can drop it from 11 feet onto concrete, repeatedly, without risking any damage to the glass." Although we wouldn't necessarily recommend it, Pogue says his son became a minor celebrity in the eighth grade "by deliberately whipping his phone down the hall, against walls, and off of cafeteria tables, just to get a reaction. His phone stays unharmed." Once, Pogue climbed on top of an eight-foot ladder and hurled his phone (in its Crash Guard bumper) at the floor 53 times. Although the screen did get a slight bend, it never cracked. "To crack your screen, you'd somehow have to drop the phone facedown onto a small, sharp point — possible, but unlikely," Pogue says.
The Strategist is designed to surface the most useful, expert recommendations for things to buy across the vast e-commerce landscape. Some of our latest conquests include the best acne treatments, rolling luggage, pillows for side sleepers, natural anxiety remedies, and bath towels. We update links when possible, but note that deals can expire and all prices are subject to change.
Every editorial product is independently selected. If you buy something through our links, New York may earn an affiliate commission.