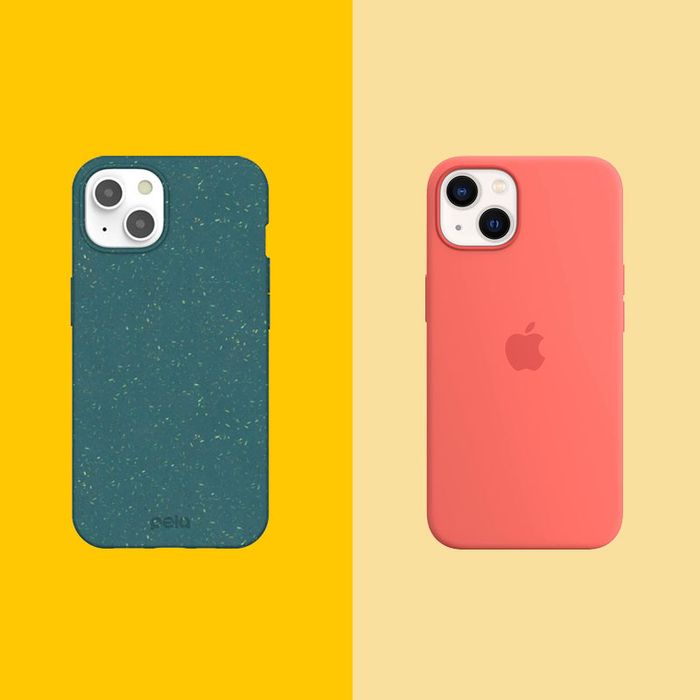 Photo-Illustration: The Strategist. Photos: Retailers
When your iPhone falls, it's always in slow motion. Otherwise there wouldn't be enough time for you to feel your heart stop, regret every decision that brought you to that moment, and then give up and look on helplessly as you wait for the glass to shatter into a 1,000-piece puzzle. And of course, you didn't sign up for AppleCare. To help you avoid turning your life into a series of mental Zack Snyder action sequences, we asked 14 stylish people (including a few phone-loving Strategist writers) to tell us about the cases they use to protect their precious iPhones. Their favorites include thin, sleek-looking options, cases so thick they look like they could be dropped off a building, bumper cases that safely bounce, and more artsy cases that protect while also providing some self-expression. One quick note before we begin: While most of the cases featured in this story are for the iPhone 13, you should be able to find a majority of them for older models.
Best clear iPhone cases
It's all about "functionality," says Octavio Platon Akel, an illustrator and creator of the stylish footwear Instagram page Monsieur Saturday. He's used the Clear Case on his iPhone 12 since getting it last year. "The most important thing is protection from my two kids — a 3-year-old and a 1-year-old," he says. "They fight over the phone, and the case protects it when it inevitably flies all over the place." Akel likes the minimal design and says he also needed his case to be sleek enough that he can quickly grab his phone out of his back pocket while dealing with situations with his kids (or photo ops).
"I've always had a thing for clearish phone cases," says Strategist staff writer Tembe Denton-Hurst, who uses the Spigen Ultra on her iPhone 12. "If I'm spending so much money, at the very least, you should be seeing the phone I paid for." She chose this one after a quick search on Amazon, because she liked the raised bezels that protect the screen and the camera bump. Unlike other cases, this one also has larger covers on the volume rockers and power button, making them much more responsive. Plus, "its back is clear but the edges match my phone color, which I think looks sleek but still has a little bit of flair," she says. "I have dropped my phone more than a few times in impressively dramatic ways. Recently, I tripped up the steps at McNally Jackson and slapped my phone against the steps. It landed facedown, but I was impressed to see that it was crack-free and my case was totally intact."
Designer Amardeep Singh always chooses low-profile minimal cases. "This one is grippy, which is nice, and has a lip for the front and for the cameras, which is kind of the only thing I look for in a case," he says. The lips keep the delicate surfaces of your phone raised and protected from anything you might set your phone on.
After using the Casetify Impact case for a few weeks, I really appreciate the lifted camera ring, which protects the phone's multiple cameras from getting scratched when you lay it down on a table or slip it into your pocket. I was also surprised by how light the case felt compared to the more bulky leather cases I've tried in the past. If you want a little more personality in your phone case, Casetify also has graphic options with the same impact technology.
Best thin iPhone case
Thin cases protect your phone without adding weight or bulk, keeping it comfortable to hold and easy to use. The case was suggested to us by Isaac Hindin-Miller, a DJ and the founder of I Like You. After using thick cases in the past and still smashing his screen into oblivion, he now prefers the thin and sleek Peel case. We've been fans of Peel for years at New York magazine, too. Contributors Jake Swearingen and Paris Martineau describe Peel cases as "low-key [options] that won't hide the glory of your shiny new iPhone from the world." They say the cases are "crazy thin — like, 'you will forget you have a case on' thin … [and] still offer some protection if you fumble your phone onto the sidewalk." Strategist columnist Chris Black found his Peel cover via Instagram. He says it's the definition of barely there, so innocuous you barely notice it on your phone. Although it doesn't provide any protection for the camera lenses, "the price is right, and it fits in the pocket comfortably," he says, before adding that Peel also makes a great glass protector.