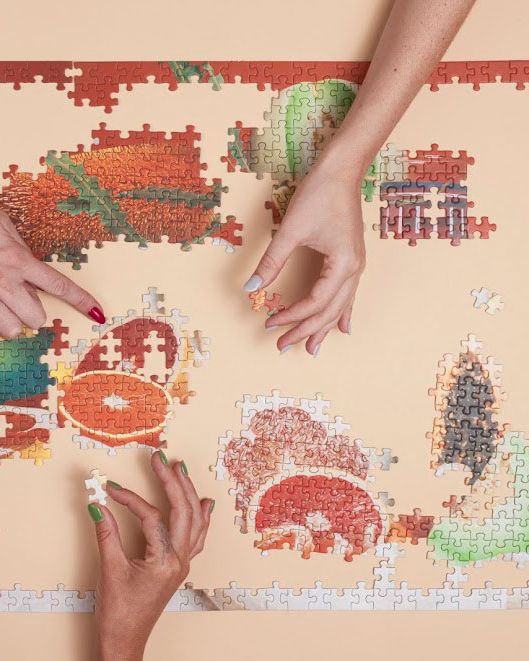 Photo: Courtesy of Piecework Puzzles
The humble jigsaw puzzle has gotten a rebrand. Last year, Rachel Hochhauser and Jena Wolfe launched Piecework Puzzles, which would look at home on a HAY coffee table (designs include a manicured hand smashing a coconut cake and a supersaturated still life of halved fruits) and which sell through a website made by Winsome Brave, the firm behind the Primary Essentials and Apiece Apart. The brand strategists are not the only ones creating decidedly non-folksy jigsaws. There's Jiggy, which arrived in November, and whose "framable" puzzles are based off of female art pieces (like a watercolor of breasts by Julia Quinn Heffernan). And last year, Areaware, after the success of its breakout Gradient Puzzle, launched a series of puzzles in the shape of foodstuffs (a bowl of ramen, a cheese puff); they proved so popular that the company went on to create collaboration puzzles with womenswear line Dusen Dusen and accessories label Poketo. And puzzles have been gaining popularity in general across the country: The U.S. market, still dominated by Ravensburger and Springbok, was valued at $631 million in 2019 (up from $404 million in 2012), according to Statista. This makes sense, says Hochhauser, who decided to start Piecework after finding herself rained in with no cell service and a closet full of dusty puzzles in a rental house in Yosemite. "We're in this moment where people are experiencing digital overload. They're not a digital activity; they're good for your brain. Plus everything else in our lives is so curated, from our toothpastes to our luggage. Puzzles sit out on your coffee table for weeks: They should look good, too." Below, we pieced together (ha) a comprehensive guide to the various new puzzles on the scene — and asked puzzle obsessives to share their personal favorites, from a 1,000-piece Jan Frans van Dael to a candy-themed Springbok.
Photo: Courtesy of Vendor
According to Books Are Magic bookseller (and puzzle obsessive) Margaret Myers, Piecework continues to reign as the "coolest puzzles" out there. Jewelry designer Jennifer J. Matchett names the brand as one of her favorites as well. "My favorite puzzles right now are ones with still lifes with florals and fruits, with images similar to what you see in contemporary photography and styling right now," she says. "My super-favorite, very satisfying one is 'The Forbidden Fruit.'" The 1,000-piece puzzle features fruits and cocktails with drink parasols, and Matchett calls the design "adorable, supersaturated, and colorful."
In addition to "Forbidden Fruit," Piecework sells three other puzzles, each 1,000 pieces: the "Meta Puzzle," a hand assembling a puzzle; "Feeling Flushed," a poker table; and the "Life of the Party," a smashed cake, which Myers told us is her favorite of the brand's offerings. "All of Piecework's puzzles have amazing hyperdesign-y styles," she tells us. "I love the cake one the most."
Myers wasn't the only puzzle expert who likes a dessert theme: Jewelry designer Jennifer Rush prefers her puzzles on the sweet side, too: "We'll do anything with dessert," she says of herself and her 9-year-old son. "Cakes and candy and ice creams and desserts are immediately go-tos for us." Rush told us that she and her son love Springbok's puzzles, which come in 36-piece to 2,000-piece options, and that they'll typically divide and conquer a 1,000-piece puzzle. "We tag team and work on different things, and we find that their puzzles are challenging but really fun," she says. [Editor's note: This puzzle is currently out of stock, but will be available March 29.]
If you prefer a puzzle wish a dash of art history, Matchett suggests this "Bowl of Flowers" puzzle — based on the painting by 18th-century painter Jan Frans van Dael — which she says has been perfect for doing with her whole family. "We have younger kids, and with this puzzle we can get them to do the border and then groups of colors." Once the kids have put together the borders and rounded up the color groups, Matchett said they'll usually wander off — leaving the rest to her and her husband. "Then we can sit there and actually enjoy the puzzle," she says.