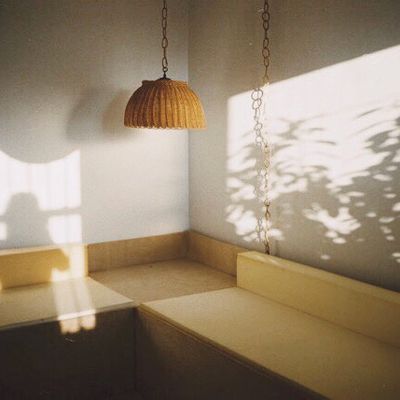 A Judd-inspired bench made by novice builder Emma Newbern.
Photo: Emma Newbern
This week, the first U.S. retrospective in 30 years of artist Donald Judd's work opened at MoMA. You hardly have to be a diehard Judd-head who's made the pilgrimage to Marfa to recognize the artist's work — his influence is everywhere, from the types of floating box shelves you see at Ikea to the heels of designer shoes. As Jerry Saltz recently wrote in his essay on the retrospective, "[Judd] is in everything from the buildings we live in and the furniture we sit on to our work spaces and iPhone design." As Judd has become increasingly ubiquitous, we at the Strategist have noticed a highly specific, subtrend emerge: stylish, moderately crafty people — from clothing designer Jesse Kamm, to interdisciplinary designer Emma Newbern, to co-chief art critic for the New York Times Roberta Smith — actually building their own Judd-inspired daybeds, shelves, and worktables. 
This crop of (Judd)-furniture-making hobbyists follow a well-established lineage of actual architects and designers using the artist as a reference point in their work. Judd's influence has shown up in Abercrombie & Fitch's Columbus, Ohio, corporate headquarters in the early aughts (architect Ross Anderson installed long, Judd-esque worktables and a pine fireplace), and more recently in places like the Dimes-adjacent yoga studio Sky Ting, where Nick Poe, the architectural designer-slash-co-founder, went with minimal, pale wood benches and storage shelves.
The appeal of building one's own Judd as a nonexpert makes sense. For one thing, the designs are fairly straightforward. Constructing a daybed with a few pieces of plywood is a much more accessible project than, say, building your own Biedermeier — and the official Judd Furniture website lists the necessary dimensions online. Having a piece of home-cooked Judd furniture in your apartment also signals to visitors both that your taste transcends West Elm and that you possess a level of technical skill beyond that required to assemble an Ikea Billy bookcase. It's the rare project that simultaneously lets you flex a knowledge of art history and (some) capacity for manual labor.
Kamm first built Judd-inspired furniture 12 years ago, when she and her husband were designing and building a surf cabin in Panama. They had never built furniture before — let alone a house — but were inspired by the simplicity of Judd's designs. Their first piece was a daybed, which they tweaked to look more like a traditional sofa and upholstered with custom cushions and covers made by Kamm's patternmakers. They continued the project in 2017, when the couple built out a new headquarters for their company in Los Angeles, outfitted entirely in Judd reproductions (they made all of those themselves, too). Kamm documented the process in a blog post titled "Building the Mothership," writing that the project (which ultimately comprised 12 pieces, including a Judd-esque table, a Judd-esque couch, and a Judd-esque chair) took 16 days and the total cost of lumber came to $850.
For Newbern, who was living in a sixth-floor walkup at Orchard and Canal when she built her Judd-esque sectional, the promise of cool furniture at an affordable price was similarly alluring. "I wasn't satisfied with an Ikea-style home, and anything that I was looking at was superexpensive or not the quality that I wanted," she says. "Though, frankly, I think I spent more money building the couch." Newbern was working at an architecture firm at the time and says she had never completed her own building project from beginning to end prior to making the couch. "I kind of eyeballed it. Like, I would hover to see what would be a comfortable seat height, and then I learned all about four-by-eight ply." She drew sketches for the piece on her iPad and at the recommendation of Poe went to Chinatown Lumber to pick up the plywood. The project wasn't without setbacks: "The sectional was so ugly at first because I had the foam cut too chunky," she says. "It looked like a cartoon couch." Newbern lowered the height of the couch and slimmed down the foam cushion, which mostly helped, though she says it's not quite comfortable enough for lounging. Still, it was a hit among Newbern's friends. "People were really, really pleased and impressed," she says. "I'm 24, and so it was impressive to my young friends who are still buying Ikea furniture."
"I'm sure every jerk thinks they've studied his work deeply and can do it, and I'm no different," says Poe. Much of his work — including a daybed that was recently on view at Galerie Michael Bargo — is inspired by Judd, but he says the quality of materials available today versus those used to make the original Judds are just not the same. Saltz told us something similar: About a month after Judd died, Saltz and Smith, who had worked for the artist decades earlier, visited Marfa. They took photos of the pieces and upon returning to New York asked a carpenter to build them a 12-foot long library table in the style of Judd's. "Sadly, we had to make it of a softer wood, poplar, and it's tinted greenish," Saltz says. "But the aura is there. No one would mistake it for the real thing. That table has been at the center of our apartment ever since and is the cosmic hearth of our domestic life."
The imperfection is actually part of the appeal for Brooklyn-based artist Nathan See, who grew up two blocks away from Judd's apartment in Soho in the 1970s and now makes Judd-inspired daybeds that he sells on Craigslist and Etsy. "It's something that you can tackle and throw together and be totally happy with how it turns out even if it's not perfect," he says. "If you see those Judd couches in real life and not in a museum, they're totally beat to shit — it's not this pristine red carpet experience because they were lived with. It's furniture that looks good loved. You can spill coffee on it and it still looks like a nice couch."
How
to
build
a
Judd-inspired
bench
We asked Newbern (a novice builder herself) to take us through the steps of building a Judd-inspired bench, using Judd's 8-Foot Bench 11 as a reference point. Here are her steps and some of the tools she used to build her pieces.
First, you'll need to measure your space. If your bench is for the entryway, for instance, think about if you want to be able to fit rain boots underneath. Measure how wide your wall is, how high you'd like the bench to be, and consider the width of the bench. You can use a metal measuring tape to take the dimensions. I have a Stanley Powerlock, which I love.
Then you need to decide on the width of your ply (or, in simpler terms, how thick the piece of wood you're buying is). For a bench you're going to want something at least ¾ of an inch — to make it more Judd-y, I would say go with one inch. [Editor's note: The number of pieces of wood you'll need will depend on the style of bench you have in mind. For the 8-Foot Bench 11, you need three pieces — one for the top and three for the legs.]
Once you have the wood and your dimensions, take them (along with a sketch of the bench) to a lumber shop — I used 123 Chrystie — to have them cut. Tell them your dimensions and they'll know what to do. I have used a handsaw before in school, but not for the furniture — getting the perfect 90-degree angle is so important, and I didn't feel confident in my ability to cut a perfect 90.
You need to consider how the pieces of wood are going to come together. If your bench is three feet long, for instance, will the piece of wood that's the seat be placed on top of other pieces or will it join on the side of the wood? If you're unsure, you can seek out engineering help by sending your sketches to the lumber shop and asking their opinion.
When I got the wood back to my apartment, I looked at it for like two weeks. I was so intimidated to do anything with it. But then a family friend was in town and was like, What's good with the wood? So we laid the pieces of wood out and built the piece. I think with building anything, you need two sets of hands. My friend held the pieces of wood together, and I referred to the drawing with my dimensions. Before you drill in the screws, you have to make a pilot hole, which is where you first make a hole with the drill before drilling in the screw. Then I drilled my longer, 2½-inch wood screws through the seat into the legs to connect them (the longer nails ensure it's a sturdy joining). Before you drill, practice on a sample piece of wood because if you drill the nail too close to the edge it can fray the wood — I would say drill at least ½ inch from the edge to be safe. [Editor's note: If you're having trouble visualizing this, Newbern recommends watching this instructional video.] 
To soften the piece, rub some sandpaper on it (this will be much easier than using a motor-based sander). Since you're doing it by hand, I would say get a medium-to-coarse piece of sandpaper. Pay extra attention to edges to make sure there aren't any splinters. And for a bench, that's really it.
It's going to get dusty, and there's going to be material on your floor. To clean up, I use a Shop-Vac vacuum. It's great for sucking up all the debris from sawing and drilling.
Judd
(and
the
Judd-esque)
Photo: Donald Judd Furniture © Judd Foundation
If this all sounds like a lot of work — or if you're a Judd purist with a tax return to blow — you can find the real deal at the MoMA store.
Photo: Donald Judd Furniture © Judd Foundation
Or you can order a daybed through Donald Judd Furniture, which can be made in various kinds of wood, including pine, white elm, and cherry.
See's Judd-inspired pieces are available on Etsy and Craigslist (we found this daybed on Craiglist, as well).
An almost-certainly-Judd-inspired set of modular storage is currently on sale at Urban Outfitters.
Whether you want to read up on Judd as research for your own building project or just to get to know the artist's ideas — the catalog to the new retrospective at MoMA, and book of Judd's own writings and interviews.
The Strategist is designed to surface the most useful, expert recommendations for things to buy across the vast e-commerce landscape. Some of our latest conquests include the best acne treatments, rolling luggage, pillows for side sleepers, natural anxiety remedies, and bath towels. We update links when possible, but note that deals can expire and all prices are subject to change.