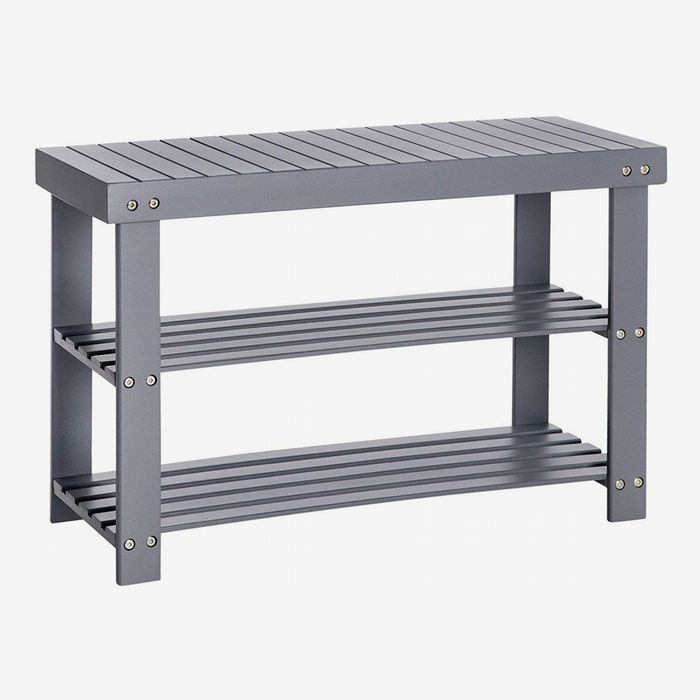 Photo: Courtesy of the retailer
Here at the Strategist, we like to think of ourselves as crazy (in the good way) about the stuff we buy, but as much as we'd like to, we can't try everything. Which is why we have People's Choice, in which we find the best-reviewed products and single out the most convincing ones. (You can learn more about our rating system and how we pick each item here.)
And while we've written about lots of ways to stay organized — including the best desk organizers, the best closet organizers, and the best kitchen organizers — here, we've rounded up the best storage benches, as praised by the most enthusiastic reviewers on Amazon.
Best-rated storage bench
Hundreds of reviewers use the word "sturdy" to describe these storage benches. "I am 220 pounds and can sit on it with no problem (I wouldn't hop up and down. But you can seat yourself normally on it to put on your shoes, etc.)," says one, while another happily reports that it has withstood a 3-year-old "standing on it, jumping on it, laying down on it and overall toddler abuse." While many use this in their entryway or as an ottoman in their living room, a few have found more unique ways to incorporate this ottoman into their lives, like the person who "purchased two for my dining room to add the look of a built-in seating area." And the bench can really hold a lot. Says one fan, who has several: "So far we are using them for winter clothing, quilts and blankets, towels and sheets, all of my hobbies including knitting and crocheting yarns, needles, and knitting/crocheting books, my candle-making supplies, my makeup and jewelry, and our office and school supplies, and I am [about to] order more of these for our pet supplies, and even one to store our camping supplies and cans of diet soda."
Best-rated (less expensive) storage bench
"WHAT IS THIS WITCHCRAFT?!?" one enthusiastic reviewer asks. "We liked our first ottoman so much that I bought a second one as soon as I set it up. We've stored 6 large fluffy blankets in one and a gazillion toys in the second. It's the right height for comfortably settling your feet and I can sit on it without feeling like I'm going to cave it in. (I'm 300 pounds. That's a big deal.)" In addition to being sturdy, this ottoman has many reviewers calling out its various unique construction points. "I really like that I don't have to take off the whole top to get in it," one reviewer notes, adding, "You can sit on one side and someone open the other side without having to get up." Another says, "I never expected to find an ottoman that was so sturdy and cute for such a good price," but then explains further, "I especially didn't expect to find one that's not only collapsible, but has storage."
And now for some micro-picks for every storage bench you might be looking for.
Best small-space storage bench
Reviewers like to fit this storage bench in small spaces, like an RV or a dorm room. "Most RVs don't have a place to put your feet up and relax. Now we do," one reviewer writes, adding, "This ottoman makes the RV feel like home." Another calls this "the perfect height for the couch" in their camper "and is just the right size so it doesn't take up too much room to walk around it." They add, "It's also wonderful to store extra blankets (or games or anything else we can't find storage for in a small camper!)" One college student who uses this in their dorm writes, "It's also really spacious inside, so if I ever start to accumulate clutter in my room I know exactly where to put it." They conclude: "It's big, it's beautiful, and it's tough as hell."
Best storage bench for toys
Parents looking to hide piles of unsightly toys have turned to this ottoman. "I bought this so I had something a little more 'homey' in my living room to hide the kids toys in when we have guests," one writes. Another uses it as "a toddler toy chest in our living room" and says it "looks really elegant and holds a lot of toys." One grandparent who typically "uses it to store my grandson's toys" says it "makes for extra seating" when he's not there. Those who use it for seating say the memory-foam top is comfortable as well as sturdy.
Best open-front storage bench
Many happy reviewers get pleasure from finding things to plug into this open-front storage unit. One thinks that "the cubbies are great for leashes, doggie clean up bags, and shoes," while another who is using at as a baby changing table has "bins in the cubbies to hold all the baby's necessities." Even without added bins, users report sliding shoes into the openings for storage. Getting specific, one reports that "each cubby holds four pair of shoes. Yet another reviewer says "We use ours for linens and towels." Beyond the entryway, one user ordered four of them for the sitting room. They "line the whole wall."
Best bedroom storage bench
Dozens of five-star reviewers report using this storage bench in their bedrooms. "This one is perfect," one reviewer says. "My dogs use it as a step to the bed and I use it to sit on while I put my shoes and socks on." Another writes, "It wasn't as long as I pictured, but I put it at the end of my queen bed, centered, and it became a nice little seat." Dozens note that it works well in kids' rooms, too. "Not only has this added extra furniture to my kids' rooms, but there's no excuse for them to have messy rooms anymore," one happy parent writes, adding, "This doubles as a toy box or storage. I haven't tried sitting on it yet but both of my kids have stood and sat on theirs and I see no signs of wear or sinking in whatsoever." One happy customer concludes, "it is deeeeeep. I can store blankets, document, posters, journals, shoes, deferred dreams, blocked contacts, ANYthing in here, former lovers (jk, jk)."
Best bathroom storage bench
Over 1,000 reviewers give this bench a five-star rating, with dozens noting that it actually makes for the ideal bathroom bench. "Sturdy, attractive, and just what I needed in our bathroom," one reviewer writes. "We set kids on it for getting ready for a bath and guests can put clothes and toiletries bags on it." Another reviewer put this bench in their master bathroom, explaining, "There is no linen closet so this holds a spare set of towel, hand towel, and washcloth. It's nice to be able to sit down while you put on underclothes or slippers before exiting the bathroom." But its usefulness isn't limited to the bathroom. "My mud room is neat and tidy and I have a place to sit and put on my boots or shoes," one reviewer raves.
Best storage bench for shoes
"This shoe organizer was exactly what we needed for our entrance hall," raves one reviewer. "The kids would come home and throw their shoes in the corner or wherever they took them off they would stay," another says, but with this storage bench, "We finally have organization. This storage cubby is extremely durable and it also looks very nice. I highly recommend it to anybody that's looking for something that looks nice and can organize a lot of shoes." While one attests "it's strong enough to sit on to remove shoes," others use the top for more storage. "I added a few fabric storage baskets along the top and that's where we keep gloves, hats, etc.," one resourceful parent explains. As far as the size of the cubbies, one user says, "I can fit even two at a time, three pairs of flats, and kids/baby shoes, four in one cubby," while another writes, "Kids' shoes will fit two to a cubby, but adult sneakers or boots will probably each need their own." However, as one reviewer warns, "Running shoes and men's shoes will need to be placed in individually."
Best storage bench with ottomans
Several reviewers express shock at how much furniture they get for the price of this ottoman set. "ALL of this was cheaper than a single ottoman at furniture discount stores such as Big Lots and Value City Furniture," one reviewer points out. "I'm in an apartment and couldn't decide between a coffee table or an ottoman,' one user writes, explaining "This does EXACTLY that, it is both AND it has storage AND it has two foot stools." Hundreds also say this set is very durable for the price. "If it sits pretty in the living room and you use it to gently rest your feet or to put a plate with a snack on it, it will last a long time," one writes, adding, "Especially at this price point, can't complain, even if it doesn't." While this suggests that gentle use is the way to keep this in good condition, others say that it can handle much more abuse and still look great. One even says, "It's very durable — it currently holds wooden blocks and wooden train sets and tonka trucks — and has also survived being climbed in, jumped on, and pushed over by 2, 3, and 5-year-old boys."
Best outdoor storage bench
This outdoor storage box receives top marks from reviewers for keeping their patio gear out of the rain. "This box is perfect for storing my outdoor cushions for my outdoor sofa and two chairs, with plenty of room for side pillows," one users writes, adding, "I did not put anything in it until after a heavy wind blowing rain so I could make sure it was waterproof. It was perfectly dry so in went the cushions." Another says, "After heavy rain I checked the inside for water and to my surprise they were dry." But patio cushions aren't the only things that fit in this storage bench. "We are able to put two of my kids' small bikes, plus a plastic bin with all of their small toys into his with room to spare for cushions if needed," one reviewer says. Many say it is almost too tall for a seat, but one says it "can easily accommodate three adults across if extra seating is needed." Another attests, "I have sat on the top with others on it and it's absolutely solid."
Best window-seat storage bench
Reviewers on the whole love putting this additional storage under a window to turn it into a window seat. "Using this in front of a large window in the bedroom so big fan of the aesthetic and the pretty substantial storage," one writes. This bench provides another reviewer with "a place where one can sit by the window and visit or better yet, read." Pets seem to like it, too. One reviewer says this bench satisfied their need for "something sturdy, but not so tall for my dog to look out the window." Another pleased reviewer says they love it but they're "Not sure if we'll ever get it back from our cat, though, who loves to stand on it so she can look out the window."
Best storage bench with coat rack
"I needed something near our front door for shoes and bags," one reviewer writes, and says that this entryway bench "works very well, fits in my space, looks pretty good, and was easy enough to assemble." Another who says they "would order this a million times over" notes that they have had more than ten coats on it at a time. And the bench itself is useful. "It's nice to sit on to tie shoes or leave a bookbag," one writes, adding that "the two bottom shelves are great for holding six pairs of shoes … We store our three bike helmets on one shelf, and may get tiny baskets to put on the bottom shelf, to put gloves."
Best storage bench for entryways
Photo: Courtesy of the Retailer
When reviewers first get this bench, they are usually shocked by the quality. "I was surprised to see how durable and high-quality the bench and 'leather' looks," one reviewer says, adding "It gets a lot of compliments and people are surprised to find out that it is not a high-end, expensive item." Another mentions, "The faux leather doesn't feel plastic at all and there is no wobble once assembled." However, one reviewer didn't want to deal with assembly themselves: "Made my boyfriend put this together while I was at work to go in our new entryway. He said it took him about two minutes to get set up and it is perfect for what we wanted. Has space underneath for shoes or little baskets and a great seat to sit down and take off your shoes if you have a carpeted house."
The Strategist is designed to surface the most useful, expert recommendations for things to buy across the vast e-commerce landscape. Some of our latest conquests include the best women's jeans, rolling luggage, pillows for side sleepers, ultra-flattering pants, and bath towels. We update links when possible, but note that deals can expire and all prices are subject to change.
Every editorial product is independently selected. If you buy something through our links, New York may earn an affiliate commission.