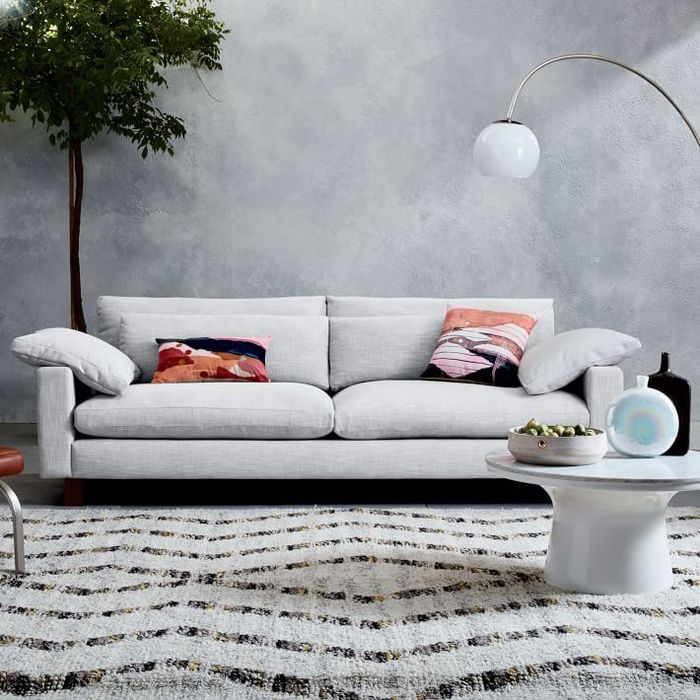 Photo: Courtesy of the retailer.
You're buying a sofa, you want to shop wisely, but you're setting yourself a reasonable(ish) budget. Turns out that's a very attainable goal these days: In addition to the newer cohort of flat-pack-sofa start-ups, even the behemoth furniture brands are beginning to expand their reach (by offering rentals, for instance). Interior designers will tell you to spend as much as you can on this piece — considering how it anchors your home and sees more sides of you than your mother — but after consulting with dozens of such experts recently (40 in all, plus some style and décor editors), I found that many of them have beloved options for under $2,000.
In total, their list amounted to over 80 full-size sofas. To narrow it down, I looked for the models that kept getting mentioned again and again; after gathering those with votes from at least three different experts, seven standouts emerged. Then I went and sat on them for myself.
A few notes about the process: The experts had vetted the sofas for looks and brand reputation; my task was to see what they felt like. My testing method borrowed advice from ergonomics specialists like Esther Gokhale, a posture-focused integrative therapist in the Bay Area, who said that keeping a lengthened spine matters most. She recommends trying sofas by spending at least one minute in four positions: lying down, reclining for watching TV, leaning with your back supported by pillows or bolsters, and stacksitting, i.e., perching upright on the edge. For fidelity's sake, I expanded my criteria to include working from a laptop and writing in a journal.
I also used experts' tips on checking for quality. For instance, "A well-made couch has such tight construction that the arms and legs are like part of the frame," says Joanna Jones, an interior designer in New York; additionally, she looks for some blend of foam and feathers (even faux feathers) as a sign of comfortable cushions (as opposed to just foam, though that's not an instant deal breaker). On the upholstery front, I was reminded that while leather costs more, it will age gracefully into an attractive patina; cotton or linen weaves don't have the drama of leather or velvet, but they hold up. (Speaking of velvet, Jones calls it "very tricky." If you have your heart set on it, she recommends at least looking for 100 percent cotton velvet and avoiding the viscose velvet blends that will show every drop of water and, over time, your butt indentations.)
As with any big investment, individual needs and preferences should shape your decision. Your ratio of napping to working to binge-watching to eating breakfast to entertaining guests is your own. In the end, there may not be a universal best, but there's most certainly a best for you, even at a reasonable price.
The Most Recommended
What the experts said: With 11 nominations from our survey, the Sven smoked the competition and came in first as the most recommended sofa. Article belongs to that aforementioned cadre of sofa start-ups, but unlike some from that cohort, it arrives in one piece; assembly means just screwing on the legs. The company launched in 2013 and now sells 29 sofa styles, along with chairs, tables, and outdoor furniture. But sofas — the mid-century-inspired Sven, specifically — remain the company's marquee product. "It's got that iconic mid-century look that many clients are seeking," Alexandra Kalita says of the Sven. It also appealed the most to Gokhale, who noted that the firmness "gives you the chance to tip your pelvis forward a little if you want to sit upright," and "when you sit back, there's room to have your sacrum supported."
How it felt: The first thing I noticed was an agreeable cushiness — I sank right into the corner of a leather one. Previously, the Strategist perceived a stiffness to the leather Sven, speculating that it needed some breaking in. I sat on one in the showroom of the men's-suiting store Indochino (Article doesn't have showrooms), and that guess now seems accurate: With the used model, the foam seats had nice give, and the leather (cowhide sourced as a by-product of food manufacturing) had a buttery feel.
The second thing I noticed was the utility of the squared-off 27-inches-high armrests: Most sofas don't allow you to easily balance a laptop or write in a notebook, but the Sven does. It's like having a little built-in tray table. That feature detracts a bit from the nap-taking potential, if only because you wouldn't be able to prop pillows on the armrests. That said, the single slab cushion means the Sven feels more comparable to a mattress than separate cushions would, fulfilling at least part of Gokhale's rule about a sofa being as comfortable as a bed.
The tl;dr: An ideal does-it-all sofa: comfortable enough for lounging but upright and proportioned well for working and writing. This is also the best price for leather among the bunch.
P.S.: A few other Article sofas received votes in our survey: The Sitka (with three votes), the Burrard (three), and the Timber (two) all may be worth a look.
The Deepest
What the experts said: "We've used this sofa in so many projects, as it's insanely comfortable and has great lines," says Joslyn Taylor of Swoon Studio. The comfort comes at least in part from the down-filled cushions and the pillowy armrests. You could also point to the frame — with wood legs that run along the entire width — as a source of comfort, since it gives the Harmony a sturdy feel. (Taylor thinks the leg detail is a nice aesthetic touch, too: "The chunky wood legs give the piece character.") What's more, the Harmony comes in a 32-inch "extra deep" seat option, making this one of the most leisurely sofas on the list.
How it felt: Indeed, the down cushions make for lavish lying around. Technically, these have spring-and-foam cores (the others tested here have a mix of foam and feathers or down alternative), but the feeling is more of an old-world European cushion. I yanked on the arms and threw myself onto the sofa to assess its sturdiness, and the joints neither wiggled nor budged. From there, I didn't really want to get up, it was so sumptuous. Along with the cushiness, the Harmony has squared-off armrests, which I've come to regard as a sleeper hit feature in a sofa — contemporary life sometimes calls for laptops and dinner plates on the couch, and it's nice to have somewhere to balance them.
The tl;dr: The most versatile and, therefore, practical sofa on this list. The Harmony is comfortable and nappable but, in its ordinary configuration, not too deep or slouchy for sitting up. Plus: squared-off armrests.
P.S.: The other popular West Elm options, each mentioned by two interior designers, were the Bardot and Shelter sofas.
The Fanciest-Feeling
What the experts said: Coming in second with four nominations, Anthropologie's Willoughby sofa looks a little vintage with its scrolled armrests and carved wooden bun legs on casters. "It nods to an iconic George Smith but for a fraction of the price," says Taylor. "We love pairing it with more-modern pieces for a bit of push-pull in a room." Looks aside, the Willoughby gets points for coziness: The sales associate at the Anthropologie I visited said it's one of the store's most comfortable items, and Dan Mazzarini of BHDM Design called it "great for relaxing … think of it as a traditional nappable sofa." The Willoughby comes in leather and brushed cotton but is most popular in velvet, which in this case is three-quarters cotton, one-quarter polyester.
How it felt: This was among the most comfortable sofas I sat in, which was all the more surprising because of its of its vaguely Victorian look. The cushions specifically deserve praise: Made from spring coils encased in foam and wrapped in fiber padding plus a blend of down and feathers, they somehow felt both entirely firm and entirely plush. In other words, they felt well made. The midnight-blue velvet was soft to the touch but didn't register as overly delicate; it almost had a sturdiness to it.
At 26 inches, the seat is deep and requires pillows for Gokhale-approved posture. I propped a couple up and found that in every position my spine felt pleasingly aligned, although typing and writing on the Willoughby was not as natural as reclining and lying down. As for the construction, when I gave the arms a tug, I felt a little give, which is perhaps to be expected when you're testing a showroom model, but since this didn't happen with other floor samples, it seems worth mentioning.
The tl;dr: One of the best I tried for reclining, reading, lounging, and, crucially, looking fancy without going full-blown mid-century.
The Most Customizable
What the experts said: The premise of Interior Define is customization: Like Article, the brand offers dozens of iterations on a mid-century-inspired sofa style but with even more configurations and upholstery options. The Maxwell, a traditional piece designed by Apartment Therapy founder Maxwell Ryan, offers 65 fabrics and 22 leg styles. (That said, the Maxwell doesn't come in leather; Interior Define's leather sofas all start at well over $2,000.) Foam and down feathers fill the cushions, and the frame sits low to the ground.
How it felt: I loved sinking into the Maxwell as much as I did the Willoughby; choosing between them comes down to whether you prefer a feminine, vintage look or a more traditional look. The 21-inch armrests are low, inviting a relaxed posture. This is very much a couch for taking a load off. I could imagine starting a show on it and not being able to stop until I'd blown through a full season. Like other sofas with a deep seat, the 27-inch depth on the Maxwell means proper back support will require a pillow or two. After running it through all of Gokhale's posture tests, it became obvious that the Maxwell best suits relaxation. Because of that deep seat, typing or writing required sitting cross-legged or with my legs folded beneath me — a fine arrangement for a short period of time but perhaps not all day.
The tl;dr: The Maxwell's traditional looks belie how comfortable it felt. I'd classify this one as made for lazy nights. It's ever-so-slightly more lounge-y than the Willoughby, likely because of the shorter armrests.
The Most Montauk
What the experts said: Sixpenny is a fairly new (it launched early in 2017) direct-to-consumer furniture line selling pieces that don't look direct-to-consumer. Whereas most sofa start-ups stick with an angular look, not so the Sixpenny Neva sofa, recommended by Emily Henderson: "I tested it in the factory and basically melted into the cushion." Designer Jenn O'Brien agrees: "I love the unfussy, casual air this sofa has. It isn't 'clean and modern' but by nature of its quiet confidence, it is a pretty standout piece."
How it felt: I wasn't able to test a Neva sofa, so I sat in a Neva chair, which has the same construction and dimensions as the couch, save for the width. I felt pleasantly cocooned: The back and seat cushions have a 70 percent feather down layer wrapped around a foam core; the combination is soft but still supportive, which my back appreciated during upright computer work. The frame has a foam layer between the wood skeleton and the slipcover, making the arms an inviting place to prop up against when I needed a change in position. But what really sold me was the linen slipcover: I'm an avowed lover of the fabric, and while lots of the other sofas I tested come with a linen upholstery option, none so closely resembles the feeling of getting into a bed made up with clean linen sheets.
The tl;dr: In both looks and feel, the Neva is the most relaxed sofa of the bunch. For those with little ones or pets, it's worth pointing out that the slipcovers can come off and go in the laundry.
P.S.: Bobby Berk, Queer Eye's resident designer also recommended Sixpenny's Gabriel sofa, calling it, "possibly one of the most comfortable sofas on the market."
The Most Austere
What the experts said: Hem is a Swedish furniture brand beloved by a certain strata of design-savvy shoppers and aesthetes. (The Strategist belongs to that group.) Its pieces are distinctly Scandinavian but without harking back too obviously to Arne Jacobsen or Hans Wegner. The Palo is a modular sofa that starts at $1,899 with no armrests and allows for add-ons over time, like a chaise component or those arms. "It's actually very chic on its own and more comfortable than it looks," says designer C. S. Valentin of the most minimal version. And if you go over the $2,000 mark, "Hem is worth the splurge," says Aelfie Oudghiri, a Brooklyn designer known for her rugs. "These are shockingly comfortable."
How it felt: I tested the Palo early one morning at the Artsy office before the staff arrived. Because of the hour, I kicked things off by journaling (I do Julia Cameron morning pages). Two things stood out: The Palo's seat is deep, making it easy to sit fully cross-legged and write on my lap, and its backrest is low but firm, so it offers sturdy lumbar support if I scooch all the way back. I agree with Valentin and Oudghiri on the comfort, but it's a specific kind of austere comfort: Pushing my hand down into the sofa, I could barely make a depression; that's how firm it is. It's hard to imagine whiling away a Sunday night of movies and wine on this one unless you're the type who prefers only the hardest of mattresses.
The tl;dr: This one is best for lovers of minimalist design and perhaps those with "visiting rooms" — i.e., people who have the space for more than one sofa. It's more business than pleasure.
The Most Like a Twin Bed
What the experts said: Perhaps the grooviest option of the bunch, the Piazza is basically a slab of a frame with a slab of a seat cushion and a long, skinny slab of a back pillow. "The seat cushion is about the size of a twin bed, which is perfect for Sunday naps or an unexpected overnight guest," points out Ashlie Broderic, a Homepolish designer and one of four experts to recommend this piece. The price and design are the most pared down on this list, but the sofa has presence. "It feels a little artful, like something Elsa Peretti would have had in her '70s studio," Taylor says.
How it felt: Extremely comfortable, if a little impractical, the Piazza didn't pass muster on three out of four of Gokhale's suggested test poses — perched upright, reclining for watching TV, or leaning with back supported — and worked for me only when I went into full repose. Sprawled out on the Piazza, two things felt obvious: (1) This is a sofa for young people who don't have achy spines but do have friends who could often use a place to crash, and (2) the low-slung Piazza is a vibes sofa, made for those who aspire to one day own a sunken living room. But that doesn't mean it isn't well crafted. "CB2 has been really stepping up their game in terms of the quality of their materials and of their fill," according to Jones. And it's true: The Piazza suits nappers perfectly with its soy-based poly-foam-and-down cushions, and the minimal frame felt tightly joined together when I did my push-and-pull test.
The tl;dr: The low height and absence of armrests mean this is the best sofa for lying-about activities like taking a nap — or simply one of the best for particularly tiny homes.
P.S.: Many CB2 sofas picked up votes. Besides the Piazza, there was the Logan Bouclé (four votes), the Remy (three), the Vicente (three), and the Forte Channeled (three). We decided to test the Piazza over the Logan simply because the Piazza is more of a mainstay, whereas the Logan's bouclé skews trendy.
The Strategist is designed to surface the most useful, expert recommendations for things to buy across the vast e-commerce landscape. Some of our latest conquests include the best acne treatments, rolling luggage, pillows for side sleepers, natural anxiety remedies, and bath towels. We update links when possible, but note that deals can expire and all prices are subject to change.
Crystal Ann, Penelope August, Kylie Bass, Bobby Berk, Sasha Bikoff, Ashlie Broderic, Eliza Clark, Ralli Clasen, Taylor Clouse, Shanti Crawford, Kim Daunis, Shannon Eddings, Baylee Floyd, Nina Freudenberger, Lauren Geremia, Emily Henderson, House of Nomad, Max Humphrey, Alexandra Kalita, Kroesser + Strat, Dan Mazzarini, Ashley Montgomery, Natalie Myers, Karen Nepacena, Briana Nix, Clémence Polès, Jenn O'Brien, Ariel Okin, Aelfie Oudghiri, Susana Simonpietri, Sara Story, Olivia Stutz, Angela Tafoya, Joslyn Taylor, C. S. Valentin, Andrea Van Soest, Carrie Waller, Silka Weiss, Sarah Wittenbaker