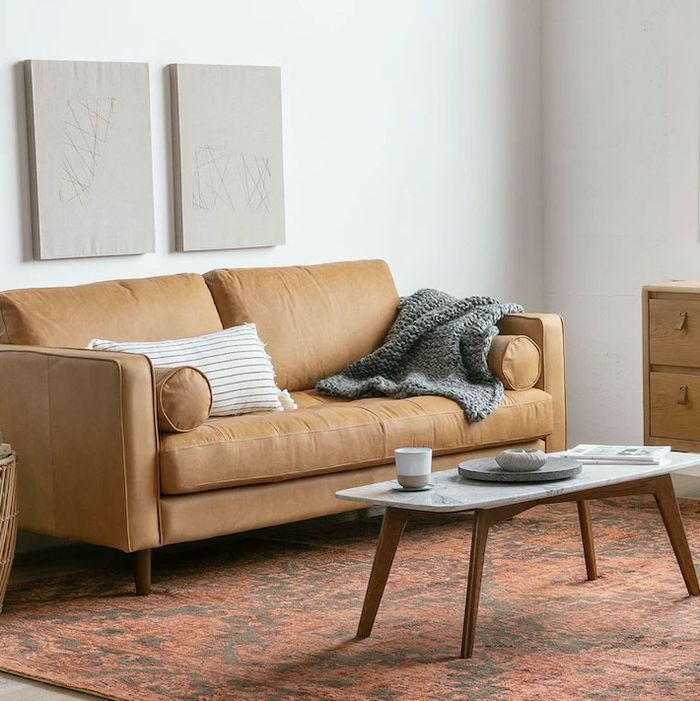 Photo: Courtesy of the retailer
You're buying a sofa and you want something stylish, but you're setting yourself a reasonable(ish) budget. Turns out that's a very attainable goal these days: In addition to the newer cohort of flat-pack-sofa start-ups, direct-to-consumer brands like Sixpenny are offering Restoration Hardware–esque pieces for a lot less. Interior designers will tell you to spend as much as you can on this piece — considering how it anchors your home and sees more sides of you than your mother — but after consulting with dozens of experts (including style and décor editors and all-around stylish folks), we found that many brands have beloved options for under (or around) $2,000.
As with any big investment, individual needs and preferences should shape your decision. Your ratio of napping to working to binge-watching to eating breakfast to entertaining guests on the couch is your own, but the list below will start you on your way to the perfect model — at a very good price.
While leather typically costs more, it will age gracefully into an attractive patina; cotton or linen weaves don't have the drama of leather, but they feel cozier and homier. A slipcover option, typically available in cotton or linen, will be washable. Velvet will imbue your space with a bit more drama but takes a little more care to maintain. Joanna Jones, an interior designer in New York, recommends looking for 100-percent-cotton velvet and avoiding the viscose-velvet blends that will show every drop of water and, over time, your butt indentations.
A good couch is a comfortable one, and ergonomics specialists like Esther Gokhale, a posture-focused integrative therapist in the Bay Area, said that being able to keep a lengthened spine on it (a.k.a. not slouching) matters most. But the fill that's used in each couch is a good proxy to determine both durability and comfort. Jones looks for some blend of foam and feathers (even faux feathers) as a sign of comfortable cushions, but all foam can be perfectly comfortable as well, depending on how firm you like your seating.
A couch is a big-ticket item, and some genuinely might be too big to get through your door, so make sure you measure — multiple times. Carlie Rice, social-media manager at online interior-design service Havenly, says that many of the company's designers swear by placing masking tape on the floor to map out the dimensions of their possible couches. "You really want to get a good feel for the dimension of the sofa before buying it," she says. Another tip: "Don't forget to float your imaginary sofa a few inches out from the wall. It will make your entire room look bigger and is one of the best designer tips out there." Most of the couches here are available in different sizes, though the average length is around 80 inches. We've noted all the sizes available for each model so you can find the best couch for your specific space.
Best overall couch
Upholstery: Leather, fabric, and velvet | Fill: High-density foam with polyester fill | Size: 72 and 88 inches
The Sven smoked the competition and came in first as the most-recommended sofa among the experts we spoke to. (It also appears three times in this photo essay of stylish folks and their beloved couches.) "It's got that iconic mid-century look that many clients are seeking," says Alexandra Kalita, founder of Common Bond Design. It also appealed the most to ergonomics expert Gokhale, who noted that the firmness "gives you the chance to tip your pelvis forward a little if you want to sit upright," and "when you sit back, there's room to have your sacrum supported." It's an ideal does-it-all sofa: comfortable enough for lounging but upright and proportioned well for working and writing. This is the best price for leather among the bunch, though it's also available in fabric and velvet for slightly less money.
Interior designer Sophia Venturo calls out its "high-quality construction, which means a sturdy frame, durable upholstery, and comfy cushions that hold their shape," adding that its mid-century-modern lines are "surprisingly versatile." Designer Baylee Floyd agrees, saying the Sven "is a good staple piece for just about any living room." Floyd says "the sleek design of this sofa is hard to come by at this price," especially if you go with the 2.5-seater in fabric upholstery, which brings the price down to $1,099. Courtney McLeod, the founder and principal designer of New York City–based Right Meets Left Interior Design, says its 72-inch length makes it great for an apartment and that she likes its "lovely details," including its "biscuit-tufted seat and matching bolster pillows." (It also comes as a sectional version that starts at $1,999.) Former Strategist senior editor Margaret Rhodes sat on one in the showroom of the men's-suiting store Indochino and found in the lived-in model that the foam seats had a nice give and the leather had a buttery feel. She also found that the squared-off 27-inches-high armrests were quite useful for balancing a laptop easily or writing in a notebook.
Best velvet couch
Upholstery: Velvet, leather, and fabric | Fill: High-resiliency foam wrapped in soft fiber padding and a hypoallergenic blend of down and feathers | Size: 69, 79, and 89 inches
Anthropologie's Willoughby sofa, which has an appealing vintage look thanks to its scrolled armrests and carved-wood bun legs on casters, also garnered multiple mentions. And though it comes in leather and brushed cotton, it is most popular in velvet, which, in this case, is three-quarters cotton, one-quarter polyester. "It nods to an iconic George Smith, but for a fraction of the price," says Joslyn Taylor of Swoon, the Studio. "We love pairing it with more modern pieces for a bit of push-pull in a room." Looks aside, the Willoughby gets points for coziness. Dan Mazzarini of BHDM Design calls it "great for relaxing … think of it as a traditional nappable sofa." When Rhodes went to try it in-store, she found it was among the most comfortable sofas she sat on, noting that the cushions — made from spring coils encased in foam and wrapped in fiber padding plus a blend of down and feathers — seemed particularly well made. According to Rhodes, they somehow felt both entirely firm and entirely plush, and the midnight-blue velvet fabric was sturdy while also soft to the touch.
Best slipcover couch
Upholstery: Linen, cotton canvas, velvet, and faux fur | Fill: Poly fill or feather down | Size: 72 or 84 inches
Sixpenny is a direct-to-consumer furniture line selling pieces that don't look direct-to-consumer, like the slipcovered Neva, one of the brand's most popular sofas. It was recommended by a couple of designers, including Emily Henderson, who tested one in the factory and "basically melted into the cushion." Jenn O'Brien is also a fan: "I love the unfussy, casual air this sofa has. It isn't 'clean and modern,' but by nature of its quiet confidence, it is a pretty standout piece." Eva Lee, director of BuzzFeed's newsroom operations, bought the Neva love seat (62 inches wide) in the washed-cotton-linen fabric (in cornsilk) after looking at all the usual suspects (from Restoration Hardware to Crate & Barrel to Overstock). "Everything felt too mid-century modern or was too expensive," she says. "I liked the lived-in look of the Neva and the fact it's a great size for a New York City studio apartment like mine. I also wanted a one-cushion love seat because that felt larger visually than a two-cushion one." It was also important to Lee, who has a dog, that the sofa be slipcovered. "I've washed the covers multiple times now, and they slip back on easily and still look good." As far as comfort goes, Lee says that it's really comfortable — a sofa that "you sink into" — but the cushions require frequent plumping. It comes in both a poly fill or feather-down blend, and the back cushions are filled with loose fill (feather-poly blend or all poly), while the seat cushions contain a foam core sandwiched between two layers of loose fill. When I visited the showroom recently, I couldn't tell the difference in feel between the sofa that was filled with the feather-down blend and the poly-filled one; they were both plush but still supportive.
Best down-filled couch
Upholstery: Fabric and velvet | Fill: Polyester fiber, duck feather, and duck-down back cushions | Size: 76, 82, 92, and 104 inches
The Harmony is arguably the most versatile and, therefore, practical sofa on this list. "We've used this sofa in so many projects as it's insanely comfortable and has great lines," says Taylor. It's also comfortable and nappable but, in its ordinary configuration, not too deep or slouchy for sitting up. The comfort comes from the reversible down- and fiber-filled cushions and the loose throw and lumbar pillows that can be adjusted according to your liking. The frame has three beamed legs that run along the entire width, giving the Harmony a sturdy feel. (Taylor thinks the leg details also "give the piece character.") What's more, the Harmony comes in a 47-inch extra-deep seat option, making this one of the most leisurely sofas on the list. When Rhodes tested the Harmony, she loved the seat cushions, which, despite having a spring-and-foam core, were highly conducive for "lavish lying around." She also yanked on the arms and threw herself onto the sofa to assess its sturdiness, and the joints neither wiggled nor budged. From there, she didn't really want to get up, it was so sumptuous.
Best (less expensive) down-filled couch
Upholstery: Performance polyester-nylon | Fill: Feather and polyester fiber | Size: 86 inches
This feather-filled sofa from World Market is one of our favorite less expensive couches and was recommended to us by two designers, Floyd and Emerie Forehand, both of whom love it for its slipcover style. (It also has dozens of glowing reviews on World Market's website.) We should note that it's not actually slipcovered, so you can't remove the covers and wash them, but the cushions are removable and reversible for easy fluffing and refreshing. If you've always coveted Restoration Hardware's famous Cloud couch, Floyd says that the Brynn is a much more affordable option, is extremely comfortable, and has that "casual, laid-back vibe." Forehand agrees that it's plush, "like a big comfy bed," because it's filled with feathers (and some polyester fiber).
Best multifunctional couch
Upholstery: Wool | Fill: Foam | Size: 77 inches
Hem is a Strategist-approved Swedish furniture company with pieces that are distinctly Scandinavian but without harking back too obviously to Arne Jacobsen or Hans Wegner. The Palo is a modular sofa with no armrests and allows for add-ons over time like a chaise component or actual armrests. "It's actually very chic on its own and more comfortable than it looks," says designer C.S. Valentin of the most minimal version. "Hem is worth the splurge," says Aelfie Oudghiri, a Brooklyn designer known for her rugs. "This couch is shockingly comfortable." Rhodes, who got a chance to test one out, says that the Palo's seat is deep, making it easy to sit fully cross-legged and write. Its backrest is low but firm, so it offers sturdy lumbar support if you scooch all the way back. She describes it as having "a specific kind of austere comfort: Pushing my hand down into the sofa, I could barely make a depression; that's how firm it is."
Best daybedlike couch
Upholstery: Poly-linen | Fill: Soy-based poly-foam-and-fiber seat cushion with down-blend back cushion | Size: 82 inches
Perhaps the grooviest option of the bunch, the Piazza from CB2 is basically a slab of a frame with a slab of a seat cushion and a long, skinny slab of a back pillow. "The seat cushion is about the size of a twin bed, which is perfect for Sunday naps or an unexpected overnight guest," points out Ashlie Broderic, a designer and one of four experts to recommend this piece. The price and design are the most pared down on this list, but the sofa has presence. "It feels a little artful, like something Elsa Peretti would have had in her '70s studio," Taylor says. Rhodes found it to be extremely comfortable when she went into full repose but notes that because it's extra deep, it's not ideal for perching upright or leaning back while feeling supported. As she explained, "Sprawled out on the Piazza, two things felt obvious: (1) This is a sofa for young people who don't have achy spines but do have friends who could often use a place to crash, and (2) the low-slung Piazza is a vibes sofa, made for those who aspire to one day own a sunken living room." But that doesn't mean it isn't well crafted. "CB2 has really been stepping up its game in terms of the quality of the materials and fill," according to Jones. And it's true: The Piazza suits nappers perfectly with its soy-based poly-foam-and-down cushions, and the minimal frame felt tightly joined together. Ultimately, the low height and absence of armrests mean this is the best sofa for lying around instead of sitting up.
Best sectional
Upholstery: Velvet | Fill: Foam | Size: Modular sectional
If you're looking for a sectional with a similar minimalist vibe, consider Menu's Eave sofa, recommended by Evelyn Zhang, senior designer at the New York Times' T Brand. After looking at a bunch of Scandinavian brands including Muuto, Paustian, and Woud and running around to various showrooms, Zhang decided on the Eave sectional in a vibrant blue velvet inspired by Yves Klein. "I tend to gravitate toward classic, simple designs that have a slight unexpected twist to them," she says. "I really loved the rounded back of the Eave, which felt quite different and special." Zhang was also drawn to Menu's large selection of customizable fabric options and surprised herself by choosing blue velvet. (While that particular blue wasn't one of the standard choices in the swatch book, Menu put her in touch with its fabric supplier, who was able to show her even more color and fabric options.) She appreciated the fact that the seat was "deep enough to sit with my legs crossed or cuddle with my dog on," with enough back support to work or lounge on it every day for hours at a time. "It's beautifully made, comfortable, and the velvet has been surprisingly easy to upkeep," she says. Zhang started with a corner piece and an open section, but she loves the sofa so much that she's now considering adding another section to the end "so I can have more guests over and entertain more easily."
Best (less expensive) sectional
Upholstery: Polyester textured chenille | Fill: Foam | Size: Modular sectional and sofa
I bought this couch — definitely more of a couch than a sofa — for our family TV room after two of my friends recommended it independently of each other. The first time I saw it was at a friend's house, where she had one version, in white, in her formal living room, and another, in gray, in the finished basement, each complementing its respective rooms nicely. Then, in a group chat with a different set of friends, someone shared that she and two of her friends owned it as well. By that point, I was sold, and the frequent sales at Macy's made it easy to pull the trigger. It's available in a bunch of configurations of sectionals as well as sofas (including chairs, sleepers, and ottomans), but we got this four-piece sectional in a navy blue that still looks fresh after a couple years of constant TV-bingeing and toddler-bouncing. While it's not design-forward or trendy like some of the sofas on this list, it's a solid, comfortable couch with plush cushions that you don't have to worry about. It comes in a velvety, textured-chenille upholstery that's soft to the touch but sturdy and very forgiving of stains. It's also just incredibly comfortable — even more so than the fancier sofa we have in the living room.
Best chesterfield couch
Upholstery: Leather | Fill: Foam and fiber | Size: 91.25 inches
"A leather tufted sofa is timeless and will always stay in style," says Havenly design editor Heather Goerzen, who actually owns the Byrdie sofa from Crate & Barrel herself. Upholstered in tan leather with ash legs in a whitewash finish, it updates the traditional chesterfield with upright arms and buttonless tufting to create a more modern silhouette. (I see it as an upgrade to the Sven.) Goerzen likes that it "cues a bit of that English-library mood" but says that the sofa "can seamlessly flex into a number of different style genres: whether cozy and classic, modern transitional, or dark academia." She describes her home's aesthetic as "Provençal romance" and styles the seating in her office alongside "blushes, rusts, and greens; lots of pattern play (think ginghams, florals, and plaids); vintage elements; and a statement black marble desk for that polished edge." As for how sitting on it feels, Goerzen says it's "surprisingly cozy and soft. It almost feels more like a plush bed. Definitely the kind of sofa you can sink into with a book or glass of wine — and stay a few hours."
Best chunky couch
Upholstery: Acrylic-wool-cotton-polyester-viscose blend | Fill: Down-wrapped foam cushions | Size: 2.5-seat (92.25 inches) and three-seat (121.75 inches)
After months of research and finally testing it out in person, creative director Isabel Castillo Guijarro bought the Mags 2.5-seat sofa from Hay (another Strategist-approved furniture brand) because it had all the elements she was looking for: It was "low to the ground, comfortable, and timeless." Guijarro appreciates the oversize dimensions of the sofa, saying that "its low height and roundness make you feel very cozy." Made with high-density down-wrapped foam cushions, it's "definitely on the firm side," she says, but the upholstery she chose — an acrylic-wool-cotton-polyester-viscose blend — "is very soft, so it doesn't feel rigid." (It also comes in ten other fabric options including polyester, wool, velvet, cotton-linen.) Guijarro enjoys it as a "social sofa" because "it can function in several directions" and places it in the middle of the room (instead of against the wall). "It's great for hosting and hanging out with friends," she explains, because you can turn around and lean on the low back to speak with someone behind you without sacrificing comfort. As for quality, she calls it "sturdy but not hard. And well built — like it will last me a lifetime." While it will depend on your customization options, Guijarro was pleasantly surprised when her sofa arrived within the two-week estimate Hay gave upon checkout.
Some more living room seating we've written about
• Ashlie Broderic, interior designer
• Baylee Floyd, interior designer
• Emerie Forehand, interior designer
• Heather Goerzen, Havenly design editor
• Esther Gokhale, integrative therapist
• Isabel Castillo Guijarro, creative director
• Emily Henderson, interior designer
• Joanna Jones, interior designer
• Alexandra Kalita, interior designer
• Eva Lee, director of BuzzFeed's newsroom operations
• Dan Mazzarini, interior designer
• Courtney McLeod, interior designer
• Jenn O'Brien, interior designer
• Aelfie Oudghiri, Aelfie founder
• Margaret Rhodes, former Strategist senior editor
• Carlie Rice, Havenly social-media manager
• Joslyn Taylor, interior designer
• C.S. Valentin, interior designer
• Sophia Venturo, interior designer
• Evelyn Zhang, designer
The Strategist is designed to surface the most useful, expert recommendations for things to buy across the vast e-commerce landscape. Some of our latest conquests include the best acne treatments, rolling luggage, pillows for side sleepers, natural anxiety remedies, and bath towels. We update links when possible, but note that deals can expire and all prices are subject to change.