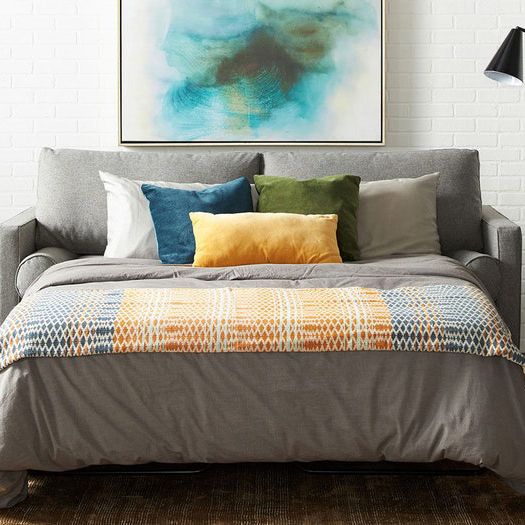 Photo: Courtesy of the retailer.
Shopping for a sleeper sofa that doesn't look like the sagging hand-me-down you had in college can take some patience and digging. You want something that's going to look nice in your adult apartment, but you also want it to be comfortable for you and your guests — and functional, a.k.a. able to convert into a bed with minimal effort. According to Annie Mueller, a senior designer at online interior design service Havenly, it's also important to consider how the piece will be used: "Is it intended for a teen's space? Will it go in a basement? Will this be your primary sofa?" She says that taking all of these factors into account will impact the sleeper's cost, style, and size. To help you find the best sleeper sofa for your space and budget, we consulted Mueller and 14 other interior designers for their suggestions. Below are their 29 favorites, which cover a range of styles and price points, from easy futon-style foldouts to fancy sofas with queen-size memory-foam mattresses that might even rival what's in your bed.
Best
under-$1,000
sleeper
sofas
For an affordable sleeper sofa that's still stylish, Mueller recommends this one from Pottery Barn Teen. The compact, two-seater sofa converts into a twin-size bed, making it ideal for smaller spaces. Mueller likes that the square arms look contemporary, adding that it's a great "budget-friendly option." She suggests using it in "a teen's bedroom or play space," but we happen to think that it would also look nice in an adult living room. The sofa's seat cushion unfolds to create the mattress, which rests on the floor.
According to Yaiza Armbruster, the founder of design office Atelier Armbruster, "it's really hard to find sleeper sofas that are nice and comfortable as sofas and as beds, and small enough to fit inside New York City apartments." One sleeper sofa that she says meets those criteria is this convertible ottoman from Ikea that Armbruster calls "phenomenal" for its compact size, and the fact that it reminds her of an ottoman from a high-end design company that she used to own. The cushion unzips in half to unfold into a narrow mattress (not exactly a twin size, but close), and it can also be combined with other modules in Ikea's Vallentuna collection to create a sofa. It's this flexibility that Armbruster appreciates, adding that it could be a "second sleeping option in a living room." She also thinks the green color is "very nice."
Armbruster also recommends this Ikea daybed, which she bought for her kids' room so their friends have somewhere to sleep (and sit) when they come over for sleepovers. It's actually quite versatile and can be used as a single or double bed (a trundle pulls out from the base to create a double-bed frame). The daybed's seat is made up of two twin foam mattresses set on top of each other. To create a double bed, simply move the top mattress onto the pullout. As far as looks, it's fairly basic as is, but Armbruster says that the daybed is easy enough to customize — she did so by simply painting it pink. Bonus: It comes with two large drawers for storing linens.
Decorist designer Kyler Karstens loves this "more unique" rattan daybed, which she says will give a room "a punch of personality" in addition to a place to sleep. (Rattan is material that designers like for its versatility and timelessness, which is why it's used in lots of sofas as well as in mirrors and armchairs.) Karstens says this daybed's "one-of-a-kind form and texture" make it "the perfect option" for adding a touch of "bohemian flair" to their space. It's designed to accommodate a twin-size mattress, but buyers should know a mattress is not included.
This convertible sofa comes recommended by interior designer Jennifer Wallenstein, who likes it for its low price point, relatively lightweight frame, and ability to fit into small spaces. It's upholstered in microsuede — a fabric that she says is durable and easy to clean — and the seat easily unfolds to become a full-size mattress. While it's currently out of stock, it will be restocked in September, according to the retailer, which allows you to provide your email address for updates on availability.
Slightly wider is this mid-century-modern-style sleeper sofa that interior designer Allison Vargas likes for its look — which she says won't feel dated, even after years of use. While it may be an upgrade from your college-era futon, it's just as easy to operate: The sofa's foam seat and back cushions fold down to form a twin bed. Normally, it would fall into the pricier category of sleeper sofas below, but right now it's on sale.
Here's another sleeper sofa that's just as easy to convert into a bed. Interior designer Mandy Cheng recommends it, telling us you can basically slap on a sheet and sleep on the sofa as is. The modern-looking piece is made with high-density foam and pocketed coil springs and flips down into a queen-size bed (given how much a regular sofa and queen-size mattress can cost, the fact that you're getting both with this piece makes the price seem even more justified). Cheng adds, "Generally speaking, the nicer the cushion fill (wrapped down, a mix of foam and down, or memory foam), the better night's sleep your guests will have."
Even easier to turn into a bed is this convertible sofa that Decorist designer Megan Wright recommends. She loves that it "resembles a high-end piece" (that doesn't necessarily look like furniture that converts into bed) while still being super "functional." The legless sofa, which is filled with foam and has extra-large tufting, simply sits on the floor and can fold down to create a cushy crash-landing pad for guests. (According to its listed dimensions, that crash-landing pad is somewhere between a twin extra large and full mattress.)
Karsten recommends this daybed from Pottery Barn Teen, which has a slip-cover and "simple lines" that give it more of a traditional feel than the brand's Monroe daybed above. The slip cover, she notes, is removable, which "allows you to easily keep the fabric clean." You can get the daybed in multiple fabric options, any of which Karsten says would "look beautiful layered with a mixture of bold pillows." The price shown is for a twin-size daybed, but this style comes in larger options, too, including full and queen. Any size you choose will accommodate a standard, like-size mattress — but you'll have to get that separately, as this does not come with a mattress.
Best
under-$2,000
sleeper
sofas
While it's at the pricier end of under $2,000, Interior Define's Sloan Sleeper comes recommended by three of our experts — Mueller, Decorist designer Linzie Merchant, and Lisa Spicer, a designer at virtual interior-design service Modsy — for its versatile style and customizability. Spicer says that its clean lines can work in a range of interior-design schemes, and both Mueller and Merchant agree. As far as customizing it, the sofa is available in more than 60 fabric options "from neutral grays to bold velvet fabrics," according to Spicer, and you can also choose cushions, fill options, and even different leg styles — an element that Merchant says is "really important when selecting a sofa." Mueller adds that "this gives customers the ability to find the configuration that is most functional for their space." The foldout 5.5-inch-thick queen-size mattress is topped with memory foam.
Armbruster is a fan of the Tandom sofa for its contemporary look and small footprint. The oversize, high-density cushions and seat easily convert into a queen-size bed, while the armrests become head- and footboards. To make it feel more luxurious for guests, Armbruster says you can customize it with "fancier" sheets or patterned textiles.
If you're looking for something with a "glam aesthetic," Mueller says to consider the Oneira sleeper from Article, a furniture brand that got a lot of love from experts when we asked them about their favorite (regular) sofas under $1,000. It comes upholstered in luxurious-looking velvet (you can choose from this navy or a lighter gray color), features a hotel-grade foldout mechanism, according to the brand, and includes a four-inch-thick queen-size memory-foam mattress.
Mueller is another fan of daybeds. "If you have an existing sofa that you don't want to replace, but need additional sleeping surfaces," she says they can make a great alternative to traditional sleeper sofas. But Mueller also thinks daybeds can stand in for traditional sofas, too, if you're looking for something different (and multi-functional). She recommends this model with a whitewashed rattan frame that she says would "add texture and contrast to a space." It's pricier than the other rattan daybed on this list, but that's because it comes with a five-inch-thick, twin-size mattress made of Fibercore.
Ted Roberts, the style and design chief for Schlage, says daybeds are "a great solution for a smaller space that may not fit a sofa." He recommends this one from Pottery Barn, telling us that it is not only has "exceptional structural integrity," but also "looks great in any home." Part of its durability, according to Roberts, comes from the fact that the daybed is available in several styles of "performance" fabric, including linen and basketweave materials, that's meant to withstand heavy use. You can sleep on it as is (which would be like sleeping on a mattress that's slightly smaller than a twin), or pull out one of the cushions and place it on the floor to create a wider surface (that's somewhere between a queen and king mattress).
Alessandra Wood, the VP of Style at Modsy, recommends this deep-set sleeper. She likes its versatility, saying that the sofa's simple, straight edges can work in a variety of décor styles. The sleeper, which features a removable uni-cushion for its seat, opens into a queen-size bed with a 5.25-inch-thick coil-foam mattress.
Here's a futon-style option that easily converts to a queen-size platform bed with a pocketed, coil-spring mattress. Spicer recommends it for its simple mid-century-modern look and notes that the sofa's light-gray fabric is a great base for just about any accent color. She suggests adding some personality to it via a couple of blush-pink throw pillows. Or, to create more of a contrast, Spicer says to try navy or black-and-white cushions instead.