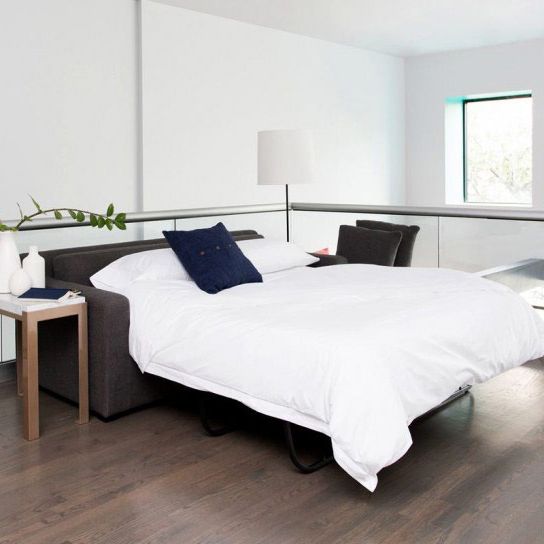 Photo-Illustration: Courtesy of the retailer.
You might associate sleeper sofas with the sagging futon from your college days, but there are actually comfortable — and nice-looking — options out there for your adult apartment. As interior designer Keita Turner put it, "The sign of a quality sleeper is that you walk into the room and don't know it is one." This is especially true if you're on the hunt for one that will serve as your primary sofa during the day. Luckily, it's totally possible to find stylish and affordable pieces that convert with minimal effort and ensure a full night's rest. To help you figure out the best sleeper sofa for your space and budget, we consulted Turner and eight other interior designers for their suggestions. Below are their ten favorites, which cover a range of styles and price points from easy futon-style foldouts to fancy (and customizable) sofas with queen-size memory-foam mattresses that might even rival what's in your bed.
Best overall | Best (less expensive) overall | Best customizable | Best customizable mattress | Best twin-size | Best (budget-friendly) twin-size | Best daybed with trundle |Best (less expensive) daybed with trundle (and storage drawers) | Best compact | Best four-in-one
What we're looking for
Size: Depending on your space, you'll want to consider what size sofa is right for you and your guests. If you're working with a smaller living area, you might want something compact (both when it's a seating and a sleeping surface) like a chair and a half that converts into a twin-size bed. Or if you want to spread out, a three- or four-seater couch can turn into a queen- or king-size bed to accommodate more than one overnight guest.
Mattress: Some sleepers come with actual mattresses with springs, while others simply use the cushions or seating surface (usually made from foam) to create the bed. Though it's largely a matter of preference, keep in mind that a mattress will usually be trifolded within a metal frame (and be on the thinner side, around five inches thick), while a cushion surface will remain flat — which brings us to our next point about the sleeper's conversion mechanism.
Conversion mechanism: Traditionally speaking, a sleeper sofa hides a pullout metal frame (or bed deck) beneath the seating area with a flexible mattress on top. Converting this style of sleeper to bed requires a bit more elbow grease, but there are other styles that are more streamlined. Besides the basic futon style that simply unfolds to lay flat, some sleepers come with a trundle platform that slides out, while others require picking up the seat cushion and moving it to the floor.
Best overall sleeper sofa
Queen | Box-spring mattress with foam topper | Metal pullout frame
Interior Define's Sloan Sleeper comes recommended by three of our experts — Annie Mueller, a senior designer at online interior-design service Havenly, Decorist designer Linzie Merchant, and Lisa Spicer, a designer at virtual interior-design service Modsy — for its versatile style and customizability. Spicer says its clean lines can work in a range of interior-design schemes, and Mueller and Merchant agree. As far as customizing it, the sofa is available in more than 60 fabric options "from neutral grays to bold velvet fabrics," according to Spicer, and you can choose cushions, fill options, and even different leg styles, an element Merchant says is "really important when selecting a sofa." Mueller adds, "This gives customers the ability to find the configuration that is most functional for their space." The foldout 5.5-inch-thick queen-size mattress is topped with memory foam.
Best (less expensive) overall sleeper sofa
Queen | Innerspring mattress | Metal pullout frame 
Kelly R. Collier-Clark, principal designer at Plot Twist Design, recently sourced this sleeper for a client's family room primarily used by two teenage girls. "It was a perfect, durable sofa from a trusted retail brand with a great budget-friendly price point," she says. For highly functional spaces, she recommends full sofas with queen-size mattresses like this one. "They are great for everything, from out-of-town guest lodging to teen slumber parties and movie nights."
Best customizable sleeper sofa
Queen | Foam mattress | Metal pullout frame
Decorilla design expert Devin Shaffer told us his go-to source for quality sleeper sofas is Joybird, and he suggests this cushy, plush sleeper sofa with a mid-century frame for someone who wants a do-it-all piece. "When it comes to seating, it's always best to find places that pride themselves in production," he says. "Joybird has an in-depth preview of how it's made for each of its products and offers a 365-day return window and lifetime warranty." The customizable sleeper offers 18 fabric options and comes with a five-inch-thick memory-foam mattress that pulls out.
Best customizable mattress sleeper sofa
Queen | Innerspring mattress | Metal pullout frame
For another highly customizable sleeper, interior designer Jennifer Wallenstein recommends this minimal, high-end couch from buzzy furniture brand Apt2B for its "simple modern design." In addition to offering 60 fabric options (that's a lot more than Joybird), the company lets you choose the finish of the sofa's wooden base. And for those looking for mattress customization, you can choose from a 5.5-inch-thick innerspring mattress with pillow top or one made out of memory foam.
Best twin-size sleeper sofa
Twin | Air mattress | Metal pullout frame
If your overnight guest will be sleeping alone, Wallenstein suggests this chair-size slip-covered sofa. It has a metal pullout base (so it runs on the heavier side) that folds out to support a 5.5-inch-thick twin mattress, which meets one of her requirements for a good innerspring mattress: "You want them to be about five or six inches thick at minimum," Wallenstein says. The pullout mattress is topped with an air mattress, which doubles the thickness of a standard sleeper mattress for extra comfort.
Best (budget-friendly) twin-size sleeper sofa
Twin | Foam cushions | Floor
Here's another twin sleeper Mueller recommends that's much more affordable but still stylish. The compact two-seater sofa converts into a twin-size bed, making it ideal for smaller spaces, and while it's from Pottery Barn's teen line, it would work just as well in an adult space like a studio. Mueller likes that the square arms look contemporary, adding that it's a great "budget-friendly option." She suggests using it in "a teen's bedroom or play space," but we happen to think it would also look nice in an adult living room. The sofa's foam seat cushion unfolds to create the mattress, which rests on the floor.
Best daybed with trundle sleeper sofa
Twin to queen or king | Foam cushions | Pullout
This daybed also converts to a bed but for half the price of the Crate & Barrel pick above. While it doesn't offer two different sleeping surfaces when the trundle is engaged, it's still a great choice. Ted Roberts, the style and design chief for Schlage, recommends it for its "exceptional structural integrity." Part of its durability, according to Roberts, comes from the fact that the daybed is available in several styles of "performance" fabric, including linen and basketweave materials, that are meant to withstand heavy use. You can sleep on it as is (which would be like sleeping on a mattress that's slightly smaller than a twin) or pull out the seat to unfold a wider surface (somewhere between a queen and king mattress). Turner is also a fan, saying Luna's clever design resembles a much higher-end piece: "It's very slick. I almost can't believe that it's Pottery Barn."
Best (less expensive) daybed with trundle sleeper sofa (and storage drawers)
Twin to full | Two foam mattresses | Trundle pullout 
For something even more affordable, consider this Ikea daybed that Yaiza Armbruster, the founder of design office Atelier Armbruster, recommends. She bought it for her kids' room so their friends have somewhere to sleep (and sit) when they come over for sleepovers, but we think it could work well for adults, too, thanks to its simple farmhouse design. It's actually quite versatile and can be used as a single or double bed (a trundle pulls out from the base to create a double-bed frame). The daybed's seat is made up of two twin foam mattresses set on top of each other. To create a double bed, simply move the top mattress onto the pullout. As far as looks, it's fairly basic as is, but Armbruster says the daybed is easy enough to customize — she did so by simply painting it pink. Bonus: It comes with two large drawers for storing linens.
Best compact sleeper sofa
Queen | Coil-foam mattress | Metal pullout frame
Consider this option if you don't want a twin sleeper but still want something on the smaller side. "The CB2 Club Queen sofa is very compact and looks nice as a day-to-day sofa in a smallish apartment," says Armbruster, thanks to its 77-inch width. She says it's a great guest-bed option for occasional visitors and likes that it comes in many color and fabric options including linen, cotton, wool, and polyester blends. The pullout bed is topped with a 5.25-inch-thick coil-foam mattress.