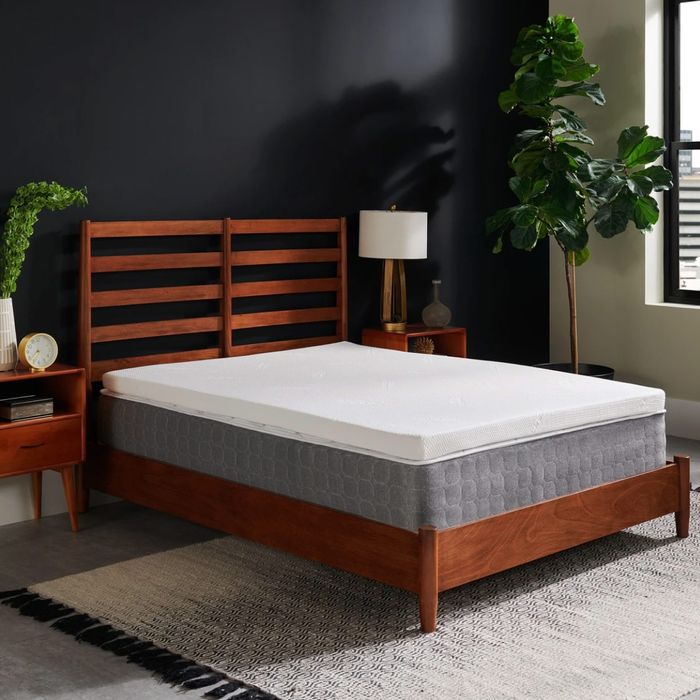 Photo: Courtesy of the retailer
Mattresses are a tough purchase — even if you try them out (thanks to 100-night return policies from many companies) or read reviews (like our very thorough tests). When you find yourself with one that's just a little too firm or too soft, a mattress topper can close the gap between the almost there and the just right.
Firmness is probably the biggest factor to consider when it comes to mattress toppers — as it is with pillows. "It can affect not only one's comfort but also back health," explains Alex Savy, a certified sleep-science coach and founder of sleep-product-review site SleepingOcean. Generally, according to Savy, side sleepers should go with a softer topper, back sleepers with one that's more on the medium side, and stomach sleepers with topper that's firm. Since side sleeping is the most common sleeping position, it's not surprising that "most people purchase a mattress topper to make their bed softer," says Joe Auer, founder of the review site Mattress Clarity.
According to Bill Fish, a certified sleep-science coach and co-founder of sleep-products site Tuck, buying a mattress topper is "a rather inexpensive method to fix an uncomfortable mattress without going through the process of purchasing a new mattress entirely." Auer agrees: "Some purchase one to revitalize an old bed that has lost its cushioning over time." Auer also adds that "sometimes couples will disagree on the proper firmness of a bed and buy a mattress topper to place on one half of the bed." Whatever your reasons for buying a mattress topper, the material, height, and density of one matters. We asked nine sleep-product pros to guide us through the various options on the market — and point out the best of each type.
Note: All prices are for a queen-size topper unless otherwise noted.
Best memory-foam mattress toppers
According to Nick Robinson, editor and publisher of sleep-product review aggregator Sleep Like the Dead, "Memory foam [mattress toppers] are the most popular due to the fact that they add comfort and relieve pressure." While some people don't like the "squishy" feel of memory foam, and others might find it traps heat, he says that for most people looking to make their mattress softer, it's a good choice. Keith Cushner, co-founder and general manager of Tuck, agrees that memory foam has nearly universal appeal and says this ViscoSoft topper is one of the best in the category. "It's really solid in terms of durability, the quality of the foam, and the experience all of our testers have had with it," he says. He also likes that it has straps that attach to the bed so the topper won't slide around during the night.
Tempur-Pedic's responsive memory foam has made the brand a favorite for mattresses and pillows, and Sarah Riccio, a senior writer at Sleepopolis, says this topper is "ideal for memory-foam fans." She likes that it's "exceptionally moldable and offers full-body pressure relief for sleepers of all styles." With a 10-year warranty, it's likely to last a long time too.
Fresh from the packaging, a lot of memory-foam toppers have an unpleasant chemical smell. If you're especially sensitive to scent, try this mattress topper recommended by Ben Trapskin, founder of the Sleep Sherpa. "Lucid infused their topper with lavender to minimize that smell and provide a fresh-smelling mattress for many months to come," he says. "This topper has five body zones which provide extra pressure relief in certain areas to help level you out across the mattress and maximize comfort." The textured surface is designed to provide support no matter what position you sleep in.
Savy praises the zoned design of this GhostBed's topper. "The thing is, each zone responds differently to the sections of one's body," Savy says. "Heavier parts sink in, while the rest is supported in a relatively straight line." That's the perfect position for sleeping. So the zones help reduce tension, "which usually means faster relaxation and improved sleep posture." He mentions that a mattress topper like this one would work well for sleepers with back pain for some much-needed extra support.
Robert Pagano, co-founder of Sleepline, uses this Amerisleep topper. Like other memory-foam models, it's made to adjust to your body. But, notably, it comes in two different layer types. Pagano prefers the support version, which is best for those who have back pain and need to firm up their mattress. If you have a too-firm mattress, the comfort option can help make it feel softer, according to Pagano.
[Editor's note: This topper is on backorder and is expected to start shipping later in September.]
Best cooling memory-foam mattress toppers
For those who like the feel of memory foam but tend to sleep warm, Fish likes this gel-infused foam topper that offers medium support and a low-profile, two-inch height. "Some toppers tend to shift over time, which can create quite an uncomfortable sleeping situation," says Fish. "The Nest topper is equipped with straps at all four corners to keep it in place." Besides eliminating the need to adjust the topper during the night, the secure position means it'll also be easier to make the bed with the topper on.
If gel isn't doing the job and you're still sleeping hot or waking up sweaty, Riccio suggests this advanced cooling option that's infused with copper. As she explains, it "serves to dissipate body heat and prevent the foam from warming up." The memory-foam topper gets a cooling boost from its moisture-wicking fabric cover.
Molecule launched in 2018 and differentiates itself from other start-up mattress brands by focusing on "performance" materials that help with rest and recovery for athletes, whether you're a treadmill jogger or Molecule spokesman Tom Brady. This topper uses the same proprietary foam found in the brand's mattresses that optimizes air flow for temperature regulation. It also has a cooling fabric cover that's machine washable. Keith Cushner, general manager of Tuck, says, "I appreciate how temperature-neutral it sleeps compared to many foam toppers."
[Editor's note: The queen size is out of stock and the next available size for this topper is the California king.]
In our guide to cooling mattress toppers, this one was the most affordable memory-foam option. Airbnb host Brandon Lee described this topper as "both dense and well ventilated, offering a cloud-like sleeping experience." The topper comes with a bamboo-rayon cover, which Lee says is "very soft against the skin." And despite its price, Lee told us: "It's a great budget option without sacrificing quality or durability."
Best fiber mattress toppers
Fiber mattress toppers, which are usually filled with materials like polyester, are generally the most affordable type, so Robinson suggests looking for one of these if you're on a budget. They're fairly effective at softening a mattress, but, he cautions, not as much so as memory foam. They'll also require more upkeep. "If you don't maintain them by shaking and fluffing them, they might get compressed or lumpy in some areas," he says. Logan Block, director of content at Sleepopolis, is a fan of Slumber Cloud's breathable fiber topper that's made from long-lasting materials and cools down warmer sleepers.
Although it is a fiber mattress topper, this Japanese-made option is not cheap. Though it's nearly as expensive as buying a new mattress, Trapskin says this is worth it because of its "proprietary design that can't be found anywhere else, and it is made to last." He says the polyethylene fill "creates an ultra breathable and supportive sleeping surface." It's the only totally washable mattress topper, too, as the cover can be thrown in the washing machine and the topper itself can be hand-washed and air-dried.
Best latex mattress toppers
While most mattress toppers are designed to make a firm mattress feel softer, with latex toppers you also have the option of choosing one that'll firm up a soft bed. Another benefit, Cushner explains, is that because latex is essentially a type of rubber, it has "a high point elasticity," or ability to compress in one area without sagging all over, which helps alleviate pressure. "Latex is very quick to respond, which makes it easier to move around on the surface of the bed versus that sinking or 'stuck' feeling you can get with higher density memory foam." Trapskin pointed us toward this all-natural latex topper that's available in both firm and plush options. "The Avocado topper has a certified organic-cotton cover and [New Zealand–sourced] Joma Wool for a fire barrier," he says. "There is a brass zipper at the bottom of the topper, if you want to switch out the firmness of the latex at any point."
Saatva sells a foam topper (as well as a cooling graphite one), but Riccio says the latex option is a standout for offering springy support and a quick response to pressure. It's "filled with American Talalay latex, one of the most durable materials out there. It's breathable, buoyant, and all natural," she says.
Savy is also a fan of this topper, but personally prefers the graphite version, which "manages to combine cradling with cooling." The graphite is designed to draw heat away — a feature that Savy appreciates as he sometimes sleeps warmer than he wants to. When it comes to support, the topper offers a "generous hug," adapting to the body by filling in curves. It lets Savy "feel tension-free even on days when my back was especially stiff."