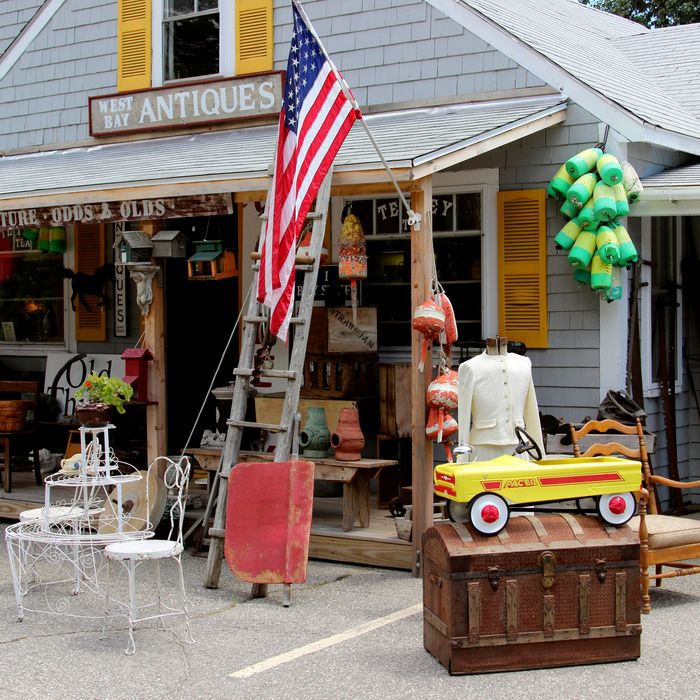 Photo: Getty/Universal Images Group via Getty
At the Strategist, we love a thrifted find. Our former colleague Kayla Levy kept tabs on the free-stuff section of Craigslist; Hilary Reid, our resident Online Thrifter, is a self-proclaimed eBay obsessive; and I'm constantly selling and buying on Facebook Marketplace. We do it not only because we love a good deal, but also because buying secondhand is more sustainable.
Whether you've snagged a gently used Ikea nightstand while stooping, or a worse-for-the-wear sofa at an estate sale, you're saving one more thing from a landfill. We've written about how to find all sorts of secondhand goods, from furniture to used coats, but we haven't answered the question of what you're supposed to do when you find something. There's nothing wrong with pre-owned goods, but they're still pre-owned and likely require a good cleaning, even if it's just for your own peace of mind. Thrifted clothes and linens are a no-brainer to freshen up — just throw them in the washing machine or drop them at the dry cleaner — but reviving furniture isn't so obvious. We reached out to a handful of professional upcyclers about everything they use to clean their thrifted furniture — both upholstered and hard surfaces — and have compiled a handy step-by-step guide below.
For upholstered furniture
Before you bring your furniture home or even consider purchasing it, it's important to check for bedbugs. "We do a thorough inspection of all of our pieces and look for telltale signs like actual bedbugs, carcasses, feces, eggs, shells, odor, etc. If any of these signs present themselves, we do not take on the item — or any other items in the same home," says the duo (who prefer not to be named) behind Rising Geminis, an Atlanta-based Instagram shop that sells flipped furniture. They started their business in October of last year while working on their own renovation, and turned the DIY project into a profit by selling some of the pieces they found while thrifting to help pay for the rest of the room reno. "Soon after, we saw a TikTok about flipping furniture that inspired us to keep doing it as a job and now we're here trying to make a living and help inspire others." They now have a TikTok following of over 200,000 fans and frequently document their Goodwill finds and the often gross, but always satisfying cleaning process, which always starts with, as they say, "derona-ing" the furniture (in other words, disinfecting). "We typically use Microban spray or Lysol spray for this," they add. "This step is just to make sure any germs that could bring that virus into our facility are killed before we start deep-cleaning it."
Geneva Vanderzeil, an Australia-based blogger and founder of Collective Gen who often showcases her upcycle work on TikTok, whips up her own concoction for sanitizing. "I mix a cup of baking soda with ten drops of eucalyptus oil," she says. "I put it in a powder bottle and sprinkle it liberally over the item." She leaves it on for up to two hours and then vacuums it clean.
Speaking of vacuums, both of our experts recommended having one handy for cleaning upholstery. Vanderzeil likes to spot-clean, vacuum, and then deodorize and vacuum again. Rising Geminis reach for the vacuum as their second step, and they're partial to the Bissell Little Green (which is technically more of a carpet cleaner) for a deep clean. "This really helps lift all the stains and dirt left behind on the upholstery," they say. It has a spray and suction function to really pull any stains out of the fabric. On their page, you can see this machine at work and watch the water tank fill up with cloudy black water.
[Editor's note: Stock is variable on the 1400M model, but the almost identical Bissell 1400B is more readily available.]
Bissell makes stain removers and carpet cleaners to put into Little Green, but Rising Geminis make their own solution with hot water and detergent, which they say is the most important ingredient. If they missed anything in the initial check for bedbugs, this solution should take care of it. "Bedbugs cannot survive in water or heat and detergent is toxic to them, so we use a solution when deep-cleaning that has both hot water and detergent in it," they say. Any detergent will work, but they prefer Tide.
If you're not trying to wash the entire thing, Vanderzeil goes in first with just diluted dish soap and a clean sponge for spot-cleaning. This almost seems too simple, but I can personally speak to how effective it is. I bought a white bouclé bench on Craigslist last month and accidentally got some makeup on it when transporting it home. I was sure I had ruined it, but I put a few squirts of dish soap into one cup of water and dabbed the stain with a white washcloth, and it came right off.
For stains that have had more time to settle in, Vanderzeil likes a store-bought stain remover like this carpet cleaner that promises to lift the stain without a vacuum.
To get rid of any remaining smell, she finishes off the job with this eucalyptus spray.
For hard surfaces