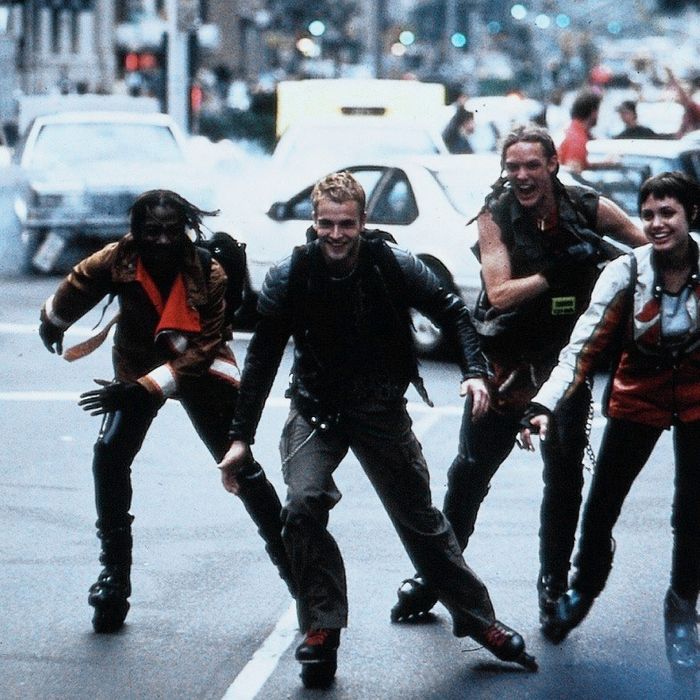 As with so many '90s things, roller-blading is back. Even Chris Evans does it. Even if the last time you strapped on a pair of roller blades (also known as "inline skates") was your eighth-grade best friend's roller-rink birthday party — there are plenty of modern options out there for all experience levels and road conditions. When it comes to investing in a pair of roller blades, there is a surprising amount to consider: the number and size of the wheels, the length of the frame (the part that the wheels are attached to), and the stiffness or cushiness of the boot, which all affect control and maneuverability. To find out which skates are the best for recreational skating, city skating, and more, we talked to eight roller-blading instructors, retailers, and skating enthusiasts about their favorites.
But before we get into their picks, it's important to mention that now, as Teshia Robinson, of RollATL, says, "is definitely not the time to take a trip to the ER. We highly recommend at minimum wearing a helmet to protect against brain injury and concussions." Robinson suggests Triple8 and S1 hard shell helmets, which she says "provide much more protection than a typical bike helmet." In addition to strapping on a helmet, Robinson suggests that if possible, beginner inline skaters first bike the route that they plan to skate, so they can get a sense of the terrain. "New skaters should avoid downhills (even moderate ones, as you can pick up speed quickly and it is difficult to brake) as well as rough or uneven pavement," she says. "Smooth, flat pavement is the best place for new skaters to practice and build the muscles needed for balance and muscle memory for braking."
If you're just learning to skate, there are plenty of resources out there, too. Arnav "Sonic" Shah, a skating instructor and member of the Empire Skate Club of New York, suggests checking out Skate Instructors Association, which includes hundreds of online classes. Shah also cites Alex Shulgan of InMove Skate's YouTube channel (Shulgan also recommends some skates below) as a useful place to find how-to videos, as well as Asha Kirkby of Skate Fresh, who has been teaching skating for twenty years and offers free online lessons. [Editor's note: Many of the skates included below are available only in limited sizes. We will update as more become available.]
Most recommended roller blades
Several of our experts recommended roller blades from K2, a 25-year-old inline-skate manufacturer that also makes helmets and pads (don't forget to get these too!) Page Baker, a doctor of physical therapy and member of the Central Park Dance Skaters Association, says that K2's skates with a Boa closure — which is a dial that tightens laces when you turn it — and 80 mm wheel size make it "much easier to gain velocity, do toe-heel moves, and tricks like the grapevine." Kate Timofeeva, a personal trainer and roller-blading enthusiast, also recommends K2 blades. "The best feature is that they are very comfortable!" she says. Timofeeva also likes that they are "very good quality, affordable for a beginner," and are a stylish option. "They have a nice design and they look smaller on the feet I'd say, not bulky like other ones."
Brian Long, of Shop Task skate shop, also recommends blades from K2 for men and women. He says that the men's and women's models are the same, just with slight fit differences. Both "use a soft boot-style shell, which generally does not give as much support as a harder-shell skate, but makes the skate lighter weight, slimmer and allows for a more precise, accommodating fit." Long describes the Boa lacing system as "an amazing feature" for soft-shell inline skates, which "allows you to turn a dial to tighten the laces, making it very easy to get a nice snug fit." The 84 mm wheels are good for general-purpose outdoor skating, he says, and "big enough to be smooth over bumps and cracks, but not so big that it makes the skate significantly more difficult to control."
Best beginner roller blades
Arnav "Sonic" Shah, a skating instructor and member of the Empire Skate Club of New York, says that "$100 to $200 is what you'd want to invest as a beginner, not anything less than that. Beginner inline skates tend to have more cushioning in them, so they're a little more comfortable off the bat." He recommends blades with a heel brake for beginners, which he says is "super, super important because there are a lot of ways to stop on skates, but as far as it comes to bang for your buck, easy to learn, and being very effective, a heel brake goes a long way." Rollerblade's RB Cruiser skates meet these qualifications, and come recommended by Robinson of RollATL, who says "sometimes basic is best and this skate is definitely a deal." These inline skates can also carry beginners to the next level when they're ready: "The wide boot comfortably fits most foot types, and the frame is removable for upgrading to a more advanced wheel setup in the future if wanted," Robinson says.
Shah calls Rollerblade's Twister Edge a "good intermediate option," noting that intermediate inline skates tend to come without the heel brake included in beginner pairs. Long says that Twister Edges are some of the best sellers in his store, "have a slightly slimmer shell," and can come either with four 80 mm wheels or three 110 mm wheels (typically four wheels are a better choice for a less advanced skater, and a more advanced intermediate skater might want to try three wheels).