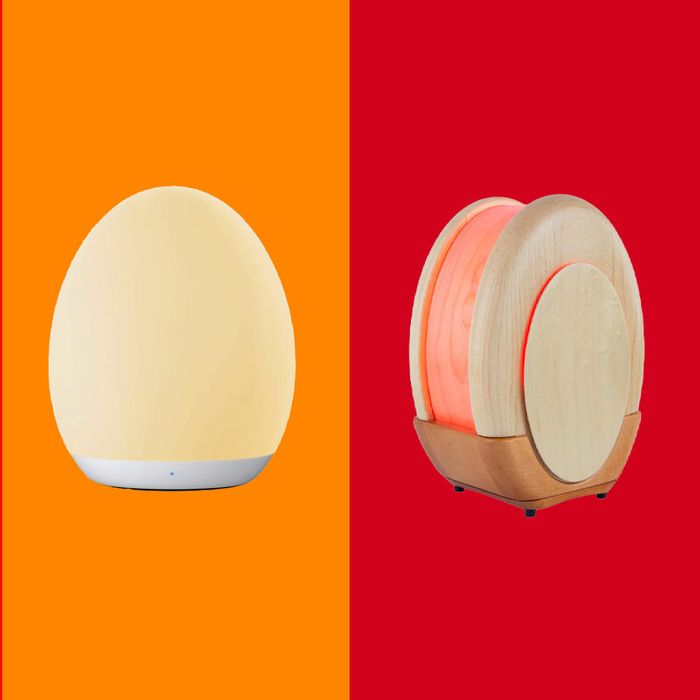 Photo-Illustration: The Strategist; Photos: Retailers
Nightlights are indispensable for parents and makers of late-night trips in dark apartments alike — a good nightlight should, in the words of former Strategist senior editor Anthony Rotunno, glow "just enough to guide me — but not so brightly that it jolts me out of semi-sleep." An inexpensive, plug-in nightlight is often all you need, but a bunch of higher-tech options have hit the market in recent years, with features optimized for a variety of uses: baby monitor, white-noise machine, and portable lamp all in one.
Although not strictly necessary for a nightlight, dimmable light levels allow you to customize exactly how brightly you want your nightlight to glow; some options on this list can even emit enough light to work as a bedside lamp. We've noted which lamps are dimmable and which have a handful of preset brightness levels as opposed to smooth dimming.
Battery-powered, USB-rechargeable, and plug-in lamps all appear on this list. There are advantages to either style — a rechargeable lamp is portable and can live anywhere, whether or not there's an outlet nearby, but it does add the extra task to your queue of remembering to recharge it when it burns out. A plug-in lamp offers less flexibility, but you never have to worry about it running out of battery halfway through a late-night trip to the bathroom or while you're soothing a baby back to sleep.
Depending on your nightlight's intended use, extra features may be helpful — an auto-shutoff, Wi-Fi-enabled controls, even an audio baby monitor. We've listed each nightlight's additional tech capacities; though extra features are nice to have, a simple dawn-to-dusk sensor is more than enough for lighting the way for nighttime trips.
Best overall
Dimmable: Yes | Power source: Rechargeable | Extra features: Made of toy-grade materials; one-hour auto-shutoff
Herman Miller creative director Kelsey Keith listed this egg-shaped nightlight as an item she'd include if she could redo her baby registry: she likes that it's "dimmable, portable, rechargeable, and relatively cheap." It's a great nightlight for any household: The light has a warm white and color-changing mode, and it is made of toy-grade materials so it's especially useful for families with children, from toddlers who gnaw on anything in reach to older kids. "This nightlight didn't sear my eyeballs during bleary-eyed night feedings," Keith writes, and a year later, her daughter was "completely entranced by it as a toy."
Best nightlight for bathrooms
Dimmable: No | Power source: Plug-in | Extra features: Dawn-to-dusk sensor
Rotunno received this inexpensive, color-changing mushroom nightlight as a gift and gives it glowing reviews. "During the day, it looks like a little toadstool sprouting from my wall, but at night, when I turn off the rest of the lights, is when the thing really shines," he writes. It plugs into the wall and comes in five colors, including a color-changing and warm-white option, and has a dawn-to-dusk sensor to shut on and off automatically depending on daylight.
Best character nightlight
Dimmable: Yes | Power source: Plug-in | Extra features: Dawn-to-dusk sensor
"I've had my Miffy nightlight since I moved to my very first big girl apartment in London in September," says Strategist writer Rachael Griffiths. The lamp, shaped like the Dick Bruna children's-book character, "has the perfect nightlight glow for getting cozy in bed and watching a film — it gives the same level of ambience as a few candles, and it's quite simply really, really cute." Strategist senior editor Jen Trolio uses a larger version of the Miffy lamp for her kids; though it's technically a floor lamp, its dimmability means it works as a nightlight as well at a lower illumination. Griffiths especially appreciates a 20-minute dimmer option where the light gradually fades to dark: It's "great if you're partial to a before-bed TikTok scroll but want to stop yourself from lying there for an hour," she says.
Best multipurpose nightlight
Photo: Retailer
Dimmable: Yes | Power source: Rechargeable | Extra features: Sound machine, Wi-Fi enabled, audio monitor, alarm clock
One of our favorite gifts for new moms, the Hatch Rest+ is an all-in-one machine: dimmable nightlight, white-noise machine, audio baby monitor, and gentle, toddler-friendly alarm clock. "If you're looking for a multifunctional gift that will be used daily for years, the Hatch Rest+ is a solid choice," says Miriam Cohen of the blog the Very Best Baby Stuff. The light has warm-white and color-changing settings, and it can be controlled via app. Blogger and author Laura Izumikawa also loves that it's portable: "Our girls fall asleep to it, and we always bring it along with us for trips," she says. "For long road trips, it's easy to just tuck in the back seat to help our kids relax and fall asleep."
Best red-light nightlight
Dimmable: Three brightness levels | Power source: Plug-in | Extra features: Baby-safe varnish
"This red-light-emitting lamp has become one of the most important pieces in our night routine since my daughter was born last fall," says Strategist senior editor Simone Kitchens. The lamp is made of maple and finished in baby-safe varnish, and it emits an array of red-light wavelengths designed specifically to support sleep. It has three brightness levels, which can be selected using a simple and quiet touch control. "Early on, in the first few months, when I was getting up multiple times to feed and change her, we ended up leaving the lamp on all night. I liked being able to peer into the bassinet and check on her without having to use my former nightlight — my blue-light-emitting phone," Kitchens says. "Now, at bedtime, her room is filled with a gentle red light; a calming cue, for anyone really, that it's time to go to sleep."
Best book light
Dimmable: Three brightness levels | Power source: Rechargeable | Extra features: None
For a more analog option, Trolio uses these Hooga book lights, which are clipped onto each level of her kids' bunk beds and could also be affixed to a bathroom shelf or bedside table — or carried from room to room like an old-timey candlestick. Writer Molly McGhee calls the Hooga book light a "true game changer" of a reading light: "The amber hue keeps the blue-light blues at bay," she says. "Plus, I don't wake my partner up while I'm reading, and I can wind down without feeling like I'm staring at a screen."
Best whimsical nightlight
Photo: Retailer
Dimmable: No | Power source: One AA battery | Extra features: None
For a delightfully low-tech option, Pampshade lamps by designer (and former baker) Yukiko Morita are real, hollowed-out bread products with an LED light nested inside. (They're covered in an anti-bacterial and anti-mold coating, so they won't decay or attract pests.) The battery-powered croissant lamp, which diffuses its glow through its laminated sheets of pastry, makes a good portable nightlight; Strategist writer Dominique Pariso also uses the brand's plug-in baguette lamp, below, as her nighttime lighting, along with a 3-D-printed Wooj lamp.
Editor's note: Prices from Yukiko Morita are an estimated conversion of Japanese yen to USD. Shipping to the U.S. is estimated to cost about $25 to $35.
Best star projector
Dimmable: Yes | Power source: Rechargeable | Extra features: Timer
Strategist contributor Chantel Tattoli loves this detailed star projector as a nightlight for her daughter. It's "the economy model by Takayuki Ohira, the planetarium designer who also created the best (most accurate, most starry) home planetarium on the market," which sells for tens of thousands of dollars. "For less than one percent of that price tag, the Homestar Pro produces a high-resolution and surprisingly affecting theater … We may not be under a night sky, but the projection is so soothing we might as well be," she says. The machine comes with two discs, but you can purchase more from the Sega Toys website or on Amazon.
Our experts
• Miriam Cohen, blogger at the Very Best Baby Stuff
• Rachael Griffiths, Strategist writer
• Laura Izumikawa, blogger and author
• Kelsey Keith, Herman Miller creative director
• Simone Kitchens, Strategist senior editor
• Molly McGhee, writer
• Dominique Pariso, Strategist writer
• Anthony Rotunno, former Strategist senior editor
• Chantel Tattoli, Strategist contributor
• Jen Trolio, Strategist senior editor
Some more nightlights we've written about
The Strategist is designed to surface the most useful, expert recommendations for things to buy across the vast e-commerce landscape. Some of our latest conquests include the best acne treatments, rolling luggage, pillows for side sleepers, natural anxiety remedies, and bath towels. We update links when possible, but note that deals can expire and all prices are subject to change.