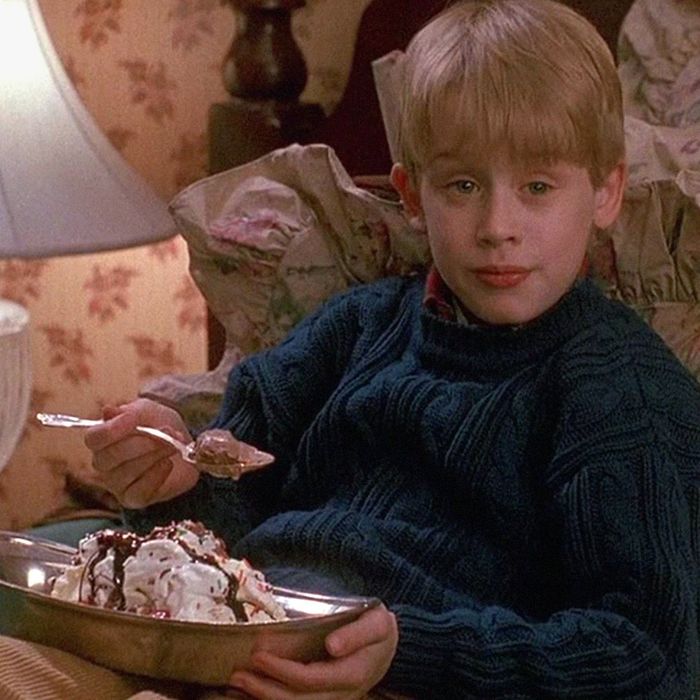 Here at the Strategist, we like to think of ourselves as crazy (in the good way) about the stuff we buy, but as much as we'd like to, we can't try everything. Which is why we have People's Choice, in which we find the best-reviewed products and single out the most convincing ones. (You can learn more about our rating system and how we pick each item here.)
And while we've written before about all sorts of kitchen appliances — including the best immersion blenders, bread machines and stand mixers — here, we've rounded up the best ice-cream makers as praised by the most enthusiastic reviewers on Amazon.
Best-rated ice-cream maker
Close to 4,000 verified purchasers weigh in to give this 1.5-quart Cuisinart ice-cream maker five-stars. "This machine is ridiculously easy to use," writes one reviewer, adding — along with dozens of other reviewers — how convenient it is that "you don't have to stock up on ice or rock salt." As they explain, "All you have to do us turn it on, pour your ingredients into the frozen core, wait about twenty minutes and eat your delicious homemade ice cream." Many praise the compact size of the ice-cream maker and its "freezer bowl," including one purchaser who says, "The bowl fits perfectly into my freezer so I am just leaving it there so it's always ready." As one satisfied reviewer writes, this ice-cream maker hits all the marks: "Cleanup is easy, the motor is powerful, and the tub holds enough ice cream to satisfy several people while still being small enough to fit easily into most freezers." Many purchasers also share how much they enjoy using this machine to make their own homemade ice cream. "You'll be proud as a brand-new parent after you make your first batch," writes one.
Best-rated (less expensive) ice-cream maker
About 70 percent of this ice-cream maker's reviewers gave it five stars, with many highlighting its large output. "I love that it makes a four-quart batch," writes one, adding, "If you're going to go through the process of making it you might as well have lots of ice cream." Many purchasers also mention enjoying the fact that while there are plenty of high-tech ice-cream makers available, they like that this one is more "old fashioned." As one notes, "I have always wanted an old-fashioned ice-cream maker like my grandparents had in my childhood … I tried an electric countertop [type] that didn't require ice and salt and it just wasn't the same. [This] is an amazing value and it made my grandfather's delicious homemade vanilla ice cream exactly as I remembered it." Another praises how "fun" it is to use: "I felt like a kid again, adding the rock salt and waiting for the first taste. The machine churned out three batches of ice cream in under an hour, each batch silky smooth and ready for our add-ins. Much easier than the old crank style, but just as much fun."
And now, some micro-picks for every type of ice-cream maker you might be looking for
Best automatic ice-cream maker
"We were able to take it out of the box, wash, and start making ice cream within minutes. It is simple to use, just like a crockpot with plug and play operation." Many purchasers laud the simple, automatic operation of this Hamilton Beach ice-cream maker. As one writes, "You set it up, walk away, and in no time you've got ice cream." Another adds, "Worked great right out of the box! SOOO simple to use, instructions explain everything. Plug it in, turn it on and it slows to a stop when it's ready. This one's got it down to a science."
Best easy-to-clean ice-cream maker
This brushed-steel two-quart Cuisinart ice-cream maker is one of the more popular machines available on Amazon, with over 2,300 five-star reviews. In addition to vouching for how well it makes ice cream, many reviewers also praise it as "easy to clean." "The appliance itself is made of just four parts," notes one purchaser, adding that it's "very easy to clean in warm soapy water." Or, as one satisfied customer explains, "Rinse the top, lick the beater then clean it immediately, and once all the ice cream is scooped out, wash the bowl and place it back in the freezer." And another benefit of simplified cleanup is that making ice cream becomes less daunting: "Because the machine is easy to use and to clean, we have been making one batch of ice cream each week."
Best old-fashioned ice-cream maker with motor
This ice-cream maker has the look of an old-fashioned wood-bucket ice-cream maker, but as one reviewer notes, "Don't let the old-style appearance fool you: This has all the modern conveniences and a self-churning motor. Make new memories and pass on the fun we had as kids, without the hand crank." Another purchaser echoes that sentiment, writing, "It reminds you of the old-fashioned hand-crank ice-cream makers [but] without all the work." Many describe this ice-cream maker as striking a balance between form and function. One reviewer points to the fact that the wood-barrel exterior is lined with plastic, calling it "the best of both worlds for durability and visual appeal."
Best durable old-fashioned ice-cream maker