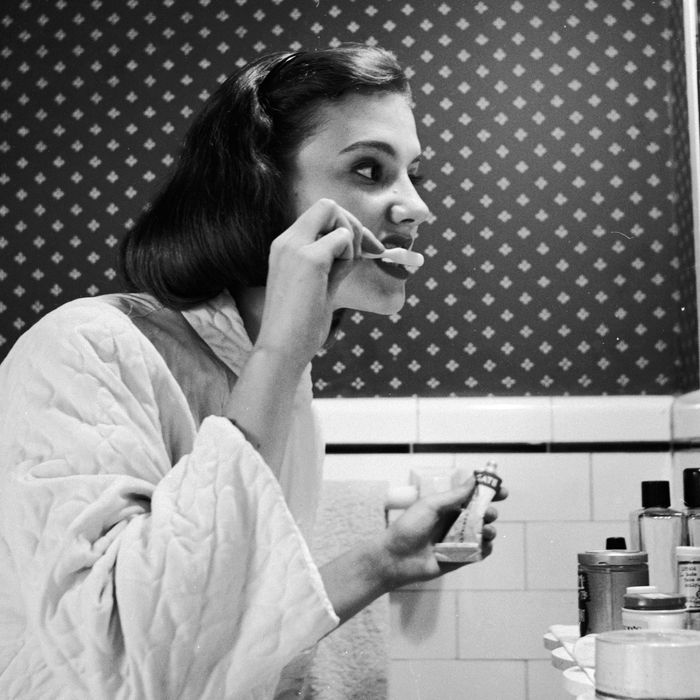 Photo: Three Lions/Getty Images
"They have your special toothpaste at Ricky's," a friend texted me recently, and though she couldn't have known it, my heart stopped.
It's true that I've been tweeting maniacally about the toothpaste I've come to think of as my own for the last six months, and also true that I myself saw it a few weeks ago at C.O. Bigelow for the insane sum of $16, but was I really ready for my toothpaste to become the toothpaste?
"It's Marvis, right?" asked my friend.
Reader, I breathed a sigh of relief, for the toothpaste I worship is NOT Marvis, or even that one from Bergdorf Goodman with the snakes on the package. It's called Euthymol, and at this moment can only be reliably purchased in the U.K. or on the internet, though I can't imagine it will remain secret for much longer.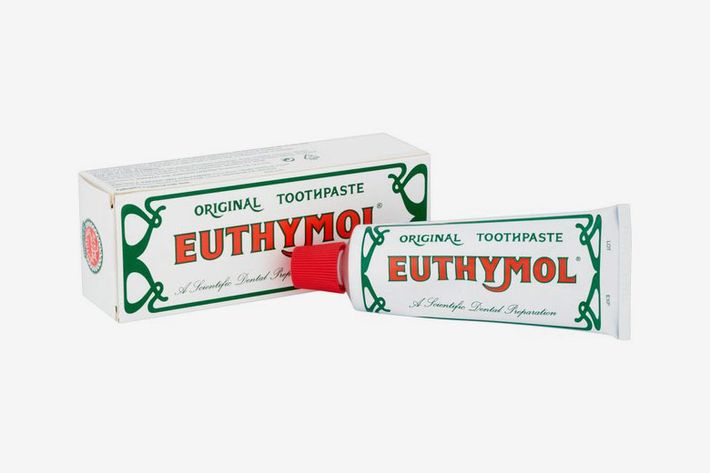 Officially distributed in the U.K. by Johnson & Johnson, Euthymol has no web presence aside from a Facebook group called "Fans of Euthymol." A few years ago, the company's brief discontinuation of Euthymol actually caused a run as panicked Euthymol lovers started buying it off of the online black market. Even its Facebook fans (I'm a member, obviously) don't know much about the toothpaste's provenance — that it's been around since the late 1800s is pretty much all anyone can figure out.
Euthymol is touted as "naturally antiseptic," and the thymol — a compound derived from thyme — responsible for those properties also gives it a flavor that I love and many people on the internet hate. Some Amazon reviewers have compared it to Pepto-Bismol, though I think that's on account of the fact that Euthymol, like Pepto, is bright pink. More on the mark are the people who compare it to root beer, and indeed, there is something pleasingly herbal medicine–y about it: Like if Fernet Branca were spiked with the most delicate whisper of spearmint.
I can't lie and say that any of this is what made me pick up a tube on a recent visit to England — that, of course, was because the packaging makes it look like something a cheerful WWI-era nurse would have in her supply kit. Since I discovered Euthymol, a not-insignificant portion of my social media has been dedicated to talking about it. For Christmas, I requested (and received) a stocking filled with Euthymol. I'm now down to four tubes, meaning my stockpile will soon need replenishing.
Note: A single tube costs $9, but it's much more economical to buy them three at a time for $15 if you're willing to take the leap (you won't be disappointed).
That Bergdorf toothpaste with the snake? It just so happens to be Courtney Love's favorite: "Buly is a redone apothecary in Paris that opened in New York earlier this year. The products are amazing and the packaging is just beautiful on this toothpaste."
Photo: StevanZZ/Getty Images/iStockphoto
Writer Jen Doll swears by her dentist-approved whitening toothpaste: "Unlike traditional whitening toothpastes that use peroxide, Opalescence removes surface stains (up to two shades in a month) by scrubbing them away with silica. But — and this is key — it's not so abrasive that you can't use it every day. Not to get too wonky, but the toothpaste has a relative dentin abrasion of 90, which is lower (meaning less abrasive and better on tooth enamel) than both Colgate and Crest Whitening — and just a hair lower than Aquafresh Sensitive."