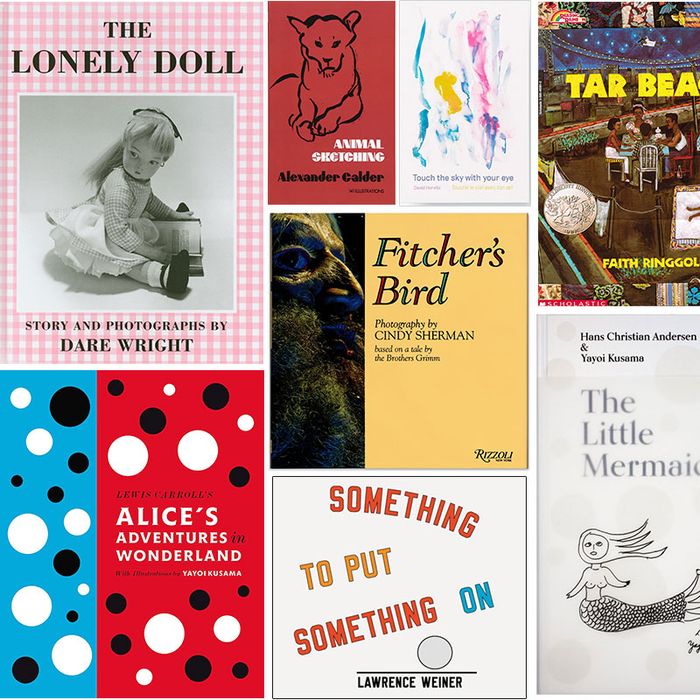 Photo: Courtesy of the retailer
As a writer​, ​small publisher, ​and mother of two small boys, ​I read a lot of stories. But there's a particular kind of bedtime story that I inevitably position on top of the pile: children's books from artists.
We often compartmentalize art for adults and art for children, but that's a mistake. I've discovered that the same artists whose work speaks to me within, say, the walls of a small gallery are also able to connect with kids in an intimate storytelling setting. There's actually a tradition of this that includes Salvador Dali's Alice's Adventures in Wonderland (1969), David Hockney's Six Fairy Tales from Brothers Grimm (1970), and Faith Ringgold's Tar Beach (1996). In my opinion, contemporary artists should be creating more books for spongy young minds — especially because we parents will end up reading them out loud four consecutive times a night.
When asked to explain to someone what I do all day, my older son once said, "She's a mom, a worker, and a bookmaker​.​" I guess​ that ​makes me an authority on these things. Below is ​a list​ of children's books by artists whose reputation extends beyond the bunk bed. Incidentally, all of these would make wonderful birthday or holiday gifts — for parents and kids who might have Carle and Boynton fatigue. Some ​are ​harder to find than others,​ but​ most ​are now ​available online. This reminds me of when my son also good-naturedly trolled me: "Can you go viral with books?" I like to think of an extended network of kids all thinking about these same bedtime stories.
It makes perfect sense that Yayoi Kusama would create a wonderland of spotted mushrooms for Lewis Carroll's classic, red and white, but purple and yellow too. Meanwhile, Kusama's black-and-white illustrations for the dark original The Little Mermaid by Hans Christian Andersen were pulled together by the Louisiana Museum of Modern Art in Denmark from her Love Forever series (2004-2007).
Perhaps most well known among Picasso's own pets was a dachshund named Lump, although there was also cigarette-smoking Monina the monkey. This book has photographs, drawings, and stories of the animals in the painter's life. It is not explicitly a children's title, per se, but it certainly looks like one and can be enjoyed as one.
This board book of similar animal line drawings is intended for children. A single line turns into both penguin and rooster on facing pages. Later on, a preening flamingo and baby chicks. In another spread, a thinly sketched fox is vis-à-vis a pack of drawn bunnies, as if the very same line has transformed into each creature throughout.
I love the black-and-white etchings made to accompany each of the six stories chosen from the classic collection. This includes a lovely line drawing of a boy in bed with a splash of paint, entitled "Cold water about to hit the Prince" from the lesser known, "The Boy Who Left Home to Learn Fear."
Another Brothers Grimm tale, this time a photographic fictional narrative realized by Sherman in 1992. The story revolves around a bad wizard that dresses up as a beggar to kidnap beautiful girls. Beyond the obvious scary undertones, this is a tale of cunning sisters battling the patriarchy and helping one another.
A line from poet and activist Maya Angelou's poem that serves as the text in this book reads, "I've got a magic charm / That I keep up my sleeve." Another reads, "Strangers in the dark / No, they don't frighten me at all." This line is paired with a painting by Basquiat of a bipedal bear raising its arms with a thick white trail of teeth. This book pairs separate, preexisting work from two well-known figures in their respective worlds. Putting Angelou and Basquiat together in this way is to the credit of editor Sara Jane Boyers.
These books are small-scale paperbacks with bright marker-and-pen drawings and layered narratives. Toward the end of The Furious Hamster, Cytter writes, "And, children, if you want to know where they went, who they met and what they looked like, you will have to learn to read tiny letters that usually appear in books for teenagers and adults." The Israeli author and writer makes video and performance art, but she's written novels and poetry, as well.
The Pop Art master made an expansive and diverse body of work that included an early stint as an illustrator in the late '50s for Doubleday's series of children's books. Warhol created the drawings for No. 15 in The Best of Children's Books Series, a story called The Little Red Hen in which the lead character is an elegant flamingo-pink chicken. He did the drawings for five other editions, including No. 27 in the series, the black-and-red pictures for Card Games are Fun. These can be found online in inexpensive used anthologies. Three years ago, Thames and Hudson put out a previously unpublished children's book written and illustrated by Warhol called The Autobiography of a Snake. Perhaps not surprisingly, it's the story of a reptile trying to succeed in '60s society.
This is not a straightforward storybook, rather an introduction to conceptual and text-based art. In Weiner's orange, red, and blue typography, he asks, "A table is something you put something on / Isn't a table something? / Isn't everything something?" The reader is asked to consider the abstract nature of an object, even one such as a book. The illustrations are mostly lines, circles, and letters — text as still life, words as artwork.
This book was commissioned by the Serpentine gallery as part of Chan's 2007 show. The beloved multi-hyphenate author is himself a sometime publisher (Badlands Unlimited) and writer who often plays with literary and philosophical references in his own work. This softcover limited edition includes footnotes to Nietzsche and Google, among others. The cover line reads, in parentheses, "strictly for children," meaning exactly the opposite. On one page, the young Wanda says to the shadow, "You are the night of my world." To which the shadow replies, "Silly, the world shines anew in the dark." There is, of course, an accompanying footnote that discusses Hegel.
The Harlem-born artist and activist Ringgold's first solo show at a European institution opened this past summer at the Serpentine. She began as a painter and then started working in story quilts, soft sculpture in bright fabrics telling the tale of Cassie Louise Lightfood. Here, they are transferred to the printed page. The 8-year-old who's living in Harlem in 1939 flies through the sky, arms spread in a yellow dress with a big red bow, three braids tied with the same color ribbon. The bottom border is from the original quilt. "I will always remember when the stars fell down around me and lifted me up above the George Washington Bridge," the text reads. The original piece was made in 1988 and is now in the permanent collection of the Guggenheim.
Like Picasso's Animals, this is a compendium of sketches from a masterful sculptor that can be shared with children. It is intended as a kind of guide for students learning to draw various poses. I love that it is an affordable, widely-available reproduction of an original from the late '20s.
I would feel remiss not including this iconic photo narrative of an apron-wearing doll named Edith and Mr. Bear. The book is the first in a series by artist-photographer Dare Wright, which has become known for both its subversive story (one spread features the said doll gagged) and particular aesthetic: pink-and-white gingham cover and black-and-white posed photos. It's inspired an intense mix of feeling in a generation of creatives (Kim Gordon talked about it in this Times article). Still, its cult following doesn't seem to be waning anytime soon with a movie in the works (reportedly to be directed by Gia Coppola).
A collection of beautiful watercolors with text in both English and French. There is a beautiful image on Instagram of Horvitz using found scallops shells as the paint dishes while working on this very book. This too is about the ABC's, but a long-form poem with ideas for actions or playing pretend in relation to each letter.
This catalog of drawings the artist did of his wife alongside text about her is not explicitly intended for children, but its short prose and layout lend themselves to this list. It's a love letter to Katz's wife, the subject of many of his paintings. My favorite anecdote tells the story of Katz and Ada in a gallery, where he remarks, "That's the best Ellsworth Kelly I ever saw." She replies, "You've got to be kidding." And when she goes to the desk to look at the checklist, it, indeed, turns out to be Malevich.
A revolutionary book when it was first released in 1922 by a left-leaning publishing house run by Russian Symbolist poets. New printing technology allowed Lissitzky to experiment with spacing and fonts. He tells the story of two squares, a red one symbolizing Communism and a black one for Suprematism — effectively the artist Kazimir Malevich's work Black Square, made in 1913. The book introduces an abstract allegory to young minds — whether or not they understand its many meanings is not so important. The story ends with ellipsis, asking the reader to invent her own story of a post-conflict world.
This is a project close to me, a book I co-published as the first in a series of seven children's books by contemporary artists. It's equal parts mixed-up abecedarian, bestiary, exhibition catalog, and children's book. The alphabet borrows from the first letter of a series of Baldessari's animal emoji paintings reproduced as a nonlinear narrative in half digi-speak.
The Strategist is designed to surface the most useful, expert recommendations for things to buy across the vast e-commerce landscape. Some of our latest conquests include the best acne treatments, rolling luggage, pillows for side sleepers, natural anxiety remedies, and bath towels. We update links when possible, but note that deals can expire and all prices are subject to change.