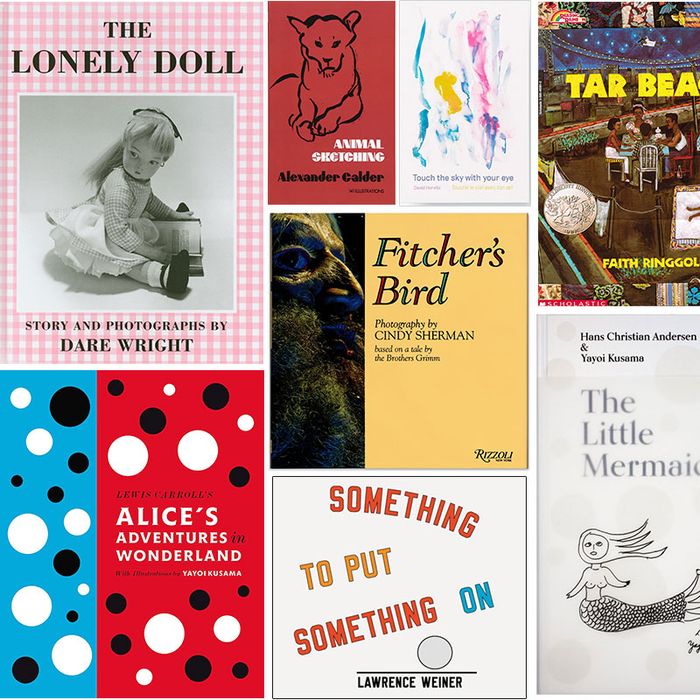 Photo: Courtesy of the retailer
As a writer​, ​small publisher, ​and mother of two small boys, ​I read a lot of stories. But there's a particular kind of bedtime story that I inevitably position on top of the pile: children's books from artists.
We often compartmentalize art for adults and art for children, but that's a mistake. I've discovered that the same artists whose work speaks to me within, say, the walls of a small gallery are also able to connect with kids in an intimate storytelling setting. There's actually a tradition of this that includes Salvador Dali's Alice's Adventures in Wonderland (1969), David Hockney's Six Fairy Tales from Brothers Grimm (1970), and Faith Ringgold's Tar Beach (1996). In my opinion, contemporary artists should be creating more books for spongy young minds — especially because we parents will end up reading them out loud four consecutive times a night.
When asked to explain to someone what I do all day, my older son once said, "She's a mom, a worker, and a bookmaker​.​" I guess​ that ​makes me an authority on these things. Below is ​a list​ of children's books by artists whose reputation extends beyond the bunk bed. Incidentally, all of these would make wonderful birthday or holiday gifts — for parents and kids who might have Carle and Boynton fatigue. Some ​are ​harder to find than others,​ but​ most ​are now ​available online. This reminds me of when my son also good-naturedly trolled me: "Can you go viral with books?" I like to think of an extended network of kids all thinking about these same bedtime stories.
It makes perfect sense that Yayoi Kusama would create a wonderland of spotted mushrooms for Lewis Carroll's classic, red and white, but purple and yellow too. Meanwhile, Kusama's black-and-white illustrations for the dark original The Little Mermaid by Hans Christian Andersen were pulled together by the Louisiana Museum of Modern Art in Denmark from her Love Forever series (2004-2007).
Perhaps most well known among Picasso's own pets was a dachshund named Lump, although there was also cigarette-smoking Monina the monkey. This book has photographs, drawings, and stories of the animals in the painter's life. It is not explicitly a children's title, per se, but it certainly looks like one and can be enjoyed as one.
This board book of similar animal line drawings is intended for children. A single line turns into both penguin and rooster on facing pages. Later on, a preening flamingo and baby chicks. In another spread, a thinly sketched fox is vis-à-vis a pack of drawn bunnies, as if the very same line has transformed into each creature throughout.
I love the black-and-white etchings made to accompany each of the six stories chosen from the classic collection. This includes a lovely line drawing of a boy in bed with a splash of paint, entitled "Cold water about to hit the Prince" from the lesser known, "The Boy Who Left Home to Learn Fear."
Another Brothers Grimm tale, this time a photographic fictional narrative realized by Sherman in 1992. The story revolves around a bad wizard that dresses up as a beggar to kidnap beautiful girls. Beyond the obvious scary undertones, this is a tale of cunning sisters battling the patriarchy and helping one another.
A line from poet and activist Maya Angelou's poem that serves as the text in this book reads, "I've got a magic charm / That I keep up my sleeve." Another reads, "Strangers in the dark / No, they don't frighten me at all." This line is paired with a painting by Basquiat of a bipedal bear raising its arms with a thick white trail of teeth. This book pairs separate, preexisting work from two well-known figures in their respective worlds. Putting Angelou and Basquiat together in this way is to the credit of editor Sara Jane Boyers.
These books are small-scale paperbacks with bright marker-and-pen drawings and layered narratives. Toward the end of The Furious Hamster, Cytter writes, "And, children, if you want to know where they went, who they met and what they looked like, you will have to learn to read tiny letters that usually appear in books for teenagers and adults." The Israeli author and writer makes video and performance art, but she's written novels and poetry, as well.
The Pop Art master made an expansive and diverse body of work that included an early stint as an illustrator in the late '50s for Doubleday's series of children's books. Warhol created the drawings for No. 15 in The Best of Children's Books Series, a story called The Little Red Hen in which the lead character is an elegant flamingo-pink chicken. He did the drawings for five other editions, including No. 27 in the series, the black-and-red pictures for Card Games are Fun. These can be found online in inexpensive used anthologies. Three years ago, Thames and Hudson put out a previously unpublished children's book written and illustrated by Warhol called The Autobiography of a Snake. Perhaps not surprisingly, it's the story of a reptile trying to succeed in '60s society.