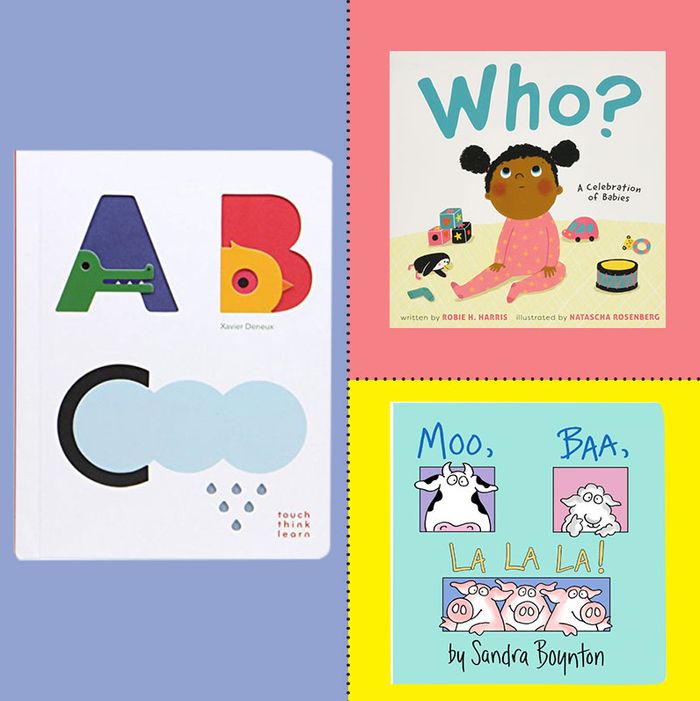 Photo: Courtesy of the retailer
It's never too early to start reading to your baby, says Emma Straub, author and owner of Books Are Magic in Brooklyn. Parenting may be fraught with second-guessing yourself, but she says that "the one parenting thing that I know did well was reading to my children from the second they were born." Even if you think they're not listening, they are. "They're looking and they're learning," says Straub, who notes there's also no wrong way to read a book to a brand-new baby. "You can skip as many words as you want until the child is old enough to know the whole thing by heart, and then they will call you on it. But until then, you can say literally any words that you want."
Everyone knows about classics like Margaret Wise Brown's Goodnight Moon and Eric Carle's The Very Hungry Caterpillar. But those are just the tip of the baby-book iceberg, and we wanted to know what else is out there, especially for the littlest of newborns whose eyesight is still developing. So, to find the best and most unexpected baby board books (or smaller books with thicker pages meant to withstand grabby hands), we spoke to 11 experts, including Straub; Maggie Pouncey, co-owner of Stories Bookshop and Storytelling Lab; Barry Coe, Strand's children's book buyer; Lynn Lobash, New York Public Library's associate director of reader services; Vina Castillo, co-owner of Kew & Willow Books; Lexi Beach, owner of Astoria Bookshop; Caitlyn Morrissey, manager of Bank Street Bookstore; Lauren Paris, manager of Book Culture on West 112th Street; Rebecca Fitting, head buyer and co-owner of Greenlight Bookstore; Jordan Nielsen, children's book buyer at Powerhouse Arena and Powerhouse on 8th; and Rachel Payne, coordinator of early childhood services at Brooklyn Public Library. As always, each book comes recommended by at least two experts, but we included a few runners-up in each of the categories to round out the list. [Editor's note: After publishing this piece, we realized we could have done better in directing readers to those booksellers who recommended titles, and have updated our where-to-buy links accordingly.]
T

h

e

b

e

s

t

h

i

g

h

-

c

o

n

t

r

a

s

t

b

o

a

r

d

b

o

o

k

f

o

r

b

a

b

i

e

s
High-contrast books are best for the youngest babies who are still developing their eyesight and the ability to see color. There's an entire category of board books specifically created for this stage that feature bold, graphic patterns in black and white, and sometimes other colors like red. Tana Hoban's Black & White is one of them, and it comes recommended by two of our experts. "When brand-new in this world, everything is seen in black and white, so Hoban's bold yet simple graphic style is really great for babies," says Greenlight's Fitting. "I love this one in particular because it's not traditional book format; it's one long accordion-style foldout that can stand up and surround a baby that is too new in the world to even be able to hold a book but gives them interesting things to stare at." The Strand's Coe agrees: "The accordion style would be perfect for a child either crawling or doing tummy time, or even just, like, lying down."
Runner-up
If you're looking for a black-and-white book with more of a narrative, try this simple board book by Nikki McClure that came recommended by Bank Street Bookstore's Morrissey. "High contrast illustrations are great for the developing vision of the youngest babies," she says. "These exquisite black-and-white paper cuts illustrate a mama teaching her baby kitten life skills."
T

h

e

b

e

s

t

b

o

a

r

d

b

o

o

k

t

o

i

n

t

r

o

d

u

c

e

b

a

b

i

e

s

t

o

c

o

l

o

r

s
Here's another book that focuses on color instead of words. Recommended by Astoria Bookshop's Beach and Brooklyn Public Library's Payne, this board book features translucent die-cut circles that can be held up to the light for an interactive experience. "I think it works well for very young children and babies that are often obsessed with light," says Payne. "It's also great for older kids who think that they've outgrown board books, because it does something innovative. It's a great one to hold up to a window, or a lamp, as you read with your baby and explore that." Beach agrees: "The illustrations and simple text in this die-cut board book are gorgeous on their own, but the translucent colored circles make it something magical."
Runner-up
Coe also recommends this colorful board book by Akio Kashiwara. Similar to Hoban's book, Baby Sees Colors! is illustrated with high-contrast images, but this time in color. "Each high-contrast page shows a different kind of pattern, like a snake that's shaped into a spiral, and a whole watermelon that's striped. And then there's a page with rain, which is just dots and lines and a simple frog illustration. I've seen kids being engaged by it."
T

h

e

b

e

s

t

b

o

a

r

d

b

o

o

k

t

o

r

e

a

d

a

l

o

u

d

t

o

b

a

b

i

e

s
When it comes to board books that are great to reading aloud to your baby, both Straub and Payne recommend this one by Sandra Boynton. "In terms of my just absolutely entry-level immediate favorite, there's nobody better than Sandra Boynton," says Straub. "Her books are bright and colorful and they rhyme. [This one is] probably my absolute favorite. It's funny; it's goofy. And just joyful. It is ridiculous and fun. Payne agrees, calling it one of her all-time favorites. "It's been around forever — they even made an app out of this book because it's so delightful — and it employs the 'Three R's' which help children develop language: rhythm, rhyme, and repetition," she says. "It's also just a really fun read-aloud about singing pigs and different animal noises. It's one of those books that doesn't get old if your child wants to read it to you for the 300th time, because it's short and delightful, all at the same time."
Runners-up
If you're looking for another book to read aloud, Morrissey recommends this by Robie Harris, who usually writes for older kids. "Brightly colored drawings help introduce us to babies in all sorts of families," she says. Bonus: "The gentle repetition helps with language development, and makes for a great read-aloud."
This book by Japanese illustrator Taro Gomi (author of the classic Everyone Poops) also has a repetitive sentence structure that's great for reading aloud to your little one. It came recommended by Pouncey, who says: "It's about a girl who says, 'I learned to run from my friend the horse, I learned to jump from my friend the monkey.' It repeats this structure, and when I would read it to my sons, it became a kind of guessing game. I would read the first part, and then they would fill in the blank."
This board book was recommended by New York Public Library's Lobash. A bilingual read-aloud with simple sentences in Spanish and English, "it introduces baby to some Spanish words, [while] proving that love is the same in every language," says Lobash.
T

h

e

b

e

s

t

i

n

t

e

r

a

c

t

i

v

e

b

o

a

r

d

b

o

o

k

s

f

o

r

b

a

b

i

e

s
Three of our experts recommend Xavier Deneux's TouchThinkLearn series of board books, with two of them specifically calling out ABC. Deneux's simple but ingenious books feature illustrations cast in die-cuts that fit into cut-outs on the opposite page, creating a dynamic reading experience for children. "A gifty big brick, this alphabet book plays with letters, shapes, and texture," says Fitting. "It's high-concept design in a way parents admire, but simple and accessible in a way that children enjoy, so it works for everyone." Powerhouse's Nielsen agrees, saying, "This oversize board book is particularly eye-popping. Design-minded adults will appreciate Deneux's clean, sophisticated minimalism and whimsy." Strand's Coe also likes Deneux's board books. "The different kinds of patterns, colors, and simple lines are very appealing to young infants or toddlers who are doing tummy time with their parents," he says about Wild Animals, another title in the series.
A lot of board books for babies have an interactive element to them, like flaps that lift to reveal an image, which "helps a baby stay engaged before they are ready for a true story," says Bank Street Bookstore's Morrissey. Where's the Astronaut?, which is part of a series by Ingela Arrhenius, came recommended by Pouncey of Stories Bookshop and Coe. And Morrissey recommended another book in the series called Where's the Zebra?. "The books have a repetitive structure, where it's like 'here it is!' You lift this very brightly colored felt flap, and it has a really nice tactile quality, too. Her illustrations are just beautiful and bright. And the newest one in the series is Where's the Astronaut?, which is fun because it's the 50th anniversary of the moon landing," Pouncey says.