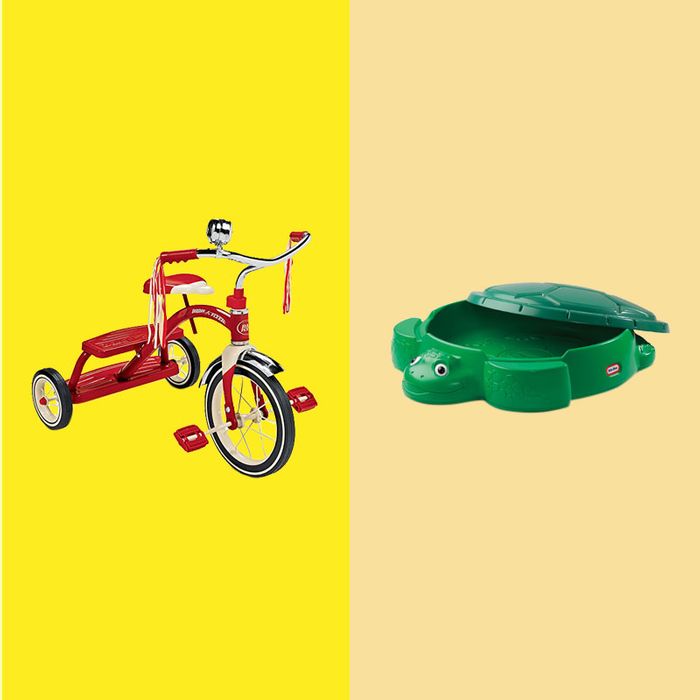 Photo-Illustration: The Strategist
Outdoor toys are fun to play with any time of year, but once summer really hits, having a healthy stock of swings, scooters, water balloons, and bubble machines is essential to making sure kids stay entertained outside. And since perennial favorites like kiddie pools and bikes were especially hard to get last year thanks to supply-chain issues, there's a good chance that you and your family are in the market for some new outdoor toys right now. So we set out to determine: What are the best ones?
To find out, we gathered suggestions from a slew of experts: child psychologists and toy insiders, children's librarians and Little Gym owners, kids and parents (including one writer of this story, Steven John, a father of two who maybe knows a little too much about playing T-ball and blowing bubbles). The following list breaks down the most highly recommended outdoor toys by age: 2 through 4, 4 through 6, and 6 through 10. They range from TK to an ATV-style roller coaster; a foam pogo stick to a geometric dome climber; a polished aluminum gardening set to suction-cup archery. Many of these products are classics, several are new within the past few years; some are portable enough for you to take along to the park, others require your own private outside space. In almost every case, though, they have educational and developmental benefits, in addition to letting kids get dirty and run wild.
For ages 2 through 4
Best overall outdoor toy
"They're just a bunch of balloons," says Jim Silver, CEO of toy-review company TTPM. But that simplicity seems to be the reason three of our experts (including John) have such high praise for them. You simply attach the balloon bunch to a hose, turn it on, and, in Silver's description, "you have some 40 water balloons that are filled up in a few seconds." They even self-seal once full. Adds Laurie Schacht, chief toy officer with the Toy Insider: "These are the original and best-selling water balloons." She reiterates the fact that "they let you fill and tie dozens of balloons in seconds," which saves parents time and keeps the kids in motion (and playing independently). Also noteworthy: The small balloons are the perfect size for toddler hands, and because they're soft-sided, they won't cause injury even with the occasional head-shot. And, of course, they're a great way for kids to stay cool on a hot day.
Best sporty outdoor toy
As far as sports go for the toddler-to-preschool set, there's nothing quite like classic T-ball. "Children at these ages love to master new skills, and using a large bat to hit a ball off the tee is a fun challenge for them," says child psychologist Dr. Nicole Beurkens. "It works on age-appropriate gross motor skills and eye-hand coordination, and can be played alone or with others." Dr. Lee Scott, chair of the advisory board for the Goddard School, seconds the point about collaboration: "What's fun is that children can use it to play so well together," Scott says. Plus, "it allows kids to use different sized balls, so both younger and older kids can feel success." And also: "Kids can try different balls to see, 'Hey, how far does it go?' So you can kind of make it more for even teaching science and math skills using distance, measurement. It goes beyond just fine and gross motor stuff." That said, T-ball is still great for motor development, as Scott says, "because little children often have trouble with hand-eye coordination," and T-ball helps them get gradually accustomed to hitting a ball with the bat. "It's a great starter for sports."