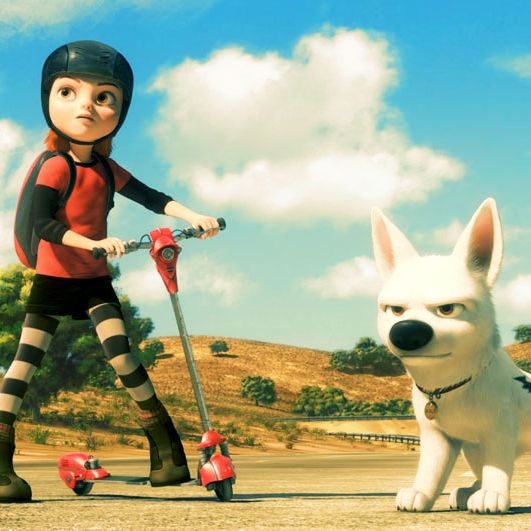 Whether they're going around the block or around the driveway, all kids can benefit from a kick scooter. (And we do mean kick scooter; electric scooters, according to the American Academy of Pediatrics, are only for those with a driver's license.) David Jacobson at Fit Kids, a nonprofit organization that provides structured physical-activity programs for kids in underserved communities, says scooting helps kids "build fitness skills, such as balance and hand-eye coordination, and when done vigorously, it provides a great cardio workout." Plus, according to Kristin Ernest, assistant professor of pediatric sports medicine at Texas Children's Hospital, the Woodlands, scooting trains the body "differently than a bike." Chris G. Koutures, pediatric and sports-medicine specialist at ActiveKid in Anaheim, California, adds that "scooters can be used in smaller, confined spaces more than bicycles."
When it comes to choosing a scooter, your child's age is less of a factor than their agility: "A child who can stand on one foot, hop on one foot, and skip is probably ready," Koutures says. First, determine if you want a two- or three-wheeled scooter (that's a scooter with two wheels in front for stability, and one in back). Small kids and those who've never ridden a scooter or a bike should probably start with three wheels. Next, think about wheel size: Small wheels make a scooter more agile and easier to handle, and large wheels provide more stability and speed. Once you've decided on these, you can consider other factors, like the scooter's braking system, what it's made of (aluminum holds more weight), and whether you want it to be foldable (you do). The choices abound, but as with any wheeled activity, don't forget the helmet.
After speaking with seven experts, here are our picks for the best kick scooters for kids.
Best scooters for toddlers
For kids just getting started in scooting, the B1 is a great option. It's less expensive than most scooters — which is good, considering how quickly kids tend to move on from hobbies — and it has the "good control" Ernest recommends. According to Jen Tetrick at Decathlon (the company that makes the B1), this scooter was designed to "help kids find balance and learn how to manage speed and steer. It's stable enough that they can put both feet on the base and be pulled by parents." (For whatever reason, the B1 is sold without a deck, which is necessary to ride it. Choose the color you want and they'll give it to you for free. You just have to remember to add it to your cart.)
Danielle Parde from Fat Brain Toys calls this "a perfect first scooter." The wide rear wheel and grippy deck provide extra stability as your child both leans and steers to turn. Compared to a traditional straight handlebar, the curved bar gives kids more room to find their center of gravity. The large rear foot brake is easy to use, too.
Best three-wheeled scooters for kids
Parde likes this option for bigger kids. It's got the same lean-to-steer, three-wheel design as the Cruze, along with a sturdy aluminum frame, adjustable handlebars, back-wheel braking, and nonslip-grip handles and deck.
This scooter lets you adjust the turning radius to suit your child's ability and riding style. According to Sylvana Ward Durrett of children's luxury retailer Maisonette, the Ultimum's deck is wide enough for kids to put two feet on. Its big wheels allow for more speed, and it can be easily folded by pushing a button.
Carrie Wren of Two Wheeling Tots recommends anything by Micro because "their attention to detail, quality of design, and precision of build just can't be beat," she says. "No one really comes close, even though everyone tries to copy them." According to Koutures, you want to "get something that a kid can grow into." The Micro Maxi fits that bill: Its adjustable handlebars mean it can continue to be used as your child grows. It's strong and lightweight, and it can be folded up for easy transport and storage.
Best two-wheeled scooters for kids
When your child is ready for a two-wheeled scooter, you can't go wrong with the sleek and (relatively) inexpensive Razor A3. It's made from lightweight-yet-durable aluminum, and the handlebars are easy set to different heights, which is key since "kids can grow quickly and may need to have the handlebars regularly adjusted," says Koutures, "especially during growth spurts." Plus, it folds up.